Inside Floyd Mayweather's OTT supercar collection: the millionaire boxer owns two LaFerrari Apertas, a Pagani Huayra, an Aston Martin One-77 and several Bugattis, including a Chiron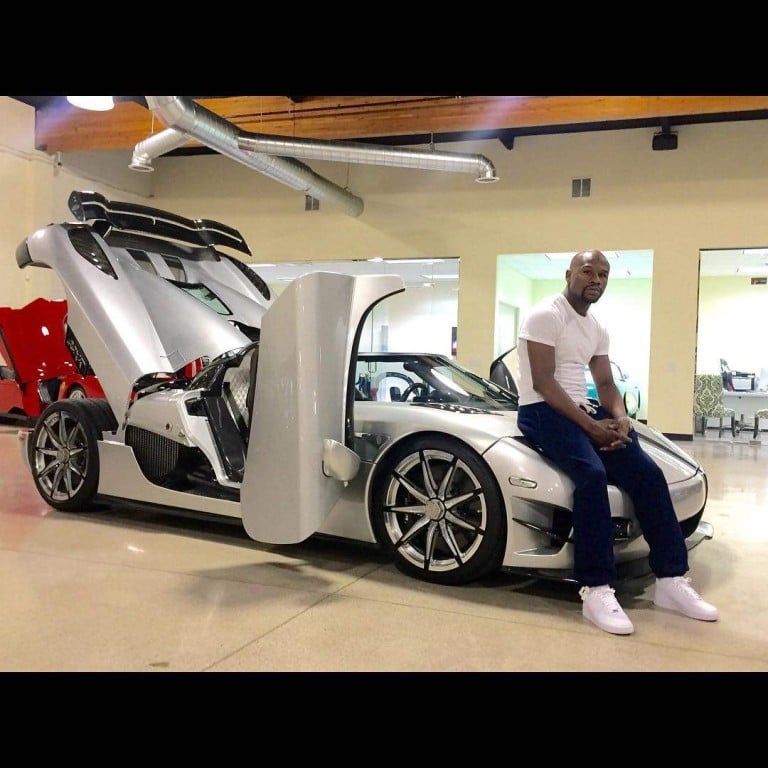 Floyd "Pretty Boy" Mayweather is ranked one of the best boxers of all time, and was the highest-paid athlete in the world in 2018 with earnings of US$285 million, an annual figure not beaten by anyone since. He also established The Money Team (TMT) and Mayweather Promotions, two lucrative sources of additional wealth that allowed him to generate such huge annual incomes.
The undefeated professional boxer and boxing promoter rarely holds back in flaunting his wealth, and likes to let the public know how he spends his money. His social media pages often scream crazy money, boasting diamond-encrusted watches, extravagant supercars, private jets and luxury travel – everything dialled up to 11.
Besides training for his much-hyped upcoming fight against YouTuber Logan Paul on June 6, Mayweather has likely been enjoying one of his favourite hobbies – collecting luxurious cars. Here is a tour of some of the incredible supercars in a collection probably unrivalled by that of any other sports star.
Bugatti Chiron
Bugatti, the high-performance manufacturer from Molsheim, France, is known for creating some of the fastest, most expensive and luxurious of cars. Mayweather has owned at least five Bugattis, with his latest purchase a custom-made Chiron equipped with a 8.0 litre W16 engine. This monster catapults the driver from 0 to 200km/h in six seconds and reaches a top speed of 490km/h, making it the holder of several world records.
Pagani Huayra
The Pagani Huayra is reckoned by some to be among the most beautiful cars ever made, with the brand describing it as a merging of the past, present and future in a "timeless interpretation". Under the bonnet, it has a Mercedes V12 engine, producing a massive 720hp. Every car is handcrafted by Horatio Pagani in Italy, with only 100 units made in all, each costing US$1.4 million.
Aston Martin One-77
The One-77 is the only Aston Martin that Mayweather owns. As the name suggests, there were only 77 cars produced and the car is known for its phenomenal engine wrapped in sheer beauty. Fittingly, Aston's most expensive car to date is also its fastest. Equipped with a V12 engine, it accelerates from 0 to 100km/h in 3.7 seconds and reaches a top speed of 350km/h.
LaFerrari Aperta
"Money" Mayweather has owned many Ferraris in the past, and he even sold not one but two rare Ferrari Enzos. In 2017, the star bought a LaFerrari Aperta, one of the rarest of all production cars. Ferrari withholds the ultra-rare Aperta for its most precious clients, but Mayweather is surely one of them as he already owns the usual limited edition LaFerrari.
Koenigsegg CCXR Trevita
Our last car of note is unusual, as Mayweather tends to go for the newest supercars. The Koenigsegg CCXR Trevita is already more than 10 years old, but there were only two cars ever produced and they cost around US$5 million. They are often referred to as "a diamond on wheels", thanks to the groundbreaking sparkling white carbon fibres used in the body's construction.
Want more stories like this? Sign up here. Follow STYLE on  Facebook,  Instagram,  YouTube and  Twitter.

The more-than-decade old Koenigsegg CCXR Trevita is 'a diamond on wheels' and costs around US$5 million
Mayweather, who is up against YouTuber Logan Paul on June 6, is known for flashing diamond-encrusted watches, private jets and luxury trips on his social media