What defines avant garde jewellery? Discerning high jewellery clients are snapping up statement pieces by Cartier, Chanel, Van Cleef & Arpels and Boucheron – but independent designers are leading the pack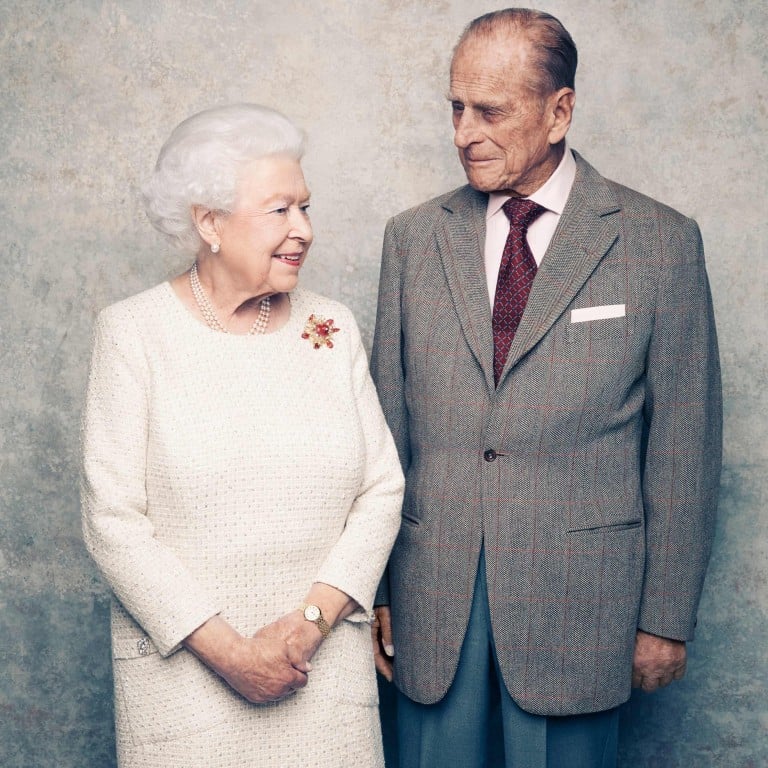 Jeweller Francesca Grima says attitudes are beginning to shift: "When seeing jewellery, people often want to know what carat the stone is and don't consider the piece in its entirety, the workmanship, the idea – that's what matters. But thankfully people are starting to get that, because that's what's at the heart of more avant garde jewellery."
Dazzle like Kate Middleton with these 5 jewellery pieces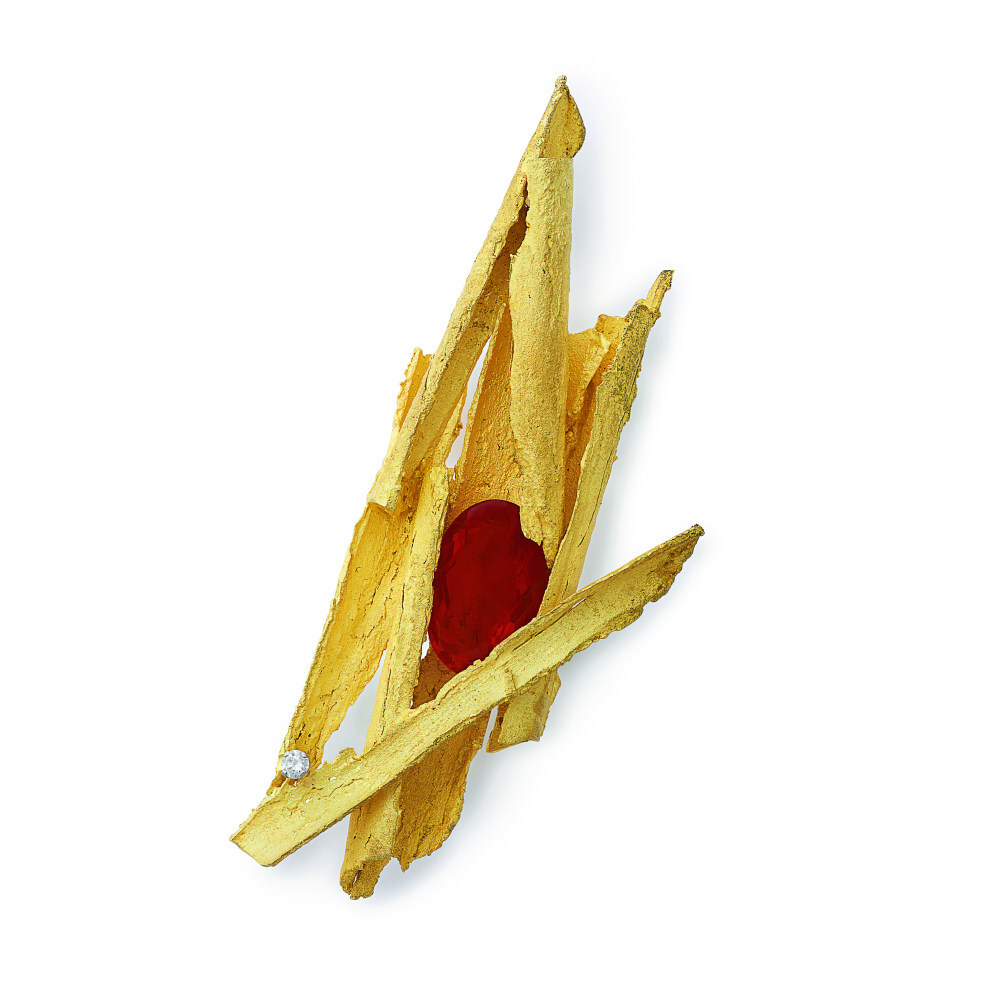 Francesca is the daughter of Andrew Grima, the society jeweller of the 1960s and 1970s, the only jeweller who has won Duke of Edinburgh's Prize for Elegant Design and is one of Queen Elizabeth's favoured creators. Andrew entered the jewellery trade 75 years ago this year and – in keeping with much of the era's youth revolt – revolutionised the way jewellery looked and was perceived. Out went the dainty, the pretty, the traditional – in came big, abstract, sculptural, futuristic, and even new design methods. 
"My father never made a piece of jewellery himself because he thought that meant he'd subconsciously design something that was easier to make, and we still take that approach," says Francesca, whose latest designs are focused around large, minimalistic and unusual semi-precious stones such as malachite and sunny-side-up agate. "Goldsmiths are often challenged by anything that is outside that more classic aesthetic."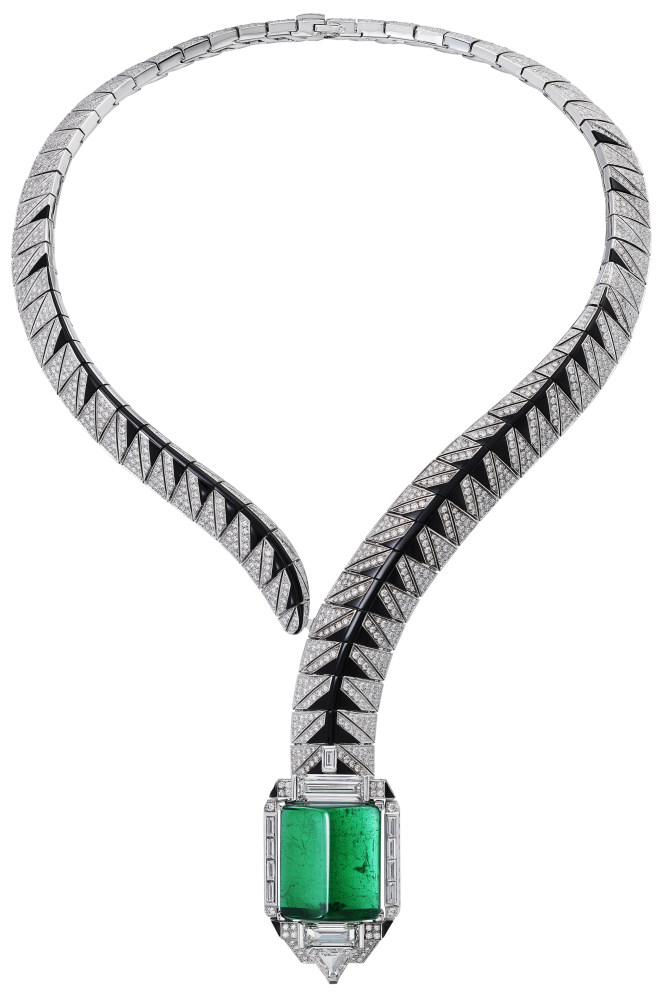 They had better get used to it. Although, Grima argues, jewellery may, relative to other artistic disciplines, be limited in its creative reach because it has to be worn, demand for bolder pieces again seems to be on the up – a throwback to the "art as jewellery" produced by the likes of Picasso, Dali and Alexander Calder, more recently by the likes of Emily Young and Gavin Turk. 
Why nothing says natural luxury like pearls
"It's easier to create jewellery for the existing market, but to come up with the new, the avant garde, you make without knowing if people will like the results. Does a chef cook in accordance with the taste of his diners or aim to create new flavours?" asks
the jewellery designer and artist Wallace Chan
, whose first major sculpture exhibition takes place in Venice from May and includes one work that references the "Wallace Cut", the gemstone cut he developed in the 1980s.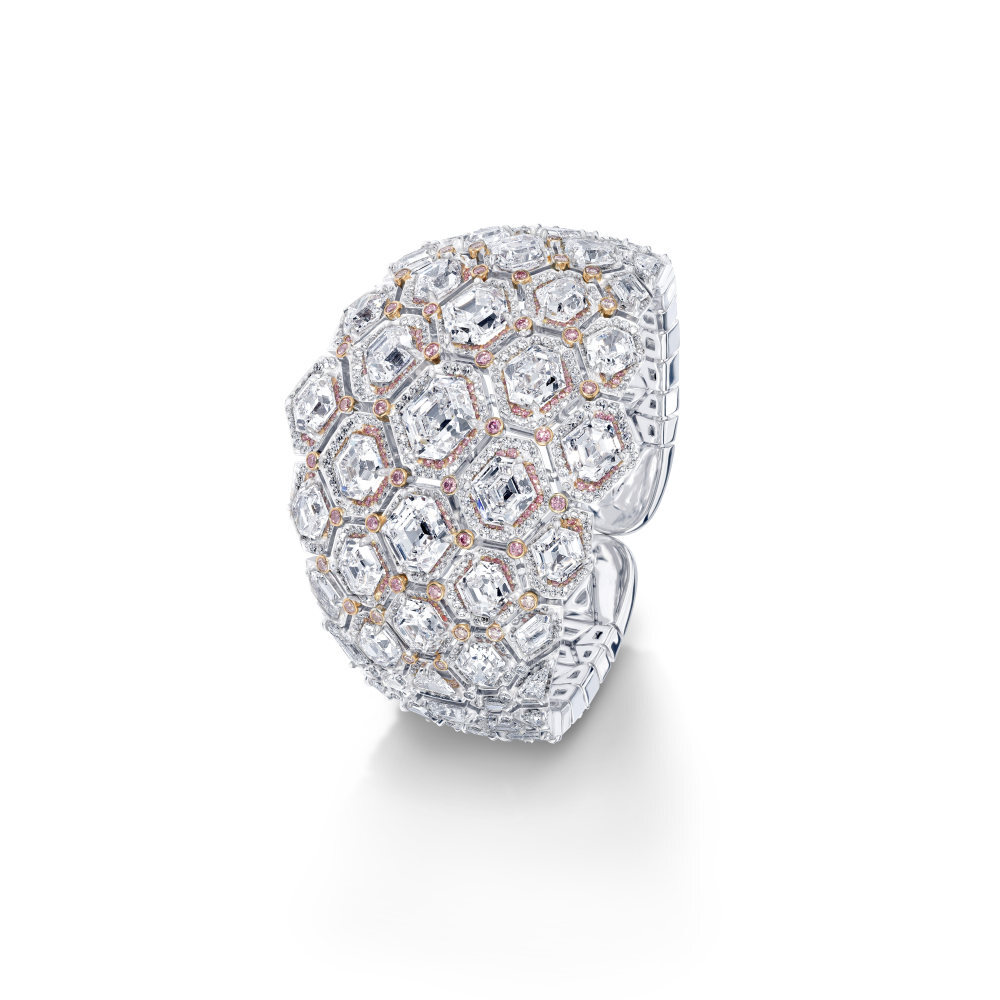 But what drives this demand? According to Devyn Downing, designer for David Morris, this move towards bolder pieces is in part a product of social media, "and because high jewellery clients want pieces they haven't seen before – they want something different". 
It's also, he says, because technology the likes of 3D printing, and the use of non-precious materials, are allowing them, thanks to computer-aided design.
David Morris recently created a hexagonal cuff that otherwise wouldn't have been possible; the company's use of metals like strong but lightweight titanium and niobium – which can also be anodised to give flashes of colour – allows, for example, for outsized earrings that are still light enough to wear.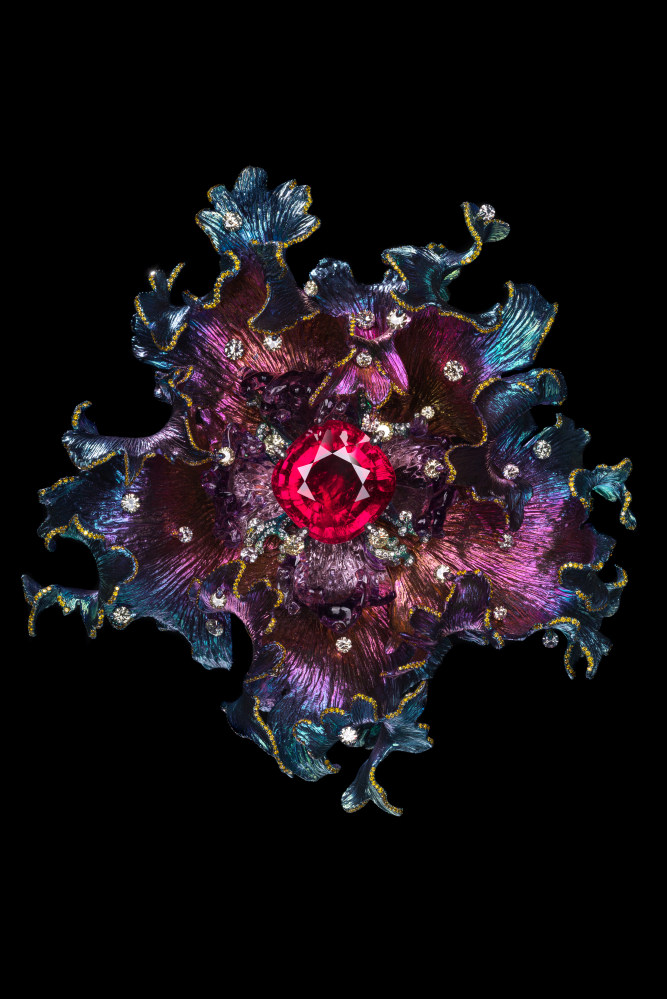 Chan, too, has explored titanium in his jewellery – "and it's through exploring materials that you create a high jewellery of a higher level of complexity", he argues.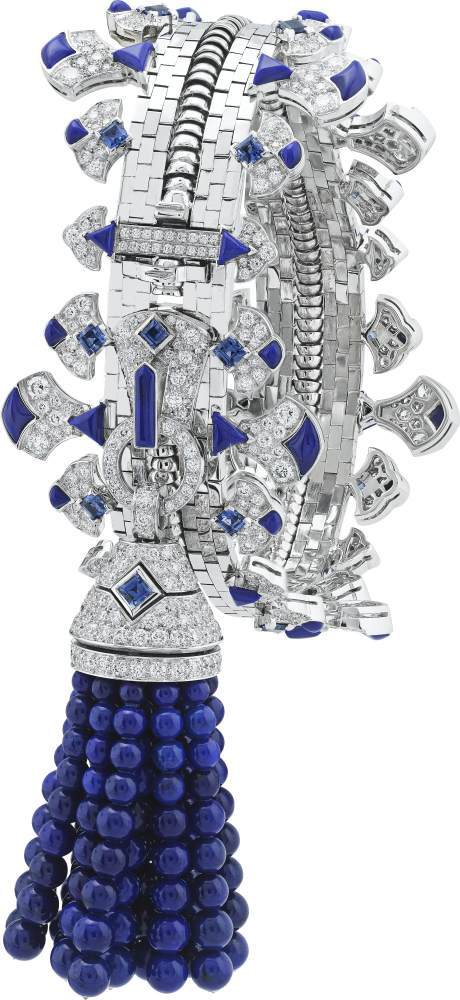 "Quite what constitutes avant garde jewellery is hard to say. It's a bit like trying to define 'contemporary art'. But there's a whole new school of jewellery design making avant garde pieces – either traditional in look using 'new' materials, aluminium for example, or edgier design in traditional materials," says Nicholas Luchsinger, president, Asia Pacific, for Van Cleef & Arpels, whose zip necklace remains an icon of avant garde jewellery design and whose new Saturn clip expresses the same wry humour.
New pieces from Boucheron – such as its monochrome crystal onyx collar – and Chanel – with its lapis lazuli mosaic Constellation Astrale cuff bracelet and the newest Collection N°5 – hint at a move towards more visually arresting designs at the top of the market. 
"Even a classical jeweller like Van Cleef & Arpels has always been influenced by the wider culture," Luchsinger adds. "The problem is that a lot of customers see jewellery either as investment, or as something to be worn over a lifetime, so breaking away from tradition for many is hard."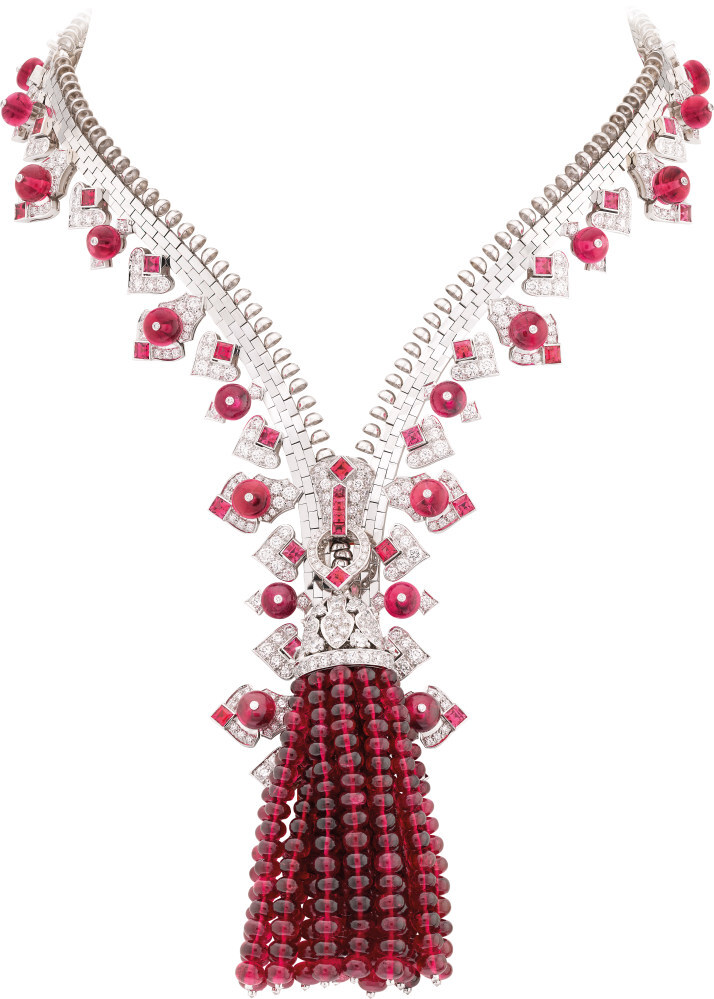 Indeed, the avant garde approach is likely to be the preserve of the bespoke or progressive end of high jewellery over the medium term, given too the average consumer's attachment to precious metals and stones.
As Downing notes, it's not as easy to persuade a customer to grasp the notion that the value of a piece may be in the knowledge and technology that creates it, rather than the material it's made from; "a lot of clients still just want a big flashy stone".
Chan stresses that, while he's enthusiastic about people getting away from the idea that high jewellery automatically means precious metals and gemstones, he can make the avant garde pieces he does primarily because he has a strong enough base of collectors. 
But then avant garde jewellery also takes a certain confidence to wear. For 2021, Boucheron may have raided its art deco archives for most pieces, but its recent Contemplation collection includes pieces like the Fenetre Sur Ciel necklace. The piece comprises tessellated mother of pearl hexagons variably airbrushed to give a "passing clouds" effect. Likewise, its gender-bending Fleche Du Temps is a whimsical, broche-like diamond earring shaped like an arrow.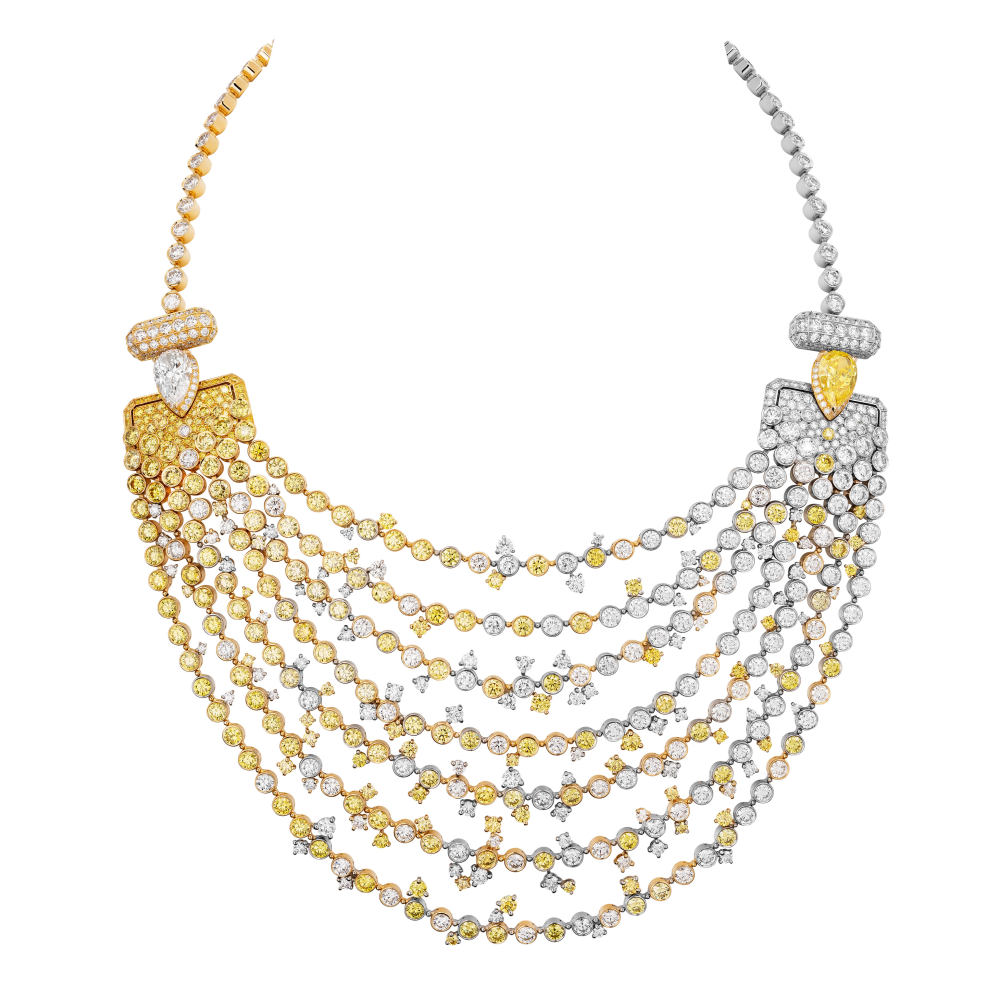 If more classical jewellery still favours white polished diamonds, De Beers' Okavango Grace necklace, while simple in form, upends tradition by using rough diamonds in unusual grey and green tones. And pearl-oriented jewellery brand Tasaki's Ore boldly asymmetrical earrings are now sold individually, potentially doubling the asymmetry. 
Still, the confidence to wear such radically different jewellery is growing, reckons Christophe Bourrie, high jewellery global director for Piaget, which has experimented with the likes of titanium, wood and even feathers in its high jewellery creations. Around 30 per cent of the brand's jewellery collection is now dedicated to what Bourrie calls "disruptive" pieces that could not even have been made 10 years ago, and which we know are not for everyone.
"But we're at peace with that," he explains. "This market for disruptive designs is growing at a fast pace and for me that's what makes jewellery super interesting."
Want more stories like this? Sign up here. Follow STYLE on  Facebook,  Instagram,  YouTube and  Twitter.

Andrew Grima, who was favoured by Queen Elizabeth, revolutionised jewellery design with abstract, sculptural pieces in the 1960s and 70s
Now, demand for bold jewellery is rising again – a throwback to 'art as jewellery' created by Picasso and Dali