STYLE Edit: Richard Mille's RM 032 diver's watch enters the ocean depths with record-breaking free diver Arnaud Jerald in a new partnership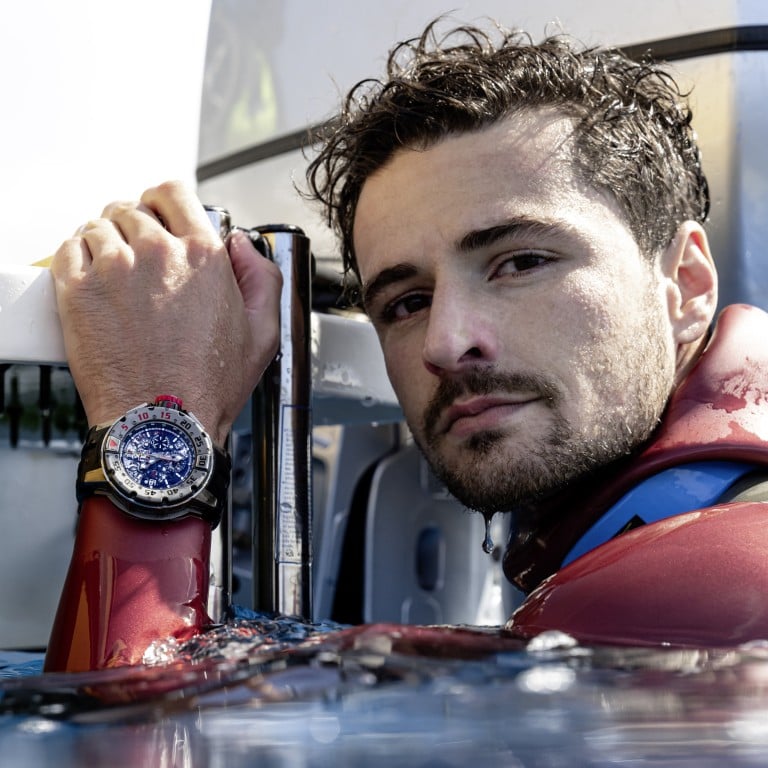 Pushing the boundaries of human endeavours is something that luxury watchmaker Richard Mille is intimately familiar with. The brand's ethos of adrenaline-fuelled technical watchmaking has led to the creation of numerous horological masterpieces and has
fuelled partnerships
with elite sportspeople around the world. Its latest partnership with world-record holding free diver Arnaud Jerald marks the first time Richard Mille is exploring the depths of the ocean.
At age 25, Jerald is already the holder of two free diving world records. His sprint into the depths of the waters brought him to a breathless 117 metres under the waves at Vertical Blue, an annual competition in the Bahamas likened to the Wimbledon of free diving.
The 117 metres record broke the previous 116 metres – also set by Jerald, a mere four days before. At that depth, the pressure imposed on the body is equivalent to 11kg bearing down on every square centimetre of skin. No mean feat, for any human – even more so when divers hold their breath the entire way.
Jerald's record-breaking descent took a scant one minute and 38 seconds, and it was captured by an underwater drone camera broadcasting a live-stream online. He had on him a nose clip, fins and the Richard Mille RM 032 Automatic Winding Flyback Chronograph Diver's Watch.
"I experience time differently," says Jerald of his horological dive partner. "Under water, one minute lasts a whole day. I need my watch as a tool and it has to accompany me all the way."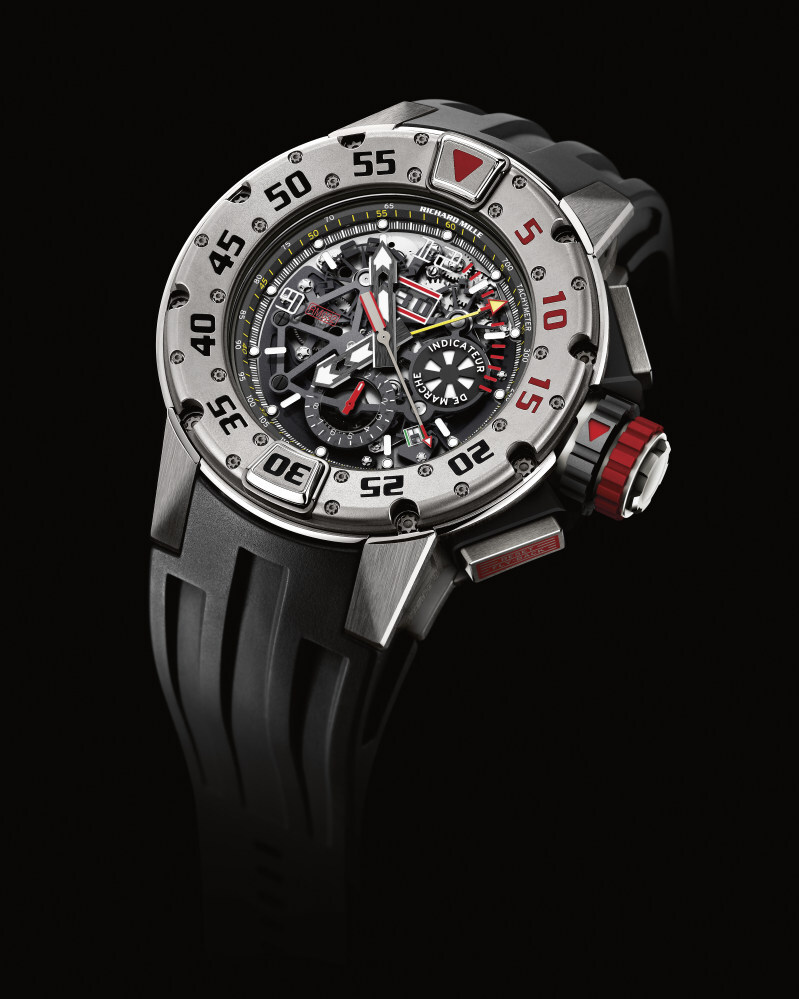 The "tool", as Jerald puts it, is one of the most complex dive watches to be manufactured. The case alone must undergo 830 operations during a nine-hour milling phase. After an 11-hour machining phase, each case has to pass a full day of quality control. That is partially because of its functional requirements – the bezel and the three-layered system attaching it to the watch makes it remarkably stable and near impossible to dislodge, which is essential for a dive into the deep. The unidirectional bezel, which has large numerals for maximum visibility, also allows the wearer to avoid any mistakes when calculating dive time.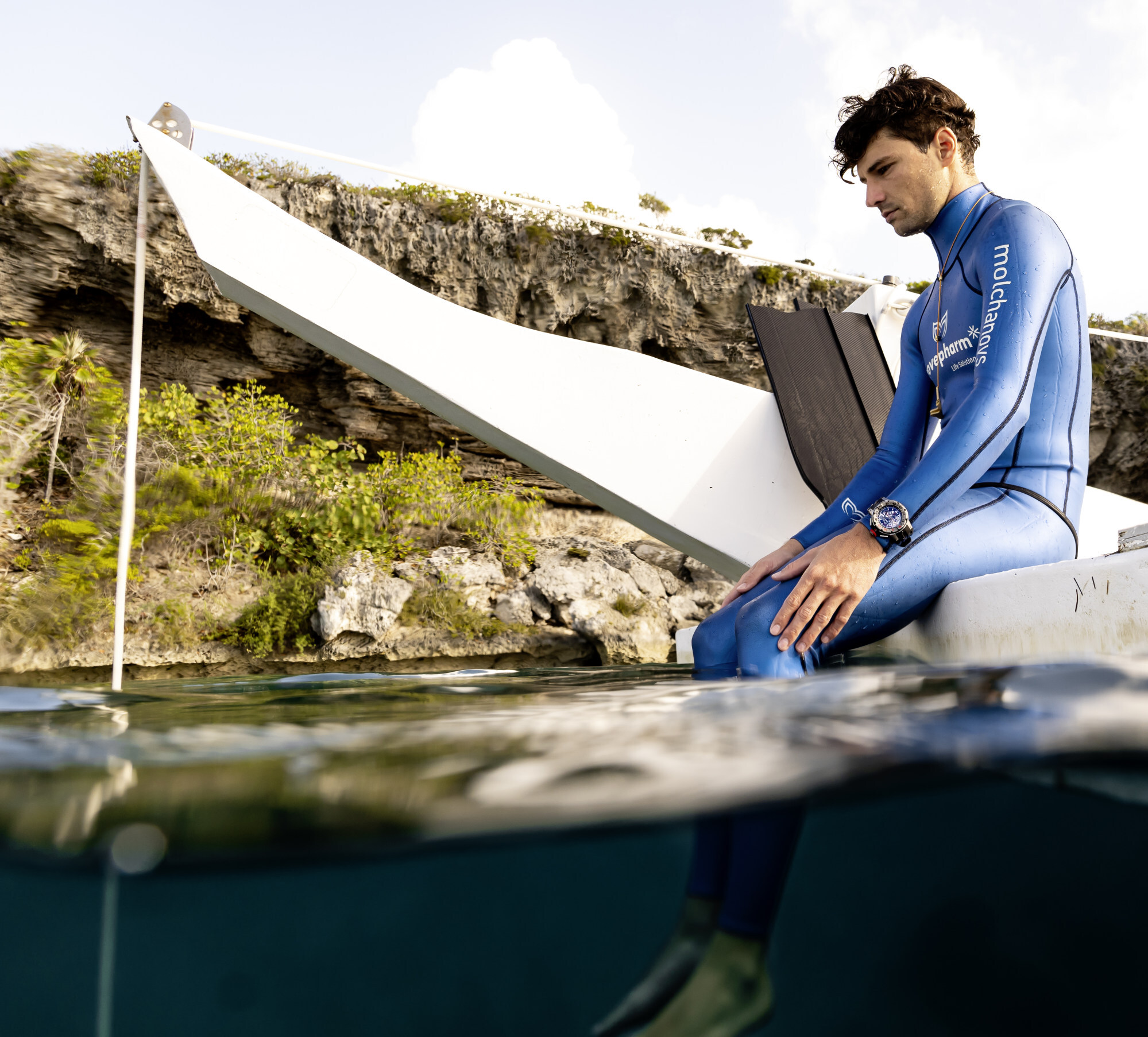 "Richard Mille doesn't make concessions – neither do I," remarks Jerald. "The number of metres is important in terms of achievement, but as regards my safety, it's my watch that's paramount. That's why the RM 032 is an essential tool for me. As a free diver my watch isn't there for effect. I wear it because I believe in it."

The luxury water-resistant timepiece plunged a record-breaking 117 metres into the ocean at the Vertical Blue competition in the Bahamas – the 'Wimbledon' of free diving
The RM 032 Automatic Winding Flyback Chronograph Diver's Watch has a three-layered system making it near impossible to dislodge deep in the water