Dua Lipa electrified at Versace's Milan Fashion Week show, with Gigi Hadid and Naomi Campbell presenting vivid neon spring/summer 2022 looks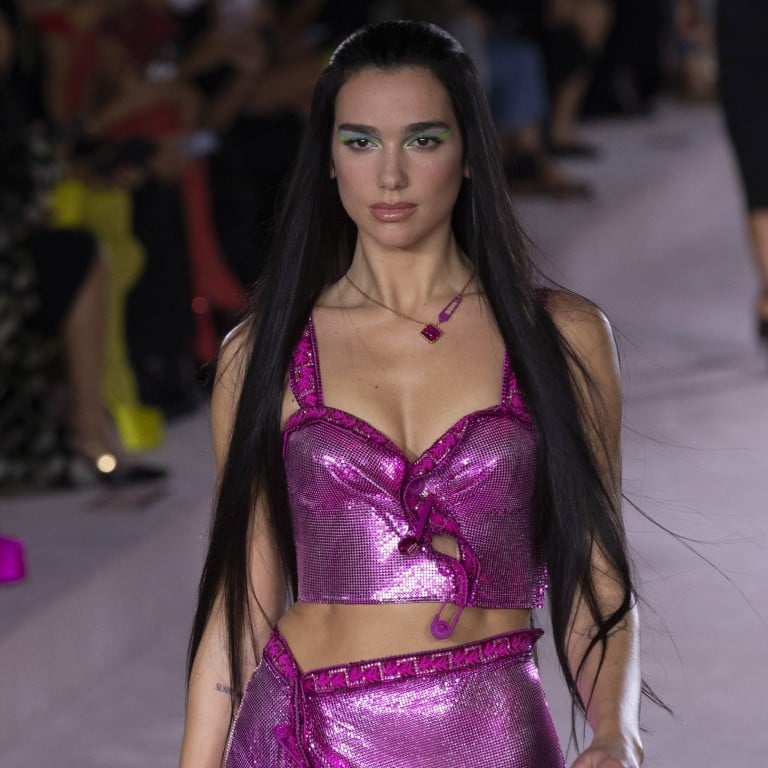 Milan Fashion Week opened its third day of preview shows for next spring and summer against the backdrop of thousands of young environmental protesters calling out the industry on Friday, September 24, for
its wasteful and polluting ways
.
The question hanging over fashion week is whether after 19 months, the coronavirus pandemic has led to any real changes in a system that has revolved around four ready-to-wear cycles a year, plus cruise and couture. Yes, shows are socially distanced, and fewer editors are admitted than ever. But with companies racing to
restore sales to pre-pandemic levels
, one is left to wonder: are deeper changes really afoot?
Signs at the climate march through the heart of Milan urged, "Dress the change," a slogan aimed at the second-most polluting industry after energy. "Everyone wanna be hot, but Earth isn't one of them," read another sign.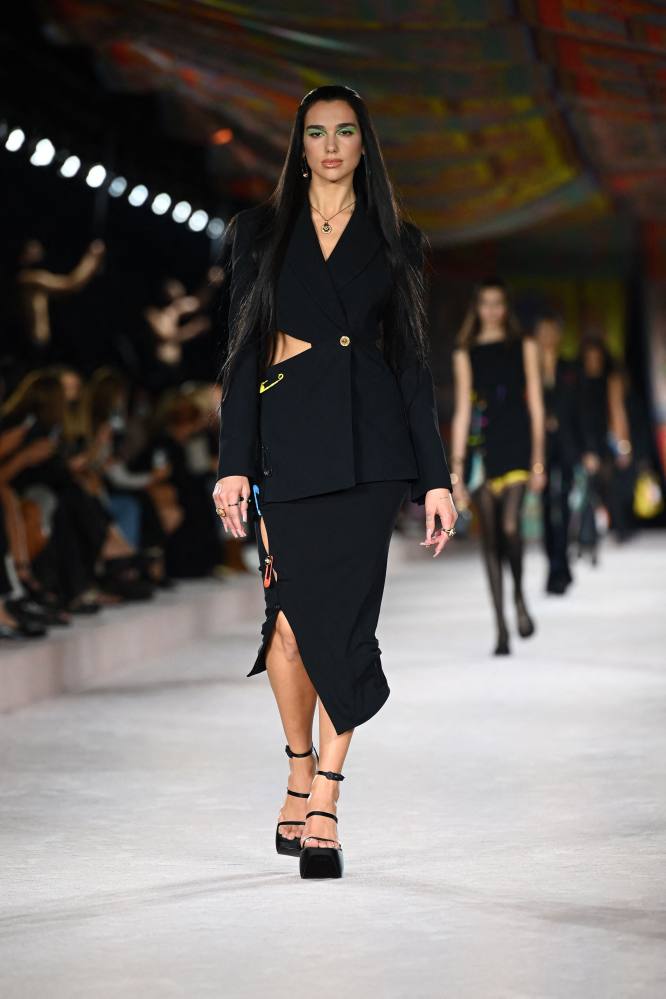 Donatella Versace pumped energy into Milan Fashion week with a star-filled runway and front row, and collection strong on the fashion house's codes: bright colours, safety pins and especially silky foulards.
British singer and
emerging fashion icon Dua Lipa
opened the runway show in a skin-baring black suit held together with coloured safety pins as her song
Physical
blasted through the venue and closed it in a liquidy fuchsia skirt and corset.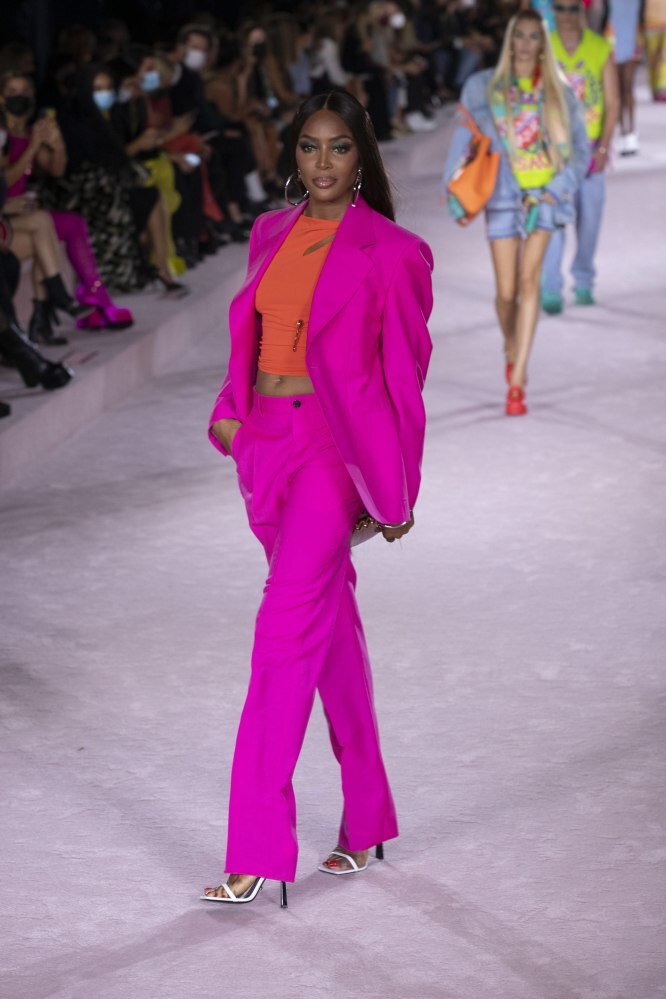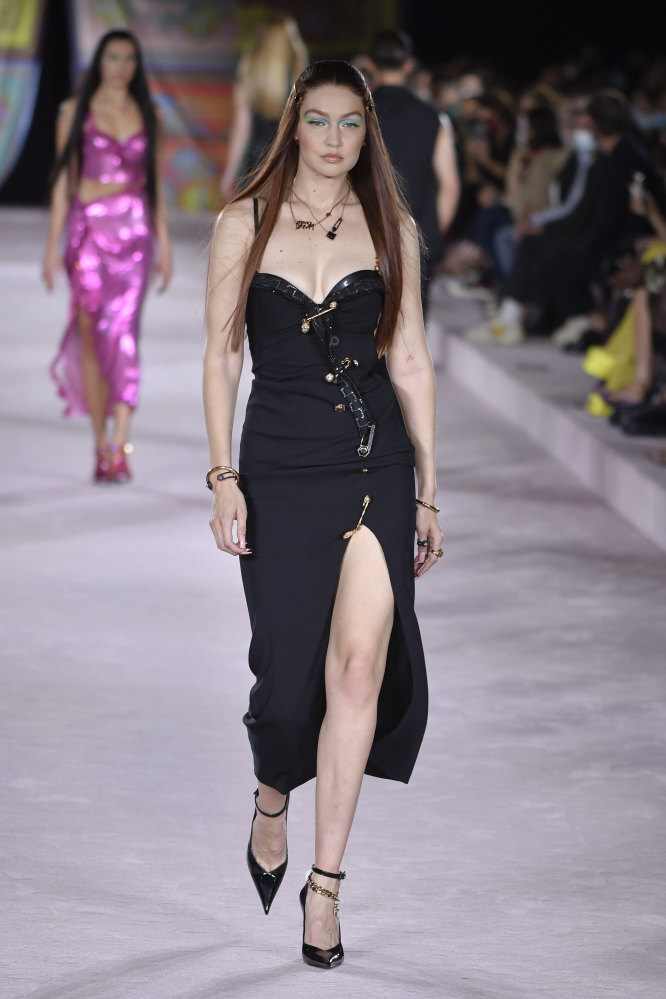 In between, she was joined by Naomi Campbell, smiling and brightly clad in a hot pink suit and orange shirt,
Gigi Hadid
in a snug latex black dress with just a silky flash of turquoise and pink, and Lourdes Leon Ciccone in a metallic silvery dress.
The show opened with black suits and dresses with tiny flashes of colour in pins and foulards that peeked from hemlines and slits, the colours growing ever more bold until they burst into a vivid palette of pink, aquamarine, sea foam green, acid green and yellow.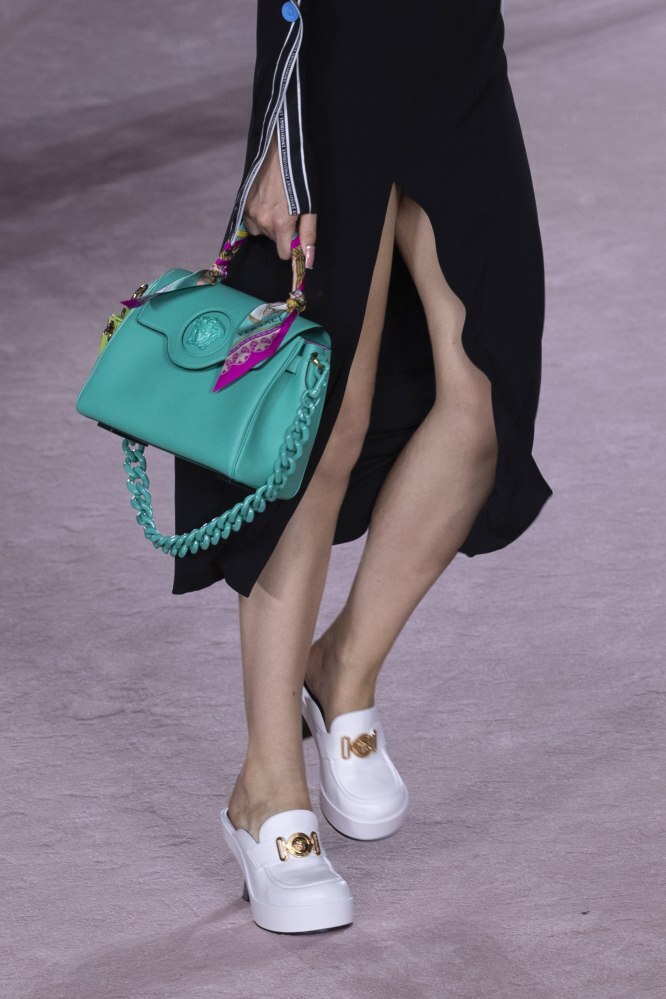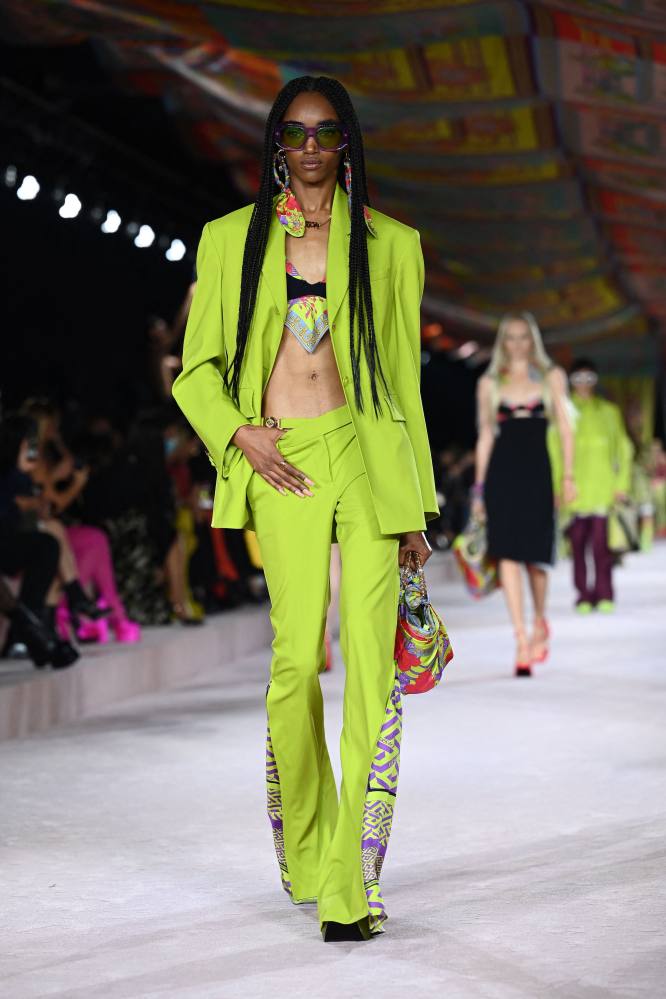 The women's silhouette exuded confidence with body-hugging dresses and skirts offering an array of ways to bare skin with high slits, pinned together tights and ab-revealing corsets or bra tops. Footwear included wavy platform shoes in bright satin.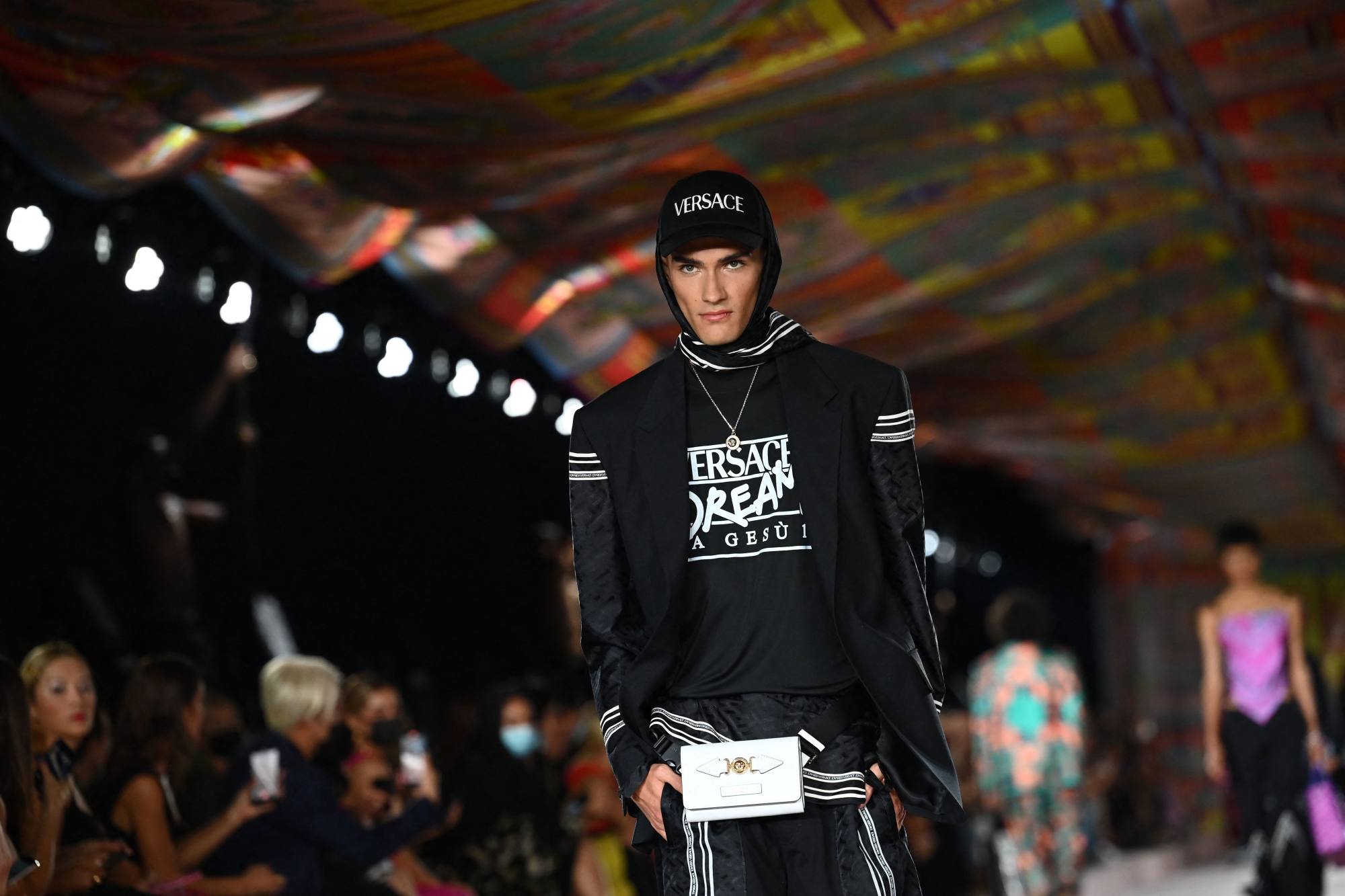 Menswear was more relaxed, with floral suits, sportier varsity jackets with mesh tops, or bright leather jackets paired with tight latex T-shirts and jeans.
Outside the Versace venue, hoards of fans partied like it was 2019, waiting for glimpses of arriving VIPs.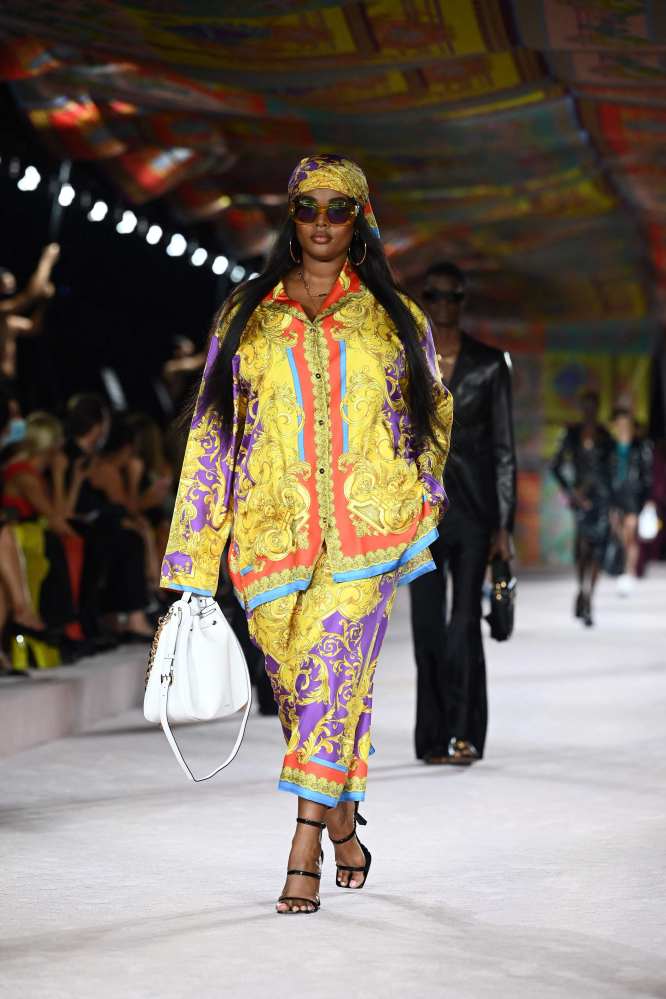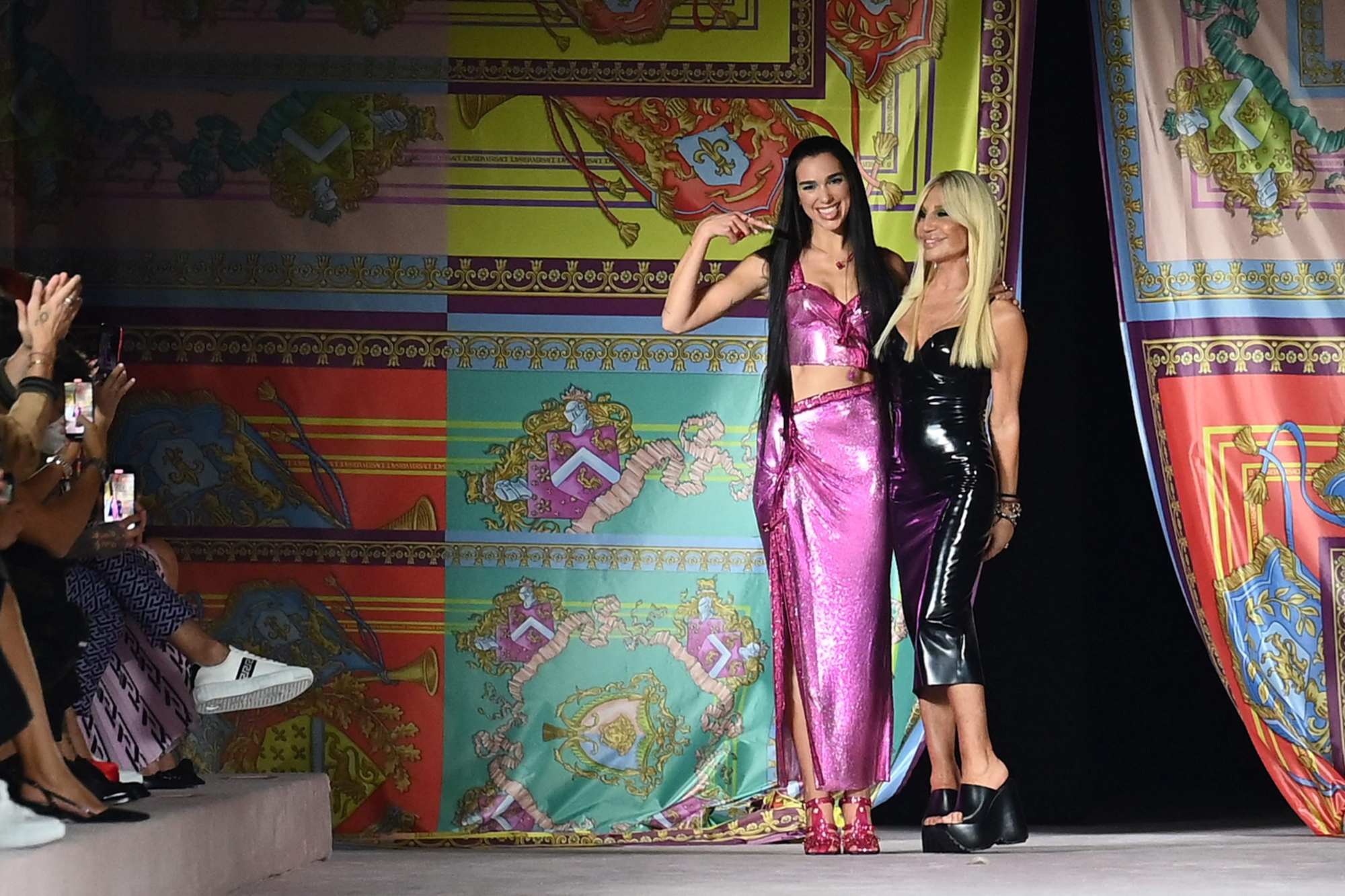 Front-row guests included Milan's own fashion influencer-turned-entrepreneur Chiara Ferragni and her husband, the singer Fedez, American influencer-turned-actress Addison Rae and actress Bella Thorne with her Italian boyfriend, singer Benjamin Mascolo.

Celebrities, influencers and other A-list VIPs flocked to the front row, from Addison Rae to Bella Thorne, to Chiara Ferragni and her boyfriend Fedez
As fashionistas admired Donatella Versace's latest creations, critics questioned whether fashion has become any more sustainable since the pandemic hit