The best high jewellery collections for spring 2022, from Chanel's camellia motif pieces and Van Cleef & Arpels' Le Secret, to Chopard's Garden of Kalahari and Harry Winston's Cluster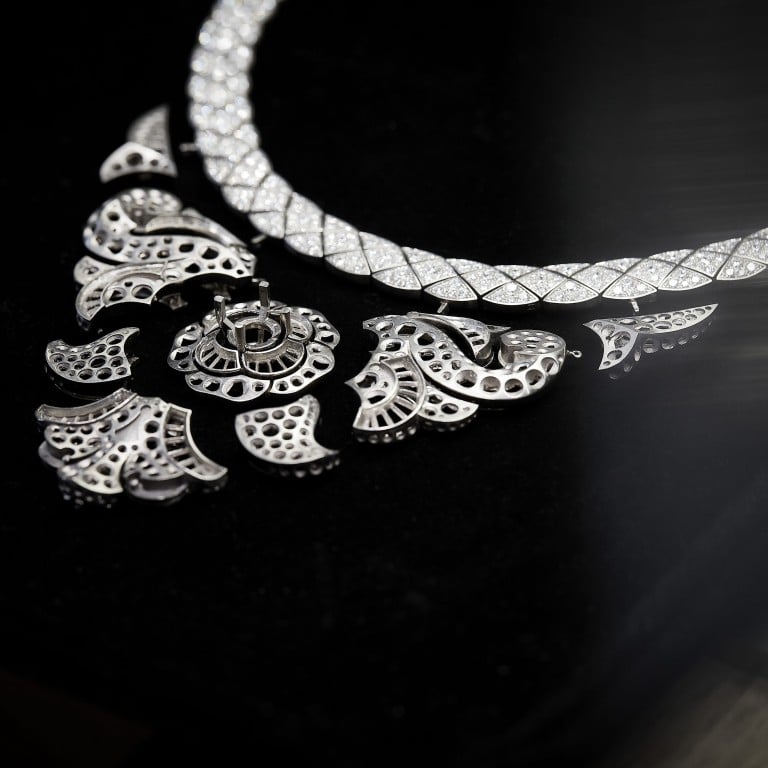 After the long winter of the soul we've all experienced over the past two years, we can't help but hope that a metaphorical spring may finally be upon us. In keeping with this spirit of renewal, numerous recent high jewellery collections embrace
joyous spring bloom motifs.
One of the most impressive of the succession of floral-influenced haute joaillerie is Chopard's Garden of Kalahari.
Seven years in the making, this exquisite US$75 million suite uses gems cut from a 342-carat rough diamond discovered in Botswana in 2015. A truly remarkable find, the stone possessed F grade flawless clarity and a D colour grade – the most sought-after. It was painstakingly cut by Chopard's artisans into a set of 23 dazzling diamonds, five of them weighing in at over 20 carats each.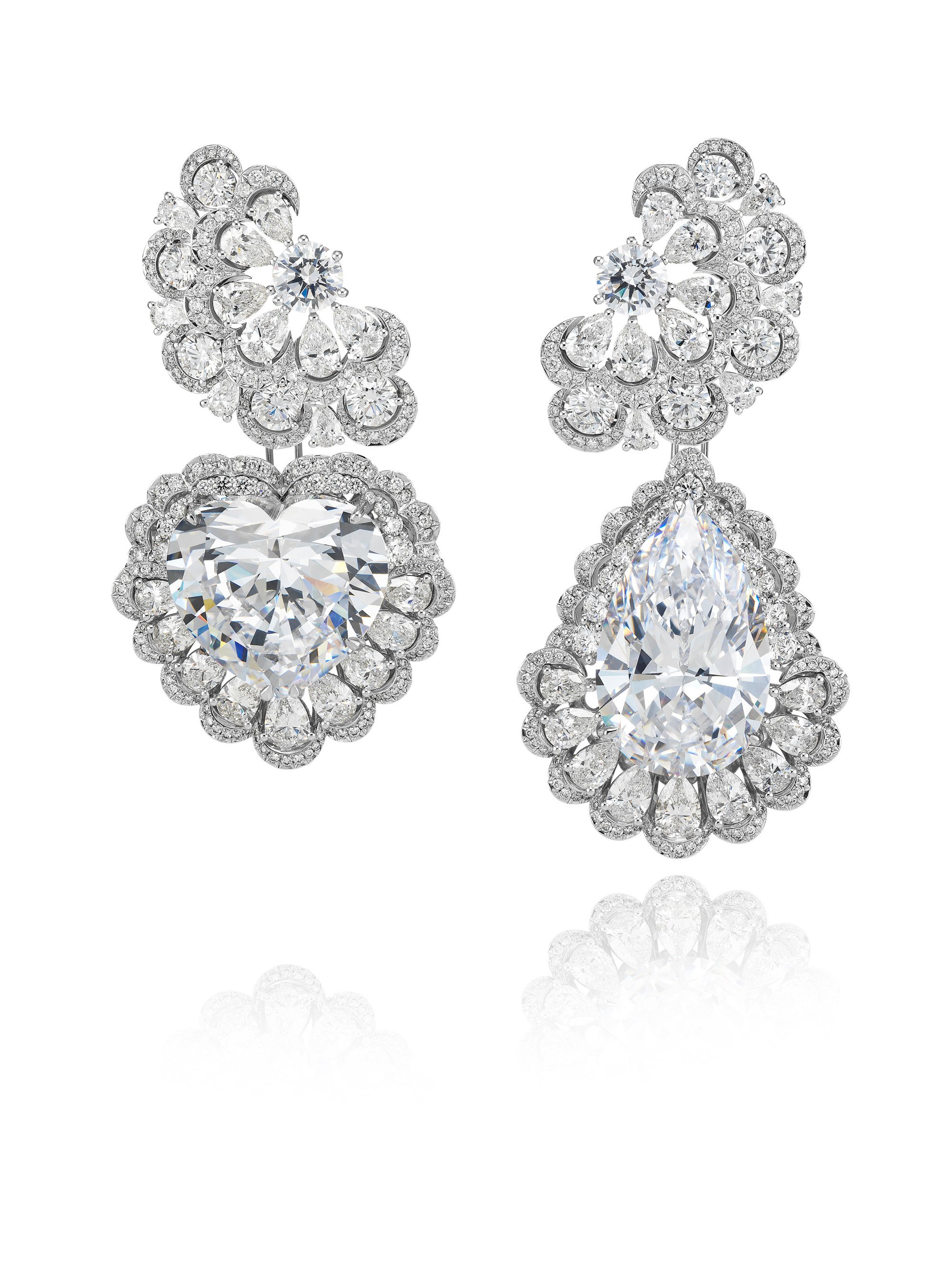 At the request of Chopard's artistic director Caroline Scheufele, the five stand-out gems were hewn to each of
the main diamond cuts
: cushion, brilliant, heart, emerald and pear. "We could have cut two big diamonds, of let's say like 100 carats," Scheufele said when explaining this decision.
"But for me as a creator and designer I wanted to have a choice of diamonds. And I said I would like to have all the shapes of diamonds."
Scheufele had Chopard's artisans position them in a variety of garden-inspired settings. The 50-carat brilliant-cut gem took the guise of a sunflower, the 26-carat heart was presented as a pansy, the 25-carat pear assumed the form of a banana tree flower, the 20-carat cushion-cut stone channelled a poppy, and the 21-carat emerald-cut diamond adorns a water lily.
In standard configuration, the suite comprises a necklace, earrings and a ring. However, the pieces can be separated or placed together and worn in numerous different ways – elements of the necklace may be removed to serve as brooches, for example. Scheufele has jokingly likened the Garden of Kalahari to "very expensive Lego".
The ultimate goal was to honour the historic 342-carat diamond by transforming it into an expansive collection, rather than having it remain as a single piece that perhaps would've languished in the darkness of a vault. "We did not wish to treat it as a mere trophy, but instead to prepare it for a destiny worthy of its stature," Scheufele said.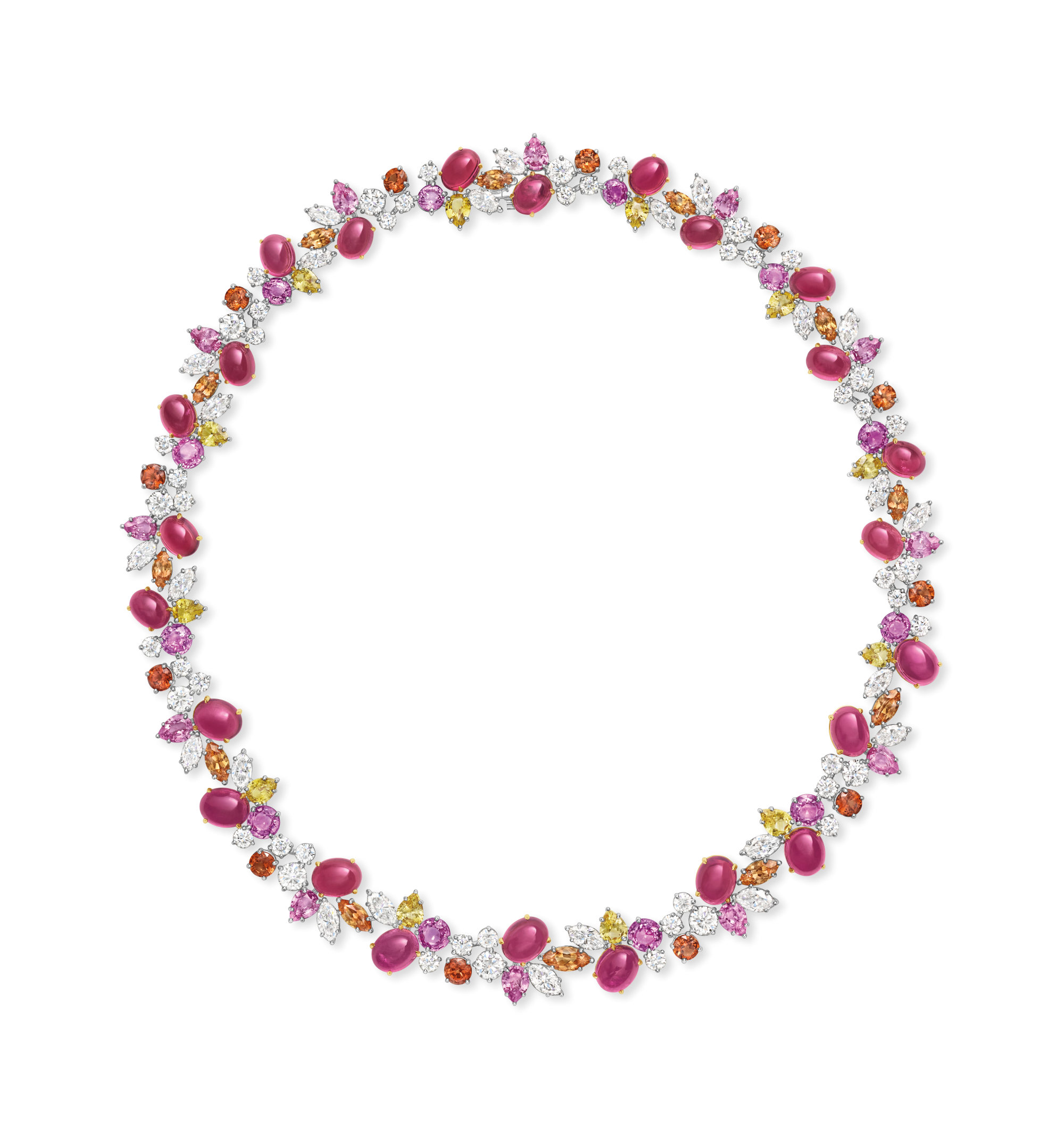 Spring has also clearly sprung at iconic New York jeweller Harry Winston. One of the house's most recent jewellery collections draws inspiration from carefree, sunny days in an immaculately manicured country garden.
Eye-catching pieces include a matching set of earrings and necklace bursts with floral colours courtesy of cabochon-cut rubellites, pear-shaped and round pink sapphires, pear-shaped yellow sapphires, marquise and round spessartite garnets, and marquise and round brilliant diamonds, all set in platinum, 18k yellow gold and white gold.
Less exuberant in colour, though no less dazzling, from Harry Winston's renowned Winston Cluster fine jewellery line, are a sapphire and diamond pendant necklace and coordinated diamond earrings, each set in platinum.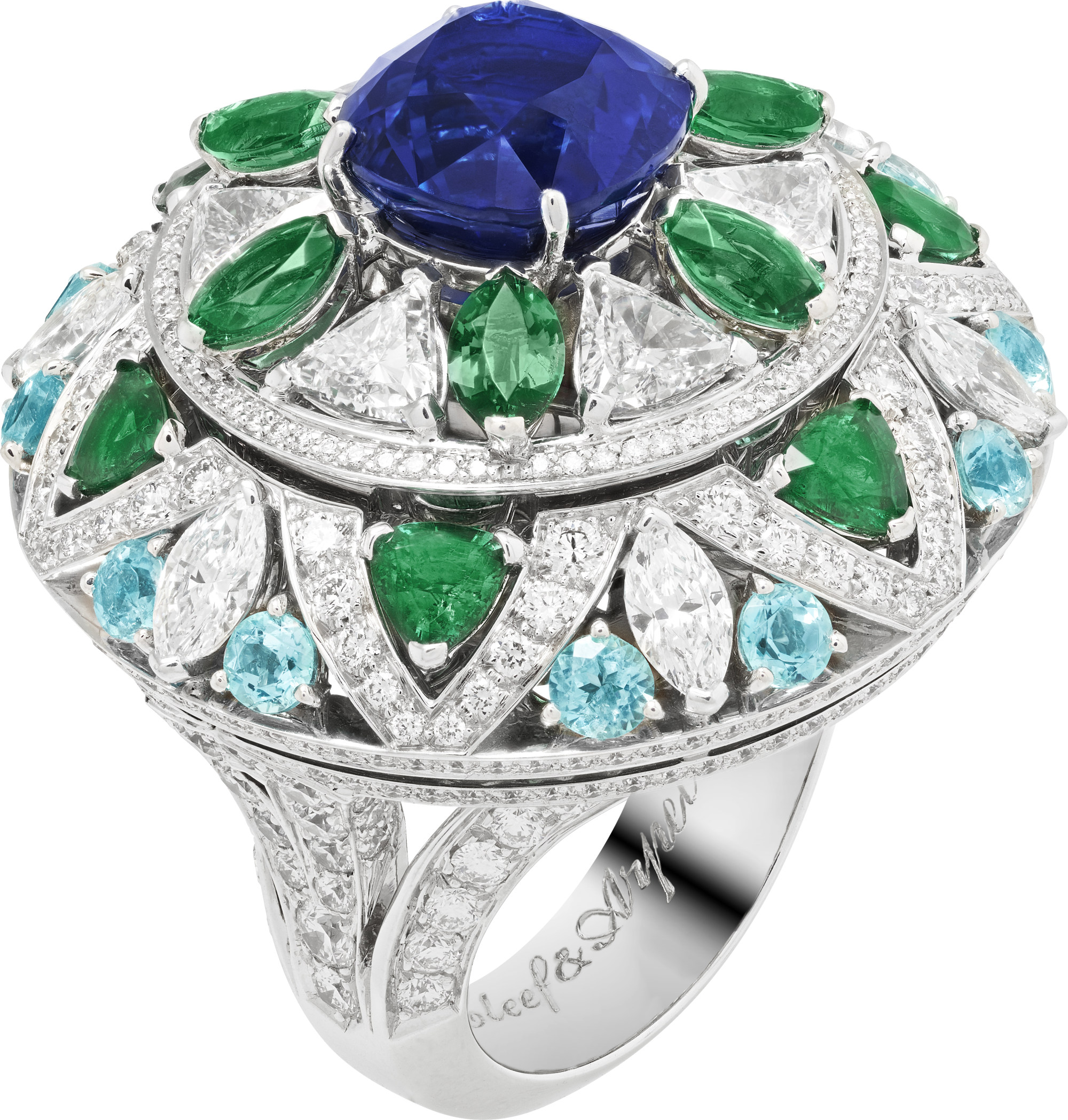 Van Cleef & Arpels is a jeweller long
associated with images of lush nature
and fantastical gardens, a theme that is today most lavishly expressed in the contemporary high jewellery collection Le Secret. First launched in 2017, Le Secret features pieces depicting flowers, foliage, ladybirds and butterflies, among other natural beauties.
One especially glorious ring – the Fleur Bleue – which brims with emeralds, tourmalines and diamonds, even carries a secret quotation from Oscar Wilde, revealed by a quarter turn of its top: "A life without love is like a sunless garden."
Celebrating its 20th anniversary next year, Van Cleef & Arpels' floral Frivole line is a perennial joy. Mirror-polished gold provides extra sparkle to the collection's signature asymmetrical gem-embellished flowers with romantic heart-shaped petals.
Last year, VCA collaborated with young French artist Alexandre Benjamin Navet, creating multimedia content and in-store installations combining the floral forms of the Frivole collection with Navet's charming renderings of nature scenes and vibrant flowers in bloom.
Another house closely associated with a floral motif, in this case, specifically that of the camellia, is Chanel. Gabrielle "Coco" Chanel began pinning camellias to her garments as a young woman. Noting the camellia's lack of thorns or scent – so restrained compared to the attention-seeking rose – she was attracted to its simplicity and purity, which she felt reflected her design ethos.
When Chanel created her own jewellery, naturally the camellia played a starring role.
In keeping with this tradition, today's Chanel high jewellery collection boasts camellia-motif pieces including a brooch with diamonds and iridescent moonstones; a bracelet centred on a stunning round-cut diamond of 3.02 carats; and a transformable necklace with a ruby and diamond camellia that can be detached to serve as a fabulous brooch.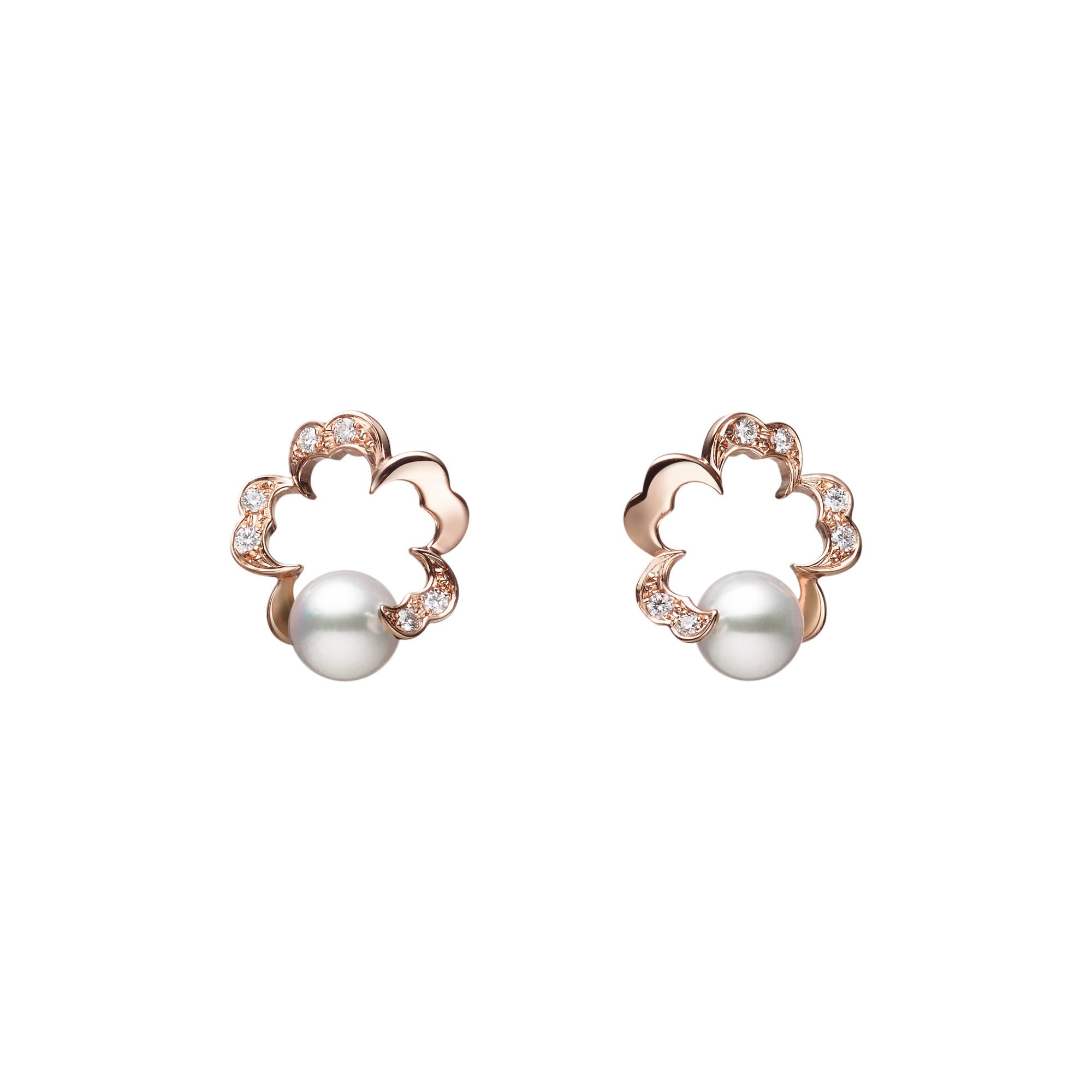 We often think of Chanel and pearls, but the name that's utterly synonymous with this gem of the sea is Mikimoto. The pioneer of cultured pearls, Mikimoto opened up its first boutique in Tokyo in 1899. Some 123 years later, the company is broadly considered the leading producer and designer of quality pearls and pearl jewellery.
Mikimoto celebrates its Japanese heritage with the classic Cherry Blossom collection, which melds rose gold – shaped to mimic the beautiful yet ephemeral sakura flower – with gorgeous Akoya cultured pearls and diamonds.
Unlike the real cherry blossom, which appears for a scant six weeks per year, you'll have the chance to appreciate these delicate blooms day in, day out, for decades to come.

Chopard steps into spring with its Garden of Kalahari, jokingly referred to by artistic director Scheufele as 'very expensive Lego' with its removable elements
Mikimoto celebrates Japanese heritage with its Cherry Blossom set, using Akoya cultured pearls, while Chanel's signature camellia motif evokes its famed founder Coco Chanel