STYLE Edit: Omega releases the newest Mini Trésor collection in celebration of its star-studded campaign, featuring inspiring women including Nicole Kidman, Zoë Kravitz, Kaia Gerber and Zhou Dongyu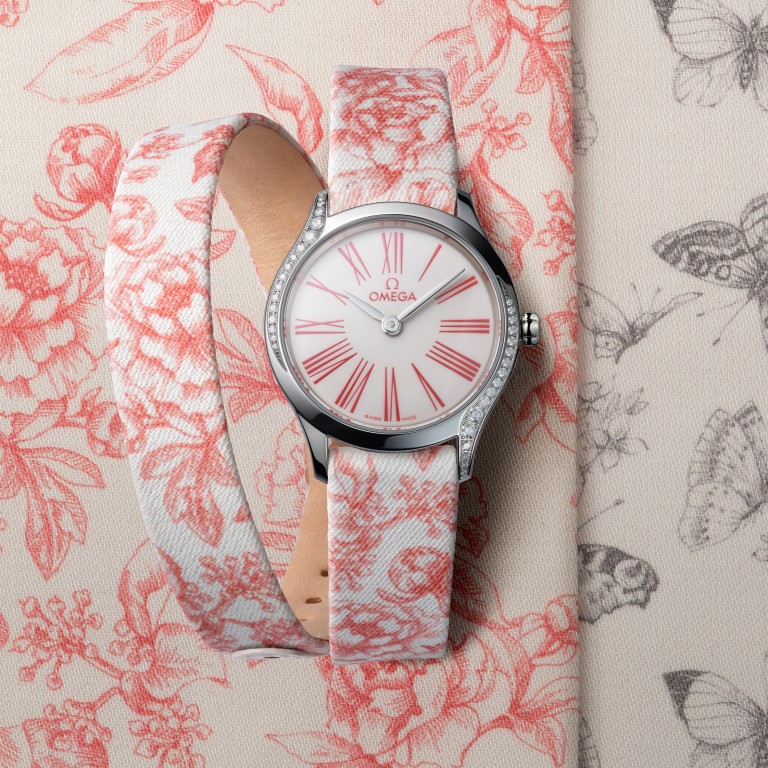 With more than 100 years of experience in creating women's watches of unparalleled reliability, beauty and versatility, Omega has
something for every woman to covet
. Its panoply of different women's timepieces, which includes the Trésor, Aqua Terra, Constellation, Planet Ocean, Speedmaster, Prestige, Ladymatic and Dark Side of the Moon collections, ensures that every possible taste is catered for. From the resolutely classical to the fearlessly innovative, and from dazzlingly dressy sparklers to ideal every day tickers, Omega has a watch to support every woman through her daily life.

This remarkable diversity is aptly showcased in a new campaign that focuses on the personalities of Omega's family of female ambassadors. They include a panoply of distinguished acting talents:
Academy Award winner Nicole Kidman
; Zhou Dongyu, one of China's foremost young screen stars since she starred in 2010's
Under the Hawthorn Tree
; South Korea's Han So-hee, who exploded in popularity after starring in 2020's
The World of the Married
; and US star of big and small screen Zoë Kravitz, who's also a musician and model. They're joined by American-Japanese Kiko Mizuhara, whose modelling work has also blossomed into a screen career;
Kaia Gerber
, who's following the family modelling tradition started by her mother, Cindy Crawford; and Olympic and world champion sprinter Allyson Felix, who has been tearing up tracks for nearly two decades.
Highlighting the individuality of each of these women of achievement, the new campaign pictures them in a series of sophisticated black and white portraits, each accompanied by their favourite Omega watch, along with the words they live their lives by.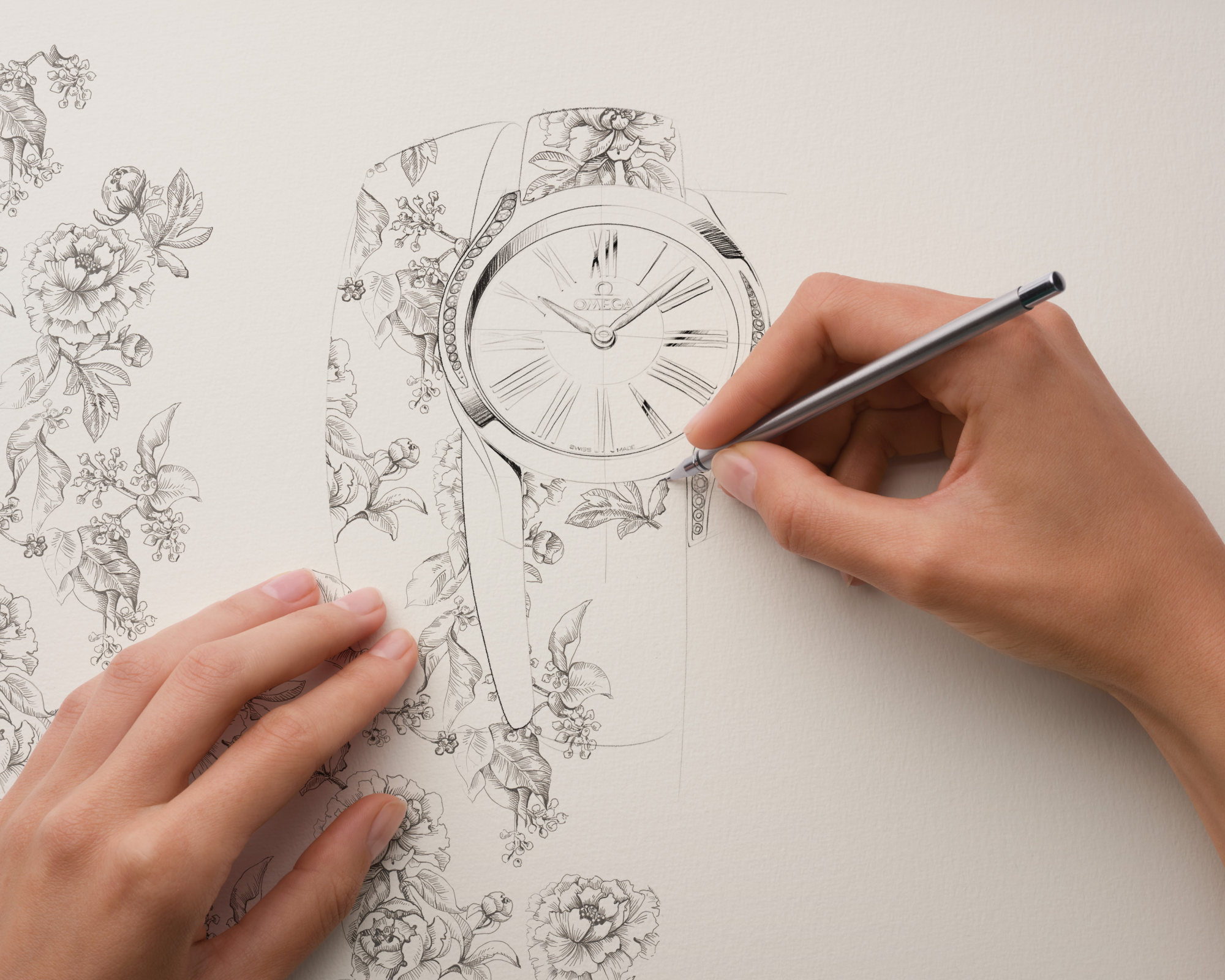 One of the most-loved and most instantly recognisable of all of Omega's women's watch lines, the Trésor collection has a long and storied history that dates back to 1949. The name, meaning "treasure", originally referred not to any precious adornments on the watch but to the calibre beating at the heart of it – one that ensured absolute precision and reliability, but that also came in slimline proportions of just 30mm, allowing the case of the watch to display an elegantly thin silhouette. The collection was revived in 2017 with a new design that updated it for the 21st century.
Now, for 2022, the latest watches in the collection, launched to celebrate the new campaign that showcases Omega's ambassadors, slim it down even further to just 26mm. The new look Mini Trésor timepieces come in a variety of styles, with a range of dial and case options, including several in Omega's very own, highly covetable version of gold, as well as some spectacular straps in a head-turning new pattern.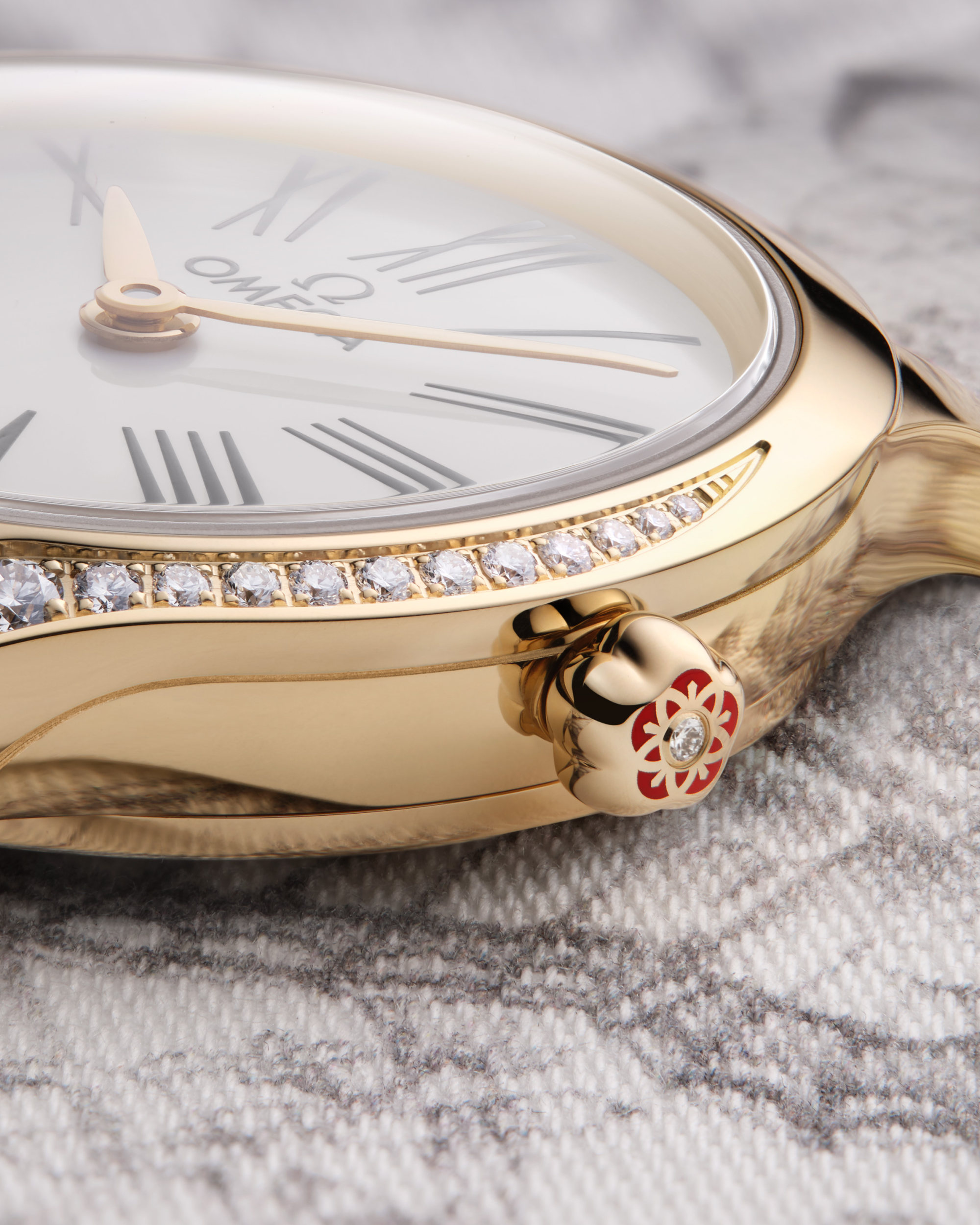 The new watches in the collection all have a few key design elements in common, however. Each features the iconic Trésor crown at 3 o'clock, engraved with a flower in red liquid ceramic and set with a diamond. They also all come with the collection's trademark elegant, elongated Roman numeral indications on the dial, as well as a handy mirrored caseback in the so-called "Her Time" pattern that allows the user to check her reflection with ease.
The case of several models comes in Moonshine Gold, a unique 18k yellow gold alloy first developed by the house in 2019 to mark the 50th anniversary of the first moon landing – for which astronaut Buzz Aldrin wore an
Omega Speedmaster on his wrist
– that features elements of silver, copper and palladium. With a cool, sophisticated pale hue inspired by moonlight, the alloy is also highly resistant to fading.
One version of the Mini Trésor comes with a dial in off-white grand feu enamel with blackened Roman numerals; while another is absolutely swathed in Moonshine Gold, which covers not just the case and the satisfyingly smooth, silky dial but also the bracelet, hands and hour markers.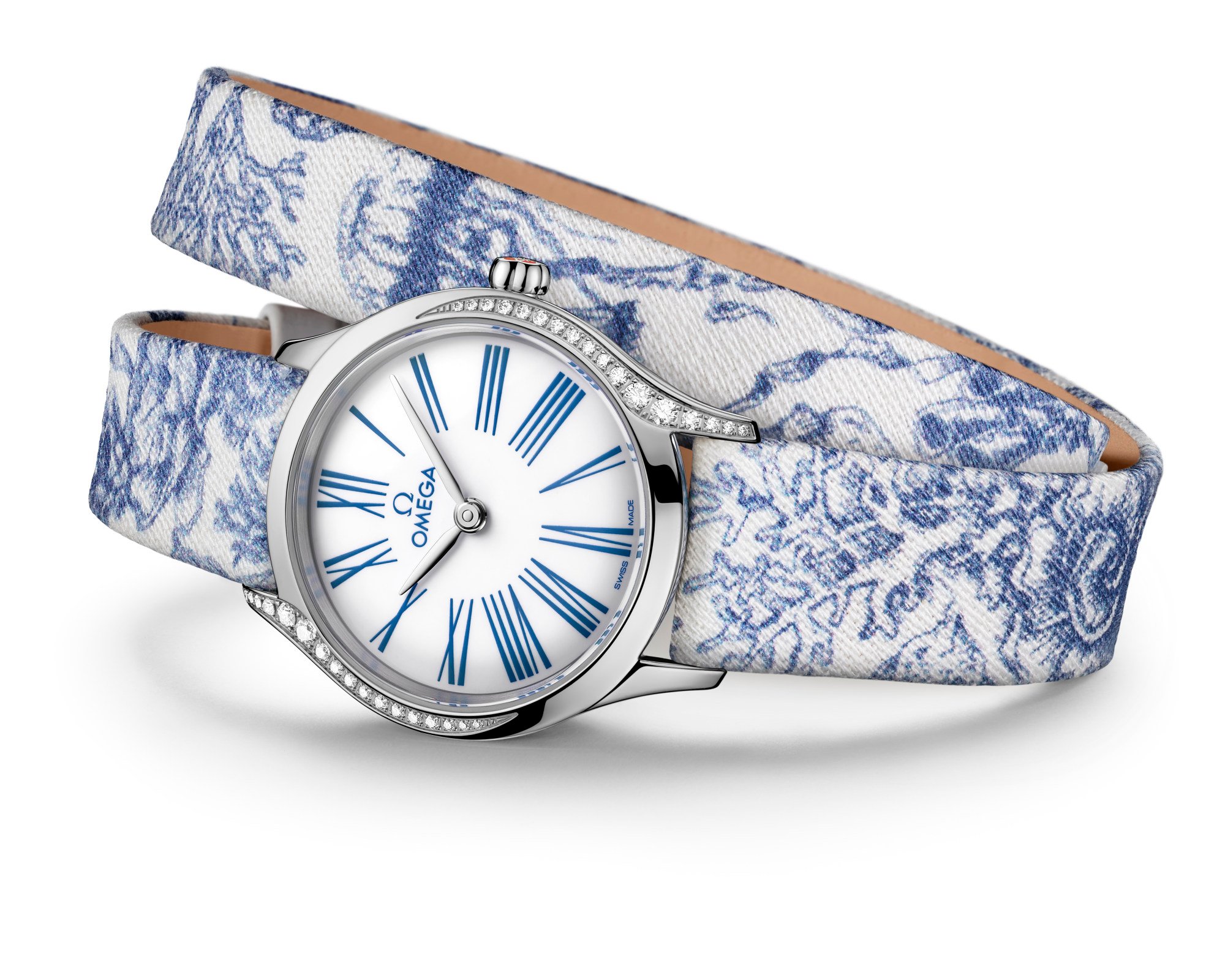 Dazzling aesthetic innovation comes with a traditional influence in form of the beautiful new Toile de Jouy straps that are available as an option in the collection. The elegant pattern is inspired by printed tapestry and porcelain designs that originated in the Versailles region near Paris in the 18th century. The straps come in three colours – blue sea, reflecting Omega's long heritage of making watches with the marine world in mind; black butterfly, referring to its history where the exploration of air and space are concerned; and red floral, reflecting its love of the Earth – and are available on watches with cases in either gold or stainless steel.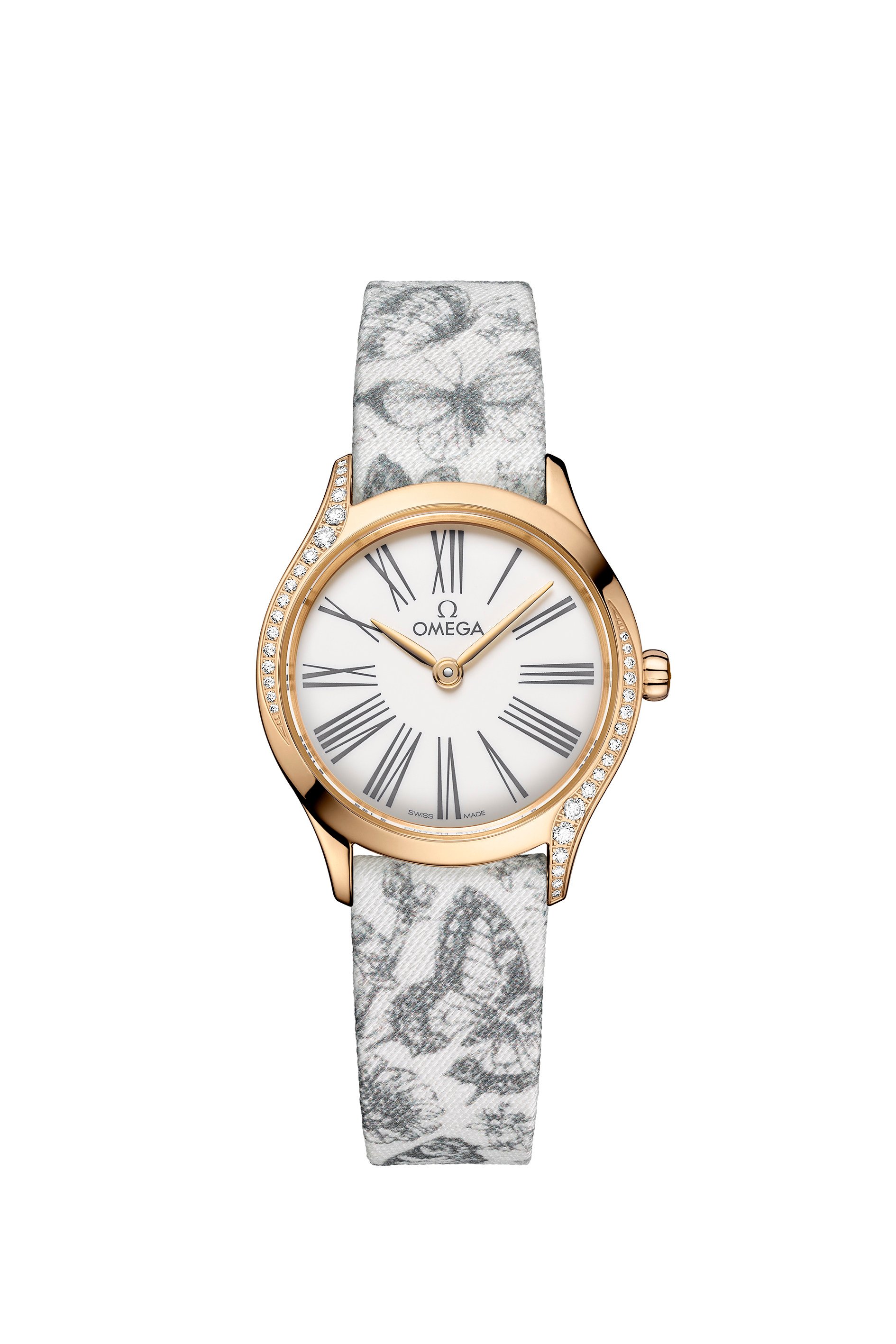 The Toile de Jouy straps in three colours are also available in a dramatic double wrap version of the Mini Trésor that twists twice around the wrist, showing off the dazzling new pattern to maximum effect.
Like the women of achievement who represent the essence of the Omega brand, the new watches in the Mini Trésor collection each have their own strengths and achievements, and each has an equal power to inspire.

The new campaign chose women of diverse talents, from Kiko Mizuhara to Olympic sprinter Allyson Felix, to celebrate female success
The new Mini Trésor timepieces come in different styles with a variety of dial and case options and a gorgeous new pattern, with the signature Trésor crown