Haute Joaillerie Edit: Chaumet's latest Ondes et Merveilles high jewellery collection explores marine marvels, featuring weighty precious stones from diamonds to Colombia emeralds and pink tourmalines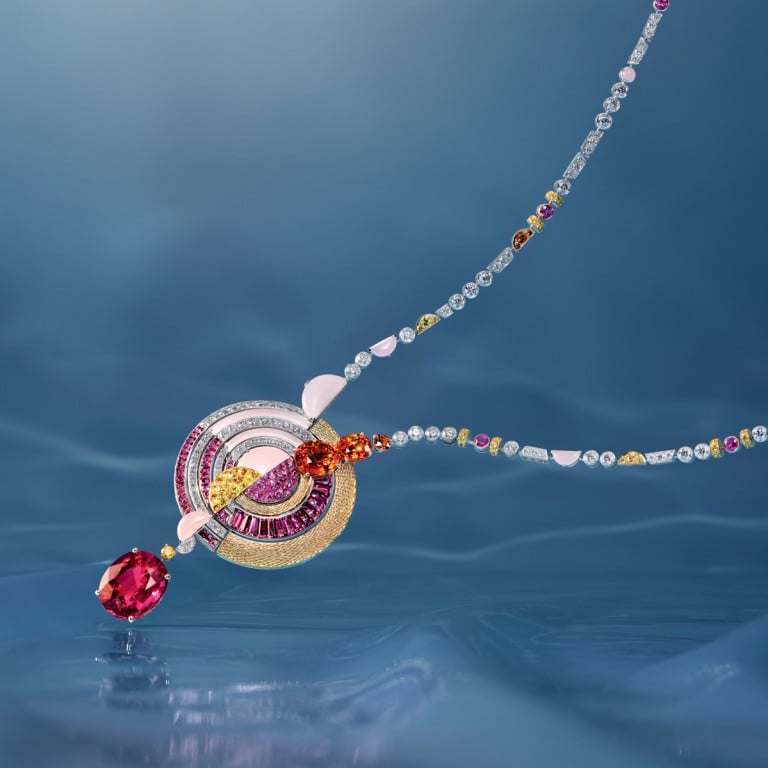 Summer in our maritime city can mean only one thing: it's time to get out on the water. For the perfect accompaniment to all your ocean adventures, check out the latest collection from Chaumet. The legendary Parisian high jewellery maison has always drawn inspiration from the sea, but with the Ondes et Merveilles collection – meaning "waves and wonders" in English – it has for the first time devoted an entire collection to conjuring the marvels of the deep, in a variety of transformable pieces that will have you covered from fabulous sailing boat-day trip to a glamorous evening out afloat a luxury superyacht.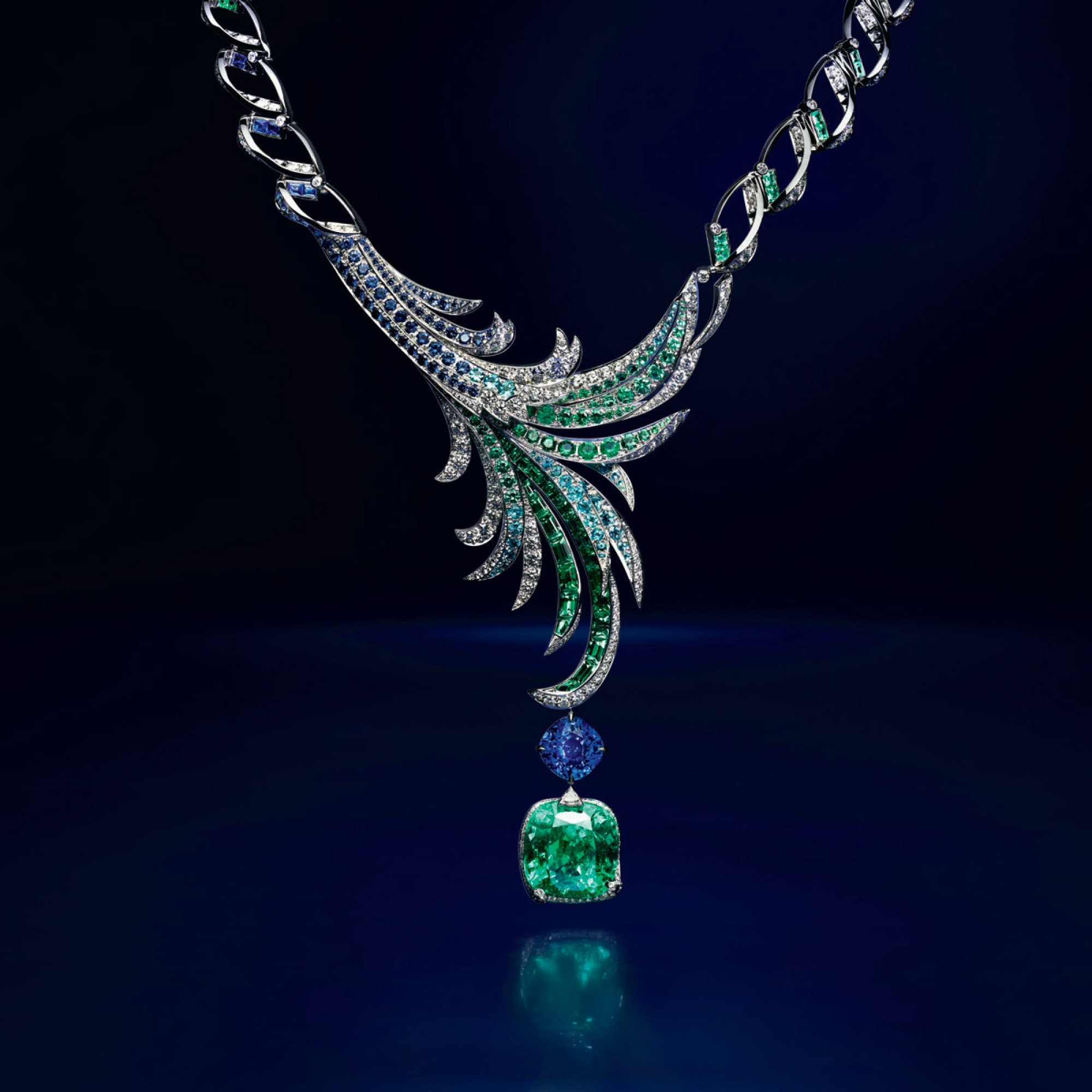 The pieces in the collection's À Fleur d'Eau set evoke the lapping of the ocean waves. Made of marquise diamonds that appear to float independently, it includes a dramatic necklace with a detachable, 7.18-carat, pear-shaped diamond, as well as a head jewel that transforms into two brooches, plus pendant earrings and a ring.
Taking its name from the warming Atlantic wind, the Gulfstream set features two necklaces that fuse warm and cold colours, alongside two rings, a bracelet, a brooch and earrings. One necklace combines a 26-carat, mint-green Colombian emerald with a Madagascar sapphire, while the other pairs a cabochon emerald with a 19.84-carat black Australian opal.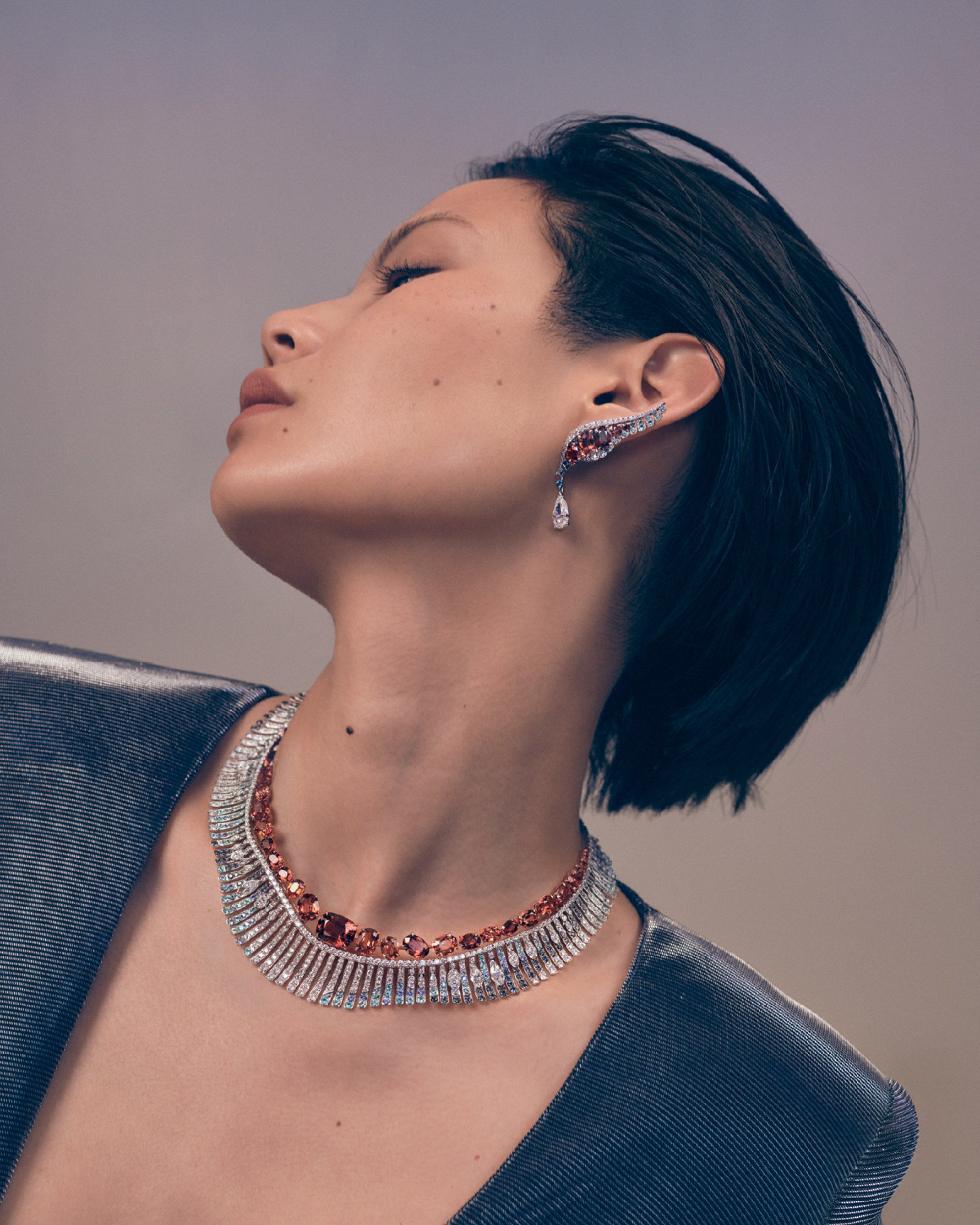 The graceful shape of a wave-carved bay is recalled in the Escales set. The centrepiece necklace recreates a shoreline with rows of spinels and sapphires, while two rings and a pair of pear-cut diamond drop earrings also reflect the interplay of land and sea.
The Chant de Sirènes set evokes the seductive song of mythical sea creatures. Rings and earrings are joined by a necklace featuring Tahitian pearls with an intriguing green hue, alongside several tourmalines, including a 23.79-carat, cushion-cut example.
Treasures of the sea are used to honour the beauty of the night sky in the Comète des Mers set. Along with a pair of long pearl drop earrings, its necklace features a collection of padparadscha sapphires, including a 5.91-carat example at its centre, offset by natural pearls in grey, mauve and olive.
Gold comes to the forefront in the Galets d'Or set, where it takes the form of pebbles on a seashore. Combining rose and white-gold, diamonds, morganites and padparadscha sapphires, it includes an openworked ring and pendant earrings.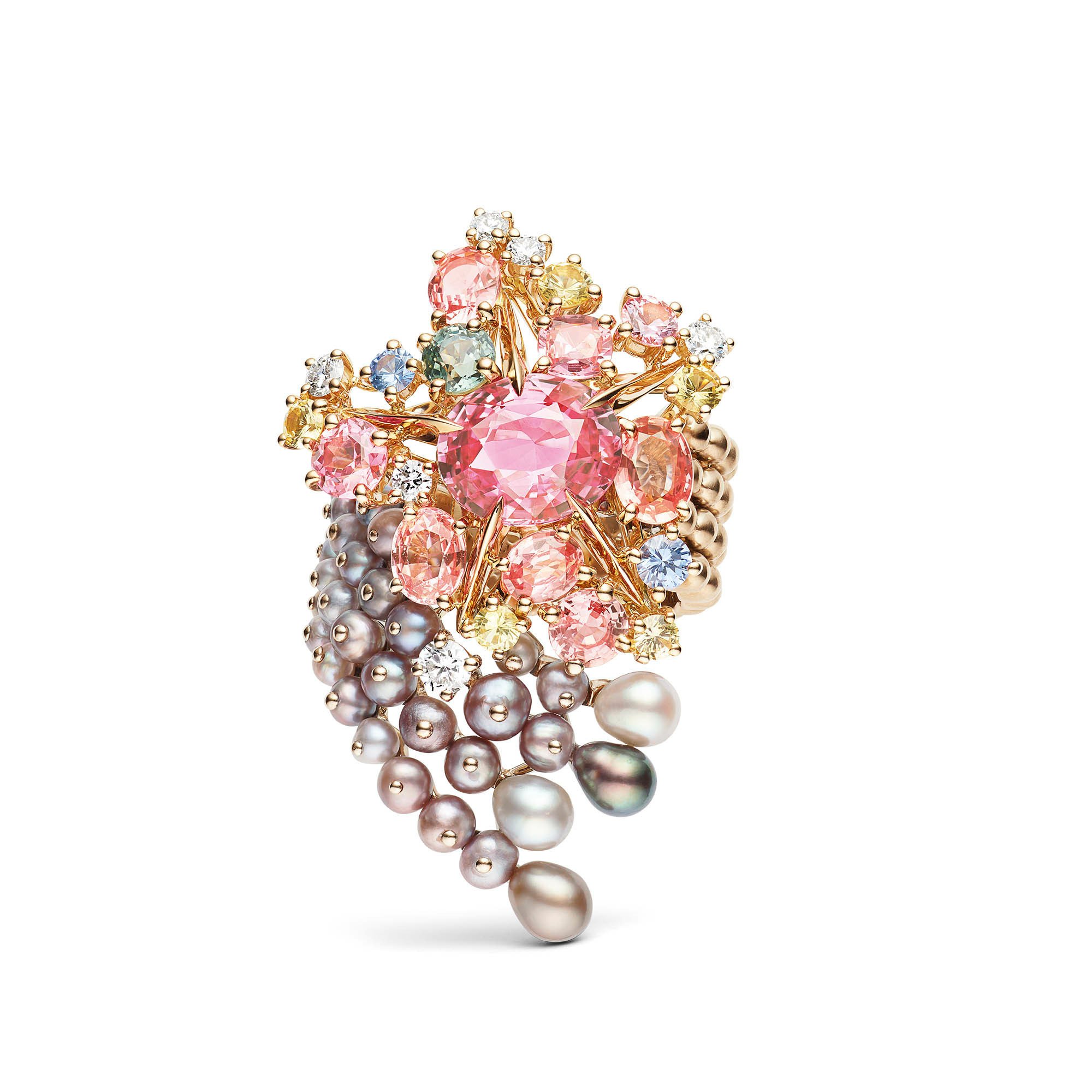 The wonders of a coral reef are recalled in the richly coloured, boldly experimental Chasse aux Trésors set. A brooch, ring and ear studs feature chrysoprase branches and a pavé of tsavorite garnets, purple and pink sapphires and emeralds, alongside a sautoir of angel-skin coral beads and a necklace of pink spinels, padparadscha sapphires and a 21.35-carat, pear-shaped pink tourmaline.
Conjuring up the languid pleasures of a day spent lounging on the beach, the Sous le Soleil set features a sautoir that combines rubellites – one of 22.18 carats – and mandarin garnets, with an eye-catching disc of rubellite and vaporous pink chalcedony. The set also includes three Complication Créative watches, featuring sapphires, rubies or emeralds.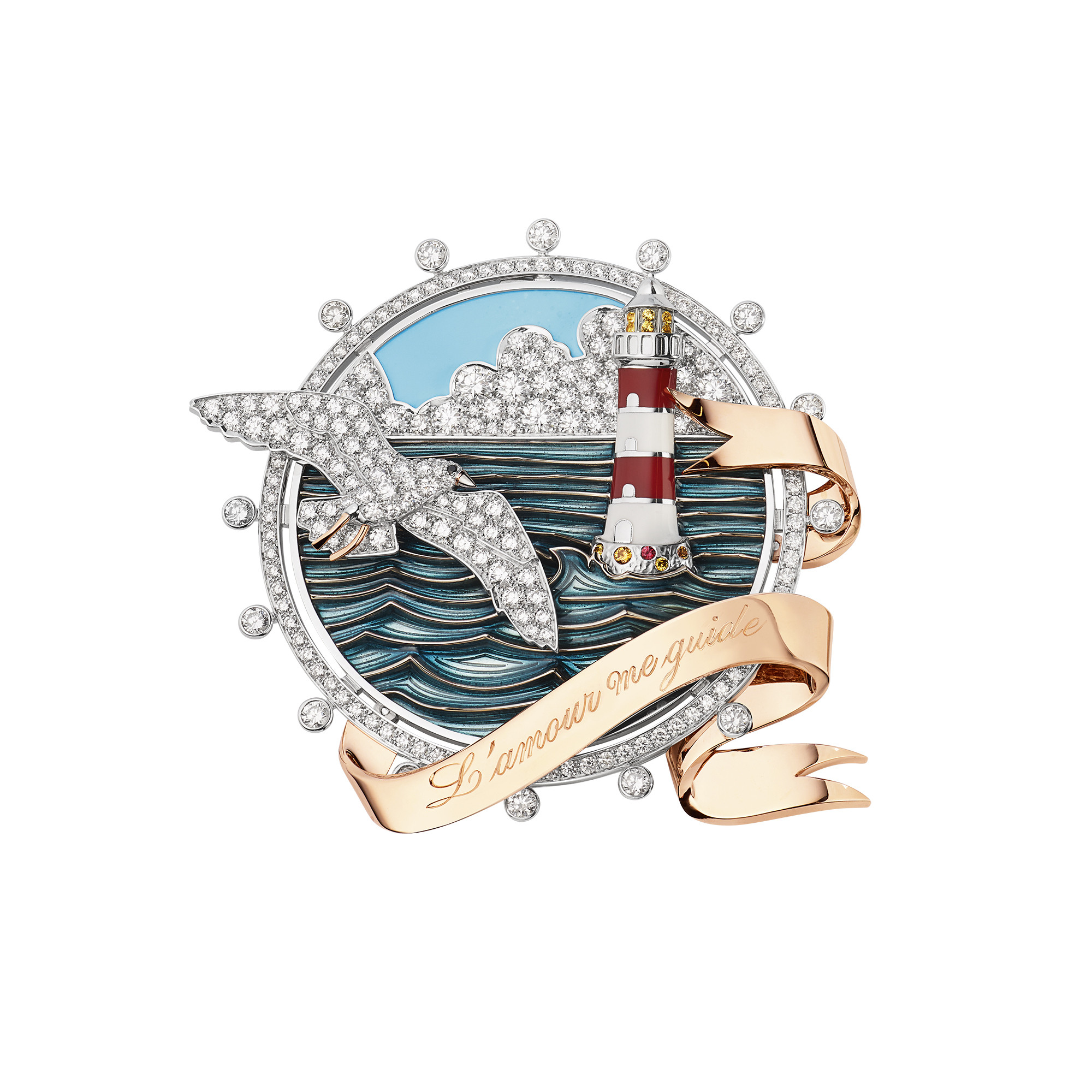 Finally, the unisex brooches in the Encres set showcase reinterpretations of traditional sailors' tattoos. Jauntily picked out in Grand Feu enamel and studded with diamonds, they can also be transformed into statement necklaces.

Chaumet's newest collection captures aspects of our planet's oceans in a series of dramatic high jewellery sets from À Fleur d'Eau to Gulfstream
The Chasse aux Trésors set offers a necklace that features a 21.35-carat pink tourmaline, while Sous le Soleil has a sautoir with a rubellite of 22.18 carats