6 watches exemplifying Japan's urushi lacquerware technique: from Seiko's Presage Kanazawa limited edition and Bulgari's Diva Finissima Minute Repeater, to Chopard's zodiac-inspired L. U. C XP
As Seiko celebrates the 110th anniversary of the Laurel, its first-ever wristwatch, Grand Seiko came storming out at the end of January with a sleek and subtle re-edition of its first watch, featuring a technique that should definitely be discussed more as wristwatches become art pieces.
Urushi is a type of lacquer native to Japan, developed from the poisonous sap of the Toxicodendron vernicifluum or Chinese lacquer tree. Emerging during the Jomon period in Japan some 9,000 years ago, it was introduced as a luxurious finish for wood and furniture sent to Europe in the 16th and 17th centuries where, for a time, lacquering or varnishing in any fashion was known as "Japanning".
While other types of glossy finishing techniques have been developed and have since become the norm for watch dials – Vacheron Constantin uses the associated lacquer art technique known as "
maki-e
" on lacquer finishes from different tree saps in their
métiers d'art pieces
–
urushi
's near-exclusivity of origin evokes an altogether different style of glossy finish that must be meticulously executed, resulting in pieces that look stunning and which are, unsurprisingly, few and far between.
Here are six of our favourites that use the esteemed lacquer technique.
1. Grand Seiko "First"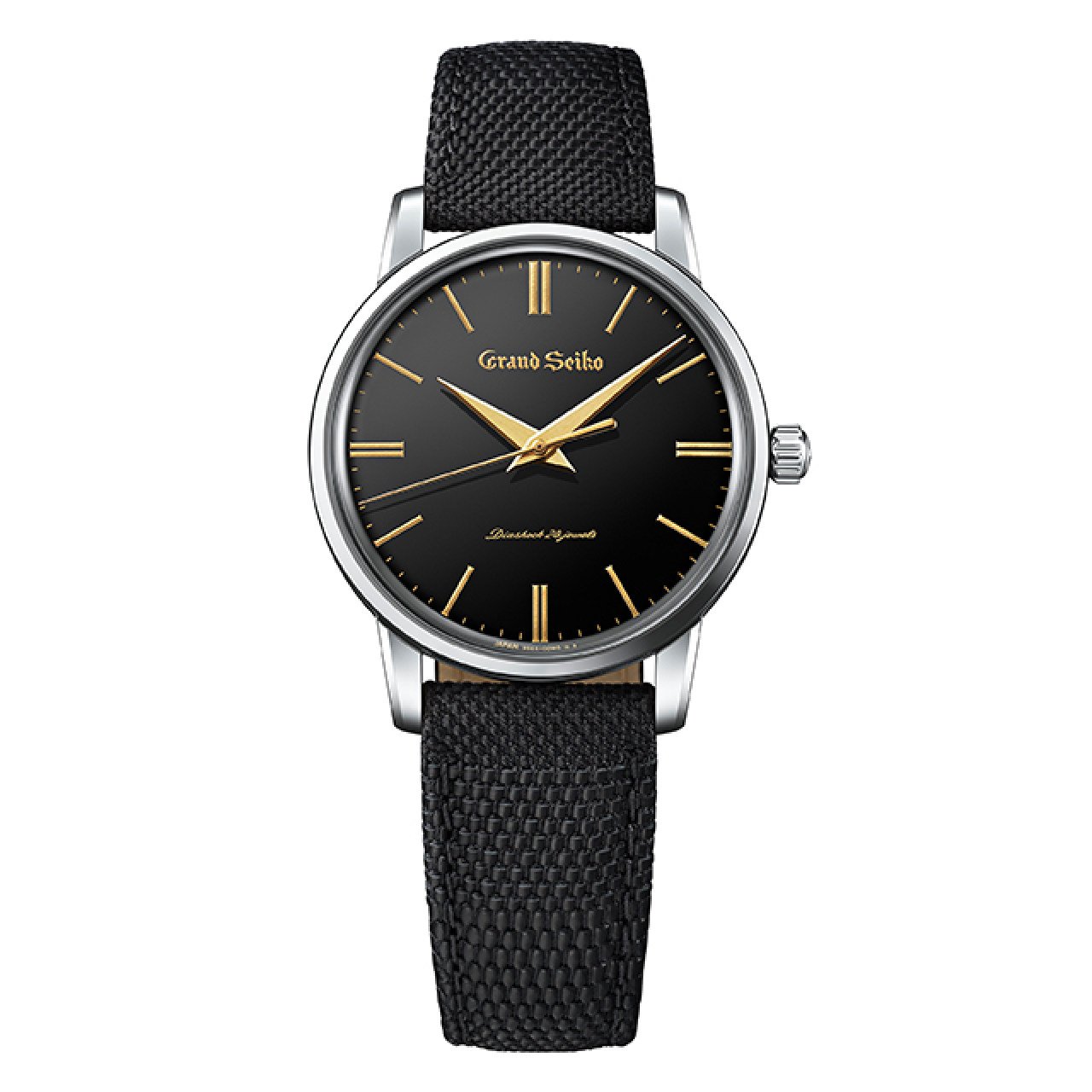 Considered by Dmarge and others to be part of a "new holy trinity" of watchmakers poised to contend with Swiss mainstays Audemars Piguet, Vacheron Constantin and Patek Philippe,
Grand Seiko is celebrating
the 110th anniversary of the larger Seiko brand with a remake of the first Grand Seiko from 1960, limited to 500 pieces and coming in at US$13,800.
This year's SBGW295 follows the dress watch trilogy commemorating Grand Seiko's own anniversary in 2020 by combining the iconic design of the first Grand Seiko with a modern 38mm zaratsu-polished titanium case and a subtle black urushi dial with hand-painted gold hands and indices, all done by lacquer artist Isshu Tamura.
2. Chopard L. U. C XP Urushi Year of the Rabbit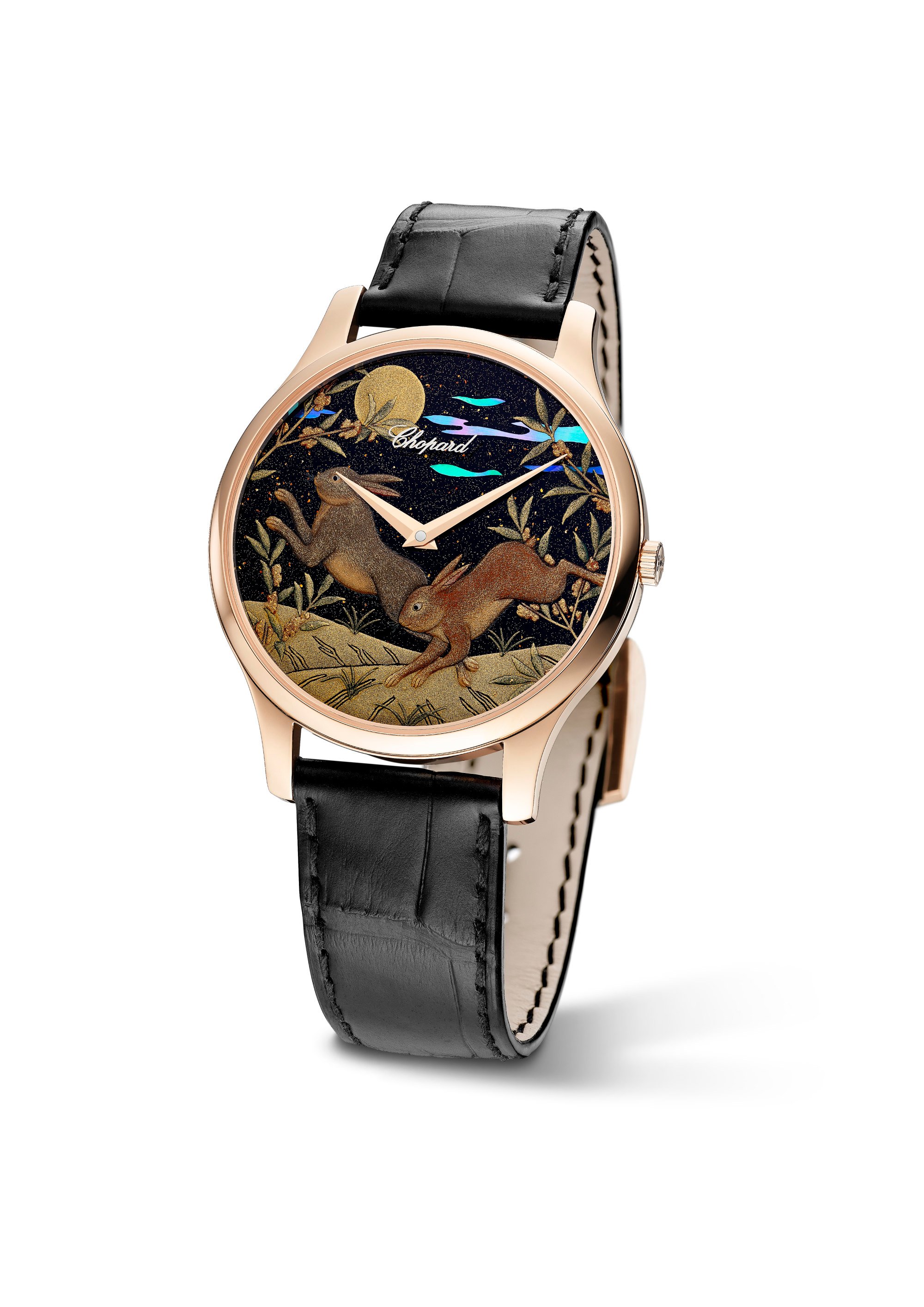 While Grand Seiko celebrated an anniversary with a minimalist, one-off urushi piece, Chopard sits at the other end of the spectrum as a non-Japanese maison releasing new, ornate and zodiac-inspired urushi watches every year – including this 39.5mm piece released for the Year of the Rabbit, which costs US$26,200. Each watch is hand-painted by master lacquer artist Minori Koizumi.
And the maison hasn't stopped there: if the personal relevance of
any given zodiac animal
is a concern for buyers, Chopard releases other
urushi
pieces from time to time, including the L.U.C. XP Spirit of Shi Chen, which gives you all twelve in a single phase-esque complication that rotates by the hour, as well as the ultra-thin L.U.C. XP Urushi Vietnam Edition.
3. Minase Hakose Urushi Maki-e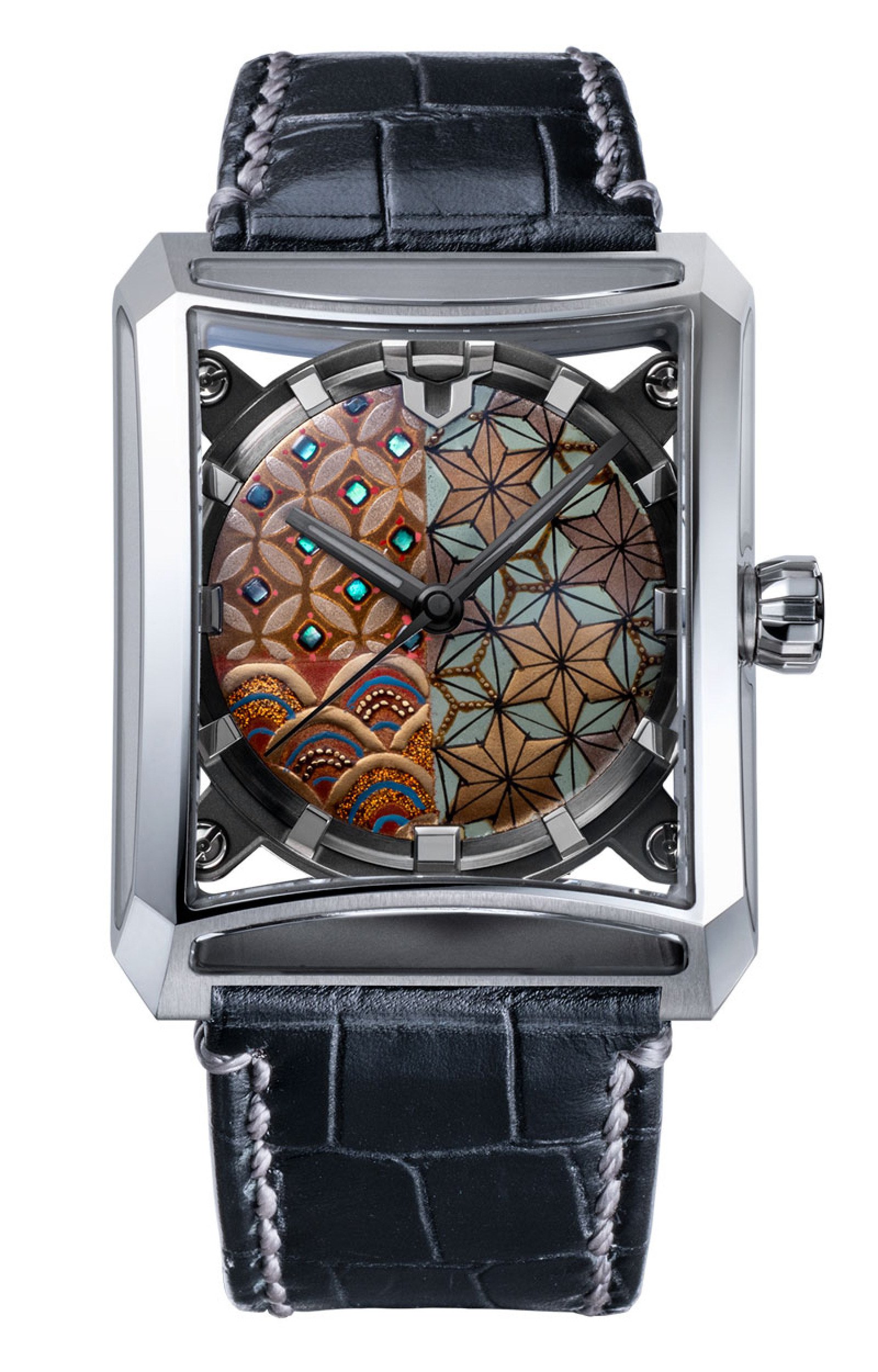 Named after the Minase region in Japan's Akita prefecture, this independent house was founded in just 2005. However, it is keen to adhere to tradition. All of its watches are, like Grand Seiko, finished with the uniform zaratsu polishing technique, and the house prefers to hire locally and train staff under its concept of "monozukuri" (translating simply to "manufacturing"), which Minase believes to mean "learn by doing, again and again". Even so, quality trumps quantity here, since the house also claims to make less than 500 pieces a year.
Minase features urushi techniques quite heavily in its modern Divido collection, both as a way to finish its mainline coloured dials and in its more intricate shibo-urushi line, each of which are handmade and feature designs over the lacquered dial. However, our favourite urushi series from this house is the breathtaking 38mm by 47mm square-case Hakose collection, featuring four design types (Four Seasons, Komon, Yoshino Sakura and Yama Sakura) in collaboration with urushi master Junichi Hakose, which all come in at US$15,050.
4. Bulgari Diva Finissima Minute Repeater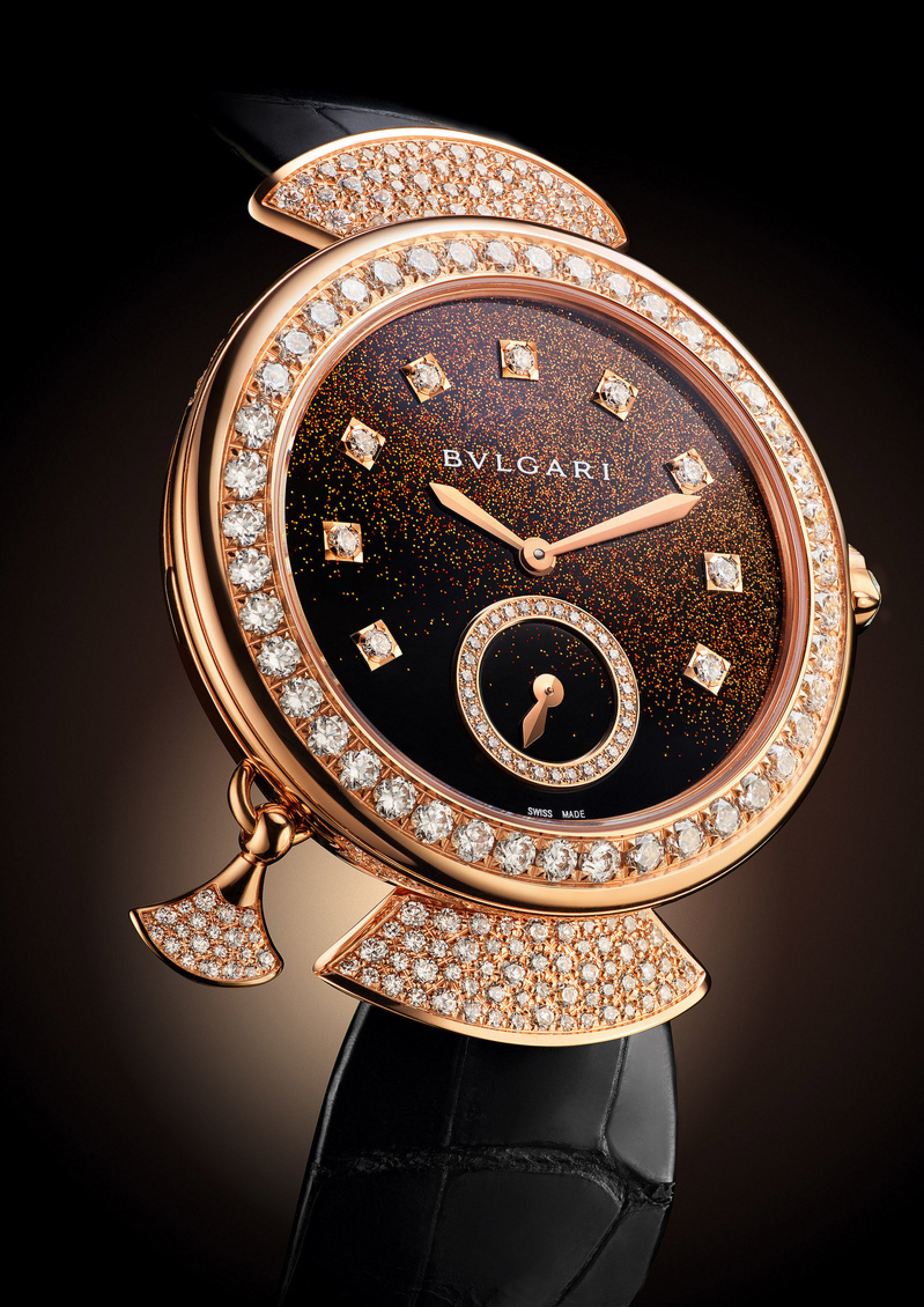 As if Bulgari's Diva Finissima watches weren't already instantly recognisable with their tapered lugs, the only other non-Japanese maison on our list has gone the extra mile in a big way with this piece released in 2018. Costing US$195,600, it's also the watch with the heaviest price tag on this list.
The rose gold lugs and bezel are set with diamonds that play against the pointillistic
urushi
dial design in a 37.5mm case, and the watch features
an extremely thin movement
from its Octo Finissimo line that includes the minute repeater complication, making this piece a sight to behold and a delight to wear.
5. Kurono Tokyo Grand Urushi Aoyama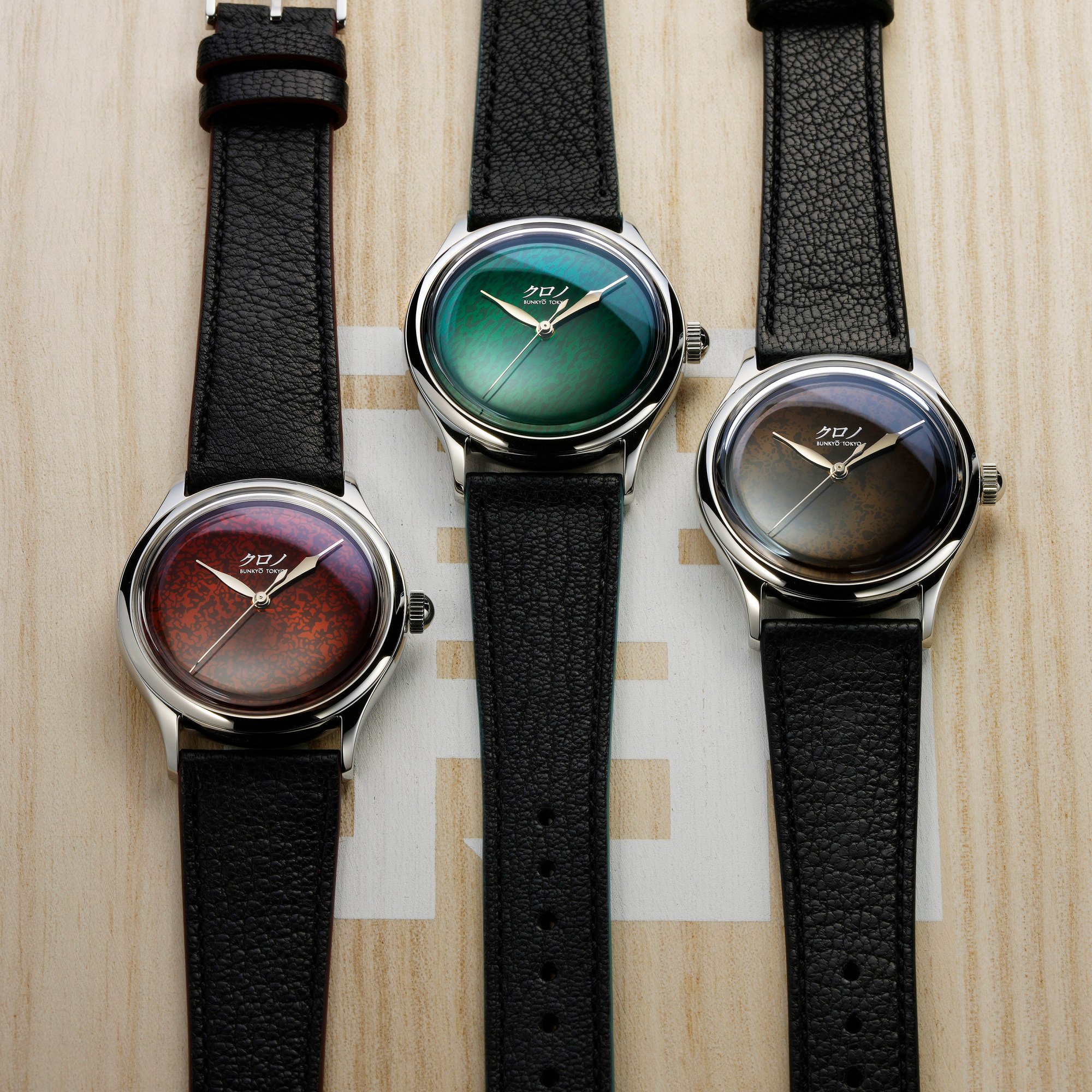 The sister brand of independent watchmaker Hajime Asaoka answers the eponymous designer's own desire for a well-designed, affordable piece which he claims is now rarely available in Japan.
Though this is not the first time Kurono Tokyo has used urushi on its dials, its anniversary Mori green dial pieces use the technique to stunning effect. The pieces evoke the modern ideal of minimalist colour dials à la H. Moser & Cie's Endeavour Centre Seconds – particularly the showstopping Concept Lime Green.
Eighty-eight sets of three of the Grand Urushi Aoyama were released in December 2022 at US$6,770, but individual watches are available as of February at US$2,730 apiece. The kicker? These will only be available for pick up at Kurono Tokyo's Aoyama salon – worth the trip for enthusiasts now that travel is back in full force around the world.
6. Seiko Presage Craftsmanship "Kanazawa" Urushi Dial Limited Edition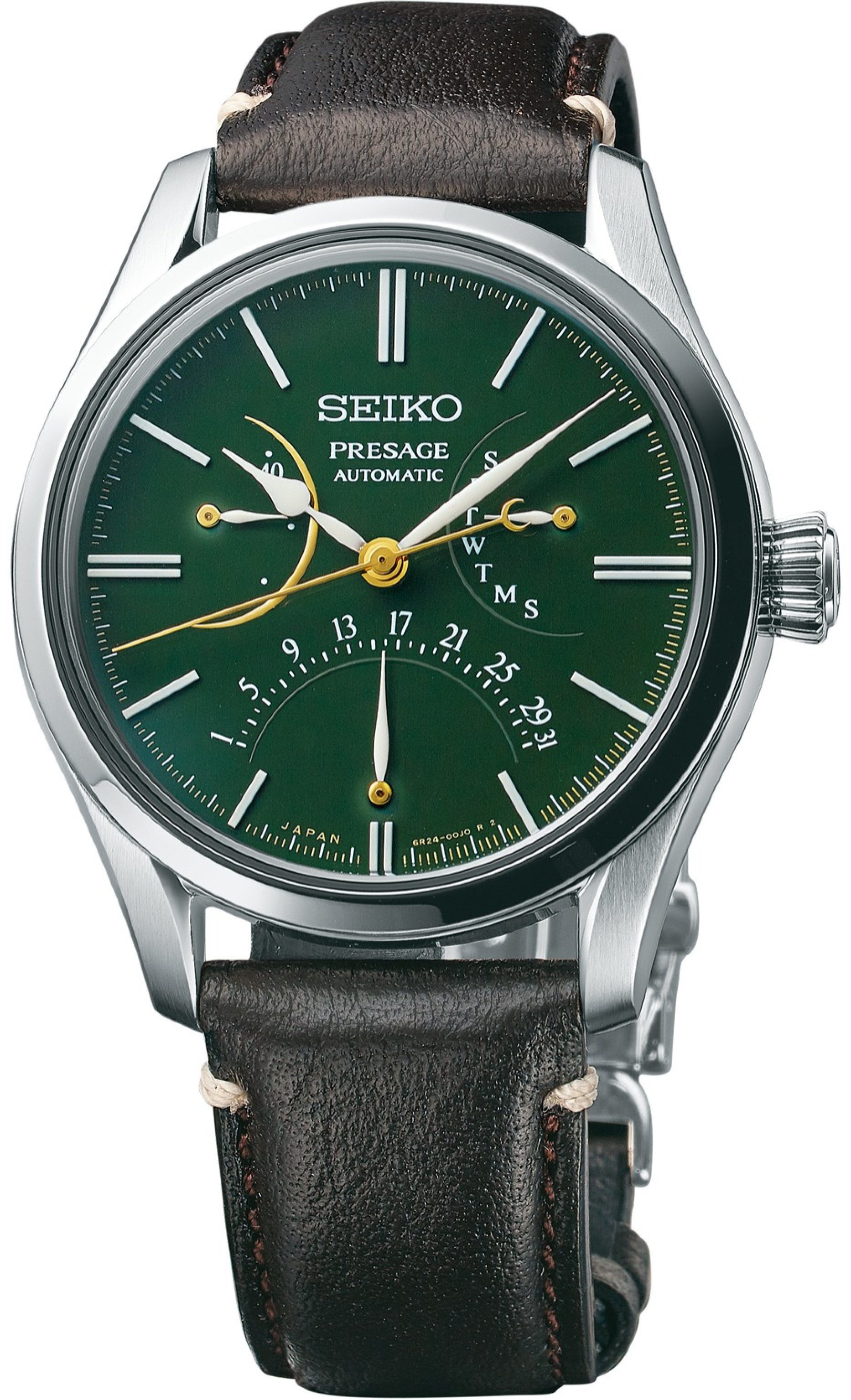 Of course, it would be improper for the last option to be anything but a Seiko as the brand celebrates 110 years of heritage. One of the most memorable urushi releases in recent memory came in 2015 as part of the Presage Timeless Traditions series that focused on eight artistic facets central to Japan's culture, giving us enthusiast favourite the Cocktail Time series, as well as three black-dialled urushi watches that, though discontinued, still have life as an affordable secondary market alternative to Grand Seiko's First.
However, Seiko blessed us last year in run-up to its 110th birthday with the luscious green 40.5mm Urushi Dial Limited Edition as part of its Craftsmanship series, with complications to show power reserve, day of the week and date. The piece is meant to evoke the green summers in the Kanazawa region of Japan.
As per Seiko's modus operandi, the brand remains unparalleled in delivering polished design with affordability. The Urushi Dial Limited Edition comes in at US$1,900 on the back of its 6R24 movement, a variation of Seiko's midrange 6R15 comparable to the Swiss ETA 2824 used by Tissot, Tag Heuer, Tudor, Breitling and others.

Patek Philippe and Vacheron Constantin may be better known for their métiers d'art pieces, but it's the likes of Grand Seiko and Minase creating the most meticulous urushi lacquer watches
The technique, developed in Japan 9,000 years ago, creates a gloss originating from the Chinese lacquer tree, and the speciality has been embraced wholeheartedly on these watches