It's the Rembrandt snagged at a garage sale, the Apple Inc. shares found in grandma's desk.
How 'bout some hints of moon dust? The real stuff. Apollo 11 vintage. Neil Armstrong, 1969.
What might have been a monumental windfall for the man who transformed a planetarium in Hutchinson, Kan., into a world-class space museum (and then served two years of federal time for selling some of its artefacts), or for the Cosmosphere and Space Center itself, instead belongs to a rock-loving lawyer who got lucky with a very overlooked online auction for US$995.
Although NASA never wanted lunar rocks or the moon's powdery surface traded on the open market, sloppy space souvenir record-keeping a generation ago somehow let a prize slip through.
Later, the lawyer wrestled the bag back from the same NASA folks who confirmed it was laced with real moon bits.
This summer, gilded auction agency Sotheby's will put that "lunar sample return bag" — an Apollo 11 carrying case still encrusted with moon dust and rocks in its fabric — up for bid. The auction house expects to get north of US$2 million for the moonshot relic.
First-ever moonwalker Armstrong stuck the purselike pouch in a pocket of his spacesuit after taking surface samples following his "giant leap for mankind."
Scientists back on his home planet would study the dust he stashed away. But the agency that could land a man on the moon couldn't keep track of everything that was used on the voyage.
The zippered bag would eventually get tossed with other Apollo detritus, work its way to the Cosmophere's basement and then land in its former director's garage.
When that museum boss, Max Ary, later was convicted of selling Cosmosphere property and pocketing the proceeds, much of his own space memorabilia was seized, stored for a decade, and then sold to pay his fines and restitution to the Cosmosphere.
Why Hong Kong is now the world's second-largest jewellery auction hub
Two years ago, the US Marshals Service put the bag up for auction along with a launch key for a Soviet 1980s spacecraft Soyuz T-14 and a headrest for an Apollo command module. Nancy Lee Carlson, a real estate attorney from Inverness, Ill., snatched it up on a whim.
She was the only bidder, likely because there was no indication that it came with moon dust, or that it flew on the first manned mission to touch down on Earth's original satellite.
Only after she sent it to the Johnson Space Center in Houston to authenticate it did the item's true value get certified. After NASA confirmed the bag came from Apollo 11, it refused to return the pouch to Carlson. NASA contended it had never intended to give the artefact away, and the space agency wasn't letting it go.
So she sued. In December, US District Judge J. Thomas Marten in Wichita ruled that even if the sale by the Marshals Service was a mistake, the government had no authority to reverse the purchase. It was hers.
In February, Carlson took security guards to Houston to pick up the bag and has since contracted Sotheby's for another auction — this one with the bag's true value obvious.
"The bag that was used to bring back to Earth the very first sample of lunar material ever collected," boasts Sotheby's. "Traces of the moon dust and small rocks are still deeply embedded in the fabric of the bag … (an) exceptionally rare relic of humanity's greatest achievement — landing a man on the moon."
In fact, in the court fight over whether Carlson could get the bag back from NASA, the government described the bag as "a rare artefact, if not a national treasure."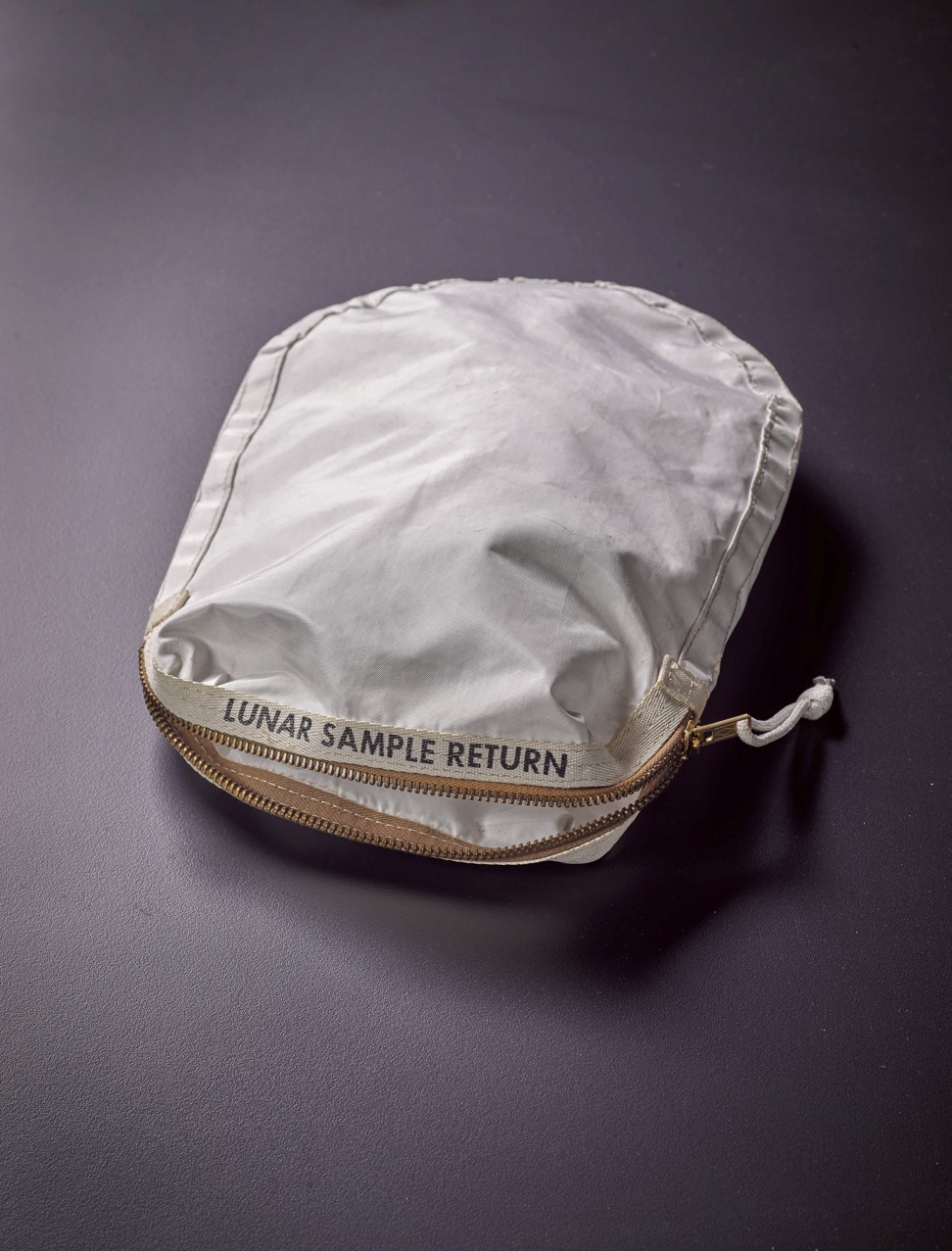 In some ways, this story begins in 1968, the year before Armstrong and Edwin "Buzz" Aldrin first trod in the Sea of Tranquility. A then-18-year-old Max Ary was in his first semester at Hutchinson Community College and signed on as a student assistant at the school's planetarium.
He'd work there for about five years before heading to Fort Worth, Texas, and another planetarium. There, he began making contact with NASA folks who rotated through Texas and was placed on an ad hoc Smithsonian committee trying to sort out what to do with the fast-compiling artefacts from the country's space race.
But the Fort Worth folks he was working for, Ary said in an interview, "had zero interest in space" at a time that NASA was looking to unload much of its gear from the Gemini, Mercury and Apollo programmes to make space for the coming space shuttle programme.
NASA had yet to build much of its own museum system, and the Smithsonian had use for a limited number of space relics to display beside the Wright Brothers' plane and the Spirit of St. Louis.
Meantime, Ary hosted a local TV show in Fort Worth talking about astronomy and the space programme while working as museum director at the planetarium.
"I would write to these various companies and tell them I had a weekly TV show on the benefits of the space programme," he said. "They were sending me artefacts."
He'd make trips to the Johnson Space Center and "people would say, 'Can you help me carry this out to the dumpster?' And I'd ask if I could keep it. … It got to where I'd go to Kmart and buy cheap suitcases just to carry it home."
300-year-old Madeira wine fetches US$39,000 at Christie's auction
Ultimately, he returned to Hutchinson with his artefacts — he said he brought 400 to 500 items — and his connections. The Cosmosphere began to stockpile a wealth of space travel artefacts.
Ary and Patty Carey, who'd established the planetarium, began developing the space museum in 1976 and opened the expanded Cosmosphere in 1980.
Its reputation grew along with its bonds to the Smithsonian. It restored a handful of Apollo command modules. The Apollo 13 capsule is its anchor artefact. Cosmosphere staff became adept at fixing used space suits.
That's also when the confusion settled in. Record keeping, say both Ary and the museum's current administration, was at best inexact. The rush of the items brought to the Cosmosphere became jumbled in sometimes slap-dash, handwritten inventory lists.
At some point in the late 1970s and early 1980s, the Smithsonian sent loosely organised boxes of materials to Kansas that probably included the lunar sample bag.
"People knew that this was Apollo hardware, this was Gemini hardware," said Jim Remar, the Cosmosphere's current president and CEO who joined the museum in 2000. "But nobody knew if this was flown on a respective mission or not."
Remar said the now-prized lunar collection bag almost certainly ended up in the museum basement, a climate-controlled space with high-density shelving and restoration work stations.
Meanwhile, the museum led efforts to find and recover Liberty Bell 7, astronaut Gus Grissom's Mercury space capsule that flooded after splashdown.
While raising money for that project, by Ary's telling, the museum board told the director to sell excess artefacts. He prepared items both from the museum and his own collection at his home.
But his belongings had become mixed with the museum's, he would later testify at trial. They would eventually be sold at three auctions from late 1999 to early 2001. Some of the items were on loan from NASA, meaning neither Ary nor the Cosmosphere was free to sell them.
Ary also sold items and kept the proceeds for himself.
He left the Cosmosphere in mid-2002. In 2003, a federal investigation discovered that Ary had sold stuff that wasn't his.
Ary ultimately went to trial in 2005 and was later sentenced to three years in prison on convictions of mail fraud, interstate transportation of stolen property, wire fraud, theft of government property and money laundering. Prosecutors sought US$233,762 from Ary in restitution, but a judge capped that at US$132,000.
Investigators had found the Apollo 11 lunar bag in 2003 when they searched his garage, which was full of items. Again, there was a mix-up. The detectives thought it was another bag, one that was used during the 1972 Apollo 17 lunar landing and that never carried any moon rocks.
The Apollo 11 bag — a loan agreement between NASA and the Cosmosphere shows no record of it — sat overlooked another decade-plus. Then Carlson scooped it up in 2015. The judge ultimately ruled that the government had legally seized it from Ary's garage and that she'd bought it from the government in good faith. No backsies.
Contacted for this article, new bag owner Carlson referred queries to Sotheby's. She did tell The Wall Street Journal that she hopes to use some proceeds from a July 20 sale in New York to fund scientific and medical research. "That's why we started the space programme," she said. "We wanted to go beyond."
NASA has given up its fight for the bag, but not its contention that the item should have stayed with the space agency.
"It was primarily through the unlawful activity of a third party that put this historical artefact into the public domain," the Johnson Space Center said in a statement. "This artefact was never meant to be owned by an individual."