Donald Trump has the oldest one, Tamim bin Hamad Al Thani's is the most expensive, Vladimir Putin has a squad of them, while Xi Jinping borrows his. What are we talking about? Their planes, of course.
By now, you've probably seen President Xi arrive in Hong Kong for the 20th anniversary of the city's handover to China. Whether you were actually paying attention to Xi or just trying to catch a glimpse of what first lady Peng Liyuan was wearing for this occasion, chances are you won't have missed the massive Boeing 747-400 dominating the background of the flag-waving, bodyguard-jostling scene.
When it comes to world leaders and their planes – and the secret one-upmanship we're sure goes on behind the scenes – it's not always the case of bigger is better. Rather, the world's most powerful men and women are demonstrating their aviatic clout through quantity, capacity, size and cost. Here are some of the most notable ones:
Xi Jinping
Claim to fame: Most practical
His ride: Boeing 747-400
Estimated value: US$250 million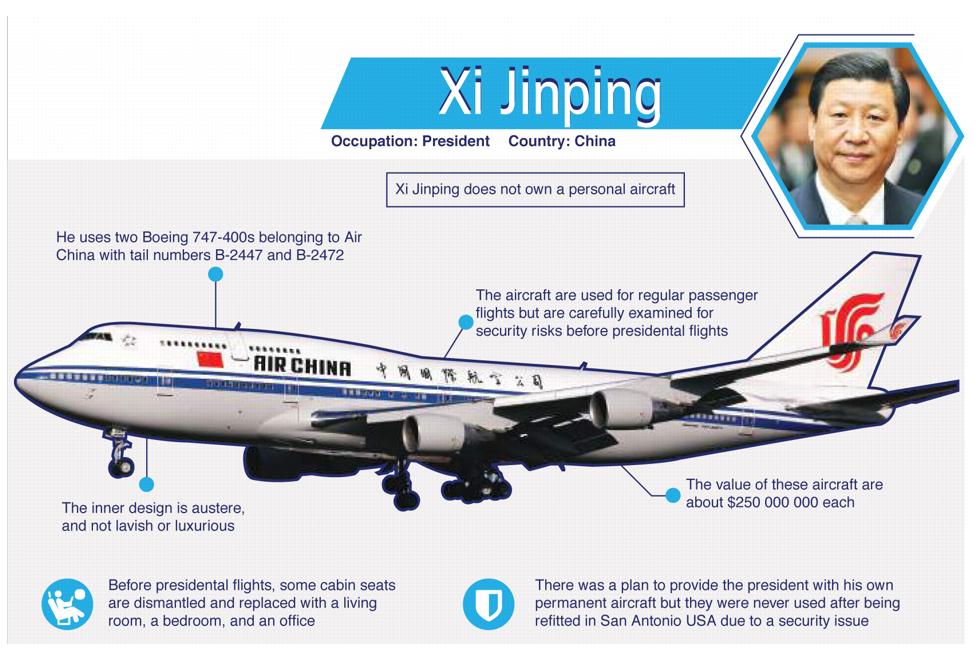 It might surprise you to learn that President Xi doesn't own his planes. The two Boeing 747-400s are vetted by security and refitted with a living room, bedroom and office when the president needs to fly, but they are reverted to regular passenger flights by Air China for the rest of the time. So next time you fly Air China aboard a Boeing 747, you could very well be staring out the same window the Chinese president does when he travels for state visits. Well, aren't you fancy?
Theresa May
Claim to fame: Highest capacity
Her ride: Airbus A330
Estimated value: US$250 million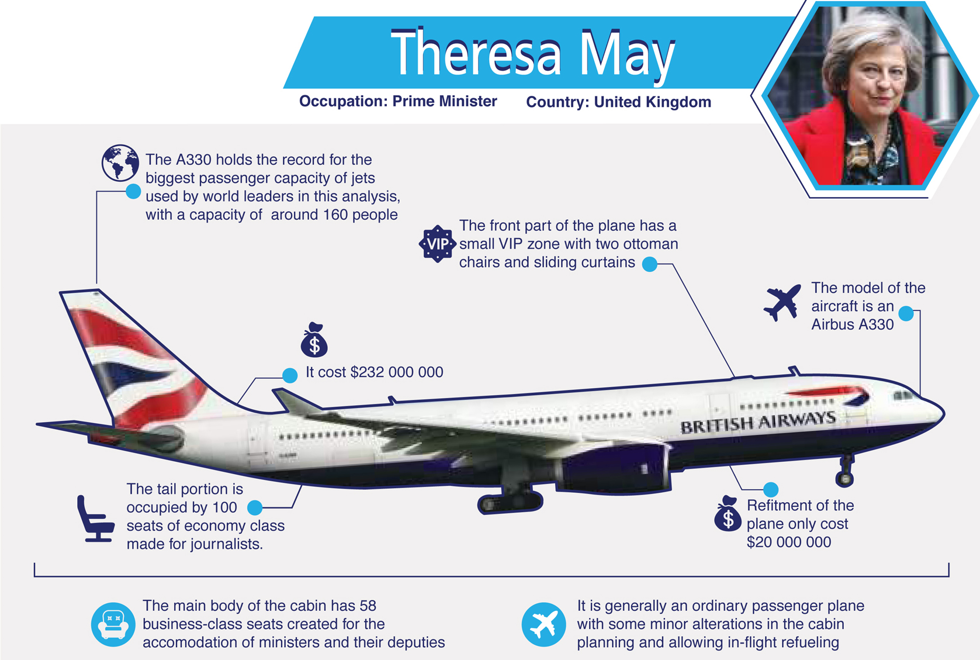 While former British prime minister David Cameron sometimes liked to live on the wild side and sit with regular plebs on public planes, May hasn't got time for any of that nonsense. Her personal Airbus has a practical configuration that includes 58 business class seats for ministers and their deputies, as well as 100 economy class seats for journalists. Since the A330 boasts the highest capacity of all the planes on this list with the ability to hold 160 passengers, we assume that the remaining two seats are for May herself and her one friend.
Donald Trump
Claim to fame: Oldest
His ride: Air Force One (two Boeing 747-200B planes, also known as VC-25A, and a smaller Boeing C-32)
Estimated value: US$1 billion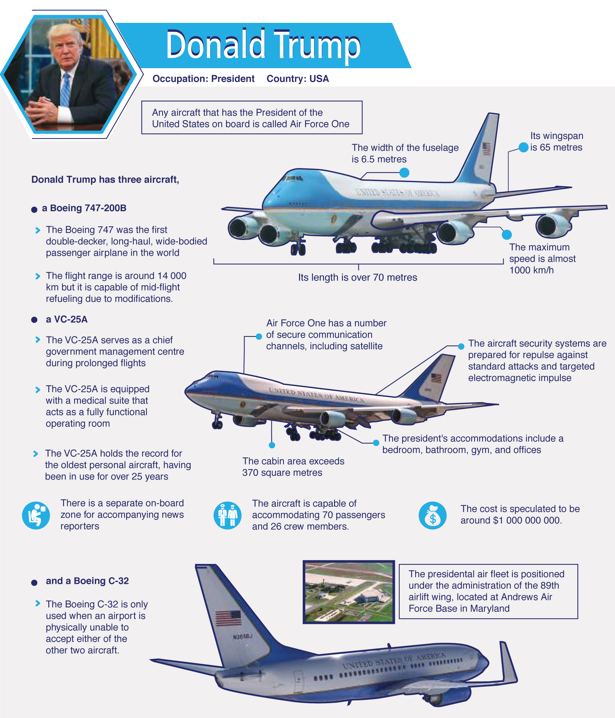 Air Force One is probably the most famous of all the presidential planes, having been featured heavily in TV, books and movies – most notably, the 1997 film starring Harrison Ford that's actually named after the plane. Of all the world leaders, Trump is the one whose aircraft is the oldest, the two VC-25As having been in use for more than 25 years. Nancy Reagan designed the first interior of the VC-25A, although it has since been updated, and the spacious cabin (more than 370 sq m) includes a bedroom, bathroom, offices and, surprisingly, a gym.
Vladimir Putin
Claim to fame: Biggest fleet
His ride: IL-96-300PU (Russian-made, of course)
Estimated value: US$500 million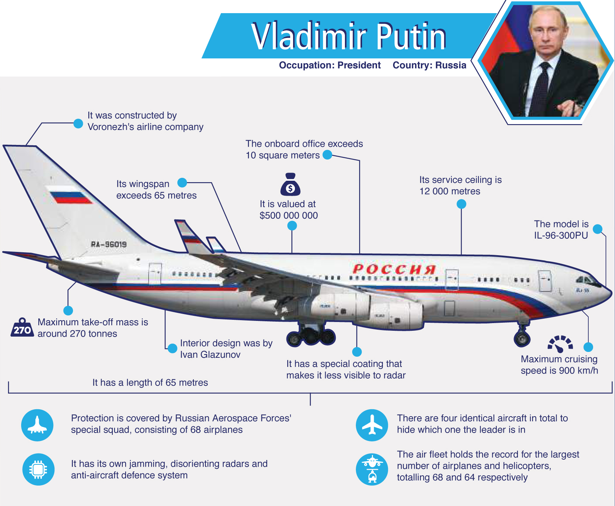 Putin is a man who's prepared for everything. In the unlikely event that something very dramatic and catastrophic happens while he's in the air, his plane is equipped with an advanced comms system that allows him to command troops mid-flight. Oh, and did we mention that he has a squad? His total fleet consists of 68 planes, and like a very expensive shell game, four planes are readied each time Putin wants to fly. Even after he boards one of the four, one or all of the remaining planes follow him as reserves. #squadgoals
Angela Merkel
Claim to fame: Variety
Her ride: Konrad Adenauer
Estimated value: US$300 million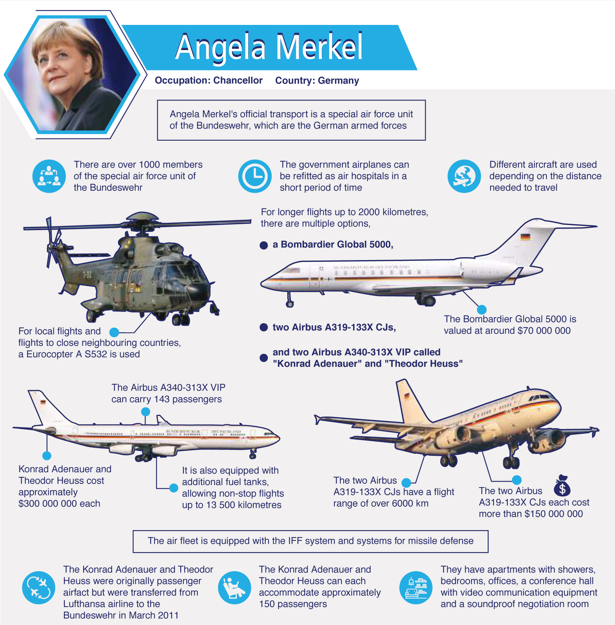 Merkel is a lucky woman. Her fleet consists of four Airbuses, a Bombardier, and a copter. Her flagship ride is Konrad Adenauer and its twin Theodor Heuss (both Airbus A340-313X VIPs which coincidentally also sound like thuggish German billionaires), which cost around US$300 million each. Depending on the travelling distance, however, she also gets to choose from a Eurocopter AS532 (for nearby destinations), a US$70 million Bombardier Global 5000, or two Airbus A319-133X CJs that total around US$300,000,000.
Tamim bin Hamad Al Thani
Claim to fame: Most expensive
His ride: He has 14 (plus two more on the side for personal use)
Estimated value: US$1.5 billion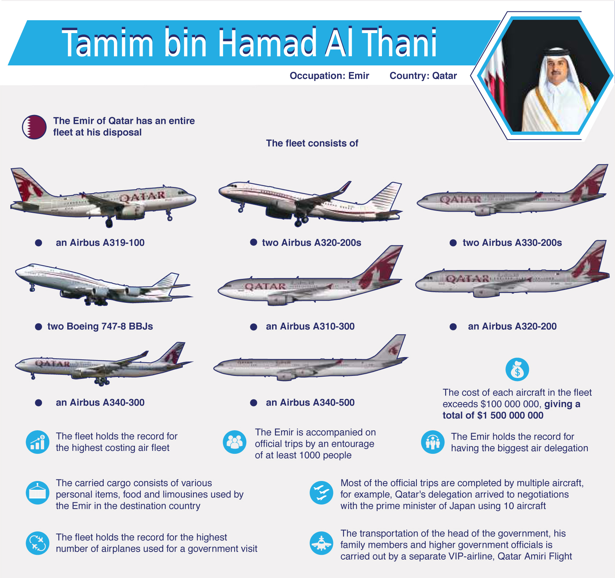 The Emir of Qatar doesn't mess around. On official trips, he likes to travel with an entourage of at least 1,000, which is higher than the number of Facebook friends most people have. Clearly, one little plane won't do for the Emir, so it's no surprise that he flew to Japan with a fleet of 10 aircraft, and to Switzerland with a fleet of eight. As of August last year, the entire fleet comprised 14 aircraft, but that's still not enough for the Emir. Once in a while, he likes to use a military transport plane (Boeing C-17 Globemaster III) or a business jet (Bombardier Global Express BD-700-1A10) to keep us on our toes.
With thanks to the full report compiled by Air Charter Service