Hong Kong's Causeway Bay has once again emerged as the most expensive retail space in Asia in terms of rentals, and the second most expensive in the world after New York's Upper 5th Avenue, according to an annual survey.
Property consultants Cushman & Wakefield (C&W) said annual retail rentals in Causeway Bay reached HK$21,255 per square foot, just behind Upper 5th Avenue's HK$23,400 per square foot.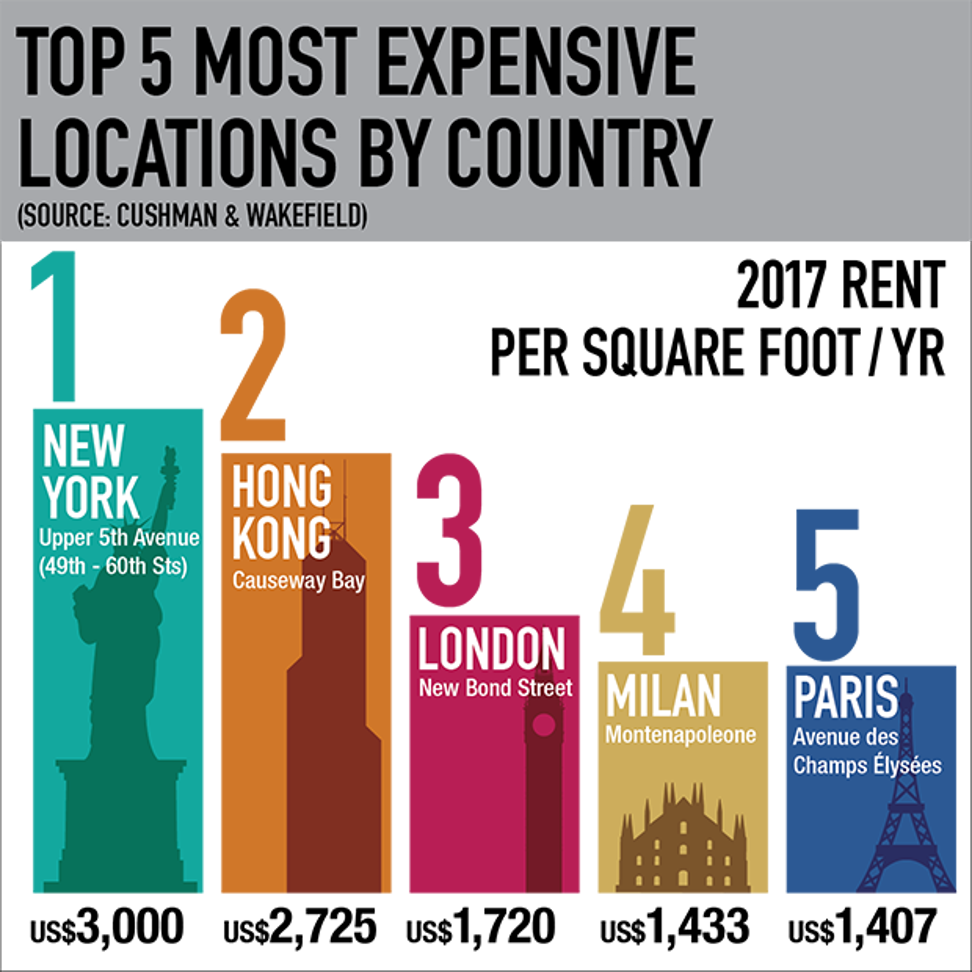 C&W added that rentals in Causeway Bay had softened in the last year, but the area still retained the top spot in Asia.
"Causeway Bay is the preferred destination for locals and visitors as all the top brands are available," a real estate agent said.
He said Causeway Bay had an edge over Tsim Sha Tsui because of the range of top international brands available and the number of premier shopping malls.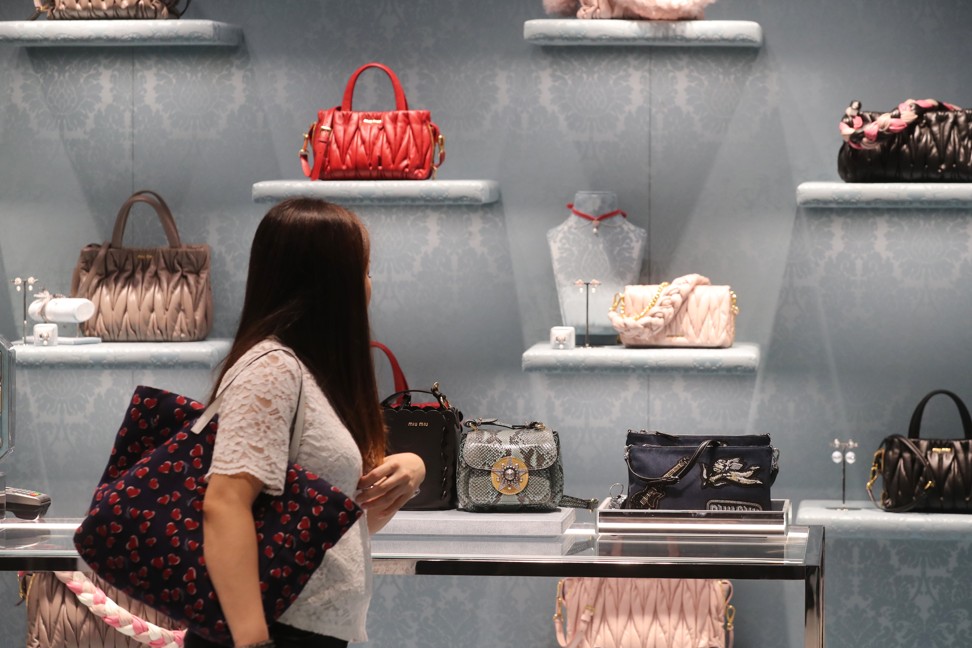 Meanwhile, soaring rents have seen London's New Bond Street rise to become the world's third most expensive retail street, C&W said in its report.
The annual Main Streets Across The World report, now in its 29th edition, tracks 451 of the top retail streets/locations around the globe and ranks the most expensive ones in 68 countries and regions by prime rental value using Cushman & Wakefield's proprietary data.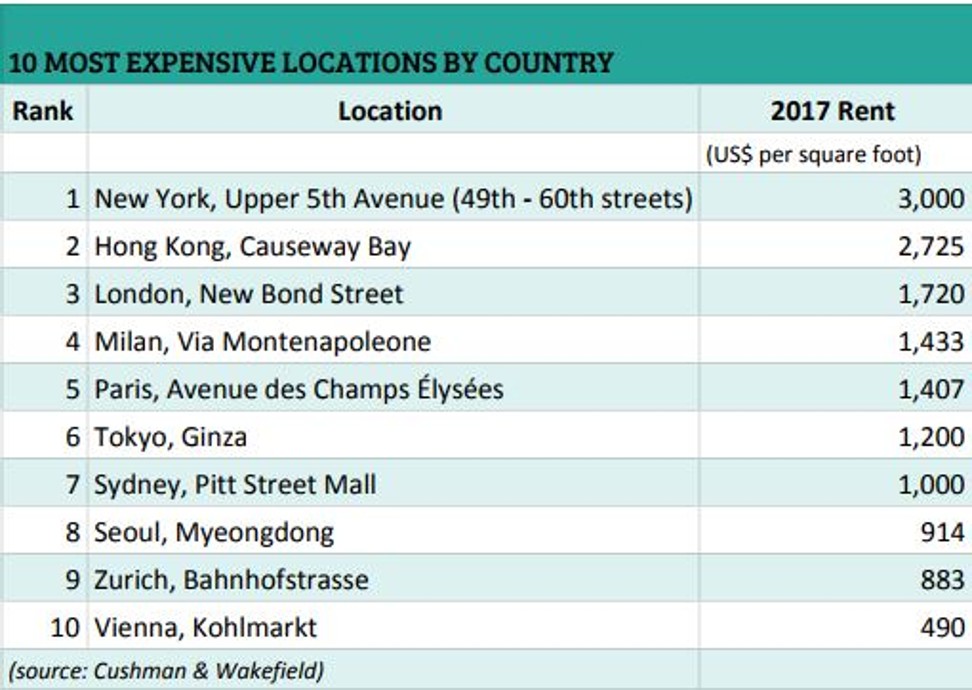 New York's Upper 5th Avenue remains the most expensive main retail location in the world, with annual rents at an average of HK$23,400 per square foot – the same level as in 2016.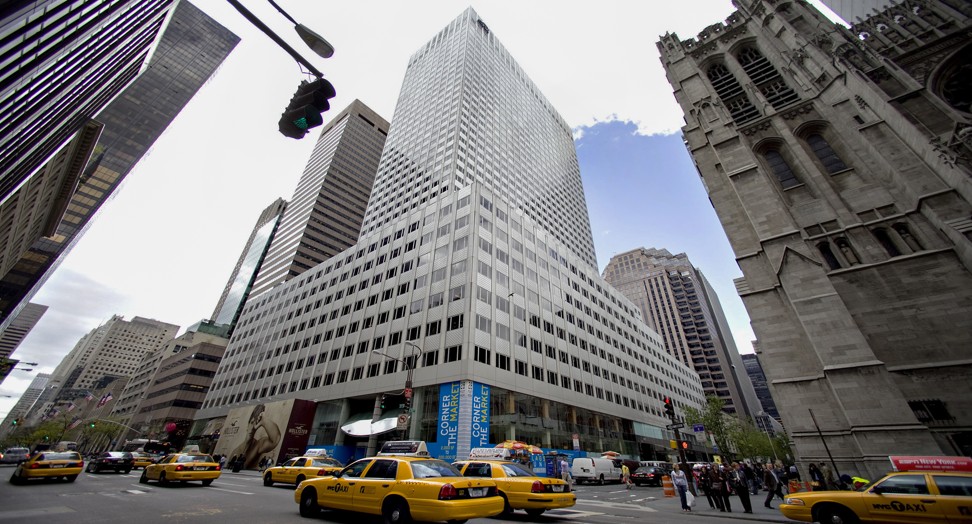 In London's New Bond Street, rents increased by more than a third (in local currency) from the previous year to US$1,720 (HK$13,416) per square foot. The increase underlines the strength of London's premium retail offers and a strong demand for prime retail space in the West End, which brought a resurgence in leasing deals at the beginning of 2017 despite having a pause in activity in the initial aftermath of the EU referendum last year.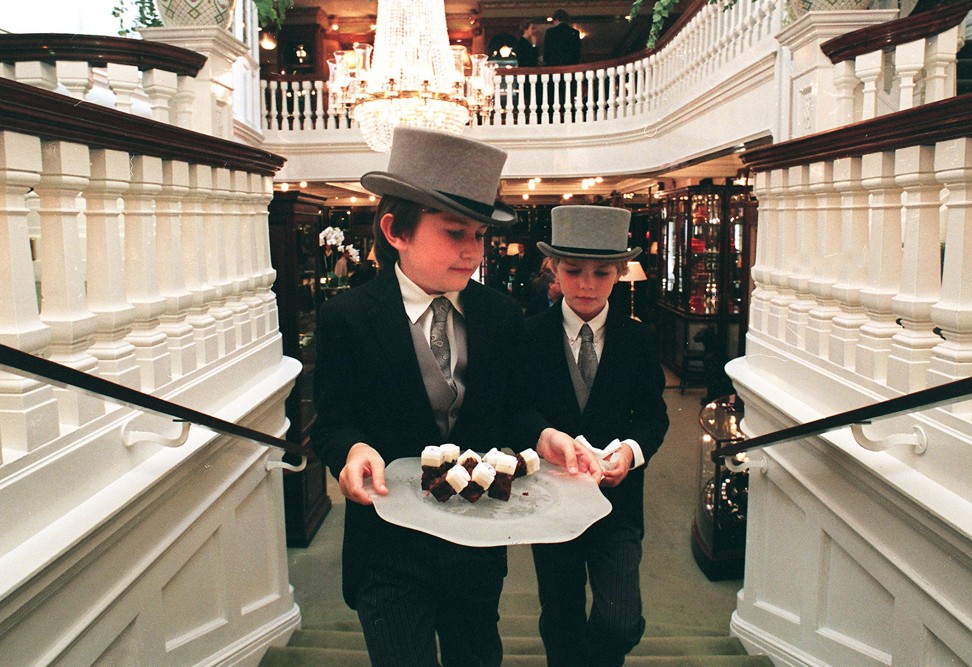 Darren Yates, head of EMEA retail research at Cushman & Wakefield, said: "Despite a lot of negative headlines, global retail remains as dynamic and vibrant as ever in response to technological and demographic changes across the world."
Five luxury property markets set to rise in 2017
Yates said that premium retail destinations, including New York's Upper 5th Avenue, Hong Kong's Causeway Bay and London's New Bond Street, are highly sought after by international brands wanting to create engaging retail experiences that offer something new and exciting.
"The most innovative retailers are combining their online and physical platforms to create a seamless omni-channel experience for the customer, but profile and location play a crucial role in the premium retail experience," he explained.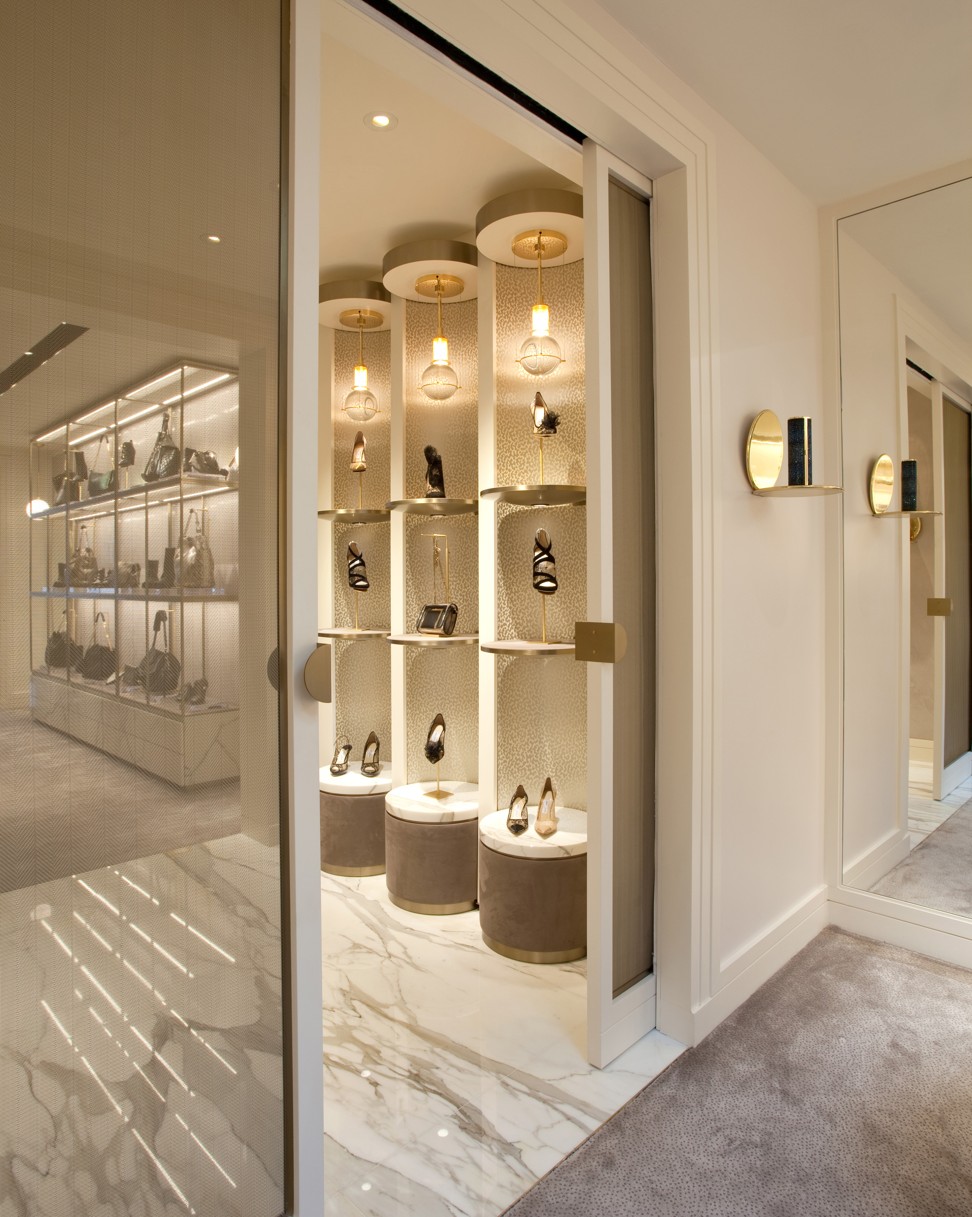 Kevin Lam, executive director, head of retail services, Hong Kong, Cushman & Wakefield, said: "Despite the drop in rents during the course of 2017, the pace of drop in CWB rents has slowed down since the middle of this year, and the correction is expected to finish towards year-end."
This Hong Kong property is the priciest in the world per square foot
Lam said that rents in Causeway Bay will be in a better position next year, although there will still be some distance between the rents of Causeway Bay and of Upper 5th Avenue in New York. "Ranking at second place globally reflected a softening of high street rents in Causeway Bay, but the plus side is this healthy correction has driven greater diversification in trade mix on the high street."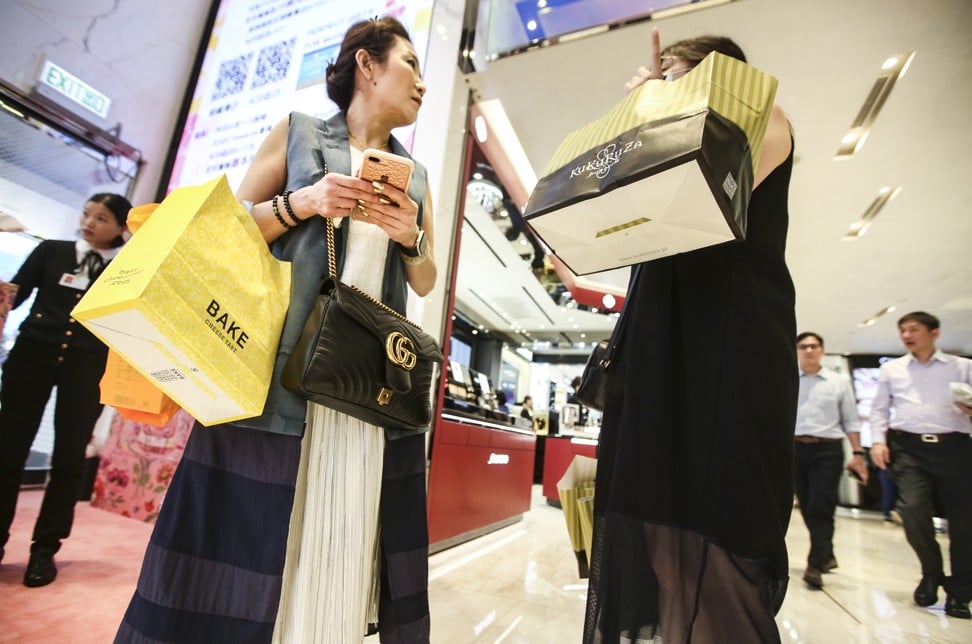 Lam added that apart from the luxury trades which have always been dominant in Causeway Bay, there are more lifestyle merchandise, F&B and PRC brands entering the district, which would enhance the shopping experience for customers. "As the case of duplex and triplex leasing becomes rarer, we expect the number of varieties of shops will increase," he said.
Priciest homes in Asia: sales in Peak and Mid-Levels reach heights of HK$15 billion
Meanwhile, mainland China's retail market continues to evolve as a rapidly growing consumer base of savvy, brand-aware shoppers seek out new and sophisticated retail experiences. Beijing's Wangfujing is ranked 11th in the global table, with annual rents at US$477 per square foot per year. The city's online retail market has experienced exceptionally strong growth and internet sales now account for about 18 per cent of the total, although 12.4 million square feet of new space is expected to become available in the Fengtai and Tongzhou districts in 2018 as new developments are completed.