As STYLE wraps up the year, we take a look back at some of the biggest news from the fast-paced world of Korean entertainment.
Rain marries Kim Tae-hee (January 19)
Singer-songwriter and actor Rain (stage name of Jung Ji-hoon) and actress Kim Tae-hee – his girlfriend of five years – tied the knot early in 2017. Kim and Rain are both Catholics, and so opted for a small, private wedding ceremony in a Catholic church.
The couple first met in 2011 while shooting a commercial together, and later started dating. In 2013, Rain made headlines when he flouted his military service rules in order to meet Kim.
Rain first debuted as a member of a boy band, Fanclub, in 1998 before making his successful solo debut as a singer in 2002. As an actor, he starred alongside Song Hye-kyo in the popular romantic comedy series Full House (2004); he also played starring roles in the Hollywood movies Speed Racer (2008), directed by the Wachowskis, and Ninja Assassin (2009), produced by the Wachowskis.
Kim is one of the biggest actresses in South Korea, and has played starring roles in some of the most popular TV series to hit the country, including Stairway to Heaven (2003) and Iris (2009). She graduated from Seoul National University – the "Harvard" of South Korea. (Coincidentally, she played a Harvard medical school student in the 2004 Korean drama series Love Story in Harvard).
On October 25, Rain posted a photo of a baby's pink booties onto his Instagram account, announcing the birth of his and Kim's baby daughter.
Eight South Korean celebrity couples to help you set relationship goals
Wonder Girls disband (January 26)
Wonder Girls shocked fans when they announced they were disbanding after a 10-year run. The girl band – comprising Yae-un, Sun-mi, Yu-bin, and Hye-rim – had skyrocketed to fame with their retro-sounding hits Tell Me and Nobody. Released in 2008, Nobody made headlines for being the first South Korean pop song to enter the Billboard Hot 100 chart.
Ultimately, Wonder Girls failed to break into the mainstream US music scene, but it is still widely considered one of the most successful girl groups to have emerged from South Korea. The band's final single, Draw Me, was released on February 10 as a way of thanking fans for their support.
Two members, Yu-bin and Hye-rim, have renewed their contracts with JYP Entertainment. Yae-un has signed up with Amoeba Culture, while Sun-mi has signed with Makeus Entertainment. So far Sun-mi has been the most active since the break-up; in August she released a single, Gashina, which topped the music charts.
BTS bags top award(May 21)
At this year's Billboard Music Awards, BTS (also known as the Bangtan Boys), picked up the Top Social Artist award thanks to the overwhelming online support they received from their fans, also known as ARMY. ARMY is an acronym for Adorable Representative M.C for Youth. It is also a reference to the group's name, which – loosely translated – means Bulletproof Boy Scouts.
The Korean boy band was up against global A-listers with a huge social media presence. Fan-favourites for the prize included Justin Bieber, who had claimed the prize every year since it was first introduced in 2011, and Selena Gomez, who was named the most followed person on Instagram for the second year in a row this year. Other social media-savvy contenders included Ariana Grande and Shawn Mendes.
"Still cannot believe that we're standing here on this stage at the Billboard Music Awards, oh my gosh," said Kim Nam-joon – who is better known by his stage name, Rap Monster.
Who is BTS, and why did the K-pop band win a Billboard Music Award?
Rapper T.O.P. hospitalised for drug overdose (June 6)
T.O.P., of popular Korean boy group Big Bang, was hospitalised on June 6 after being found unconscious at his apartment, having overdosed on tranquilisers. He was discharged on June 9.
The incident occurred a day after the rapper was indicted on drug charges relating to marijuana use in October 2016.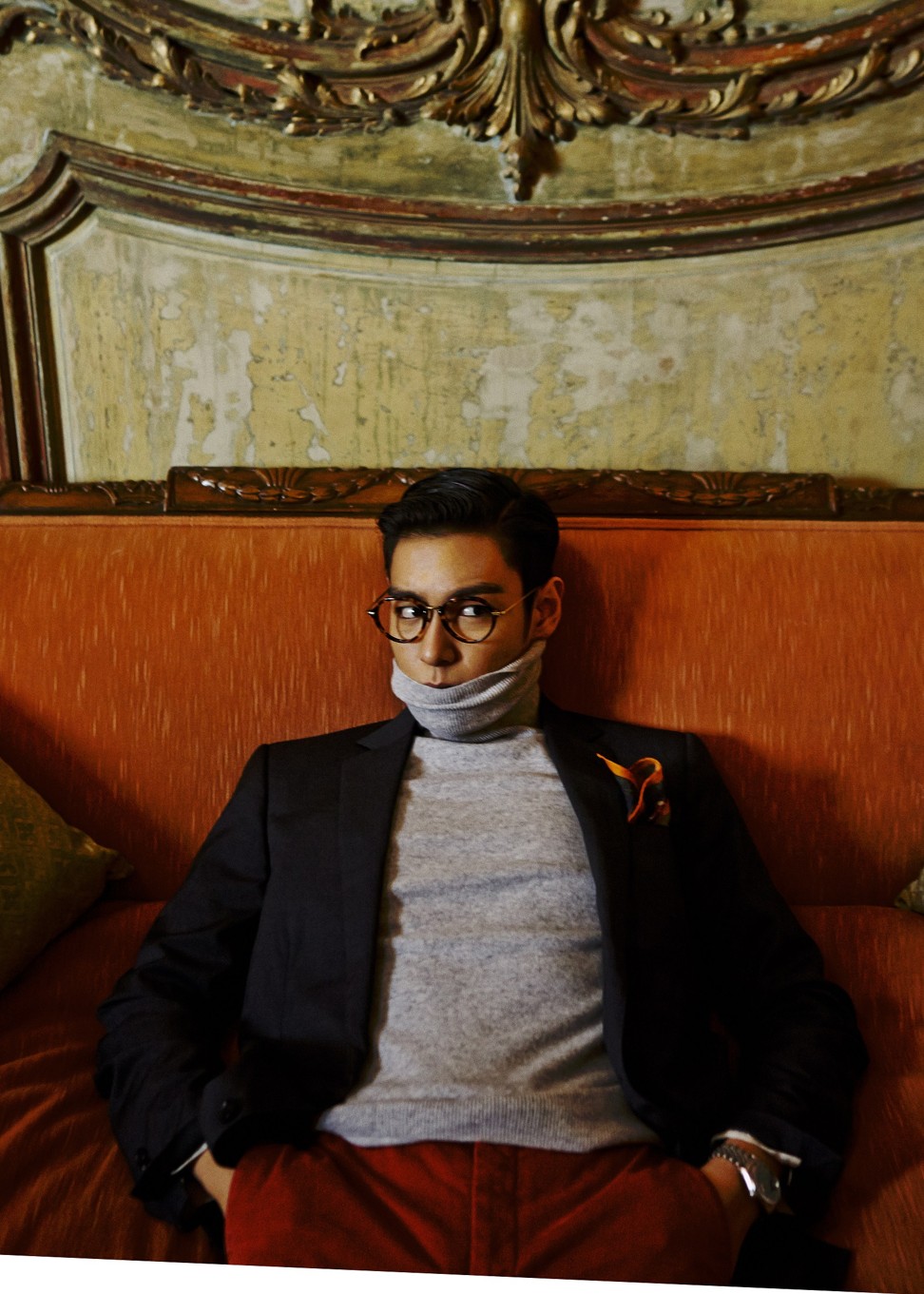 On July 20, he received a 10-month suspended prison sentence for his previous use of marijuana. He was later relieved of his duties as a conscripted policeman, a post he was serving as part of his mandatory military service.
In Korea, men are required to serve in the military for at least 21 months before the age of 35.
Seo Tai-ji celebrates 25th year as K-pop artist (September 2)
Seo Tai-ji, an icon of early K-pop and one of its earliest pioneers, celebrated his 25th anniversary in the music industry with a concert on September 2. The concert, titled "Time: Traveler", commemorated his lifetime achievement and included collaborative performances with popular boy group BTS.
BTS took the stage with Seo to perform eight of his hits, including Nan Arayo (or "I know"), You, In the Fantasy, Kyoshil Idaeyo and Come Back Home. Limited LP versions of Seo's tribute album were also released to celebrate the landmark milestone.
Seo made his debut as the leader of boy group Seo Tai-ji and the Boys in 1992, and was a sensation with their fast-paced music that brought up social issues of the day. The three-person group included Yang Hyun-suk and Lee Juno. Yang is the founder of YG Entertainment, one of Korea's top entertainment companies alongside SM Town and JYP Entertainment. It operates as a recording label, talent management agency and music production company.
Five Asian artists that shot to global stardom in 2017
Girls Generation celebrates 10th anniversary (October 9)
This year has been a busy one for Girls Generation. Not only have they been busy promoting their newest album, but they are also celebrating their 10th anniversary.
On October 9, it was confirmed that three members – Tiffany, Soo-young and Seo-hyun – have decided not to renew their contracts with SM Entertainment. Tae-yeon, Yoona, Sunny, Yuri and Hyo-yeon have confirmed they have renewed their contracts. Tiffany is preparing to study overseas, while Soo-young and Seo-hyun will be focusing on developing their acting careers.
This is not the first time Girls Generation has seen a reduction in team members. In 2014, Jessica left the nine-member group to pursue a career in fashion. She has her own fashion company called Blanc and Eclare, with points of sale in China, Hong Kong, Korea, Macau, Taiwan and Thailand. Her brick-and-mortar flagship store is located in Soho, New York.
Song Joong-ki and Song Hye-kyo marry (October 31)
After their chemically charged on-screen performance on the hit-of-the-year drama series Descendants of the Sun in 2016, it came as no surprise when Song Joong-ki and Song Hye-kyo announced their engagement in July this year. When the drama was aired, the couple were quickly dubbed "Song-Song" couple by their fans, referring to both the actor's surnames.
The wedding took place on October 31 at The Shilla Seoul, a location favoured by many Korean celebrities and VIPs. Other A-list couples who also held their wedding at the same location include actress Jun Ji-hyun, power couple Jang Dong-gun and Ko So-young, and popular TV show Running Man's main MC, Yoo Jae-suk.
The star-studded wedding guest list included actor Cha Tae-hyun, actor Park Bo-gum, actor Yoo Ah-in, TV personality Lee Kwang-soo, and singer Ock Joo-hyun. Chinese actress Zhang Ziyi was also present at what many dubbed "the wedding of the century".
Nine Korean celebrities that wed at Shilla hotel in Seoul
Kim Jong-hyun commits suicide (December 18)
Kim Jong-hyun, leader of popular boy group SHINee, was declared dead on December 18 after he was rushed to hospital. First responders found coal briquettes burning in a pan in his apartment, a common method for committing suicide in South Korea.
SHINee, one of the most successful boy groups in Korea, debuted in 2008 with their album, "The Shinee World". Hit songs by SHINee include Replay, Ring Ding Dong and Lucifer. Kim later released a solo album in 2015 and found considerable success.
His funeral, held on December 21, was attended by family, friends and colleagues, including members of Super Junior, Girls Generation and SHINee.
Hundreds of tearful fans weep as coffin of K-pop star Jonghyun is taken from hospital to funeral
Big Bang's Taeyang and Min Hyo-rin announce marriage plans (December 18)
Taeyang of boy band Big Bang revealed that he and his girlfriend, actress Min Hyo-rin, plan to marry. The announcement, made via an Instagram post, has so far garnered just shy of 1.6 million likes.
In the post he wrote, "Today, I want to share with you guys the most important and joyful promise I have made in my life. I have pledged to spend the rest of my life with Min Hyo-rin, the one who has always stuck by me [over] the past four years."
Taeyang and Min have been in a relationship since 2014, when they first met on the set of the music video for Taeyang's 1AM. The kiss they shared onscreen also caused quite the stir when it was first aired.
Taeyang has been vocal about his relationship with the actress, often referring to her as his greatest muse. He wrote his hit song, Eyes, Nose, Lips with Min in mind, and also featured her photo in the music video. The actress is best known for her role in the movie The Grand Heist (2012) and her appearance as a core member of reality programmeSister's Slam Dunk.