For those propelled through life in pursuit of adrenaline, in wintertime finding ever-newer forms of entertainment can be a challenge if you have already conquered downhill skiing, uphill skiing, cross-country skiing, snowshoeing, dog sledding, heli-skiing, snowboarding, racing car driving on an ice field, and even gone as far as to rent out a whole mountain and buy a Ferrari-red Sno-Cat to partake in all of the above.
What is a humble snow sports enthusiast to do when seemingly all icy avenues have been raced down?
Consider skijoring, the art of skiing while being towed by rope at breakneck speed by horses or dogs. Or as we like to think of it: the best winter pastime you never knew existed. It may not an Olympic sport – the closest it got was a demonstration at the 1928 St Moritz games – but with growing popularity and several major skijoring competitions around the corner, now is the time to get into this underrated sport. Here is how.
Origins
The origins of skijoring can be traced to 1850s Scandinavia, when residents drawn to various gold rushes in the western United States returned home and introduced Native American dog sledding traditions they had witnessed to local conditions. In Winter Adventure: A Complete Guide to Winter Sports, authors Peter Stark and Steven M. Krauzer contend that raising large packs of dogs did not make sense in densely populated areas, so the number of animals was downgraded and the sled was used only for cargo. They also made a distinctly Scandinavian adjustment: "The driver, instead of riding, held on and skied behind", actively propelling themselves instead of being pulled, while controlling the pack through a mix of reins and voice commands. Nordic-style mushing, as it came to be known, remains a popular pastime in Norway.
Many dogs want to pull, it's their instinct
Fast forward to the late 19th century in America, when Scandinavian immigrants brought the tradition that would become skijoring back stateside. They nixxed the sled and doubled down on the skiing – the name is derived from the Norwegian word skikjøring which means "ski driving" – and became a way for trappers to check snare lines, miners to go between claim sites, and backcountry mail deliverers to speed up their routes. These days, it's generally a leisure activity in the US and abroad.
Who is skijoring for?
Skijoring with horses rather than dogs is similar but distinct, the difference comparable to the variation between downhill and cross-country skiing. When skijoring with horses, the forward propulsion comes exclusively from, you guessed it, the horse. (Think of it as an icier version of water skiing.) With dogs, skijorers are responsible for propelling themselves forward, albeit with a little help from the pups.
For both, you will need to be in reasonably good shape. Those who have never been on skis might want to sit this sport out entirely. But experienced downhill skiers will be adept in navigating the punishing turns of a horse-swung rope. So will cross-country skiers, who, used to propelling themselves on flat terrain, will have well-developed stomach and lower-back muscles. Wakeboarders and water-skiers, too, will have the core strength and balance required to stay upright and not be pulled forward into a face plant.
If you're hoping to bring your pup skijoring, make sure he is game: Your dog needs to be healthy and weigh at least 16 kg (35 pounds). Siberian huskies and Alaskan malamutes are good breeds for the sport, but Labrador retrievers, Rhodesian ridgebacks, Great Danes, greyhounds, border collies and even standard poodles can get in on the action.
It's not too late for these ice-related adrenaline-junkie activities
Anthony Taylor, the adventures director for Minnesota's Loppet Foundation, said he is even seen shih tzus excel at skijoring. "Many dogs want to pull, it's their instinct," he said. Skijoring is "not just for people who have working dogs".
Taylor noted that the popularity of skijoring has ballooned at the Loppet Foundation, with a fourfold increase in the number of skijoring clinics it offers. He sees it as indicative of a larger trend.

Where can you skijor?
There are lots of places to take skijoring lessons around the US and Europe. Of the horse-pulled variety, Montana's Resort at Paws Up offers hour-long sessions for US$200 a person on a groomed course. Also in Montana, Triple Creek Ranch offers skijoring for resort guests of all skill levels, equipment included. In the French Alps, the Ranch El Colorado offers skijoring lessons with pricing options ranging from 27 euros to 145 euros (HK$260 to HK$1,380). All three resorts provide the horses.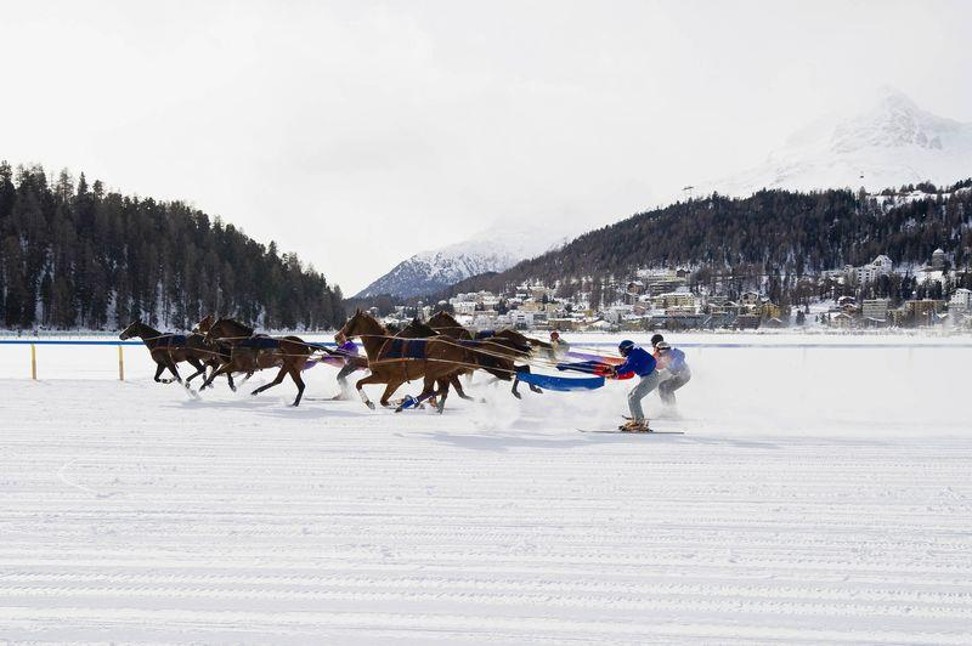 If your own canine companion is up for the challenge, Colorado's High Country Dogs offers group clinics for dog-pulled skijoring at the Devil's Thumb Ranch three times a season; US$45 if you bring your own equipment, US$85 if you rent. (The next clinics are on February 4 and March 4.) In Minnesota, the Loppet Foundation offers several group clinics each winter season in Theodore Wirth Park; the price is US$40 per human/pet pair, which includes harness gear but not ski rental.
Those with a little experience might want to consider a race. This year's City of Lakes Loppet Festival is spread over two weekends in late January and early February.
Elsewhere in Minneapolis, there are one- and two-dog races for skijorers of all skill levels. For horses, there's the Skijoring Utah competition on February 2 and 3 and the Jackson Hole Skijoring races on February 10 and 11.
Before you try anything, watch some skijoring videos online. It's always a good idea to know what you're getting into. Competitions can include jumps, slalom gates, and the spearing of rings for points.
If you are interested in going straight into skijoring, Taylor suggests going the dog route. The barrier to entry is much lower – dogs do not need as much specialised equipment as horses – and if there is enough snow on the ground to cross-country ski on and Fido is game, you can skijor practically anywhere. (Generally, parks that allow dogs in summer will allow skijoring in winter.)
Skijoring gear
If you are being pulled by a horse, skijoring often requires full downhill skis, boots and bindings. "You need the edges for the turns," says Jackie Kecskes, the horse manager at the Resort at Paws Up. "People are surprised by that, but you really need to be strapped in." If you are being pulled by a dog, classic cross-country, touring, or backcountry skis can be used.
In addition to ski gear, you will need harnesses and a towline; they are slightly different depending on whether you're skijoring with a dog or a horse. With dogs, you are usually strapped into a belt connected to the animal, but not so with a horse; instead skijorers hold on to specialised harnesses or ropes attached to the horse's saddle.
Other than that, you will require heat-insulating clothing, your wits, and a good sense of humour if – or rather, when – you fall down.
Skijoring tips for beginners
Horse skijorers should be comfortable sitting in a squat for two to three minutes at a time, which Kecskes says the sport often requires. Practise beforehand to gauge your ability. You will also want to pay attention to your rope work: "Watch the slack in your rope, you always want it to be taut," she says. While the distance between horse and skijorer can be great, there needs to be tension in the rope, otherwise when the horse moves forward suddenly you'll be jerked violently along with it.
She also warned prospective skijorers to resist thinking about the sport purely in terms of photo-op potential. "When you strap into those skis and hold on that rope, your first thought is 'How do I stay upright?' and not 'How do I look on these skis?'"
For those skijoring with dogs, Taylor says the most important thing is to make sure your pup is adept at following commands.
"If you've got that down, you can skijor as a team," he said. Dogs might be an easier way into skijoring than horses, which require more planning, he continues. "Skijoring with a dog is really an opportunity that exists for anyone, anywhere – you can skijor with your dog in the middle of Minneapolis tonight."