'Public Rip-off No 1': what it's like to dine at controversial New York steakhouse Nusr-et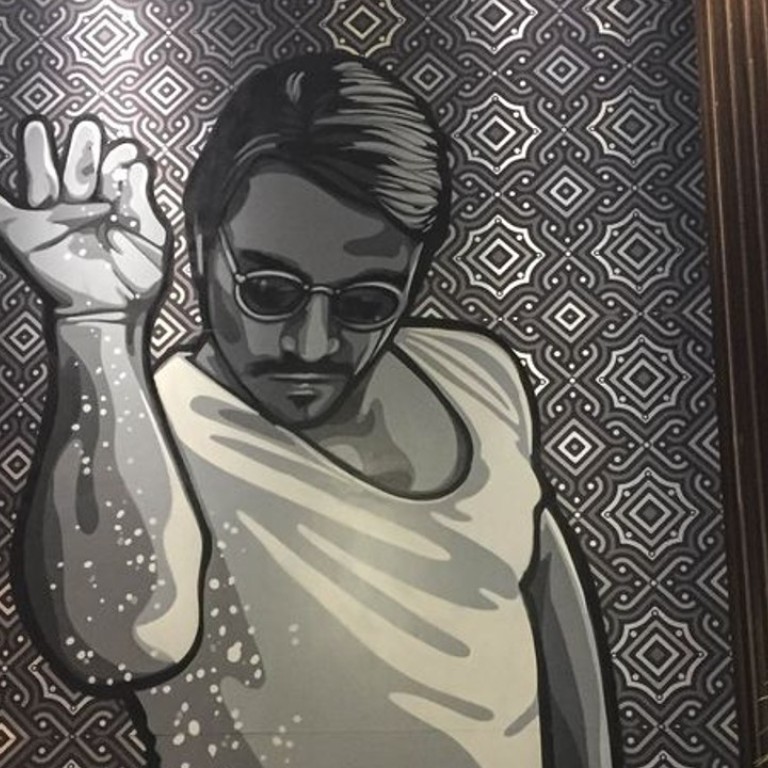 Almost all the buzz about Nusr-et, set in the former China Grill space in prime Midtown Manhattan, has been negative. 
The New York Post labelled its review "Public Rip-Off No. 1" and noted that after a US$521.45 dinner for three, critic Steve Cuozzo still wanted a snack. 
GQ magazine referenced mundane, rather tough steak, terrible cocktails, and US$9 bottles of water because the restaurant declines requests to serve tap water.
The restaurant is home to Turkish butcher sensation Nusret Gökçe, known as Salt Bae. 
He has close to 11 million Instagram followers, famous friends such as DJ Khaled (Khaled Mohamed Khaled), and a panoramic way of seasoning steaks that is the most notable culinary meme since American television celebrity chef Emeril Lagasse first uttered his catchphrase, "Bam!".
One re-posted YouTube video of Salt Bae's signature move – a crane pose-like sprinkle of salt on a finished steak – has racked up more than four million views.
Although it's my job as food editor at Bloomberg Pursuits to seek out good food, I can't resist a train wreck of a restaurant.
In advance of my visit to Nusr-et, the signs for that kind of meal were auspicious. 
Hours before my dinner came, news that the restaurant was under investigation by New York's Health Department: Salt Bae would now have to wear gloves when salting meat. 
My dinner guest was Robert Sietsema, senior critic for Eater.com and one of the early visitors to Salt Bae. 
(His less-harsh-than-most review took the position that a meal there is performance art as much as a steakhouse spread. Spoiler alert: I agree.)
The first thing you see when you walk into the restaurant is a circular bar surrounded by red velvet ropes and staffed by bartenders in leather aprons; you could be at a nightclub. 
Above is a monster cartoon image of the chef sprinkling salt into the air. On the cocktail list is a #Saltbae Old Fashioned, made with ginger syrup and Scotch, instead of bourbon – quite good, if pricey at US$21. Yet its actual cost is US$26.64: The restaurant adds an 18 per cent service charge, but you wouldn't know that without asking since it doesn't deliver itemised bills, and what you're asked to sign has a very visible gratuity line.
Almost immediately upon sitting down, expect to make the acquaintance of the guy wheeling the "meat sushi" cart. Unless you're good at saying no, you will find yourself watching a meat sushi performance that comprises wrapping thinly sliced raw tenderloin around some undercooked, under-seasoned rice, brushing the top with teriyaki glaze, and incinerating it with a blow torch for a good 30 seconds. 
It's an early occasion for guests to whip out mobile phone cameras (and maybe a warning to tie back any long hair). 
That is nothing compared to the effect when the chef makes an appearance in his signature look: fitted, V-necked, white T-shirt with slicked coiff. It's as if Rihanna strolled in. Initially, there's no salt sprinkling. Salt Bae simply works the room, shaking hands. Robert and I begin to worry: Would the Health Department threat end the seasoning show? Could a high-styled handshake be Salt Bae's new meme?
It turns out that a lot has changed in the week since Robert first visited. Tap water was initially not available. Now it is, though you have to ask, and it's poured from a Voss water bottle so other tables don't get the wrong idea. Burgers were initially served naked, with no accompaniments; now a pile of cold, shoestring fries snuggles next to the halved burger.
Most important, the chefs have stopped overcooking the meat. Initial reports were that, no matter what you asked for, the beef arrived brown and medium. Now a medium-rare rib-eye is actually rare in the middle, as is the burger.
One thing that hasn't changed is the upsell.
Once it becomes apparent that fries would be served with our burger, we cancel our US$15 order for them. The server recommends mashed potatoes instead (also US$15). Then our salmon arrives on a bed of mashed potatoes. 
We end up with spinach – actually quite good, just out of the pan and nicely creamy – and asparagus, which is raw, unpeeled and not good at all. 
The salmon disappoints, unless you're fond of the thin, fishy strips that are optional add-ons for a Caesar salad at a shopping mall. (FYI, it's one of the only non-beef options; the menu features no chicken.)
Like everyone else, we're there for the meat and the show that comes with it. Most the beef is wagyu, on display at a wraparound butcher case in the middle of the dining room. 
The waiters will tell you about the quality of the New Zealand beef, how it ranks 8 – 9 – on the wagyu scale; no two servers pitch the same story.
Our US$100 rib-eye is a little puny looking – you can't choose the weight of any of the steaks, but some cuts have options for the number of people they're supposed to serve. Size aside, it has a great chew and caramelised char. The US$30 burger actually seems like a deal; the two-inch patty is very coarsely ground, so it's part steak and supremely meaty. These are among the cheaper items on the menu. There's also saslik (Turkish spice-marinated tenderloin cubes) for US$70, a rack of lamb for US$250, and most significant, the Saltbae tomahawk marinated in mustard, all yours for US$275. 
You want to hate the place, to dismiss it. There are better, less-expensive, steaks just a few blocks away, dry-aged and funkier than what you'll find at Nusr-et.
Yet, when Salt Bae shows up to slice and season our steak, it's embarrassingly thrilling, like watching your favourite cheesy movie. He poses for infinite pictures. 
Apart from a few short exchanges, he's a silent presence. He doesn't seem like a guy who owns the place; he's more like a performer who expertly works the room, giving nothing of himself away. There's not a moment that the crowd – a 50/50 mix of business men and women in jackets and tourists in branded sports apparel – isn't hoisting a camera phone in his direction.
As we're settling our US$286.74 bill, a family of four with a teenage son sits down next to us; they all get burgers. Smart, we think, the cheapest meal in the place. Then a tomahawk arrives at their table. Time passes, with no sign of Salt Bae. The family waits, phones in hand.
"They need a Salt Bae double," murmurs Robert. Then, he appears, a last-minute Santa Claus of steak, pulling on a fresh pair of black gloves. 
Salt Bae squats and begins slicing dramatically, running his knife through the meat to cut out the bone, all positioned so the child can take a video selfie. The meat gets an additional flourish of salt. The cameras don't stop flashing.

Restaurant of internet sensation chef Salt Bae offers lots of entertainment, and overpriced steak and US$9 for bottled water, as critic Kate Krader discovers