China's Rich List 2018: who are the nation's wealthiest man and woman?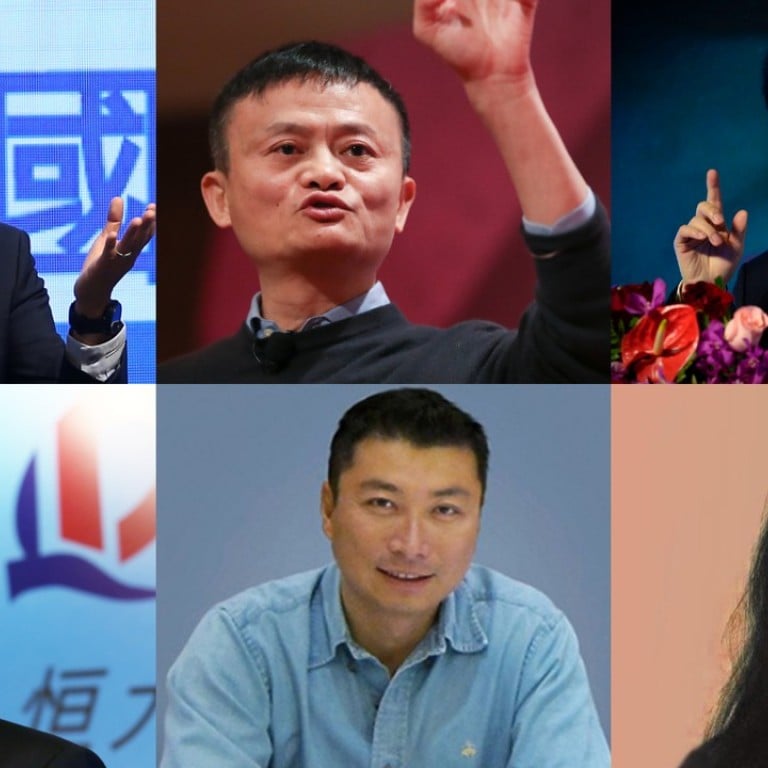 Only 59 of China's 1,000 richest people over the past 12 months are women, according to a new list of the nation's wealthiest people.
All 1,000 billionaires featured in China's Rich List 2018 have a minimum net worth of 30 billion yuan (about US$4.7 billion) and have their main assets located in mainland China.
The list of China's richest people during 2017 was compiled by the business news website Jiemian.com, which forms part of Shanghai United Media Group, and published on January 29. 
Although the six richest billionaires on the list are as expected, their order varies compared with the rankings published in the Hurun China Rich List 2017 and Forbes' China's 400 Richest 2017, released last October and November, respectively. 
No  1. Ma Huateng
Topping the list of China's billionaires is Ma Huateng, the founder, chairman and CEO of the Chinese internet giant Tencent Holdings. He has a net worth of 282 billion yuan. 
Last November, the market value of Tencent reached more than US$500 billion, overtaking Facebook to become the world's fifth-most valuable company and rubbing shoulders with industry titans such as Apple, Alphabet, Microsoft and Amazon. 
The 47-year-old Ma was ranked second in both the Huran and Forbes rich lists.
No 2. Xu Jiayin
Ranked second on the list is Xu Jiayin, the chairman of Guangzhou-based real estate developer Evergrande Group. 
In 2017, the annual sales of Evergrande exceeded 500 billion yuan, while its share price soared by more than 400 per cent.
Jiemian.com reported that Xu, also known as Hui Ka-yan, now has a net worth of 260.9 billion yuan. 
The mogul topped Forbes' 2017 rich-list poll of Chinese billionaires for the first time last year.
No 3. Jack Ma
The share price of Alibaba Group Holdings nearly doubled during 2017, with the market value approaching US$500 billion. 
Such an eye-catching performance saw Jack Ma, founder and executive chairman of the world's biggest e-commerce group, which owns South China Morning Post, ranked third on the list. 
The report said Ma has a net worth of 213.8 billion yuan. 
Other highlights of the rich list
1. Top 10 includes only one woman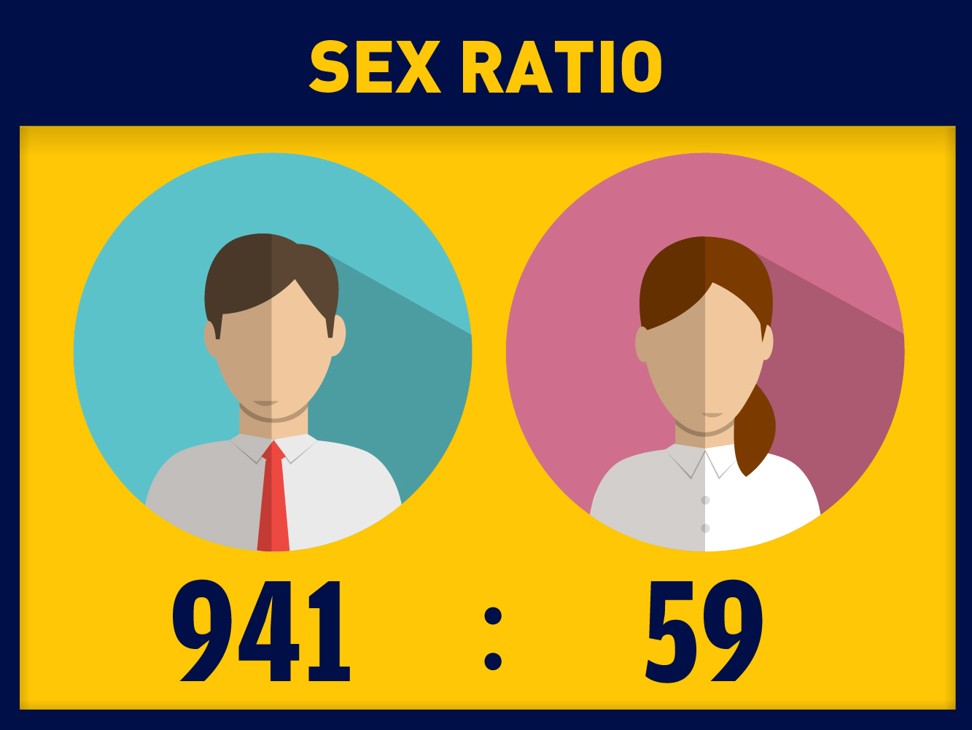 Only one of the 59 women featured on the list of China's 1,000 richest billionaires during 2017 makes the top 10.
Yang Huiyan, the daughter of Guangdong developer Yang Guoqiang and the vice-chairman of Chinese property developer Country Garden Holdings, is ranked as China's wealthiest woman.
She is said to have a net worth of 149.4 billion yuan and is listed as the fifth richest person, according to the report. 
The two men rounding out the list of China's top six billionaires are fourth-placed Wang Jianlin, founder of Dalian Wanda Group, the real estate company, whose net worth is reported to be 164.7 billion yuan, and sixth-placed Wang Wei, chairman and founder of the package delivery company SF Express, with a net worth reported to be 144.4 billion yuan.
2.Guangdong province home to most billionaires in China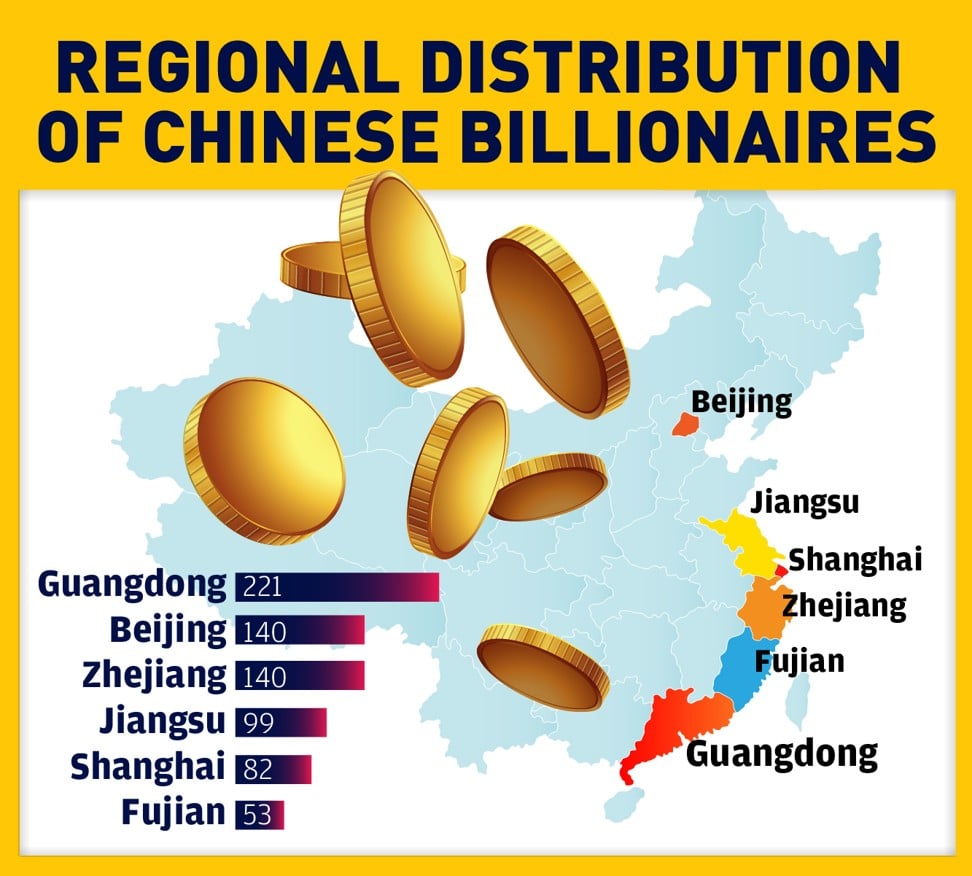 China's south coast is the nation's capitalist heartland. 
Among the 1,000 billionaires, 211 of them operate their main businesses in Guangdong province, including Xu Jiayin and Yang Huiyan, who are based in Guangzhou and Foshan, respectively. Following behind Guangdong are the capital Beijing and Zhejiang province, which both have 140 billionaires locating their main businesses there.
3. Average age of billionaires is 55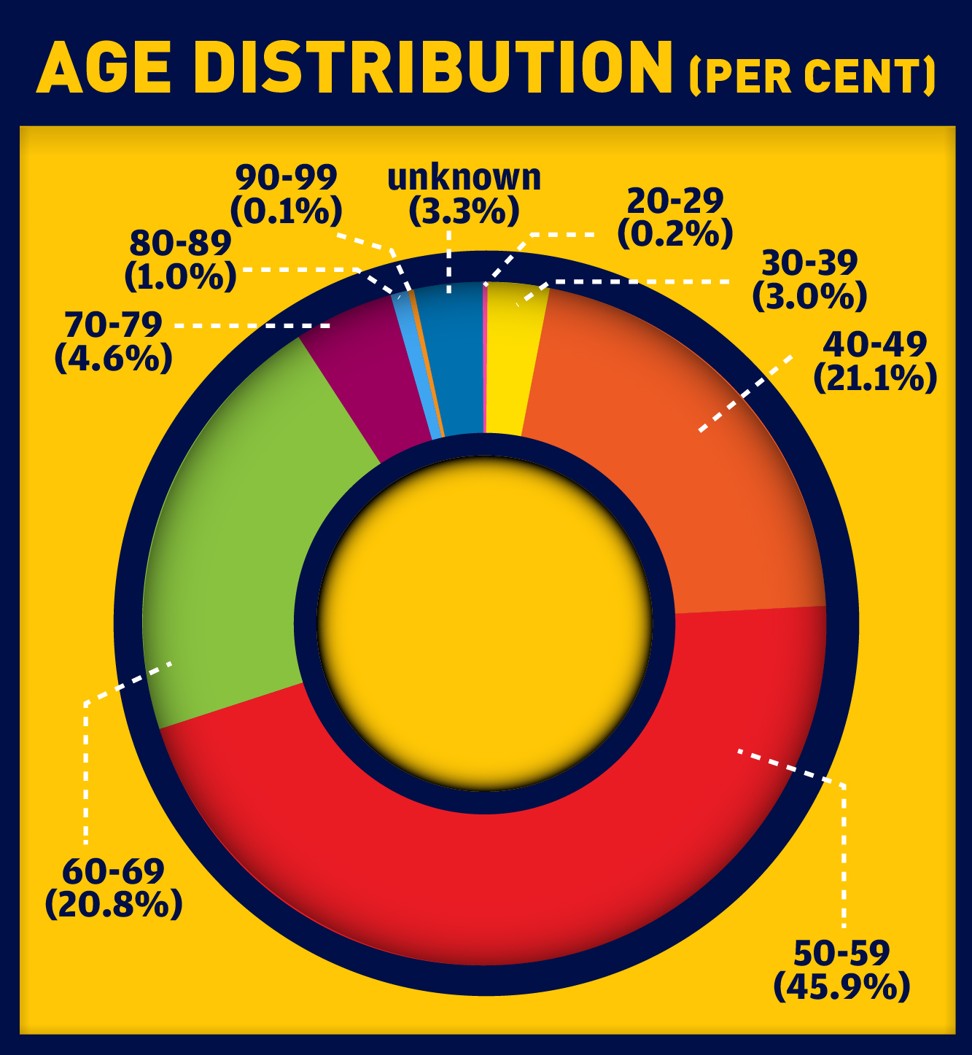 Nearly half (45.9 per cent) of the billionaires on the Jiemian.com list are aged from 50 to 59. Remarkably, the youngest man featured on the top 1,000 list is only 27 – Dai Wei, the founder and CEO of Chinese bike-sharing giant Ofo.
Dai, ranked 662nd on the list, has a net worth of 4.8 billion yuan, the report said.
The youngest woman on the list of billionaires is Cui Xintong, who is vice-chairman of Ground International Development.  
The 28-year-old, ranked 516th, reportedly has a net worth of 6.1 billion yuan.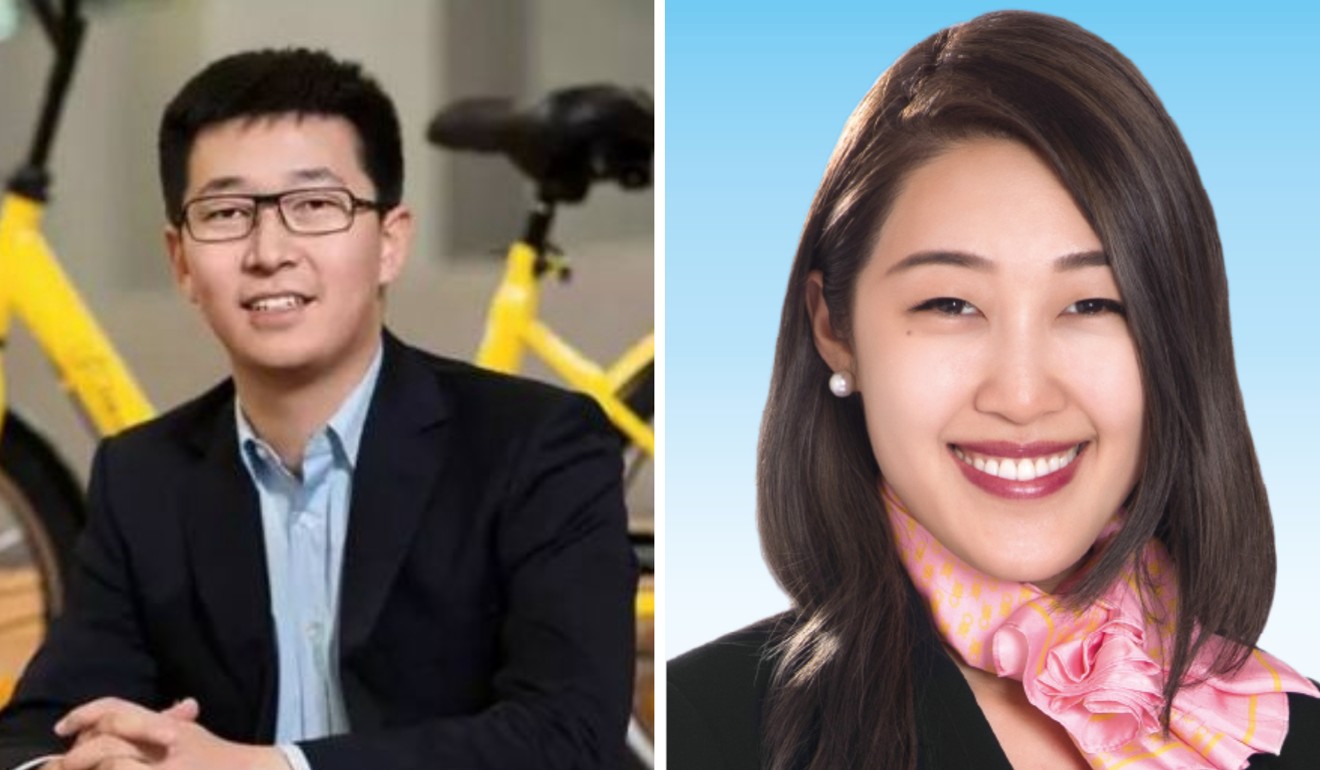 Jiemian.com list of 1,000 richest billionaires ranks Tencent's Ma Huateng, on 282 billion yuan, as top man and Yang Huiyan, on 149 billion yuan, top woman