#BlackPantherChallenge: 'Young black people can be heroes too'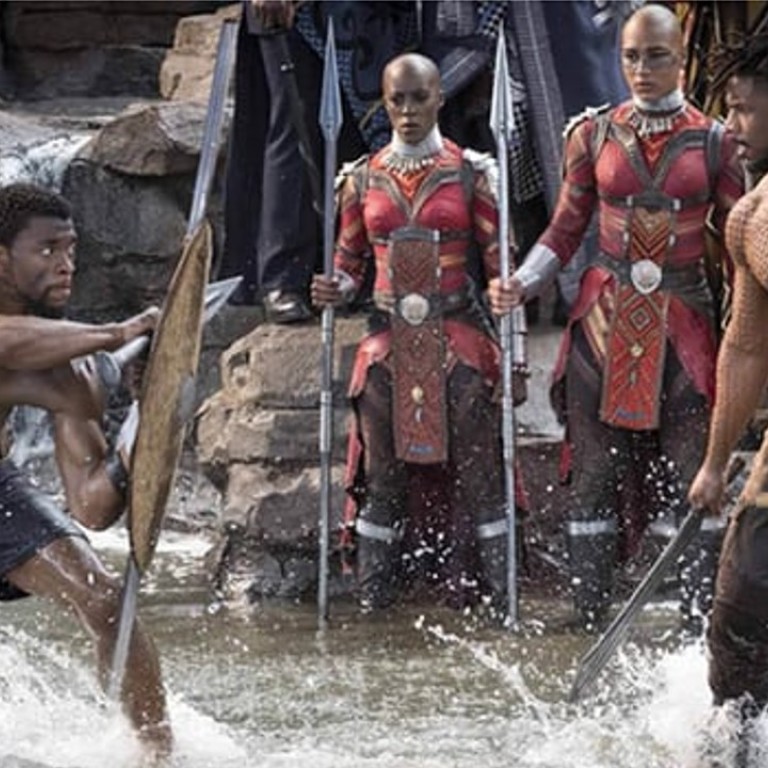 It seems like only yesterday that Marvel released the official trailer for what can now be described as the franchise's most anticipated film to date, Black Panther. Fans have been waiting for the moment when they'll finally experience the nation of Wakanda and now it is almost here: in less than a week, everyone will be able to watch the latest addition to the Marvel Cinematic Universe.     
Black Panther is proving to be more than just a hashtag trend: it is a film of considerable cultural significance for black communities around the world. So high in fact, that it inspired Frederick Joseph, a marketing consultant and activist from New York, to set up a GoFundMe campaign called "Help Children See Black Panther".     
"The reason I started the campaign," Joseph says, "is because, at least on this side of the pond [in Britain], it's more important than ever in my opinion, for us to have stories and content that's combating the rhetoric and racism of the Trump administration."     
"[Black Panther] is something that is not only wrapped in blackness but is also layered and nuanced. It has aspects of feminism, of black non-toxic masculinity, of loss, of pain, of various black existences – and that's something very important for our kids to see."    
The campaign that began in early January swiftly gained so much attention that Joseph found himself on The Ellen DeGeneres Show, along with Black Panther himself, Chadwick Boseman. It's widely known that Ellen never lets a guest go home empty-handed and so the TV host pledged to cover the full US$10,000 for the children of the Boys and Girls Club of Harlem, and their chaperones, to see the movie. The campaign itself has raised more than US$45,000, all of which will now be used to fund other programmes for Harlem kids.    
With his initiative a success, Joseph took to Twitter to encourage others to become part of a #BlackPantherChallenge and start campaigns in their cities that would fund more screenings for young people. Joseph says: "It [Black Panther] is wrapped in blackness but it's not inherently American blackness; it's actually an African blackness and that layer of the black existence is fundamental, globally. I really wanted to elicit change in conversation around the globe, and that's why I started the challenge versus just ending it at the original GoFundMe."    
There are now more than 200 campaigns worldwide linked to the challenge, with over US$250,000 raised from more than 4,000 donations. Celebrities such as Snoop Dogg, Chelsea Clinton and the film director JJ Abrams, have also made contributions.  
As for the #BlackPantherChallenge reaching Britain  as well as  countries such as Ghana and South Africa, Joseph said: "For lack of a better term, I'm hyped." The challenge recently arrived in Britain  in the form of #BlackPantherPeckham, created by British actor Jade Anouka. With an original target of £1,000 (HK10,845) to send 100 young people to London's PeckhamPlex, the Chewing Gum star has raised almost £4,000 to rent a screen in the cinema. "I think the film will be an inspiration to so many and I'm especially excited about showing young black people that they can be the hero too," she said.     
"A superhero movie with black actors and that has a great female presence is something I couldn't even imagine dreaming about seeing when I was younger." Anouka says. "It's great to see a superhero film that has black people at the front of it. That doesn't happen that often. And I think it's going to be just really inspiring for some young people to see themselves reflected on screen."    
With her original target achieved, Anouka said she would use the extra money to double the number of young people who can attend the Black Panther screening, and donate the remainder to local charities.
Anouka, who is soon to be seen in ITV's psychological-thriller series Trauma, adds: "I hope there will be more of this. I would like to think it encourages a sea change. The advance sales for this film alone show there is a want and a need."
The #BlackPantherChallenge is now the largest campaign for an entertainment experience GoFundMe has hosted. Joseph says: "I hope this opens the eyes of more studios to be receptive of diverse stories. Not just in the black community but also in the communities of colour generally, for women, LGBTQ communities as well. We have stories and they deserve to be told." 
Want more stories like this? Sign up  here.  Follow STYLE on  Facebook,  Instagram and  Twitter

From Harlem to Peckham, the Black Panther Challenge has blossomed into a worldwide celebration of race, identity and empowerment