How luxury fashion brands are investing in technology to offer sustainable, eco-friendly clothing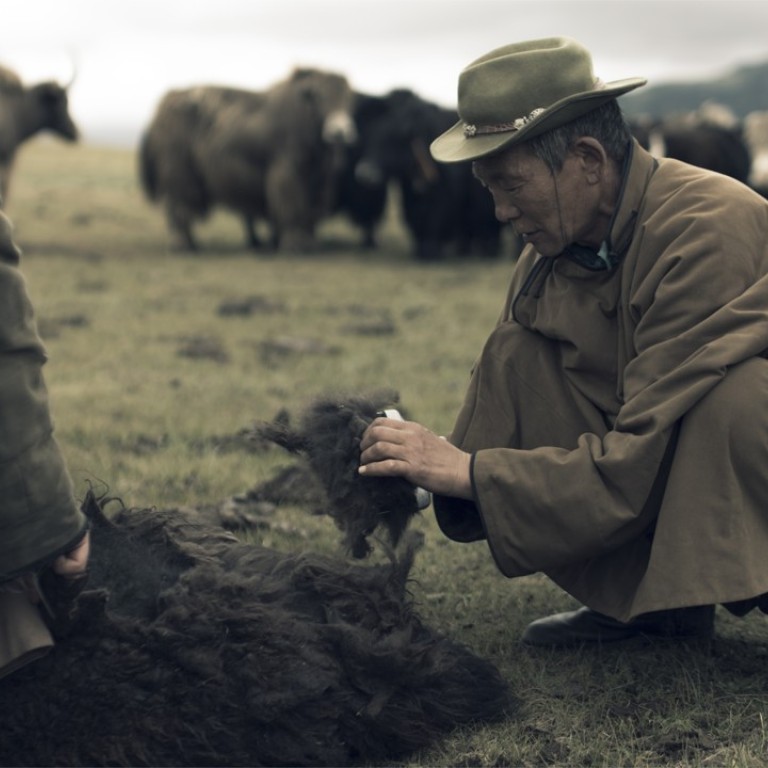 Green entrepreneur Nancy Johnston accidentally came across Khangai yaks while she was on a trip to Mongolia. She discovered that the yak fibres were "as soft as cashmere and warmer than Merino wool". Johnston, of Chinese ancestry, was fascinated by the relationship between the people, the animals and the land.
After she returned to London, she started a social business with the Mongolian herders and set up the company Tengri in 2014. Tengri has become a luxury lifestyle brand specialising in clothing, accessories and home interiors made from Khangai Noble Yarns and Fibres. It purchases yak fibres directly from co-operatives that now represent and benefit more than 4,500 nomadic herder families.
Tengri also works with heritage mills and bespoke tailors such as Huntsman Savile Row in Britain, making Mongolian yarns one of the most prestigious fabrics in the world.
"It is a problem we all face – the way that we consume. Resources will run out one day. How will we save ourselves? In fashion, it is important to determine how we can adopt technology to save [resources], from manufacturing to retail, and to be responsible for the world in the long run. It's not just about making clothes any more." 
Like yarns and cashmere, wool is a 100 per cent natural material, and is sustainable as long as the sheep are treated well and the supply chain is run ethically. Among different types of wool, Merino wool from Australia is regarded as the finest. 
"It is a natural, biodegradable and renewable fabric that not only keeps us warm, but also [functions as] a breathable material to keep us dry," says textile expert Alex Lai, country manager Hong Kong for The Woolmark Company.
Technology has taken the traditional wool to a new level, and has partly shaped the sportswear trend in recent years. Merino wool has been increasingly used in sportswear, and was used in the spring/summer collections by luxury brands, thanks to technological advancements, one of which is OPTIM processing. The process is an innovative breakthrough that can stretch 19-micron wool fibres between 40 and 50 per cent, making the fibres 3 to 3.5 micrometres finer on average. "The touch of it is similar to cashmere, but its price is more competitive as it is still wool. It's extremely suitable for sportswear and outdoor outfits," Lai says.
Leading fabric maker and luxury brand Ermenegildo Zegna has been actively using Techmerino – made from pure Merino wool treated with special finishing techniques that result in a higher level of water resistance, elasticity, and thermal regulation – in its collections. The brand developed and produced this material itself. 
Techmerino Wash & Go summer suits, launched for spring/summer this year, allow machine washing without altering their wearability and look. The material is also used in the brand's Icon Warmer Ski Suit with an integrated heating system. Jackets are laced with heating panels that can generate heat up to 84 degrees Fahrenheit (28.8 degree Celsius) in less than a minute. 
Meanwhile, the rising popularity of electrics cars tells us that today's consumers, particularly the young generation, want something innovative and environmentally friendly. This applies to their taste in fashion too.
"Our customers appreciate our edits and products that are created responsibly, and we welcome socially responsible brands and collaborations into our portfolio," says Kelly Wong, Lane Crawford's director of fashion. 
To Wong, Stella McCartney is very successful from an environmental and innovative point of view, as the brand uses vegan leather, or leather that is grown from a lab, as well as other recycled materials and organic cotton for its products.
Wong says Lane Crawford has collaborated with various brands for a good cause. "We did a capsule collection of outerwear jackets with Phvlo, which uses a synthetic, recycled and water-resistant fabric from Japan. We also carry brands like Ecoalf, which uses fabrics completely recycled from things such as plastic bottles and old fish nets."
Livia Firth, founder of Eco Age, a brand consultancy on sustainability with clients including Gucci and Chopard, says: "The real luxury is [where] your products come from and which stories you are telling. It is so much about design and style any more."
Lim adds: "Fashion goes beyond appearance. It's about sustainability, which is about the past, the present, and the future. You take the inspiration from the past, you think about the effect on the future, but the results need to be perfect for the present." 
This might sound metaphysical, but it is exactly what's happening on the runways.
Who is DYNE?
DYNE won the inaugural International Woolmark Prize Innovation Award held at Pitti Uomo, earlier this year, with its collection of water-resistant wool jackets for snowboarding. The jackets were embedded with Near-Field Communication (NFC) chips to track users in case of avalanches.
Creative director Christopher Bevans has previously worked at Nike, Yeezy and Billionaire Boys Club.
The brand has been using the NFC technology in its garments, which has become its DNA. By placing an Android device over the NFC touchpoint on a garment, the consumer can learn all about the brand, where the garment was bought, and the materials it is made of. It even gives you access to the playlist that is playing at the brand's office.
Want more stories like this? Sign up  here. Follow STYLE on  Facebook,  Instagram and  Twitter
G

Luxury brands are investing in groundbreaking technology to offer top-of-the-line clothing suited to dynamic movement