Dutch architect Rem Koolhaas says his nine-storey tower for the Prada Foundation in Milan is meant to reveal the interaction between art and architecture.
The white concrete Prada Tower, which is being inaugurated during Milan's Design Week – which ends on Sunday – completes the foundation's contemporary art space.
Salone del Mobile: Italian kitchen design brands look abroad to boost sales
It combines restored structures with new buildings, helping to give new life to a former industrial neighbourhood on the southern edge of the Italian city.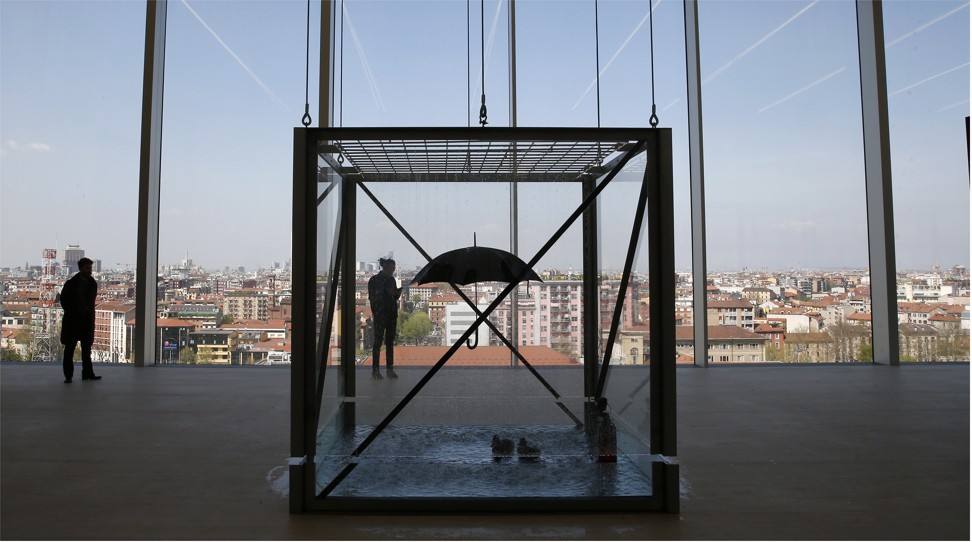 The 60-metre (197-foot) building overlooks the Milan skyline in the distance through large plate glass windows, with the Duomo cathedral, the mushroom-shaped Valasca Tower and the new clusters of modern skyscrapers rising up in the distance.
Milan Fashion Week: Prada collection's colourful bold lines delight fans
The ceiling of each successive floor is higher than the last, going from "compressed and intimate spaces", to more expansive areas, Koolhaas says, with the intention of creating a place to examine "the effect of space on art".
A Damien Hirst installation, featuring an umbrella and floating rubber ducks on the eighth floor, can be viewed against the backdrop of the city.
The industrial-sized elevator with pink marble floor reveals the rest of the foundation's structures arranged inside the wedge-shaped space from a glass panel.
Koolhaas says: "That in a certain way was the whole point of the foundation: to create an experimental situation where it is not necessarily that architecture serves art, but that there is a real interaction between the two."
Want more stories like this? Sign up here. Follow STYLE on Facebook, Instagram and Twitter