The American rapper, fashion designer and entrepreneur Kanye West has praised Elon Musk and Tesla on Twitter – calling his Tesla vehicle "the funnest car I've ever driven".
Kanye adds edge to men's jewellery, while Rihanna brings a touch of Barbados to Chopard
West wrote on Sunday: "I really love my Tesla. I'm in the future. Thank you Elon."
He didn't specify which vehicle he was referring to, but earlier this month, Platinum Motorsports posted photos on Instagram of a silver Model S luxury car it had painted for West.
Tesla Model 3 and 15 other new luxury cars and SUVs that will shake up 2018
West also said he had heard the company's fully electric vehicles were environmentally friendly.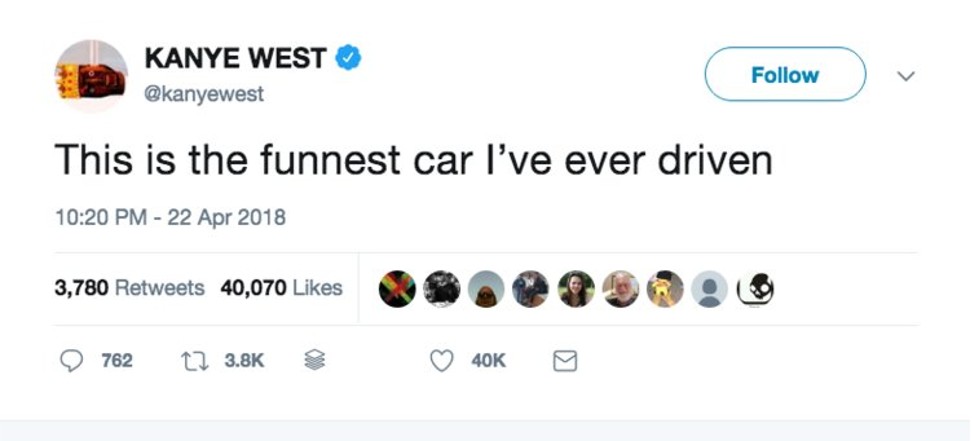 Musk has praised West on many occasions in the past.
In 2015, Musk wrote West's entry in Time magazine's 100 Most Influential People issue.
"Kanye West would be the first person to tell you he belongs on this list," Musk wrote.
"The dude doesn't believe in false modesty, and he shouldn't.
Why the Tesla 3 changes everything — and the entire world will want this car
"Kanye's belief in himself and his incredible tenacity – he performed his first single with his jaw wired shut – got him to where he is today.
"Kanye's been playing the long game all along, and we're only just beginning to see why."
In March, Musk mentioned West when asked who inspires him during a Q&A session at South by Southwest, the annual conglomerate of film, interactive media, and music festivals and conferences held in Austin, Texas, in the United States
"Everyone in this room is inspired by you – who are you inspired by," Musk was asked.
7 tips for productivity by SpaceX and Tesla boss Elon Musk
"Well, Kanye West, obviously," Musk replied.
Last Thursday, West used Twitter to announce two new albums he said he would release in early June. West said a seven-song, currently untitled solo album would arrive on June 1; and a collaborative album with Kid Cudi, called Kids See Ghost, will become available on June 8.
Want more stories like this? Sign up here. Follow STYLE on Facebook, Instagram and Twitter
This story originally appeared in Business Insider.