Skyscraper is the summer blockbuster action film you didn't know you had to watch.
The film, starring Dwayne "The Rock" Johnson as Will Sawyer, a former FBI hostage rescue team leader-turned security assessor, explores the question: what would you do if your family was trapped above the fire line in the world's tallest skyscraper?
Dwayne 'The Rock' Johnson and 'Skyscraper' cast in Hong Kong to promote film
At the same time, to complicate matters, there is a band of baddies who are eager to steal a very precious something from the skyscraper – and they're not afraid of playing dirty.
While most, if not all, of us would call the police and wait for help, that's not quite the Rock's style. Instead, he's happy to jump off a crane to enter a burning skyscraper in what can only be described as a suicide mission. Why aren't we surprised?
Need more reasons to watch Skyscraper? Here are eight:
1. It has badass women
Sarah Sawyer, played by Neve Campbell – best known from the Scream film franchise – is a Mama Bear who isn't afraid to get tough if it means protecting her children, Henry (played by Noah Cottrell) and Georgia, (played by McKenna Roberts).
Another badass female character is Xia, portrayed by Taiwanese actress Hannah Quinlivan, the right-hand henchman to Kores Botha, the villain of the film.
Apart from some snappy moves, she is also the only villain to actually stop The Rock dead in his tracks within five seconds of meeting him, thanks to a handy taser and a killer one-liner.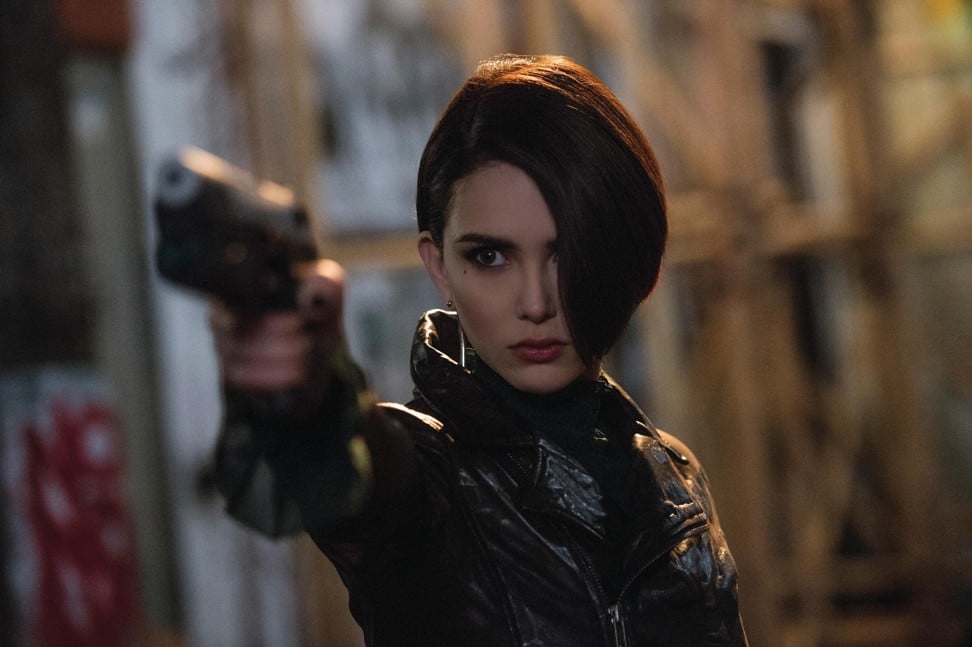 These women aren't afraid to step up and whoop some ass – and their tightly choreographed fight scene near the end of the film is the definitive proof.
"The fight scene with Hannah was challenging in the sense that the choreography and the timing needed to be really exact – but I actually loved that challenge," Campbell told STYLE during an exclusive interview in Hong Kong.
2. It honours amputees as strong figures in society
If the trailer didn't make it clear enough for you, allow us to reiterate: Johnson plays an amputee in the film.
"Rawson [Marshall Thurber, the director] took me through the entire pitch [of the film]. And I was really captivated, I was blown away," Johnson said during the film press conference in Hong Kong.
"He said there's one more thing I want you to know. He said the character has one leg and he's a wounded warrior, he's an amputee – but that can't stop him."
How The Rock conquered China's box office and proved he's the biggest film star on the planet
It's true. In case you didn't notice in the trailer, The Rock doesn't just do normal, everyday activities with his prosthetic leg. He turns it into a useful tool that helps stop titanium doors from closing on him and squashing him flat.
"I was up for the challenge and I did as much research as I could possibly do and spent some time with men and women who were injured in battle," Johnson said, adding: "It was one of the most unforgettable experiences I've ever had."
3. It puts family at its centre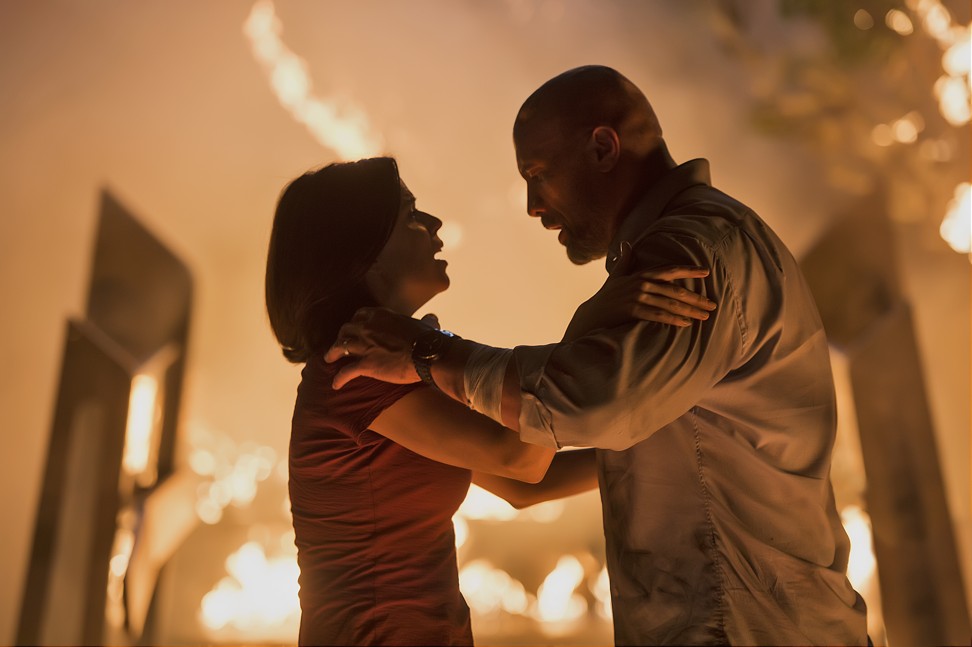 Blood runs thicker than water – and this film is all about proving it.
"It's about family," Thurber said during the Hong Kong press conference. "It's about the love of a family and what one person, or two people, will do to keep their family safe."
If you think the whole Mama and Papa Bear act is just that, you'd be wrong.
When we asked the cast of Skyscraper who the biggest mama or papa bear of the cast was, they immediately pointed to Campbell and Johnson.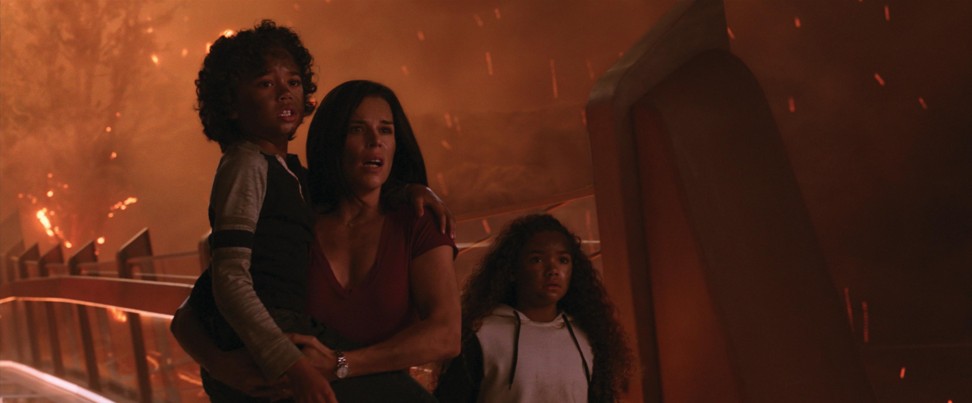 "Definitely Neve," Roberts, who plays Campbell's screen daughter, said. "She's like the mom of the whole cast."
Campbell added: "It was really important for both of us [Dwayne and I] that the kids were comfortable and feel excited, welcome and safe on set."
Vin Diesel made US$20 million for eighth 'Fast and Furious' film
4. There's no shortage of good ol' action scenes
Not only is the film action packed, it pays homage to some of the greatest action films to light up the silver screen.
"There were three movies in particular that Rawson shared with me, as he pitched me: Die Hard, The Towering Inferno and The Fugitive," Johnson said at the press conference.
"When you watch the movie, you'll see there's the spirit of those movies in this movie."
In an Instagram post uploaded on June 16, Johnson described Skyscraper as "a love letter to [Die Hard star Bruce] Willis, [and The Towering Inferno stars Steve] McQueen, [Paul] Newman and [Faye] Dunaway. And a salute of respect and gratitude to our wounded amputee warriors around the world."
Hannah John-Kamen relishes Marvel's female supervillain role
5. It features Hong Kong at its heart and centre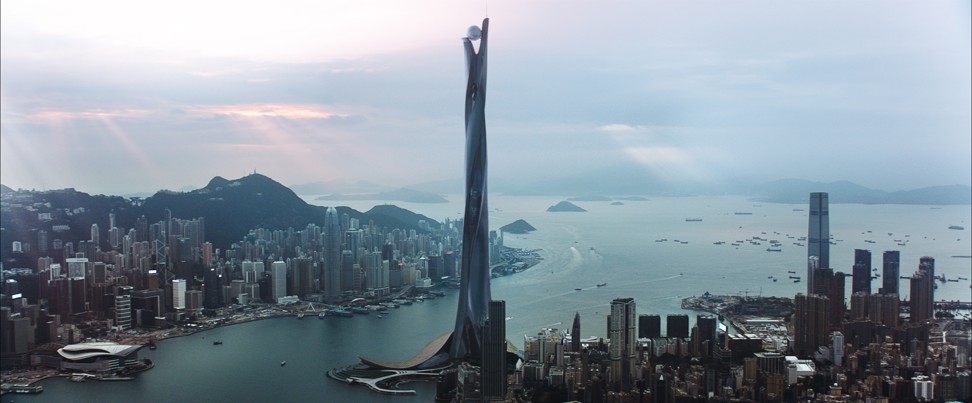 In the film, the world's tallest skyscraper, known as The Pearl, is located in the heart of Hong Kong's gorgeous skyline.
At 3,500 feet (1, 066 metres) tall, the building is more than double the height of ICC – the actual tallest skyscraper in the city – which is 1,588 feet high.
"[The film] was written with a high level of respect to Chinese culture and certainly Hong Kong as a city," Johnson said.
Which leads us to our next point …
6. Its portrayal of Hong Kong Police is pretty accurate
Hong Kong-born actor Byron Mann, who plays Inspector Wu in the film, has had a big part to play in the translation of the script.
"I was helping the translation of the dialogue from English to Cantonese, then to Hong Kong Police 'speak' and what we found out was that the Hong Kong Police actually use a lot of English terms," Mann said during an exclusive interview with STYLE.
A former Hong Kong police detective was also called in to be a consultant on the film.
Mann added: "He [the detective], and I and the translator worked together on translating the dialogue and I've been hearing from people who've seen [the film] that the Hong Kong Police dialogue is pretty authentic."
Will Paul Rudd's Ant-Man appear in the sequel to Marvel's 'Avengers Infinity War'?
7. Duct tape proves itself again as a life-saving tool
Call it an occupational hazard but when we see a creative use for a mundane object, we tend to swoon just a little.
Remember the famous Burj Khalifa skyscraper scene in Mission Impossible: Ghost Protocol?
Imagine if you needed to scale the exterior of a building but you don't have the tools or the financial resources to own a pair of fancy hi-tech sticky gloves like Tom Cruise's character, Ethan Hunt, did.
That small problem is easily fixed by Johnson's character, Sawyer, who wraps duct tape around his shoes and hands as a DIY solution to stop himself from falling off the building.
8. It has The Rock
Honestly, The Rock is in this film. Enough said.
Joking aside, The Rock is peak Rock in this film.
Yes, the film is about a man who blindly jumps into a burning building to save his family. Yes, there are hot flames and eye-scorching smoke and fumes to deal with. And yes, there is the odd villain or two (or more, actually) who want to kill him.
5 things about Evangeline Lilly from Marvel's 'Ant-Man and the Wasp'
But Sawyer isn't an ordinary man.
He's The Rock – and thank goodness, because that means we can relax and not waste precious brain cells worrying about whether he'd actually make that jump.
And despite a certain viral meme that may have pitted gravity against him, he comes out on top.
Because he's The Rock, duh!
Want more stories like this? Sign up here. Follow STYLE on Facebook, Instagram and Twitter