From Alibaba to Gucci, how Jack Ma's 'new retail' model puts China ahead of the game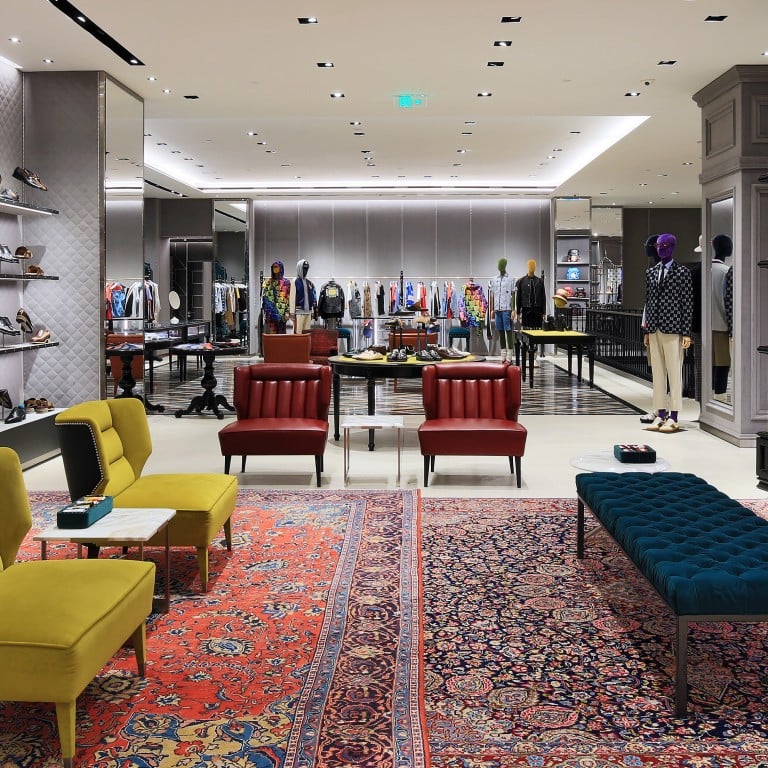 Move over, New York, London, Paris and Milan. Once centres for retail innovation in European and US markets, and keenly followed by luxury retailers and industry power players, these global cities are now being beaten to the post by China.
The past 10 years have seen China rise to become a leading force in e-commerce and a pioneer of the "new retail" model – a concept introduced in 2016 by Jack Ma, founder and chairman of e-commerce giant Alibaba, which owns the South China Morning Post.
Powered by the singular use of analytics, new supply chain strategies and technological innovation, it is a veritable ecosystem of innovative technologies, experiments with analytics and retail-as-a-service business models. Its widespread application has meant that China has reinvented itself, looking beyond the limitations of the old model, and gaining an edge over global competitors. Perhaps the biggest advantage of this highly tailored approach is that it takes into consideration the needs of the buyer, forming a specialised blueprint for a retail revolution. It opened the door for an enhanced consumer experience, which puts satisfaction at the forefront of its operating model.
China is now the poster child for the changing dynamics of the retail industry, and the focus of international luxury brands that want a slice of the burgeoning market.
Its strategies are simple and direct, such as using WeChat – China's most popular social media platform – to run exciting customer-specific campaigns.
Kering, a global luxury group based in Paris, is one such company. Grégory Boutté, its chief client and digital officer, explains that Kering always addresses "the specificity of each geography", which means that China remains "always top-of-mind when it comes to digital and innovation". To that end, Kering has "a dedicated team based in Shanghai".
"Gucci was one of the first brands to create a WeChat account in the luxury industry," explains Boutté. "Now, all Kering brands have a WeChat account and the majority are innovating with several mini- programs to build a close relationship with their Chinese customers and to offer social commerce."
The new way forward is "retailtainment", a lucrative e-commerce strategy that offers consumers the kind of experience that consolidates online and offline shopping for immediate – and intense – gratification.
From designated bricks-and-mortar spaces where customers can take and share pictures on their social media platforms to online campaigns and live streams with local digital influencers and opinion leaders, audiences are offered a smooth experience, in line with the hi-tech habits of the target demographic: millennials and Generation Z. Take augmented reality (AR). During Alibaba's Singles' Day in 2018, the company partnered with brands to bring pop-up stores to its consumers, where AR mirrors and smart speakers could initially be connected to personal shopping accounts on retail websites Tmall and Taobao. Thanks to the technology, consumers could see themselves "wearing" the desired garments without having to try them on.
Taking a leaf out of Alibaba's playbook, YSL Beauté set up a pop-up shop at Harbour City, Tsim Sha Tsui, and collaborated with Tencent's WeChat and Mindshare on the launch of its Mon Paris Couture perfume. The shop offered a facial recognition program and an interactive kiosk where customers could personalise their bottles of scent.
Make-up brand Sephora also jumped on the interactive bandwagon, and set up a "Virtual Artist" AR app allowing customers to experiment with cosmetics without putting any on.
This heady, first-hand exposure to new technologies has become a part of the daily life of the millennial Chinese consumer, and has led to a highly personalised – and satisfying – retail experience.
Gamification is another element keeping Chinese consumers engaged and excited. While China may not have invented gamifying, Alibaba has perfected it.
On Singles' Day last year, the company launched an updated AR mobile game that fed the annual shopping frenzy: customers scrambled to use their smartphones to catch a virtual cartoon cat – online and in locations such as malls and restaurants – and won discounts and rewards.
While Chinese retailers sail into the new age and enjoy a financial renaissance, brands that did not innovate began to go bankrupt (from BCBG Max Azria to Nine West).
While high-end fashion retailers tend to be more cautious about going the e-commerce way than luxe start-ups, traditional players are rethinking their business models and embracing innovation.
At Kering, the consumer's first step in the world of the company's brands begins on their mobile phone, allowing them to "dive into the digital universe" before their in-store shopping experience.
"New technologies and data science are extremely powerful levers to improve the customer experience, which is particularly demanding in luxury, across every touchpoint," admits Boutté.
With this in mind, the group now has an in-house innovation lab, and has designed in partnership with Apple various apps that allow its staff to enhance clients' in-store experience.
Also tapping into digital retail are luxury start-ups, a growing industry with tremendous potential. Top companies making a name for themselves include Future Tech Lab, a platform that bridges fashion and science; Heuritech, a tech firm that uses artificial intelligence to forecast fashion trends; and popular online luxury fashion retailers Farfetch and Net-a-Porter, which have disrupted the high-end industry by pioneering innovative retail technologies in their quest to understand what their consumers really want.
Another player on this burgeoning list is Rêve En Vert, an online luxury boutique focusing on high-end sustainable products, and catering to millennial consumers. Cora Hilts, co-founder and CEO, says
"e-commerce is opening up the world to a more interesting and exciting way of shopping for consumers globally".
It is digital communication that has enabled Rêve En Vert to bring to customers the offerings of independent retailers around the world, from Australia's Yoli & Otis and Natalija, to Soko Jewelry from Kenya.
Hilts says getting "these beautiful and sustainable designers to customers, no matter where their location, wouldn't have been possible before the increase in digital shopping – it allows for innovation and education on a global platform rather than your local demographic".
Tony Pinville, CEO of Heuritech, says the era of social media has posed new challenges for luxury brands.
"Influencers are crucial for marketing strategies," says Pinville. "Heuritech has developed a unique visual recognition technology to detect products, brands, patterns, shapes, colours, on social media. This presents a tremendous opportunity for brands to understand what consumers want and target new audiences such as millennials and Gen Z."
According to Miroslava Duma, founder and CEO of Future Tech Lab, "Millennials and GenZ are keen to adopt new retail experiences, pushing brands to better interact with the target consumers and ensure deeper brand engagement.
"China provides the ideal soil for experimenting with these new behaviour models, especially with the support of the burgeoning new retail technologies out there, such as VR/AR, AI, Blockchain, IOT."
But being the world's pioneering digital marketplace also has its hurdles.
The seismic slant towards interactive digital campaigns and online shopping can expose customers to safety and privacy risks, which are made greater by certain technological advancements, such as AI, or the use of big data. Recognising the value of untapped consumer data is critical but there must be a sense of urgency about enforcing stronger cyber regulations.
While multisensory experiences help buyers develop and forge an emotional connection to the brand, buyers are showing a preference for authenticity and quality over brand loyalty.
No stone goes unturned in the effort to woo millennials and Gen Z, but Gen X – those born between baby boomers and millennials – has been left out in the cold.
These high-net-worth individuals are seasoned, polished and refined in their choices. They do not respond to the same stimulus as the millennials, and because their preferences are pragmatic and well-researched, specific campaigns are needed to address and capture this base.
Despite the challenges, China's e-commerce drive continues to fuel its retail industry, which is poised to remain ahead of the curve until traditional markets can adopt and build on its visionary model.
Want more stories like this? Sign up here. Follow STYLE on Facebook, Instagram and Twitter

Powered by the use of analytics, new supply chain strategies and technological innovation, the concept has transformed the shopping world