Next stop, Japan: Pop artist Kaws takes Companion to Mount Fuji on latest leg of Kaws:Holiday Asian tour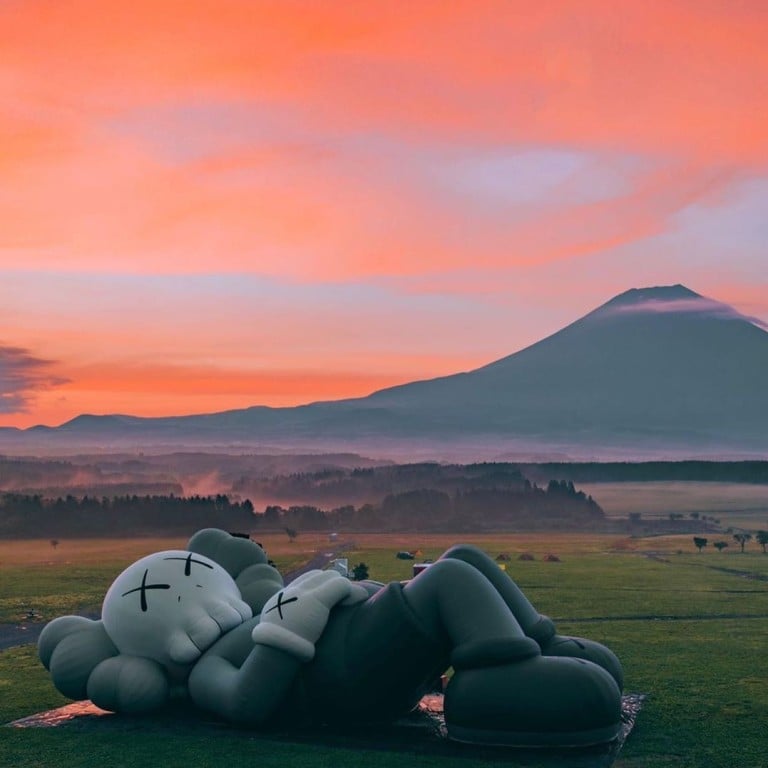 The giant character that created a social media storm after first being spotted
floating in Hong Kong's Victoria Harbour
last March has been on its travels again – and is now having a snooze, it seems, beside Mount Fuji.
The Kaws:Holiday moving art installation – featuring an iconic 40-metre (130-foot)- tall Companion sculpture – arrived at a camping site close to the Japanese landmark on Thursday, where it will remain until Wednesday.
The giant Companion – the signature work by Kaws, the professional name of renowned American pop artist and designer Brian Donnelly – has been produced in collaboration with the creative studio AllRightsReserved.
Why is the Japanese leg of the tour special?
Taking Companion to Mount Fuji has been a dream come true for the artist. He has been to Japan many times, yet says the stunning view of 3,776 metre-high Mount Fuji continues to hold a strange fascination for him.
What was Kaws' inspiration for the installation?
When Kaws first created Kaws:Holiday, he was thinking about relaxation – of simply looking up and shutting out the world around him.
He says he hopes that the arrival of Kaws:Holiday in Japan – the sculpture's fourth stop on its Asian tour, which began in March – will help to create a relaxing experience, not only for campers staying near to Mount Fuji, but also for people around the world.
He also hopes it will encourage people to embrace life's simple pleasures of slowing down and enjoying camping out in nature.
Can we expect anything more?
Yes for sure! To mark the arrival of Kaws:Holiday and Companion's appearance in Japan, Kaws and AllRightsReserved are releasing a series of limited-edition collectibles.
A Kaws-designed Mount Fuji plush in three colours – pink, blue and grey; a Kaws-style Mount Fuji T-shirt, 9.5-inch (24-centimetre) vinyl figure; and a set of four Mount Fuji ceramic plates are among the goodies.
All of the limited edition collectibles are available now from the online store, Dingdongtakuhaibin.com.
Want more stories like this? Sign up here. Follow STYLE on Facebook, Instagram, YouTube and Twitter

The 40-metre-tall art installation, inspired by thoughts of relaxation, will remain in Japan until Wednesday following earlier visits to Hong Kong, South Korea and Taiwan