7 kick-ass Asian women in Chinese and US movies who prove MMA and martial arts are for everyone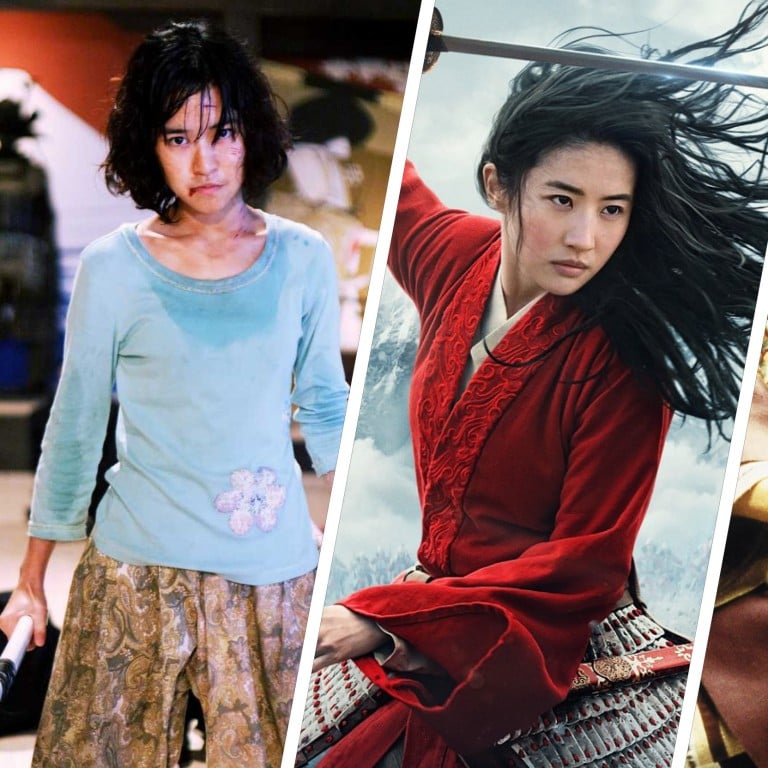 From Bruce Lee to Jackie Chan to Sammo Hung, Jet Li and Donnie Yen, martial arts flicks and Asian action movies have typically been a macho, male preserve. Although women have had fewer opportunities to shine in these genres, that does not mean they haven't amazed audiences when given the chance. Some of Asia's best action movies were made with female hero rather than a male one.
Here are seven kick-ass Asian female actors to get you started.
Liu Yifei
Expect to see a lot of Liu Yifei this year thanks to her starring role in Disney's live action Mulan. Although she may (currently) be unfamiliar to international audiences, Liu has a background in Wuxia ("martial heroes") films and television series – The Return of the Condor Heroes and The Forbidden Kingdom – where she earned her action chops. Her experience should serve her well for her role as iconic Chinese heroine, Hua Mulan.
Cheng Pei-pei
In Hong Kong, nearly all Asian female action stars owe a debt of gratitude to the "Queen of Swords". Cheng was just 20 years old when she took the lead role in director King Hu's iconic wuxia epic Come Drink with Me. From there, she has starred in umpteen swordsman (or should that be "swordswomen"?) films, most notably Crouching Tiger, Hidden Dragon, for which she won a Hong Kong Film Award for Best Supporting Actress. Still going strong at 74, expect to see her in this year's Mulan, too.
Zhang Ziyi
Zhang Ziyi may be more associated with traditional dramatic movies these days – the likes of Memoirs of a Geisha or Wong Kar-wai's 2046 – but, like Liu Yifei, she is another actor who originally made her name kicking ass and taking names. She was one of the stars of Crouching Tiger, Hidden Dragon – alongside others on this list – and her duel with Chow Yun-fat in the bamboo forest remains iconic. Her roles in award-winning movies such as Hero, House of Flying Daggers and The Grandmaster confirm her as a bona fide action hero even if her roles tend to be more gentle these days.
Michelle Yeoh
Another action veteran is Malaysian actor Michelle Yeoh. The 57-year-old got her break in 1985 as the lead in Yes, Madam! alongside counterpart Cynthia Rothrock, and together took on triads and a corrupt property developer. Yeoh graduated to a string of high-profile roles that saw her beat up villains in the likes of Jackie Chan's Police Story 3 and Tomorrow Never Dies alongside 007.
Cynthia Khan
Something of a successor to Yeoh, Cynthia Khan took over the In the Line of Duty franchise that helped make Yeoh a star. Her efforts are arguably superior to Yeoh's – In the Line of Duty 3 and 4 were bone-crunching affairs with ferocious fight scenes. Although she never reached the same heights as her In the Line of Duty predecessor, Khan demands respect as one of the brutal and raw female action stars from the heyday of Hong Kong action cinema.
JuJu Chan
Ever since she played Bruce Lee's sister in The Young Boxer, JuJu Chan has been hailed as the next coming of the Little Dragon. A professional martial arts competitor, Chan is a legitimate fighter who has represented Hong Kong internationally, winning a bronze medal at the ITF World Championship in Nepal in 2014. Since then she has made a name for herself both here in Asia and the US with successful roles in the likes of Crouching Tiger, Hidden Dragon: Sword of Destiny and Netflix series Wu Assassins.
Yanin Vismitananda
Vismitananda exploded onto the scene with just her first movie, 2008's Chocolate. In her debut she displayed a dazzling mastery of taekwondo, which helped her bring justice to an assortment of gangsters. Further success has followed. In 2013 she starred alongside Thai martial arts icon Tony Jaa in Tom Yum Goong 2, who she reunited with in last year's Triple Threat, which also featured Indonesia's Iko Uwais, who, like Juju Chan, has been impressing in Wu Assassins.
Want more stories like this? Sign up here. Follow STYLE on Facebook, Instagram, YouTube and Twitter .

From JuJu Chan to Disney's new Mulan, these seven women, empowered by MMA and martial arts, don't need a man to save them