6 places in Asia where you can see Tokyo-based teamLab's mind-blowing exhibitions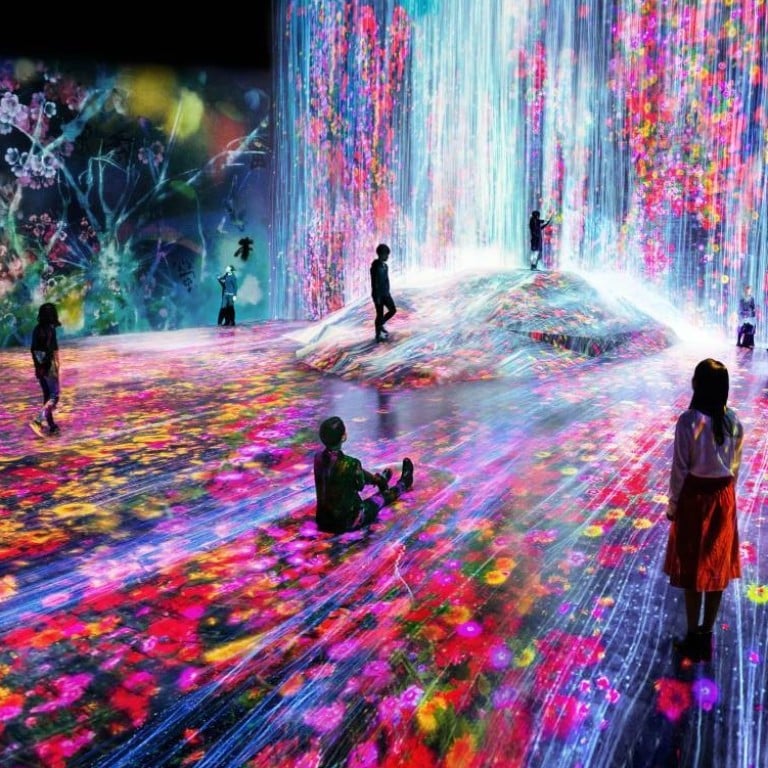 Founded by Toshiyuki Inoko in 2001, Tokyo-based teamLab is an interdisciplinary group of artists and technologists which has mastered deeply immersive, art-meets-science, beautiful but thought-provoking exhibitions – as well as being the world's most enthusiastic selfie enablers. With the sort of science-slash-art exhibitions your children actually want to go to, teamLab puts on massive, mind-blowing spectacles that dissolve the borders between humanity and nature and between creativity and engineering.
Here are six places in Asia where you can sample their vision either now or very soon.
TeamLab SuperNature Macao 
Taking up permanent residence at The Venetian Macao from March 2020, "TeamLab SuperNature Macao" is the ultimate manifestation of the collective's desire to blur the boundaries between people and nature. It features more than 20 artworks, spread across 54,000 square feet of space with eight metre high ceilings, in which visitors can physically immerse themselves. They include popular teamLab works such as The Infinite Crystal Universe, an ever changing pointillist depiction of the universe in light that visitors can control with their phones, as well as new works including Massless Clouds Between Sculpture and Life, a floating cloud that changes shape when people interact with it.
Crystal Forest Square, Shenzhen 
Most of teamLab's work can only be seen at ticketed exhibitions, but Crystal Forest Square, which is under construction in Shenzhen and is set to launch soon, is a teamLab exhibit anyone can interact with free of charge. Located next to the major Binhe Avenue and part of the C FutureCity development close to Shenzhen Bay, it will consist of numerous crystal pillars illuminated by tiny points of light that change as people approach them or interact with them using their phones, and which appear to form a single, three dimensional object.
#futuretogether, Singapore 
Outside Japan, Singapore is the city where teamLab is busiest, with the giant indoor-outdoor #futuretogether show, at Gardens by the Bay until March 2020, joined by exhibitions at the Jewel Changi Airport entertainment complex, the Marina Bay Sands casino, the National Museum of Singapore and the Ikkan Art Gallery and Miaja Gallery. Outdoor works at #futuretogether include Autonomous Resonating Life on the Water and Resonating Trees, a collection of giant eggs floating on a lake and trees surrounding it that change the colours and sounds they emit as people and animals interact with them; while those indoors include Animals of Flowers, Symbiotic Lives, featuring projections of animals made up of flower petals that scatter when touched.
TeamLab Borderless Shanghai
Dissolving borders has long been a staple of teamLab shows – between art and science, between nature and artifice, and between the artworks themselves and the people viewing them. Permanent exhibition "TeamLab Borderless Shanghai", which opened its doors in November 2019, takes this to its logical conclusion, dissolving every boundary possible, including those among the different works.
An export of the Borderless concept that also has a permanent home in Tokyo, where it debuted in 2018, the museum is a fully immersive smorgasbord of exhibits that interact with visitors and each other in a variety of unpredictable ways.
TeamLab Planets Tokyo
Running since 2018 until this coming autumn, TeamLab Planets Tokyo is based on the concept of Body Immersive, and as such it immerses its audience even further in the works, forcing them to walk around barefoot and at some points even splash through water. It's divided into seven works, housed within four giant spaces, including Drawing on the Water Surface, in which participants' motion through water creates and manipulates the images of fish and plants that appear on its surface; and the self-explanatory but equally damp Waterfall of Light Particles at the Top of an Incline.
Digitised Ritsurin Garden, Takamatsu, Kagawa
Again taking teamLab's work outside the confines of a museum, this project transforms the popular traditional Japanese Ritsurin Garden in Takamatsu on Shikoku island, which dates back to the 16th century, into a light filled wonderland. Running until March 8, it follows a similar project at Shimogamo Shrine, a World Heritage Site in Kyoto. Featuring plenty of teamLab's trademark light emitting spheres, floating on water, filling gardens and illuminating trees, it emphasises the human role in shaping nature to create the garden in the first place, and how its landscape evolves over time.
Want more stories like this? Sign up here. Follow STYLE on Facebook, Instagram, YouTube and Twitter .

Installations in Japan, China, Singapore and Macau put on the art-meets-science exhibitions your children actually want to see