From American Idol to Queen, is LGBT icon Adam Lambert just a charismatic entertainer with incredible cords but nothing to say?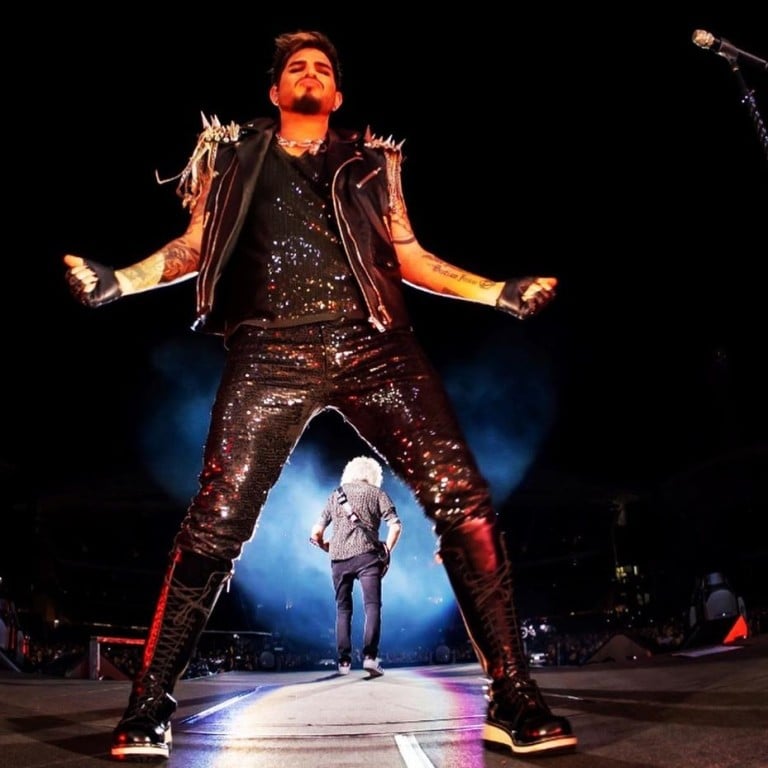 A reality TV star who went on to front a classic rock band, Adam Lambert has his feet deep in both the present and the past – but he's already made history.
As the first openly gay pop star to top the Billboard album charts, Lambert is undeniably equal parts
LGBTQ+
icon and artistic trailblazer alike.
But are his outsized theatrics losing their charm? Not a single solo track has charted since 2015 electro-folk anthem Ghost Town, and as Lambert gambles it all on his first new album in five years – the seductively disco-flavoured "Velvet", dropping worldwide on March 20 – STYLE tries to make sense of this bewitchingly contradictory chameleon.
He's (way) more than a copycat
A singer who made his name singing other people's songs – #ICYMI: as runner-up on season 8 of American Idol in 2009 – and significantly broadened his demographic filling Freddie Mercury's shoes in a dollar-churning, stadium-strafing ongoing Queen reunion, it's been too easy for detractors to write Lambert off as a charismatic entertainer with incredible cords but nothing to say.
But remember that when RCA encouraged the singer to follow up the breezy electropop flavoured second album "Trespassing" with a covers LP, he quit the label and signed with Warner Bros, who promised more control and promoted a more rounded image – ultimately leading to the mature, and much-self-penned, reinvention that was "The Original High".
Yep, he really did insure his voice for nearly US$50 million
It was back in 2012 that Forbes first broke news of Lambert's hefty US$47 million insurance policy on the health of those priceless vocal cords – a fact he was only too happy to verify when speaking to this writer four years later.
"That's my bread and butter man, I got to insure this," he told me at The National. "J-Lo insured her booty, right? Listen – this is what I'm making my money on."
Lambert was depressingly ahead of his time – and he paid the price (but didn't let the haters win)
The entertainment landscape has undergone a welcome, long overdue representational awakening since Lambert came out as gay in the summer of June 2009.
It's impossible to pretend a whiff of homophobia didn't fuel the 1,500 complaints that came after his performance at the American Music Awards (AMA) later the same year, when the embryonic superstar kissed his male bassist onstage.
Nor when 20,000 "concerned" Singaporeans signed a petition protesting his appearance at a 2015 New Year's Eve show. If the minds in the region have opened at a refreshing pace since, we surely have Lambert to thank in some part.
You can buy his house – no, really …
Lambert's luxury, long-term Los Angeles home – a three-bed, three-bath house with a pool and spacious grounds that are apparently "inviting, private and the perfect setting for outdoor living and entertaining", according to the sales bumf – is on the market.
And it's a steal – reportedly once listed at US$3.99 million, Lambert is now asking for a comparatively slender US$3.35 million. But why is he willing to take such a hit?
His new album is decidedly groovy – and distinctly stonking
OK, five years in the making, Lambert's long-awaited fourth LP isn't technically released yet – but anyone paying keen attention has heard 10 of its 13 tracks already, with five singles and a six-track EP, "Velvet: Side A", teasing the main event.
While there's little left to be hyped about, the good news – no, sorry, amazing news – is that these recordings are the best of Lambert's career, marrying an unashamed, sexy-retro aesthetic to those searing rock god vocals.
Superpower is a macho funk-bop strut, Stranger You Are is vintage disco sleaze, Overglow boasts a piercing falsetto and irresistible floor-filling chorus, Closer to You is an epic eighties power ballad Steven Tyler would be proud of and Loverboy is steamier than an adolescent gym shower room.
As if we needed a hint of his references, final single Roses, is a collaboration with none other than disco forefather Nile Rodgers. Yowsa.
Want more stories like this? Sign up here. Follow STYLE on Facebook, Instagram, YouTube and Twitter .

As Adam Lambert prepares to release 'Velvet', his first new album in five years, STYLE tries to make sense of this contradictory chameleon