Ariana Grande, Rihanna and Beyoncé loved his designs: 5 things to know about Sergio Rossi, Italian shoemaker who died from Covid-19 complications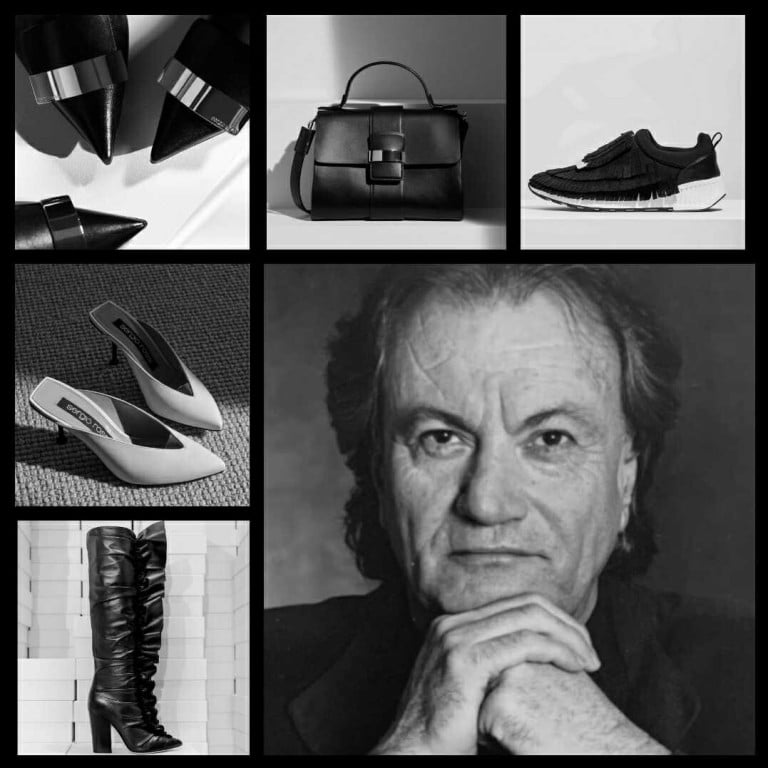 Sergio Rossi was more than just a shoemaker and a luxury brand. The Italian was one of the legendary footwear designers who knew how to capture and highlight a woman's feminine side. His designs were revolutionary and they gave women a boost in confidence without going over the top.
Rossi's death at the age of 84 because of Covid-19 complications in Cesena, northern Italy on April 2, shook the fashion industry and Amina Muaddi and Sophia Webster were among the many designers to pay tribute to him. Earlier, his company donated €100,000 (US$108,025) to the hospital ASST Fatebenefratelli Sacco in Milan as well as 100 per cent of the sales on SergioRossi.com from March 14-20.
1. The beginning
Growing up in one of Italy's main shoemaking regions, San Mauro Pascoli, Rossi picked up the skills from his father in the 1940s before taking over his father's business in 1956.
He started by selling some of his designs to shops in Bologna and his talent was immediately recognised. Sergio Rossi officially launched the brand in his name in 1968.
One of Rossi's most memorable designs was the Opanca sandal in the 1960s. The strappy and round-soled sandal which holds the foot perfectly was said to be inspired by the Slavs.
The classic high-heeled Godiva pump and the square-heeled Virginia also played significant roles in the brand's growth.
2. Turning point
Sergio Rossi's stock began to rise when he started working with designers such as Gianni Versace and Laura Biagiotti in the seventies. Later, leading fashion brands Azzedine Alaïa and Dolce & Gabbana used his shoes in their collections.
His idea of partnering with various designers instead of focusing on advertising allowed his brand to become known among buyers.
3. Intricate steps
Sergio Rossi never thought shoes as an accessory but rather as a continuation of the body. So dedicated was he to making the perfect pair of shoes, that he easily adhered to the minimum 120 steps and 14 hours of hard work and skills required to do so.
Rossi also experimented with the buckle, sole and most importantly, the shape of the shoes in an effort to realise that perfection.
4. Transition
In 1999, Sergio Rossi was sold to Gucci Group, which is now known as Kering, one of the world's biggest luxury fashion empires. This was at a time when the group was opening new shops in fashion strongholds such as Paris, London and Tokyo. Sergio Rossi continued to work as the director of design and only retired several years later.
Kering sold the brand in 2015 to private equity fund, Investindustrial, which is run by CEO Riccardo Sciutto.
5. Influence
Despite the changes in ownership, Sergio Rossi's unique charm has remained and its influence on the red carpet and environmental issues is still significant.
Beyoncé, Rihanna, Ariana Grande are among the celebrities to have shown their love for the brand on different occasions.
Sergio Rossi raised awareness of environmental issues through its Eco Pump series, which made use of biodegradable liquid wood. Part of the sales from the Eco Pump collection were put to good use through donations to Goodplant.org.
Want more stories like this? Sign up here. Follow STYLE on Facebook, Instagram, YouTube and Twitter .

A victim of coronavirus, Sergio Rossi's Opanca sandal, high-heeled Godiva pump and square-heeled Virginia all played a role in earning the shoe designer red-carpet acclaim