BTS members binge on barbecue and Blackpink's Rose loves kimchi stew – K-pop stars' favourite foods and Korean dishes revealed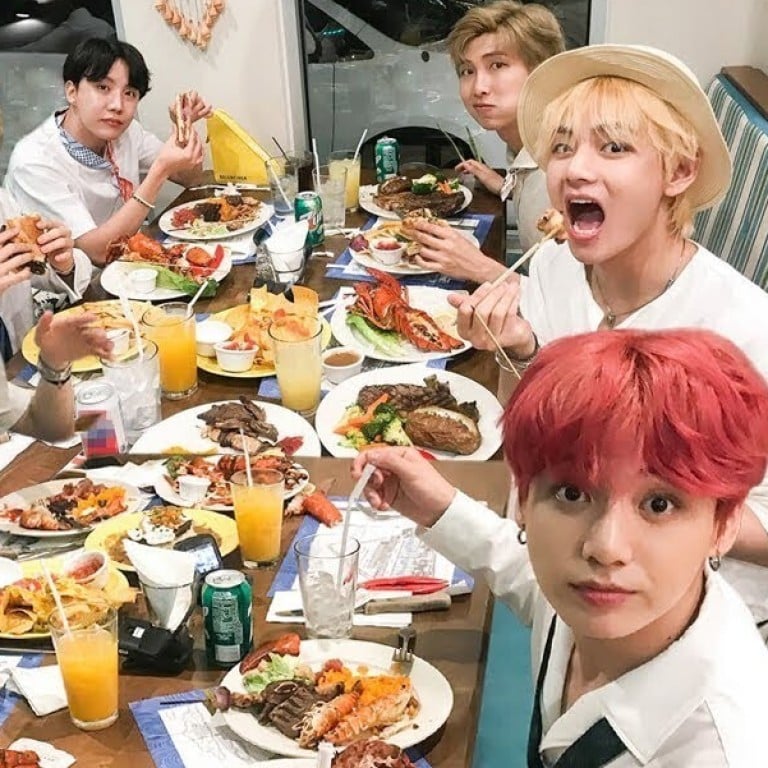 It's clear that South Korea is a land of foodies, given that the country is the origin of mukbang, the genre of smash hit shows where people watch others eating, and that the most common Korean greetings are "have you eaten?' or 'have you had lunch?"
Although you might think that slimline K-pop stars are on a diet 24/7, these idols say that they love to eat – and love to talk about food, too. Here are some K-pop foodies and their favourite dishes.
BTS members love Korean dishes above all else
When the BTS boys eat, they eat big; perhaps that explains the amount of energy they pour into their performances. In the game show New Yang Nam Show, the seven-member group said that they ate around US$590 worth of Korean barbecue to which the emcee exclaimed, "did you guys eat the whole pig?" J-Hope added, "actually. we used to eat much more. When we just debuted, we would eat enough shabu-shabu for about 100 people."
V's philosophy on food is this: if it's edible then it's fair game. But if he had to choose, he told Hanako magazine he would also pick what is also J-Hope's favourite, ganjang-gejang, or raw crab marinated in soy sauce. The dish is also called "rice thief" because the rice is gobbled up so quickly when eaten together.
Jimin likes pork dishes the most, especially with kimchi fried rice.
Jin is enthusiastic about food in general and probably has the longest list of favourite foods, but he did say that if he was cast away to an uninhabited island and could only bring one food with him, he would pick Korean fried chicken.
RM and Jungkook both like sweet things: Jungkook loves banana milk and RM is partial to sweetly seasoned meat.
Rose is Blackpink's resident foodie
Blackpink's Rose knows her stuff when it comes to food. She got the nickname "foodie chaeng" (from her Korean name Park Chae-young) from her thrilled reactions whenever she takes a first bite, and how her plate would invariably look clean after eating in the group's reality show Blackpink House.
Her favourite Korean dish out of all? When a fan asked her, she simply answered "Everything. Everything, I like Korean food, hahaha." But to be specific, it's widely known that she loves kimchi stew. Her nickname used to be "pasta" referring to rose pasta, but actually she's not really into Italian cuisine.
Mamamoo's Hwasa makes everything look delicious
When Hwasa eats, people follow. People pay close attention to how Hwasa eats her meals because she knows the best combinations, such as eating grilled gopchang, or intestines, with gopchang stew and finishing it off with gopchang fried rice. She also enjoys eating ganjang-gejang (another BTS favourite) with kim bugak (seaweed crackers) which adds an extra crisp texture and savoury flavour.
After Hwasa dined on the reality show I Live Alone, it caused a sensation with gopchang selling out and people lining up for hours in front of gopchang barbecue restaurants, especially the one Hwasa frequented. This earned her the nickname "gopchang goddess" and she landed many food commercials, from instant noodles to chocolate bars.
TVXQ's Changmin is a gourmet who likes to cook
After the announcement that he is getting married soon, people rushed to rewatch Changmin's cooking videos so they could assess if he's husband material. Changmin loves his food, revealing that he takes cooking classes in the reality show I Live Alone. In the episode, he cooked Andong steamed chicken. Even the Korean star chef Baek Jong-won approved of Changmin's cooking skills when they did the variety show Manners of Taste together last year, which explored food culture. In his interview with Grazia magazine last year, he said that he feels rewarded and proud when he cooks and that he is also into food plating like a pro.
Want more stories like this? Sign up here. Follow STYLE on Facebook, Instagram, YouTube and Twitter .

Mamamoo's Hwasa is nicknamed the 'gopchang goddess' for her love of cattle intestines, while TVXQ's Changmin is a renowned gourmet cook – a closer look at the favourite recipes and specialities South Korean pop stars love above all else