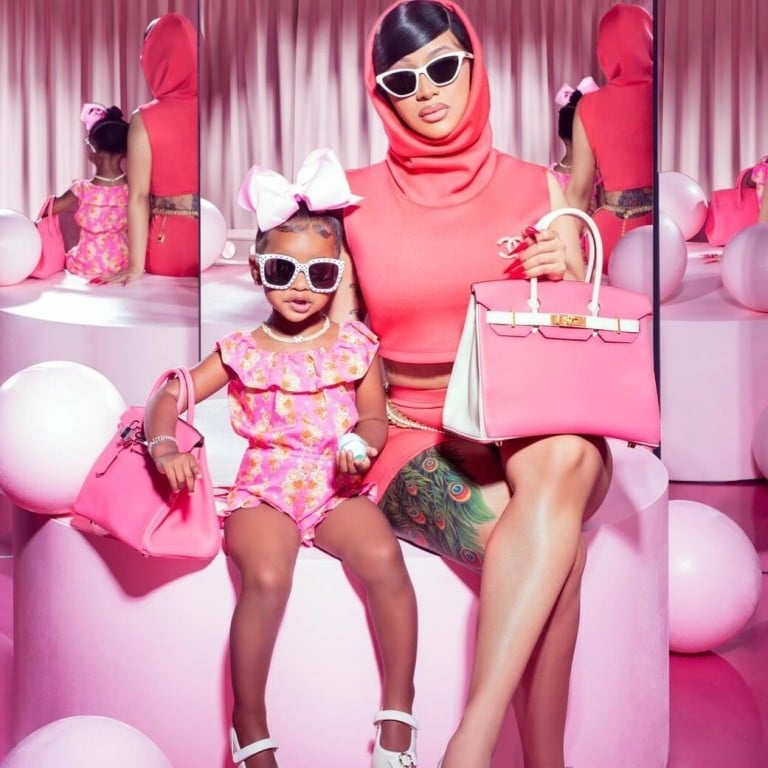 Cardi B and daughter Kulture sporting matching Hermès Birkin handbags. Photo: @iamcardib/Instagram
From Kim Kardashian's daughter North West modelling to royal babies Prince George and Princess Charlotte's designer wardrobe and Cardi B's daughter carrying a Hermès Birkin – is childrenswear the future of luxury fashion?
Whether Dior, Hermès, Burberry or Fendi, luxury childrenswear is on the rise, even as Covid-19 has hit luxury fashion brands hard – thanks to 'mini-me' culture and rich parents' willingness to spend on sustainable, high-quality clothing for their kids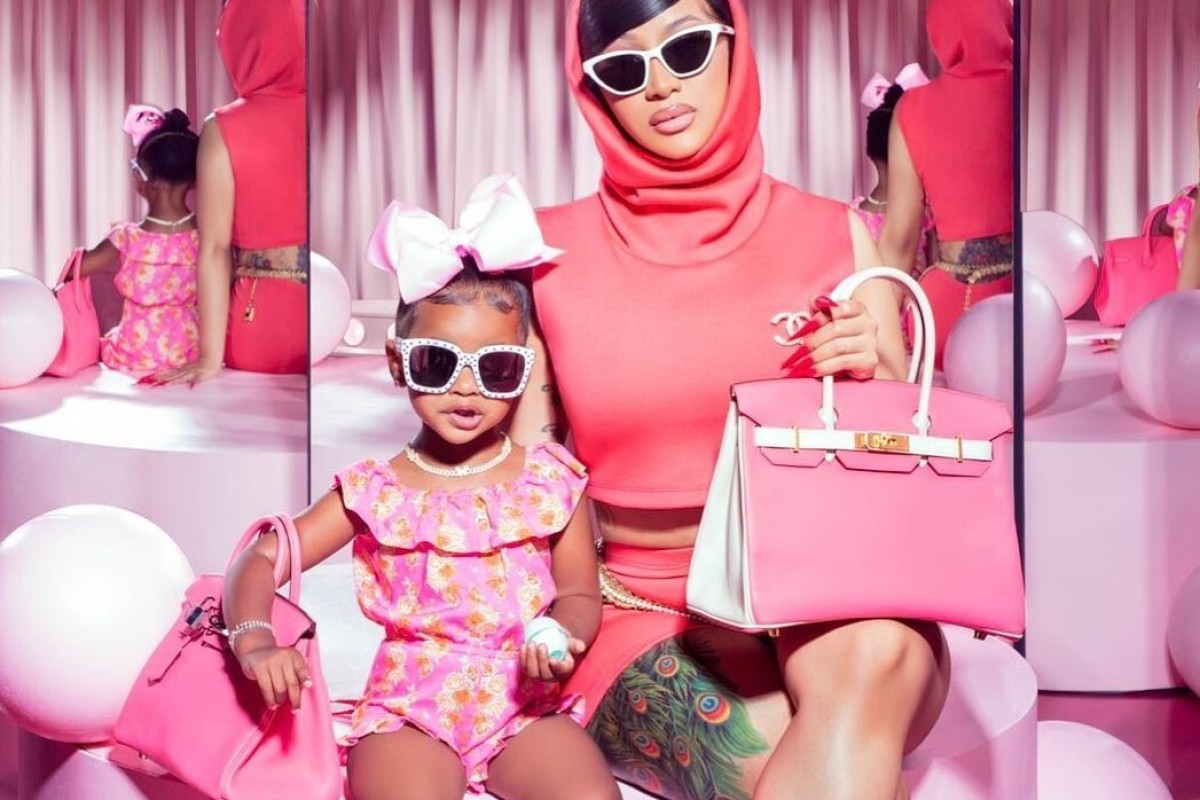 Cardi B and daughter Kulture sporting matching Hermès Birkin handbags. Photo: @iamcardib/Instagram
Flip open any celebrity magazine or check any high profile Instagram account and you'll notice something: it's no longer just about the clothes of Kate Middleton or Kim Kardashian but rather those of their beyond-stylish spawn.
You'd probably have seen Prince George in stripy polo from Rachel Riley on a number of occasions, or Princess Charlotte wearing the Celina Marie-Chantal designed by Princess Marie-Chantal of Greece. Cardi B's Instagram post featuring herself and her daughter Kulture sporting a pair of luxurious Hermès Birkin handbags scored on of the highest engagement performance among all of her social media content.
According to a recent report by Brand Finance, Princess Charlotte's style influence could be responsible for boosting the British economy by US$4.1 billion, while North West,
The luxury childrenswear market is definitely growing up – maybe even faster than its grown-up counterpart. According to Euromonitor, the global childrenswear market was worth a whopping US$1.4 billion in 2017 and is expected to grow by eight per cent by 2021.
What's more, a new report by K11's Future Taskforce suggests that the idea of luxury childrenswear and mini-me culture is rapidly becoming one of the most prevalent fashion cultures associated with children in
"We are definitely seeing a growth with some key brands and categories where, more and more, consumers are looking to invest in good quality pieces that will last wash after wash, and can still be passed on once their child has grown out of it," says Jenny Slungaard, head of public relations at Alex and Alexa, a London-based luxury childrenswear retailer. "We are also seeing an increasing number of adult brands moving into the kidswear space as a key strategy, to grow their brand and reach new customers."
Whether due to the lower price point in comparison to other luxury goods or a consequence of many children being at home for the time being and not in school uniform, the luxury childrenswear market has continued to rise even throughout
"Some industry estimates suggest that kidswear as a category seems to be less affected by our current economic situation," says Jenna Mardon, senior category development manager of childrenswear at Farfetch, a British-Portuguese digital luxury fashion retailer.
The sprouting market begs the question: what is actually propelling luxury childrenswear forward? Could miniature lambskin Lady Dior bags really be that popular?
While it's typically the extravagant "mummy and me" childrenswear that makes a splash on social media, according to Euromonitor, it's the repeat purchases and entry price items that really drive the market – these include print tees, sweatshirts and accessories such as socks and footwear.
However, the market is currently seeing a lot of consumers looking to invest in big-ticket garments such as coats and jackets from big-name brands like Moncler and Burberry, which parents know will last being worn every day, providing warmth and comfort in poor weather but still looking stylish and ahead of the trend.
"Luxury brands always tend to elevate every aspect of their designs, so whether you have classic tailored pieces from Bonpoint, timeless trenches from Burberry or stand-out, statement knits from Gucci, the quality of the fabrics will always be superior and the fits designed specifically for a child," Slungaard says. "Luxury brands in the kidswear space are often a lot braver and bolder with their designs, combining bright colours and eye-catching prints, really elevating an everyday look."
Moncler underscores this preference for high-spirited experimentation, citing that the main division between their adult and childrenswear comes down to the "playful and exciting exploration of new styles and colourways, teamed with in-depth creative research".
While many other brands choose to simply translate a selection of products reflecting themes drawn from among their adult collections, these products "underscore a brand's range as an area of primary importance" while "investing in extensive experimentation from every angle".
Aside from aesthetics, today's parents also place more emphasis on sustainability than ever before and the durability and quality fabrics that go along with luxury ready-to-wear items make as much sense for childrenswear as they do for its adult counterpart.
While at first glance it may seem frivolous and extravagant to buy luxury clothing for children as they grow so fast and clothing can get stained or damaged very easily, children's skin is often a lot more sensitive to dyes and fabrics, and the younger they are, the more delicate their skin is, so the quality of fabrics and dyes is important. This is backed up by a McKinsey report stating that Chinese mothers have "become among the most sophisticated in the world at looking for materials or ingredients they deem potentially harmful for their children".
In addition, any parent will agree that the fabric used for childrenswear needs to be able to withstand an active child and allow for movement so they need to be durable and breathable. Luxury brands use better quality fabrics, and are generally made better so a parent can buy less and wash over and over again knowing it will last through washing, activity, and wear and tear longer.
"Parents will always want the best for their children and this includes clothes that offer unique prints and styles, and shoes that support growing delicate feet whilst looking stylish," Slungaard adds.
Want more stories like this? Sign up .