Roksanda fashion house designed this artsy, feminine London penthouse in King's Cross' upmarket The Gasholders luxury development – take a look inside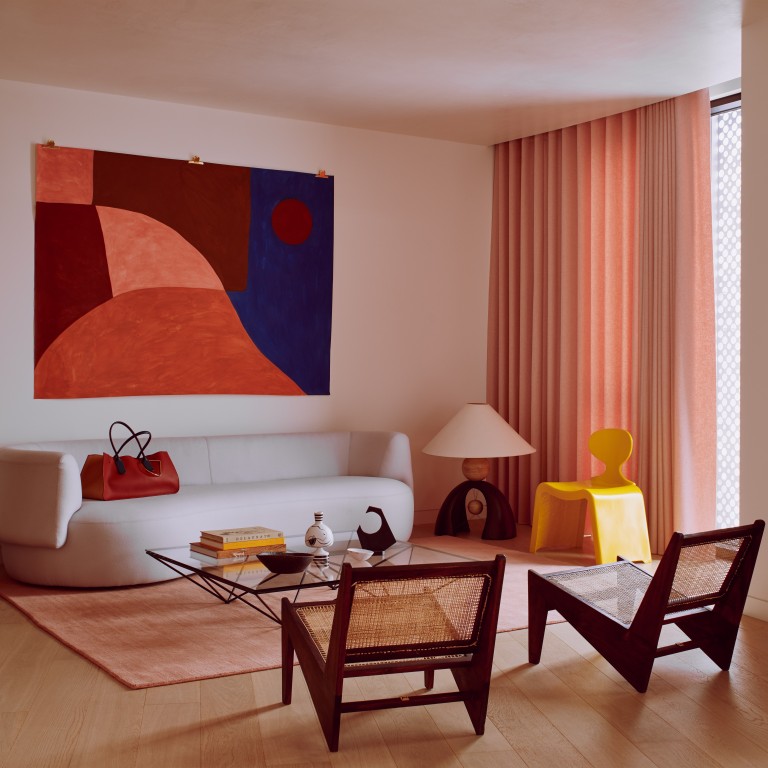 A generation ago, London's King's Cross was a semi-derelict post-industrial district, known for rampant drug trafficking and prostitution by the 1980s. But the land around King's Cross station itself, and neighbouring St Pancras station, was too valuable for a city strapped for space to build new offices and homes, and a multibillion pound, 67-acre regeneration began in the 2000s.
Anchored today by the St Pancras International railway station (where the Eurostar terminates), the renewed King's Cross area is dotted with repurposed heritage buildings and new public squares, home to businesses such as Google, The Guardian and Central Saint Martin's college, and is also the location of Platform 9 3/4 – a must-see for any Harry Potter fan.
King's Cross is also the location of The Gasholders, a trio of Grade II listed buildings – 19th century gasometer guide frames – that are among London's most innovative apartment towers. The singular architecture by WilkinsonEyre and interior architecture by Jonathan Tuckey Design has been complemented in one of its three-bedroom penthouse duplexes by interiors by fashion house Roksanda.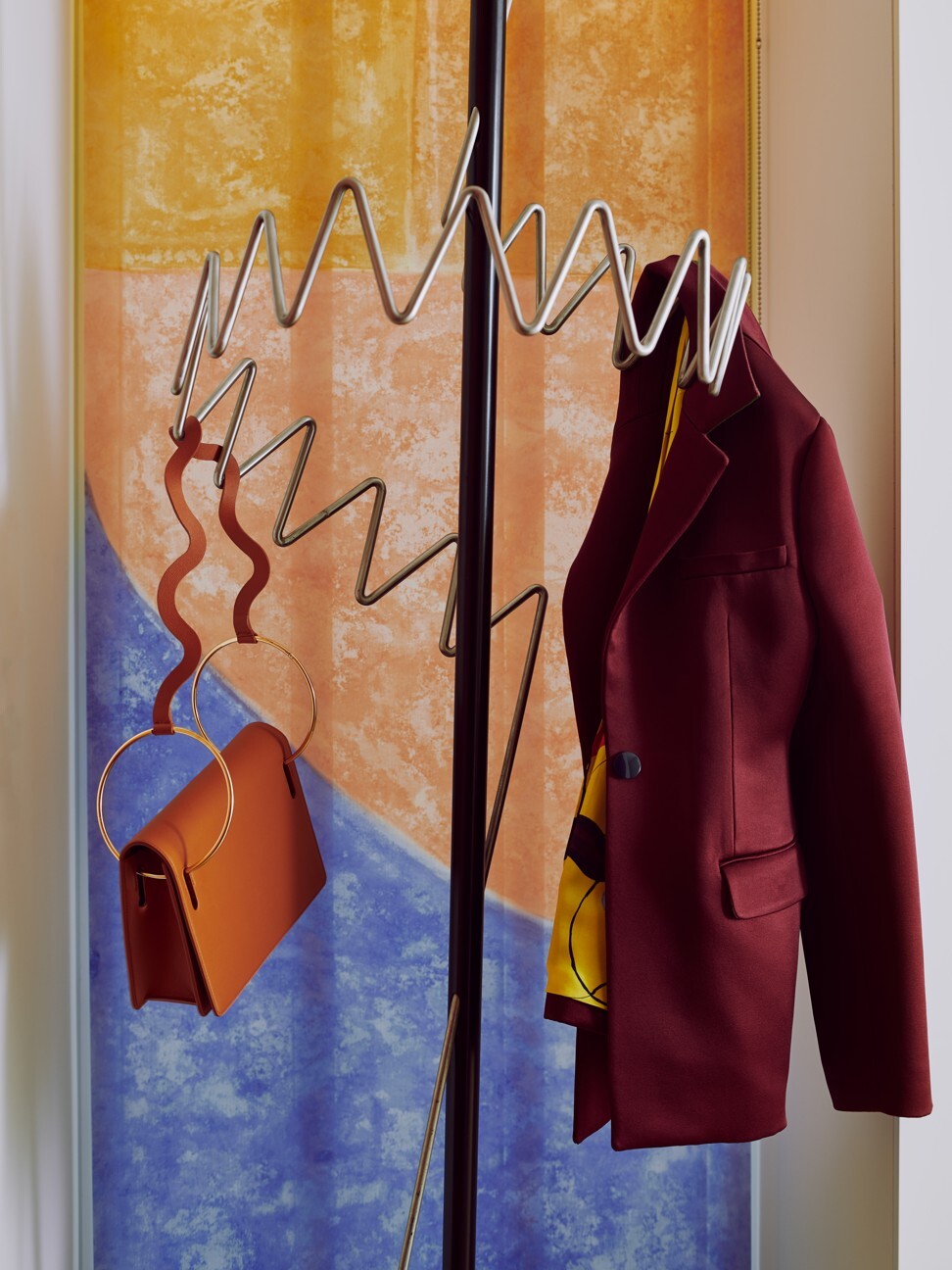 One look at The Gasholders reveals its irregular shape and layout, a fundamentally appealing challenge for any designer, but as a former and current resident, "Kings Cross holds a very special place in my heart", says Roksanda founder Roksanda Ilincic. "I've been approached by developers in the past, but this location really prompted me to do it. Gasholders London is an iconic landmark … The cast iron gasholder conversion is revolutionary."
In her work on the penthouse, Ilincic aimed to create what she describes as conversations between rooms rather than simply spatial flow, rooted in her own fashion aesthetic. A scan of the latest Roksanda lines reveals the bold geometries, colours and sculptural elements are indeed well represented in the flat.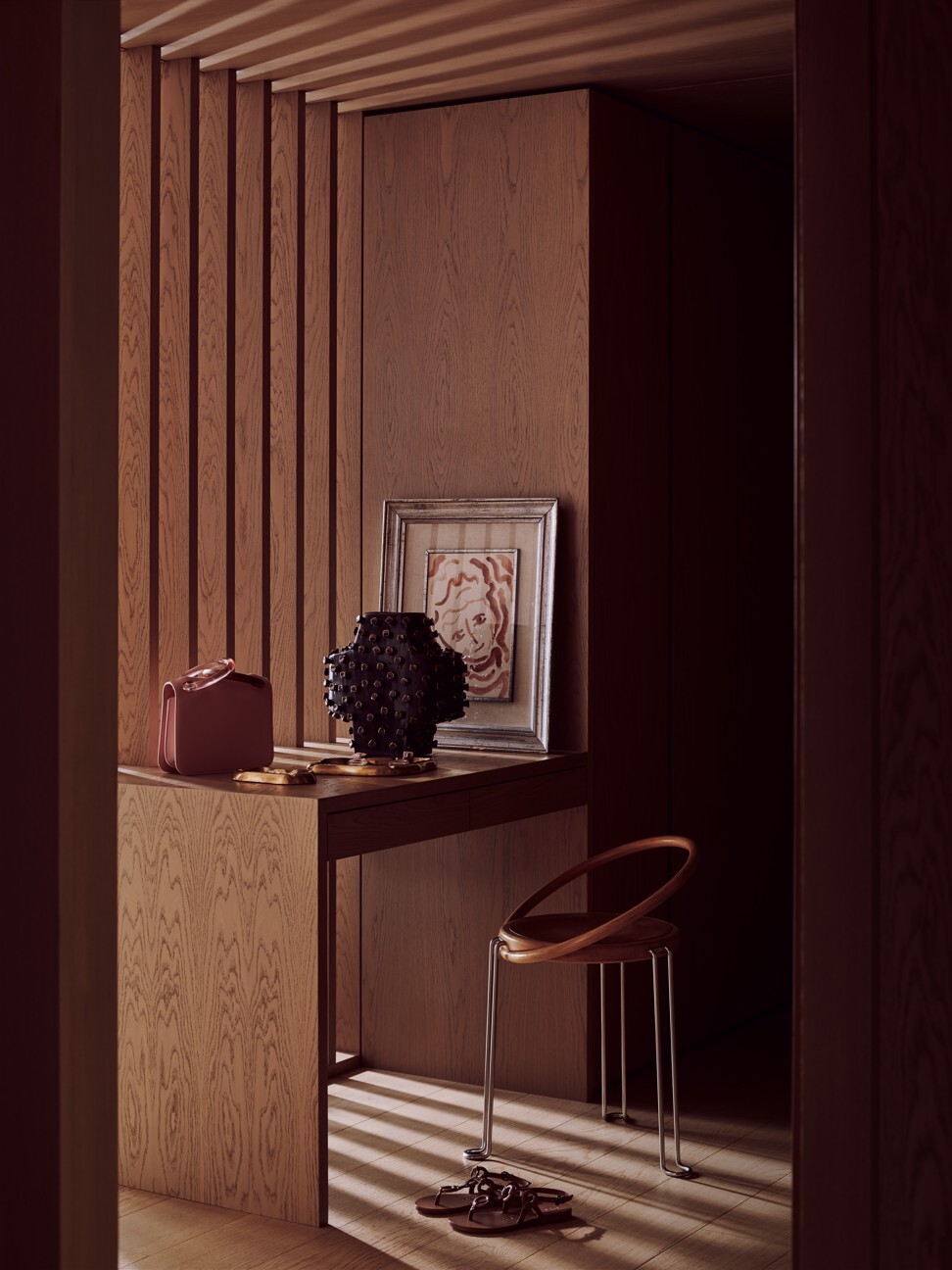 Perhaps most prominent is Ilincic's defining female perspective. "The notion of shelter, protection and modern femininity is deeply rooted within my design ethos and how I approach fashion and clothing. For this project, I set out to create something that has a direct connection to this and translates this notion. I wanted the penthouse to feel like a sanctuary, a place which provides solace, comfort and that also inspires you. It was important for me that the apartment is immediately welcoming as you enter it, with balance between timelessness and modernity."
Ilincic recruited an amazingly diverse roster of designers to help out on the £7.75 million (US$9.9 million) flat. "One of the important elements of my brand's voice is celebrating and empowering women, and I wanted to use this project as a platform to highlight the incredible work of female artists, architects and makers, both established and emerging, whose vision inspires me," she explains of the contributors to The Gasholders flat. "I wanted them to be part of this journey with me." Among the artists, furniture designers and curators are Parisian muralist Caroline Denervaud, Australian ceramic artist Alana Wilson, German potter Christine Roland and lighting by Claire Norcross. Suzanne Wallgren lent a hand on the roof garden, where earthy textures clash elegantly with modern ones.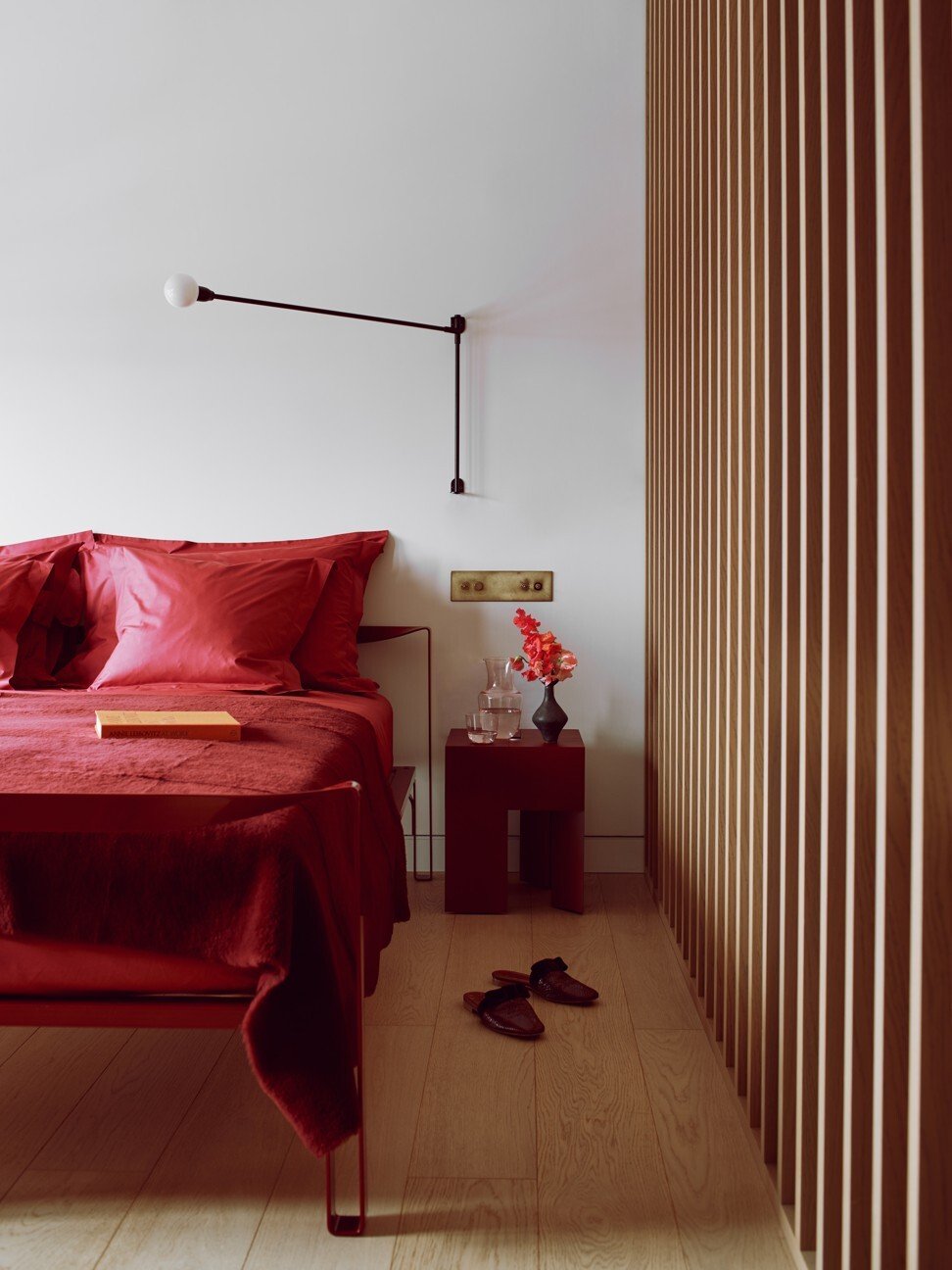 Roksanda's vibrant and tactile interiors, however, are what make the penthouse truly memorable, beginning with the almost abstract entryway, featuring an irregular coat rack and welcoming tricolour backdrop. Ilincic describes the original, empty space as "absent, stark and maybe too masculine for my taste". Injecting a touch of feminine energy and warmth led to the blush pink tones that connect the flat overall, but which are only a small part; balance was key, and Ilincic actually describes the key colour as red, not pink.
Moving into the open concept kitchen (the island basin seems to float mid-room) and dining area, the eye is drawn to the dominating wall – in pink, blue, tan and red – that flows into the living room, where mid-century meets modern.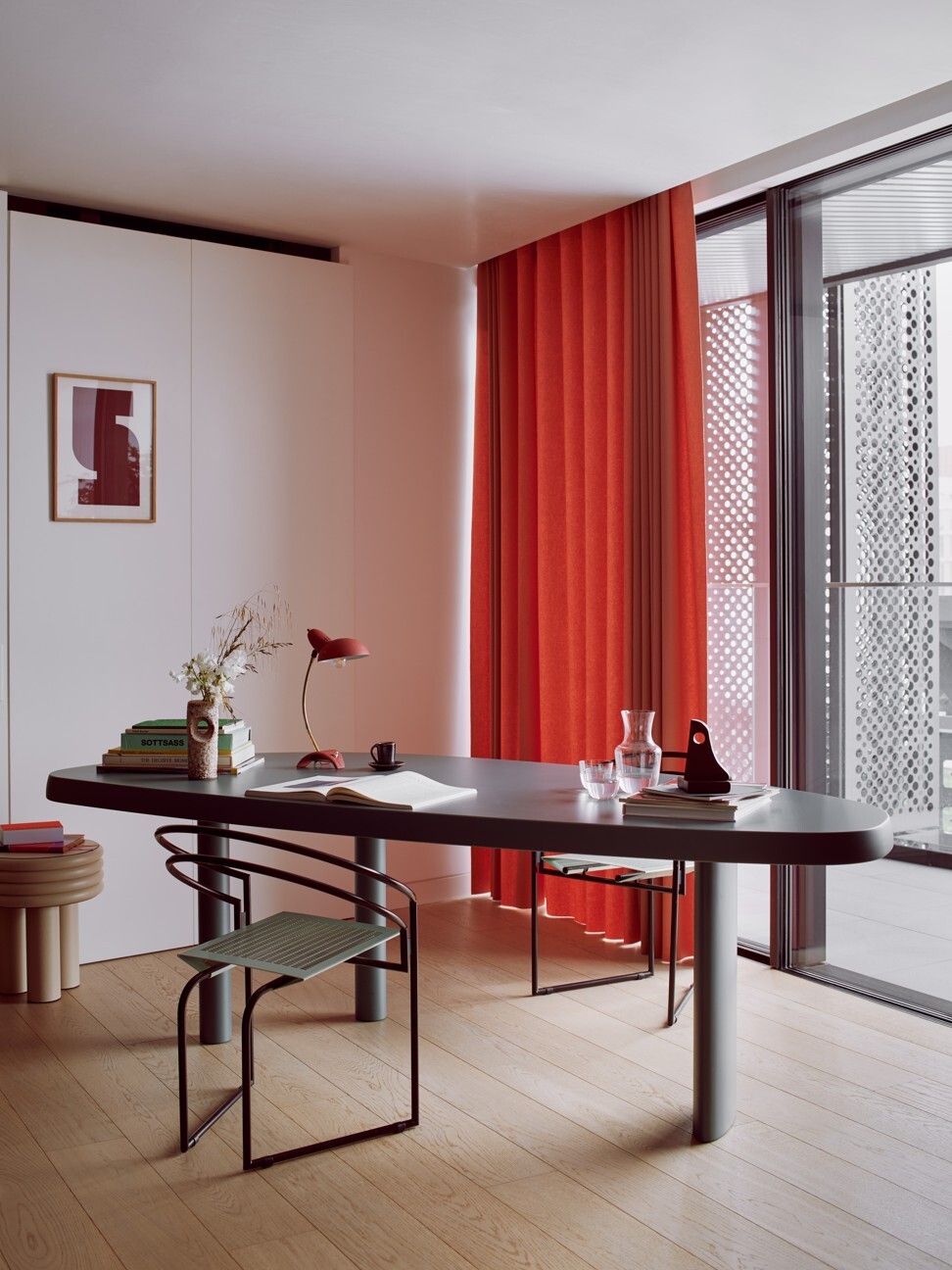 The sparse (rather than stark) layout allows each piece of furniture and objet d'art to stand out and speak for itself – from Enylee Parker's bulbous sculptures to literature by Phyllida Barlow and complementing artwork by Denervaud.
In the study, 1980s-era chairs by Mario Botta flank an unconventionally positioned Charlotte Perriand table, whose industrial grey tones are offset by the rich orange hue of the window covering. The warm colour and texture combination continues in the sun room, where Kvadrat fabrics cover a Cordemeijer Cleopatra daybed. But it is in the master bedroom "where you can feel my full sense of colour, particularly around the bed, where there are four different shades of red", says Ilincic. "I love this room." Deep ruby, and shades recalling cherry wood and pastel pink give each part of the compartmentalised bedroom its function, from dressing to sleep.
Roksanda is known for its effortless elegance and understated power, and The Gasholders duplex fits Ilincic's design philosophy perfectly.
"It was important that the penthouse felt like an expansion of my world, a curated space that embodies the aesthetic I apply while designing clothes and a reflection of my passion for merging different disciplines in design and the arts."
Want more stories like this? Sign up here. Follow STYLE on Facebook, Instagram, YouTube and Twitter .

A one-off apartment designed by Roksanda Ilincic and decorated with works by mostly female artists including Caroline Denervaud, Alana Wilson, Christine Roland, Claire Norcross and Suzanne Wallgren – in the regenerated area around King's Cross and St. Pancras stations that includes heritage buildings, A-grade offices – and Harry Potter's mythical Platform 9 ¾