What did Jill Biden wear to meet Queen Elizabeth? The US first lady met Kate Middleton, Carrie and Boris Johnson at the G7 Summit, dressed in her signature sophisticated fashion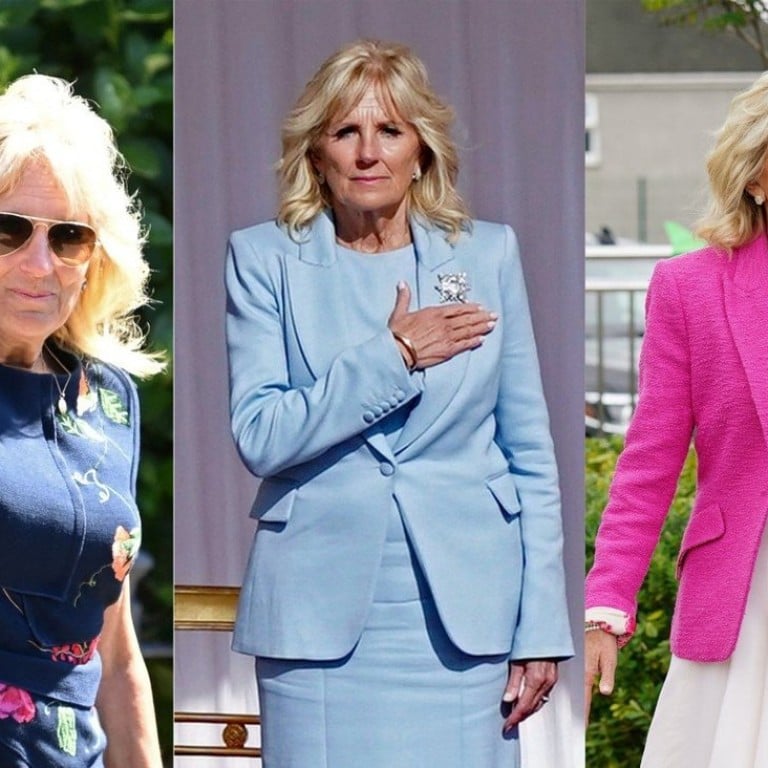 Hosted by G7 member nation the UK this year, the 2021 G7 Summit just took place in Cornwall, England, where leaders discussed pivotal issues ranging from geopolitics, the global economy,
climate change
,
Covid-19 vaccines
and trade, as well as relations with China. For his first diplomatic trip since taking the office, US president
Joe Biden
took his wife Jill Biden along with him to meet several US allies, including British Prime Minister Boris Johnson and the UK's first lady Carrie Johnson. The
US first couple also made a call on the British royal family
, meeting Queen Elizabeth, a tradition long observed by the White House and Buckingham Palace.
Just as there are obvious and radical differences between their husbands' tones and politics, the fashion sense of the current US first lady is in stark contrast
with that of her predecessor Melania Trump
, wife of Donald Trump, as represented by their "Love" and "I don't really care, do u" jackets.
Melania is known for mastering the newest looks and sky-high heels from big-name international fashion houses such as Chanel, Hermès, Dior, Celine, Dolce & Gabbana and Valentino. Looking incredibly glamorous, she made her mark by becoming one of the most stylish first ladies in American history.
Jill Biden on the other hand goes for mature, sophisticated clothes that ooze comfort with the occasional playful touch, as with her fishnet tights when exiting Air Force One at Easter. At this year's G7 Summit, she also made a clear fashion statement by electing to wear a majority of American brands – including some lesser-known names.
Here are some of the highlights from the American first lady's visit to Cornwall and Windsor Castle.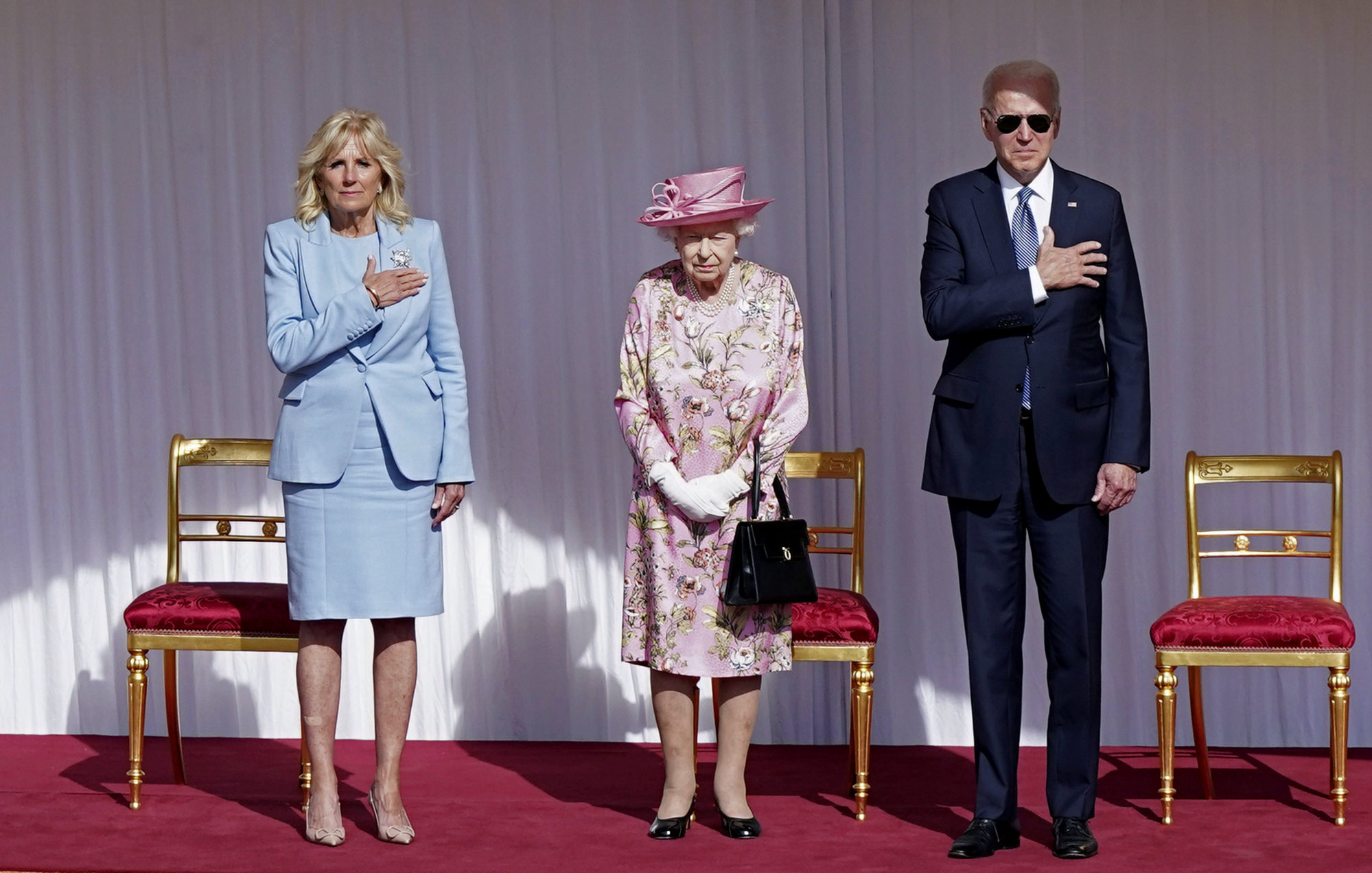 When meeting Queen Elizabeth at Windsor Castle, the first lady opted for a sky blue ensemble comprising of a single breasted blazer on top of a matching sheath dress – which she has worn before – from American brand Adam Lipps, and a pair of nude pumps from Italian maison Valentino.
The queen was dressed in a pink floral dress. The 95-year-old monarch, owner of one of the world's largest collections of jewellery, wore a historically and diplomatically meaningful jewel, the Jardine Star Brooch. It's a piece gifted by Lady Jardine in 1981, one she has worn at various occasions previously, including meetings with George H.W. Bush in 1993 and with his son, George W. Bush, in 2003.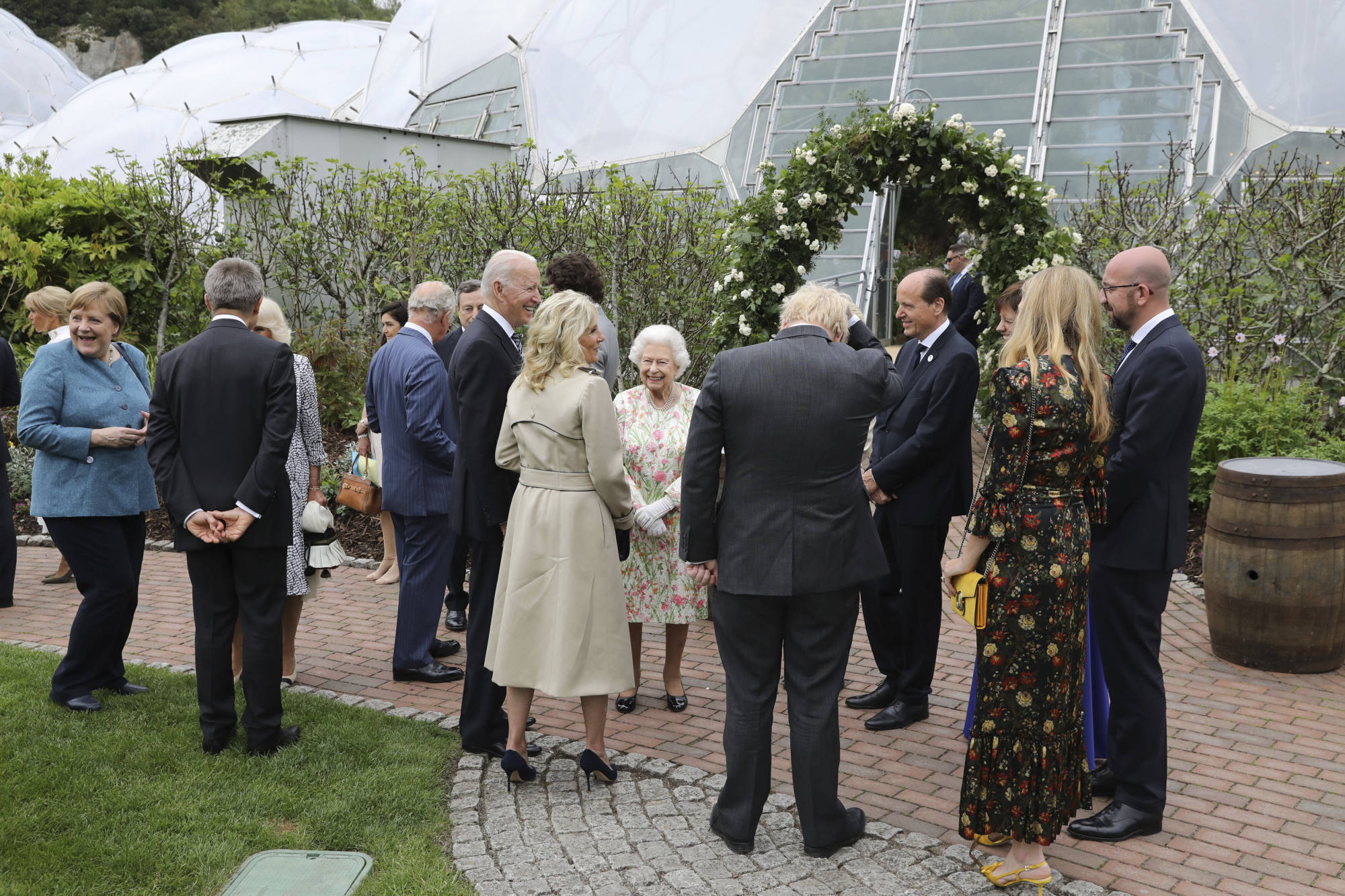 At the G7 Summit reception with the queen, Biden was outfitted in a US$2,750 Karban trench coat from
Gabriela Hearst
, who's known for her sustainable approach toward fashion, and a black Erin stamped leather clutch from Larroudé, a brand founded by the eponymous former fashion director of Barneys, and a pair of 85 pumps in navy suede from Marion Parke, a shoe label established by a former American podiatric surgeon.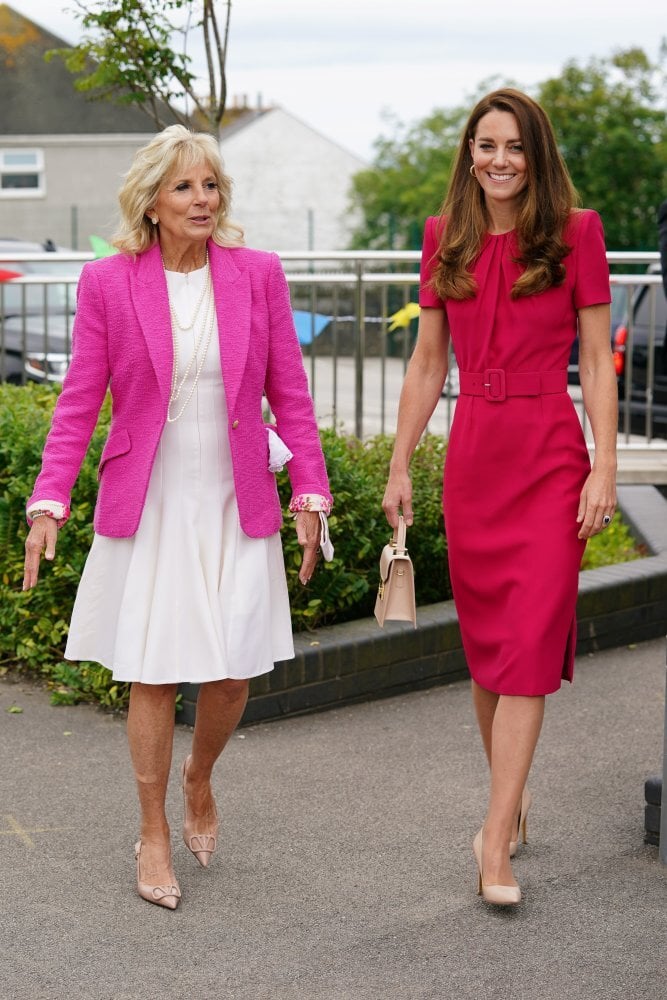 When the US first lady and
Kate Middleton, Duchess of Cambridge
visited a school in Cornwall, both were outfitted in bright, delightful hues. Biden chose a pink blazer from L'Agence on top of a white pleated dress from Swiss fashion brand Akris, which is priced at £2,000 (US$2,760). She wore a pair of nude sling back shoes with a signature "V" emblem from Italian maison Valentino.
The duchess was outfitted in a red midi pencil dress from
Alexander McQueen
retailing for £1,175 (US$1,620) and a pair of similarly toned pumps to Biden from English label Rupert Sanderson. The duchess also sported a nude mini handbag from L.K. Bennett.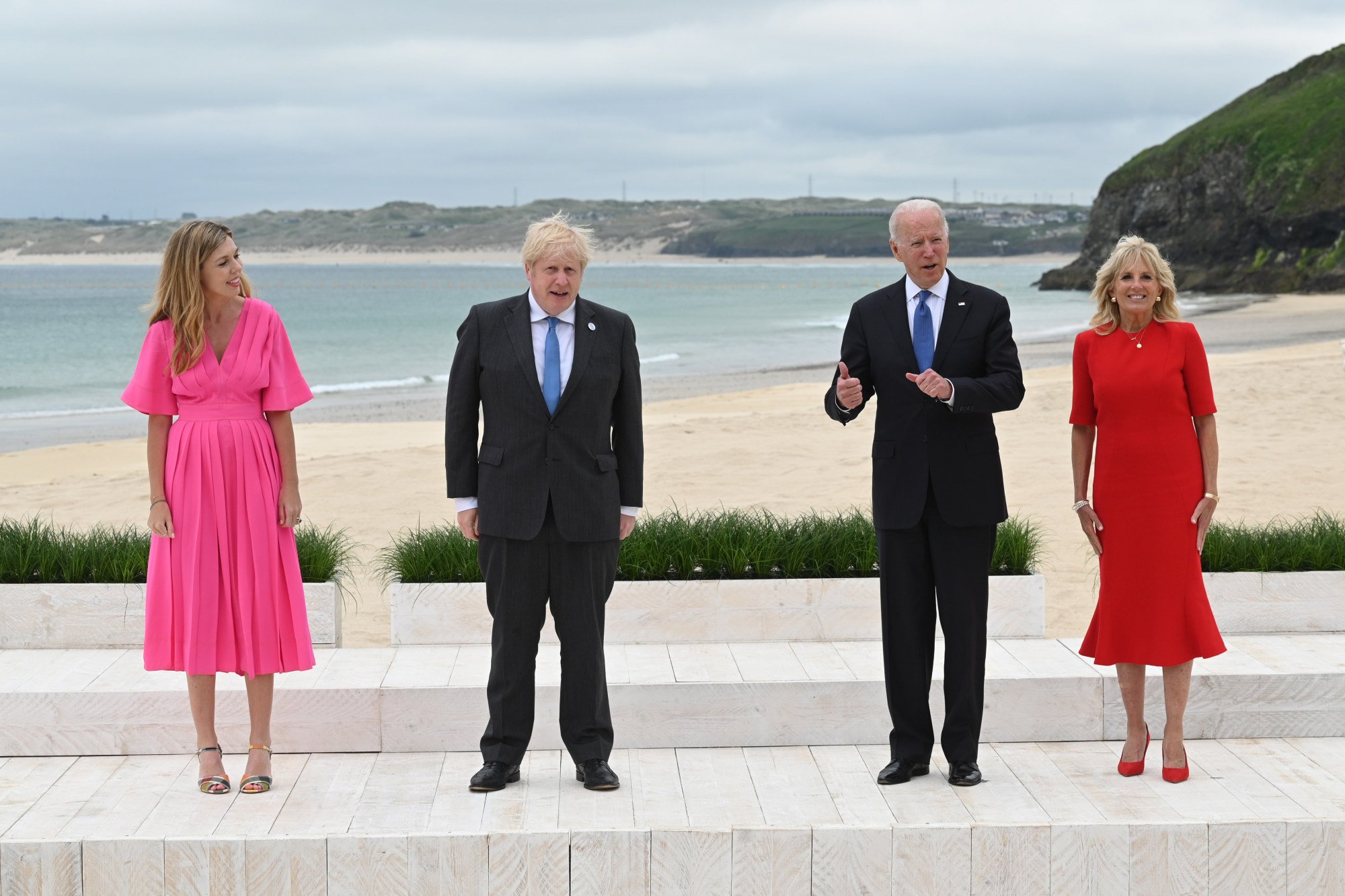 When meeting their British counterparts, UK's Prime Minister Boris Johnson and first lady Carrie Johnson, Biden chose a striking red dress from American fashion designer Brandon Maxwell and a pair of suede shoes, again from Marion Parke,
finished with her Cartier watch
.
Carrie Johnson once again rented her wardrobe, sporting a bright pink midi dress from Roksanda and a pair of floral pumps from English brand L.K Bennett, a label Kate Middleton also loves.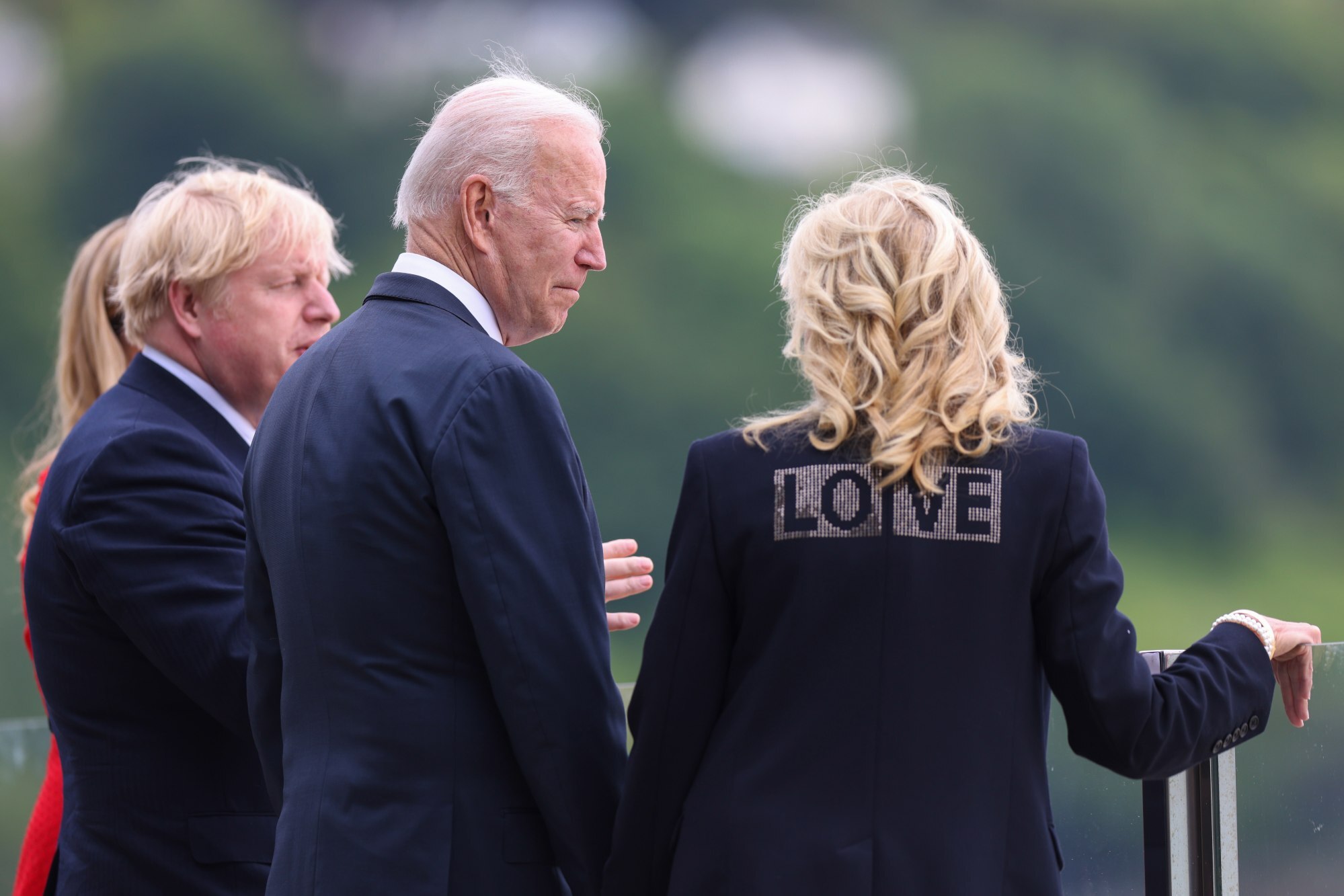 One of the most high-profile talking points from Biden's UK trip was her "Love" jacket from French brand Zadig & Voltaire, which currently retails for US$448. Social media users were quick to draw comparisons with Melania Trump's "I don't really care, do u" jacket from
Zara
.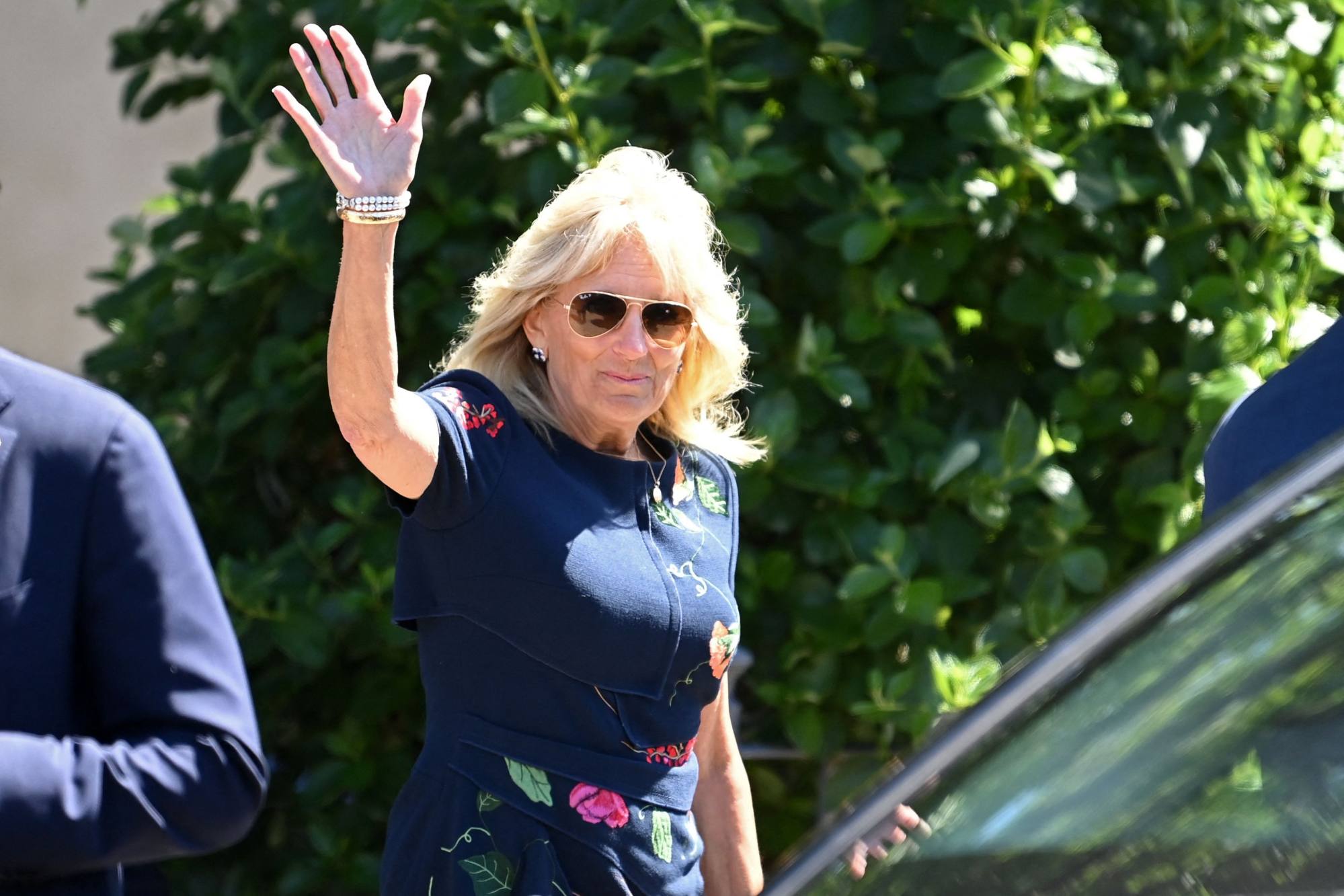 Meeting the families of military veterans in Newlyn, the first lady was dressed in an asymmetric floral print dress from American designer Oscar de la Renta, which she has also worn before. The first lady also sported her husband's signature style statement, a pair of Ray-Ban sunglasses.
Want more stories like this? Sign up here. Follow STYLE on Facebook, Instagram, YouTube and Twitter.

Jill Biden's 'Love' blazer by Zadig & Voltaire was interpreted as a counterpoint to former first lady Melania Trump's 'I don't really care, do u' Zara jacket
While Melania rocked Chanel, Hermès and Dior, Jill flies the flag with smaller US brands, though she likes her Valentino pumps