How German artist Tobias Rehberger is disrupting the art world – stripy cars, talking skyscrapers, wartime dazzle patterns, and lots of brands …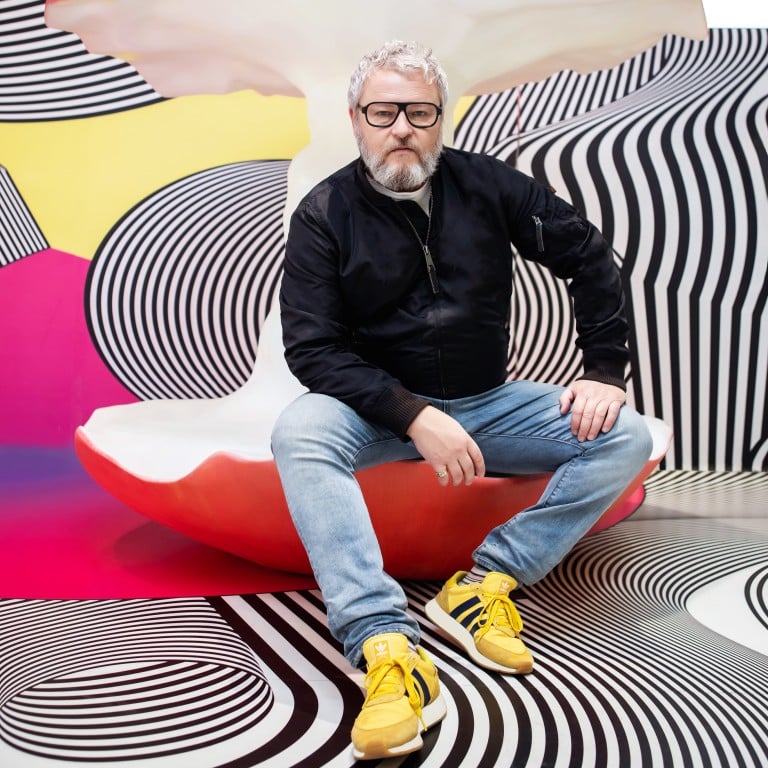 Rare is the artist who wants their work to blend in with its surroundings. Tobias Rehberger may be the exception. The 2009 Golden Lion-winner has long been fascinated by camouflage, and particularly his own versions of "dazzle", the striking World War I-era disruptive pattern painted on ships and aircraft to bewilder the eyes of would-be enemy observers.
"The idea of having something that's meant to be looked at becoming something that disappears has always been intriguing to me," says Rehberger, whose latest large-scale work – the centrepiece installation for the recent Frieze London art show – created an immersive spectacle out of distorted space.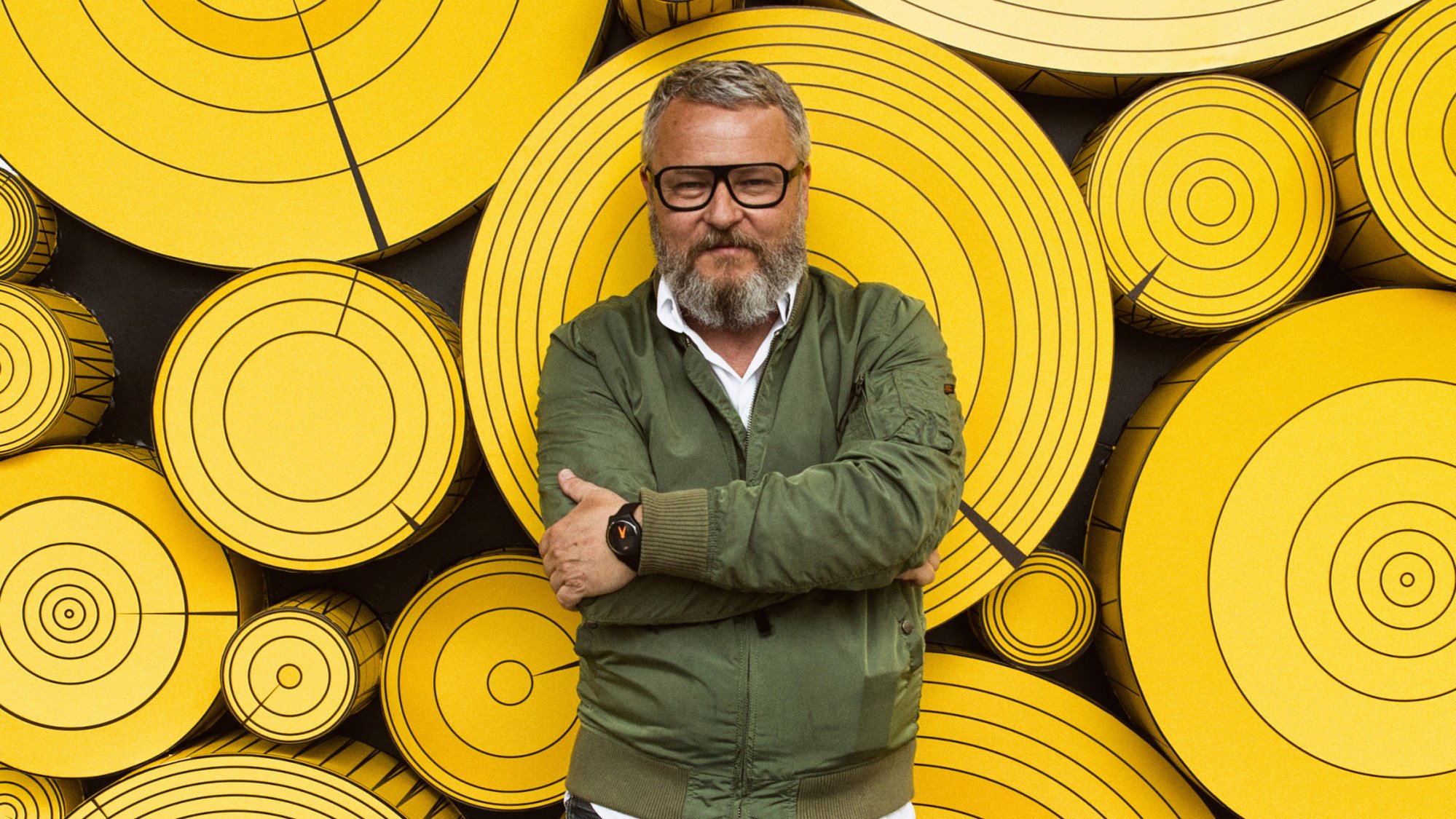 "When I first read about dazzle 30 years ago I loved the paradox of strong graphics being used to make something less visible – and in turn I like the idea that art is not always something to look at. Art is also something you can be in or around or with. And dazzle isn't there to look at either."
Indeed, Rehberger's characteristically colourful work – spanning sculpture and installation, industrial objects, interiors, painting and jewellery – is disruptive in other ways too, notably because ideas of transformation, transposition (he built a Japanese garden in Manhattan, complete with snow, in August) and, more powerfully, translation are key to it.
The German talent distorts images with outsize pixellation, for example. And one of his most celebrated and fun works, "Half Remembered Things", involved drawing a sketch of a classic car from memory, then having the vehicle built from the sketch alone. Cue cartoonish, slightly "off" versions of the Volkswagen Beetle or the McLaren F1.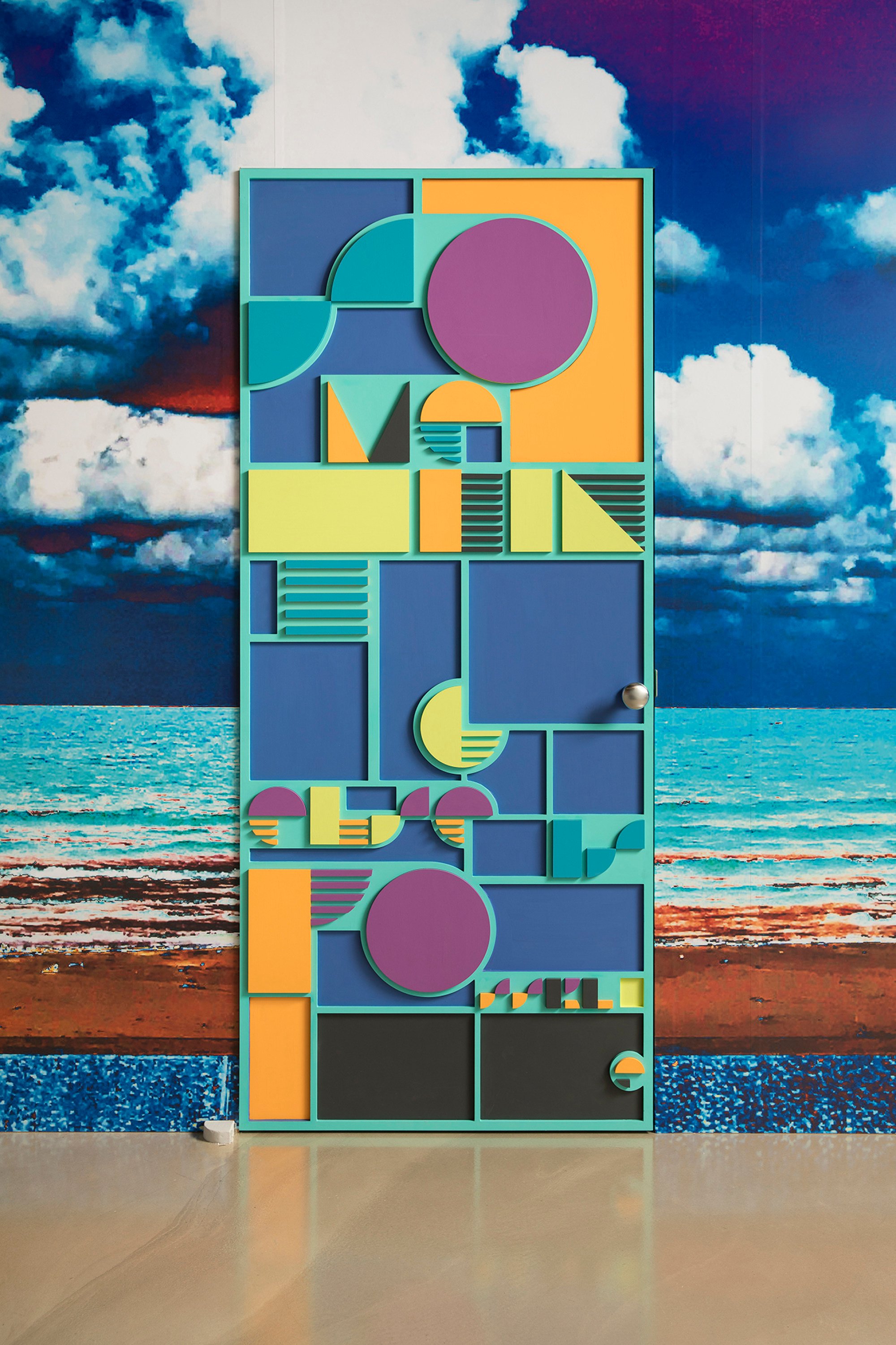 "I drove [the sketches] to Thailand because the industry there has high flexibility in terms of production, and the results were not just shells but actual drivable cars. Well, maybe not in Germany, but they worked," laughs Rehberger.
A similar work of recontextualisation saw craftspeople in Cameroon create his versions of iconic furniture designs.
"I was interested in this gap between this most simple starting place – my drawing – and this super complex object created from it," adds the 56-year-old. "In the end, I was just making a phone call [to the car manufacturer] and saying 'make a Renault Alpine', from sentence to object with nothing in between."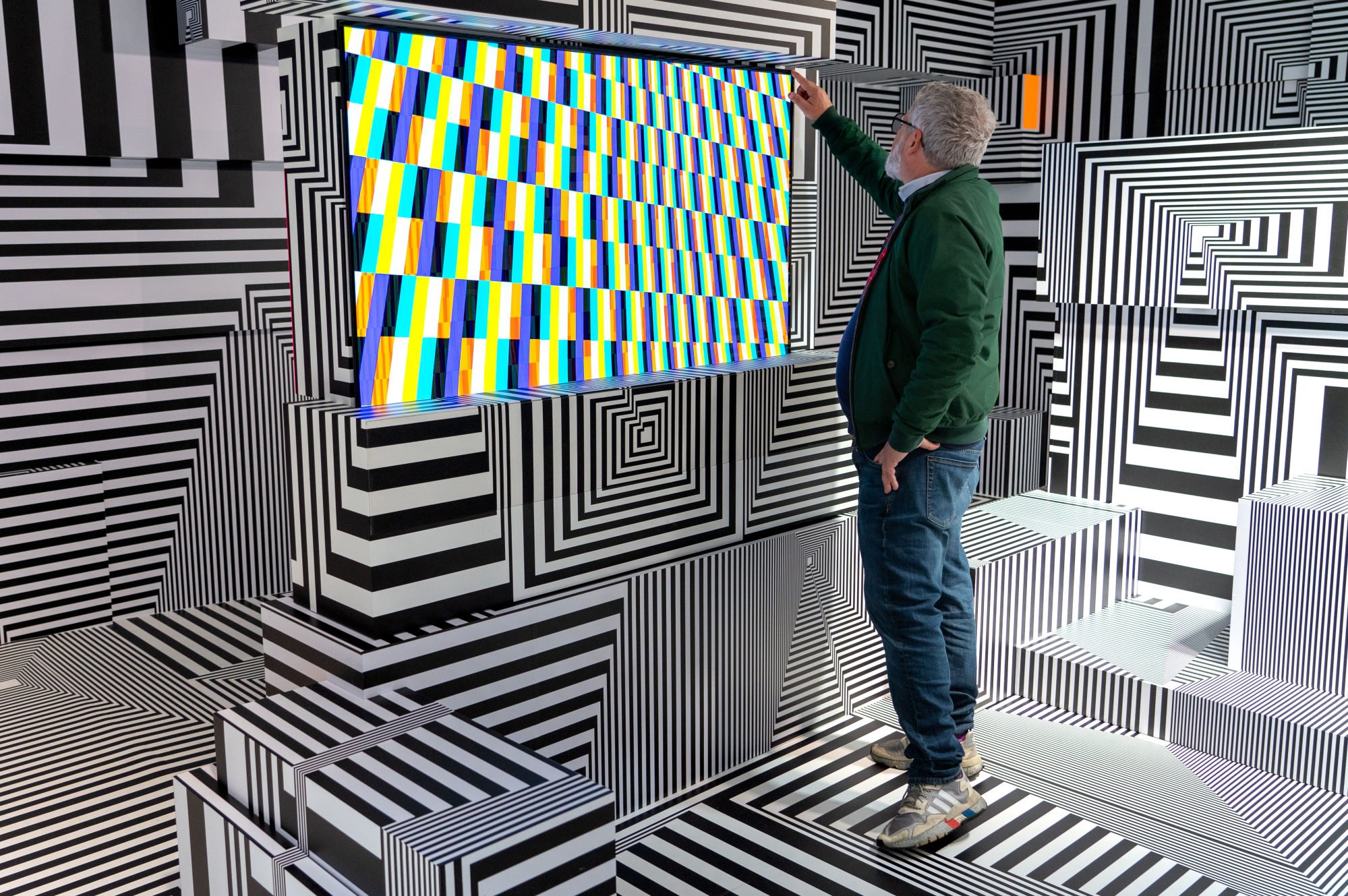 Rehberger knows the results of this kind of process are not to everyone's liking, typically because of the confusion it creates as to "where the artist starts and ends, which seems really unclear to me anyway", he says. "Even if you paint a painting entirely yourself someone else looking at it is a form of translation.
"But I think we're seeing a renaissance of the idea that art needs to be made by the artist, maybe because people understand more that it's not clear otherwise and want some certainty back: 'Well at least he touched the canvas with a brush!'," adds Rehberger, who lives not in the German art capital of Berlin, but rather in the business centre of Frankfurt, in a converted office block with interiors designed by his friend, the architect David Adjaye.
"People want a work of mine, say, and if they find out I did the drawing and a carpenter made the object they're [only] half interested. And if you say the carpenter did the drawing and then I made it then they're totally irritated. Basically they can't work out if it's my work any more and whether they should pay a certain amount of money for it," he says. "I can understand it, marketing and capitalism [being as they are]."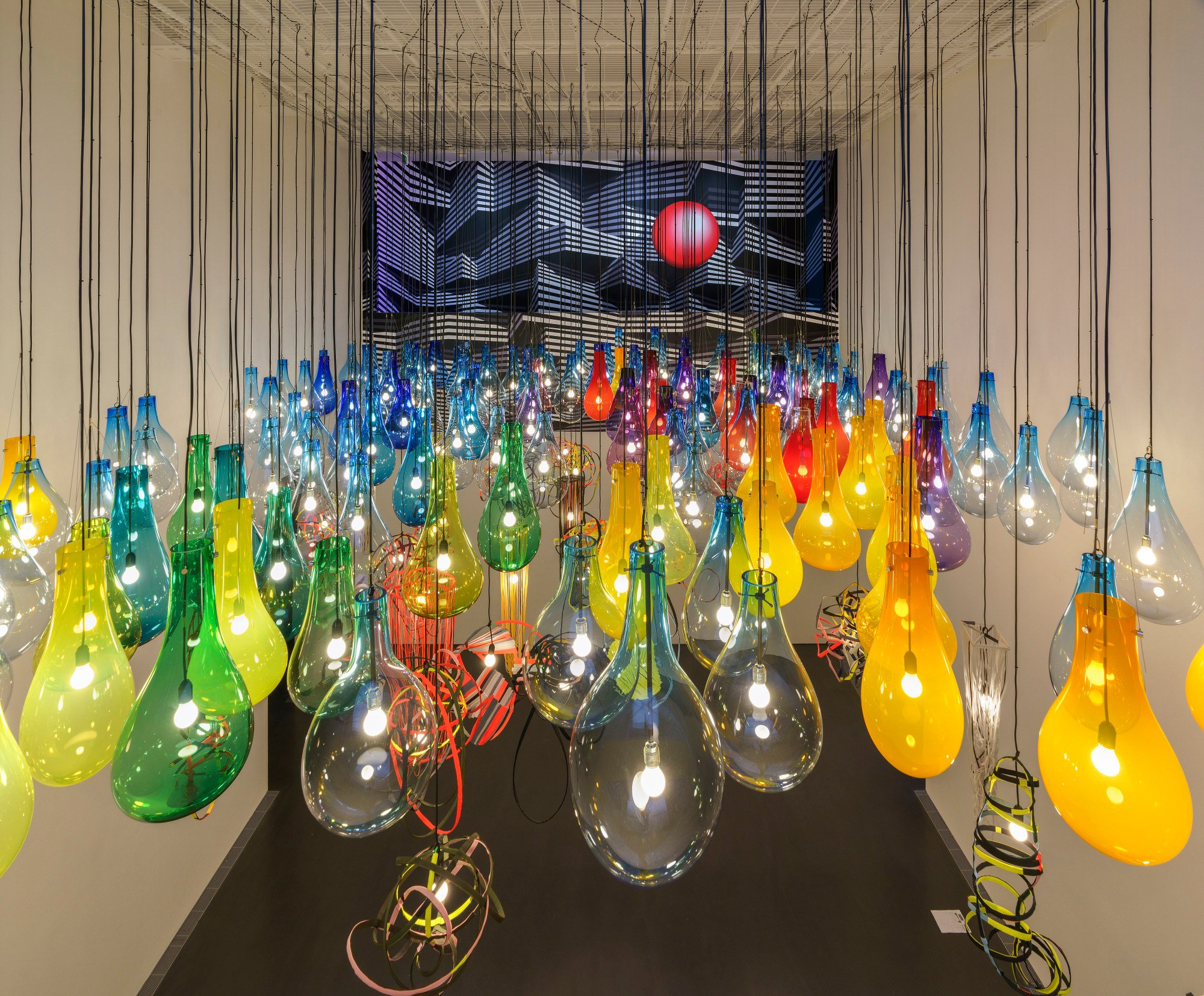 Perhaps this is why many of his pieces further obfuscate by questioning whether they're art at all, or maybe design instead. Rehberger defines art himself as anything that, "Widens my knowledge, that makes something happen to me that I wouldn't have thought possible, that sticks to you and changes your brain. And I think that's something art does more profoundly than any other field." But he finds the distinction between art and design – one that culture is reliably keen to enforce – entirely moot.
"Why is it so taboo [to mix the two] anyway? Why can't a chair have the qualities of a Henry Moore sculpture, just because you can sit on it? The Henry Moore sculpture reminds you of a woman, and the chair reminds you of a chair," Rehberger chuckles.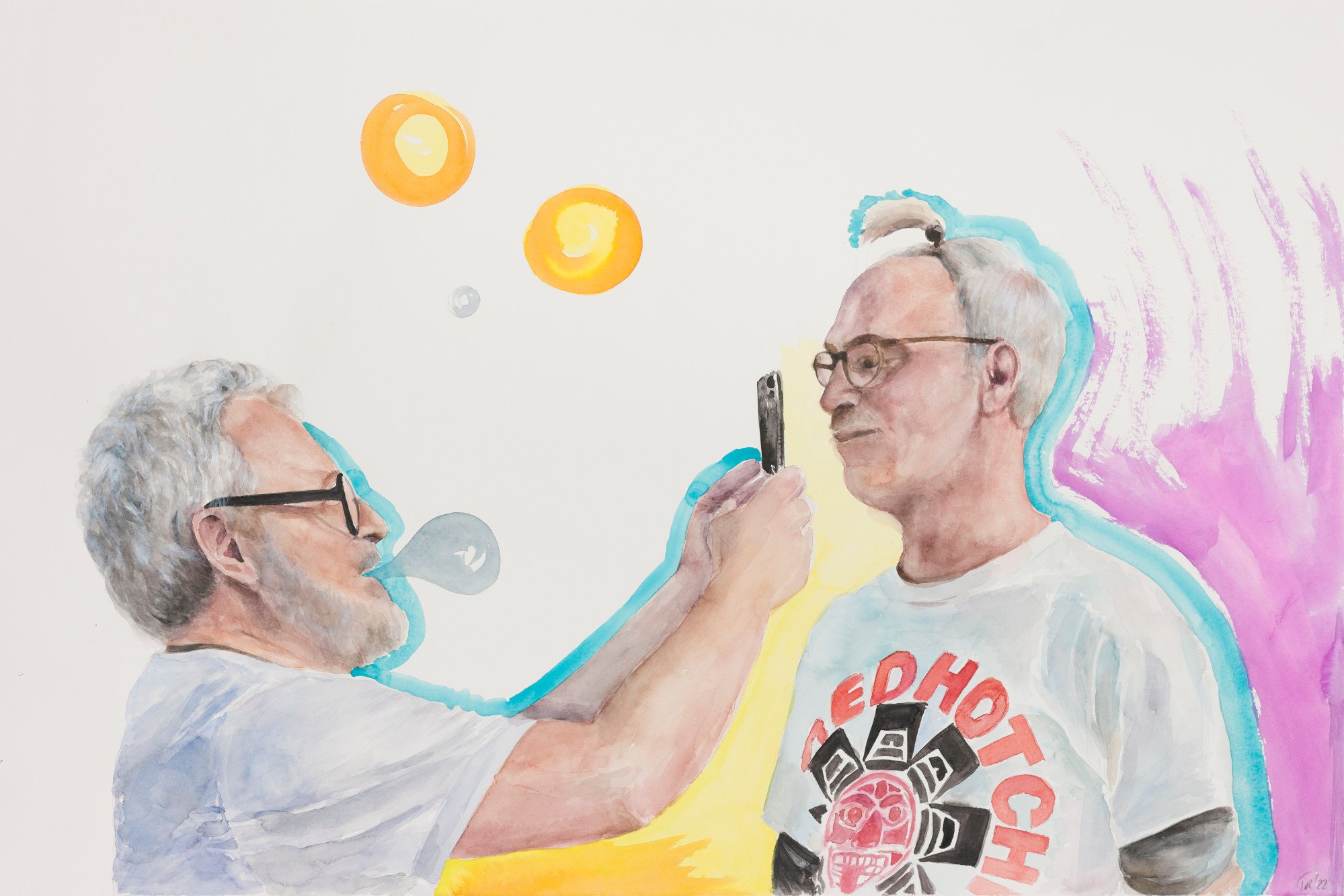 "Why is it OK to have the woman in bronze but not the chair in plastic? There's a lot of unclear ground between art and design. My desire is that art should be art of our everyday lives, not exceptional, not something you just go somewhere to look at, then to turn around and go home. I want art in our kitchens, our garages, our cars. And [for me] that space between art and design is one way to introduce art into that everyday world – maintaining the functionality of an object seems to be one way of sneaking art in."
And, perhaps, the occasional brand too? If some artists are inclined to disavow the relationship between art and commerce, Rehberger is more likely to embrace it. That's why the Frieze project – which incorporated sponsor LG's rollable OLED screen technology – is just the latest in which he has worked with big companies.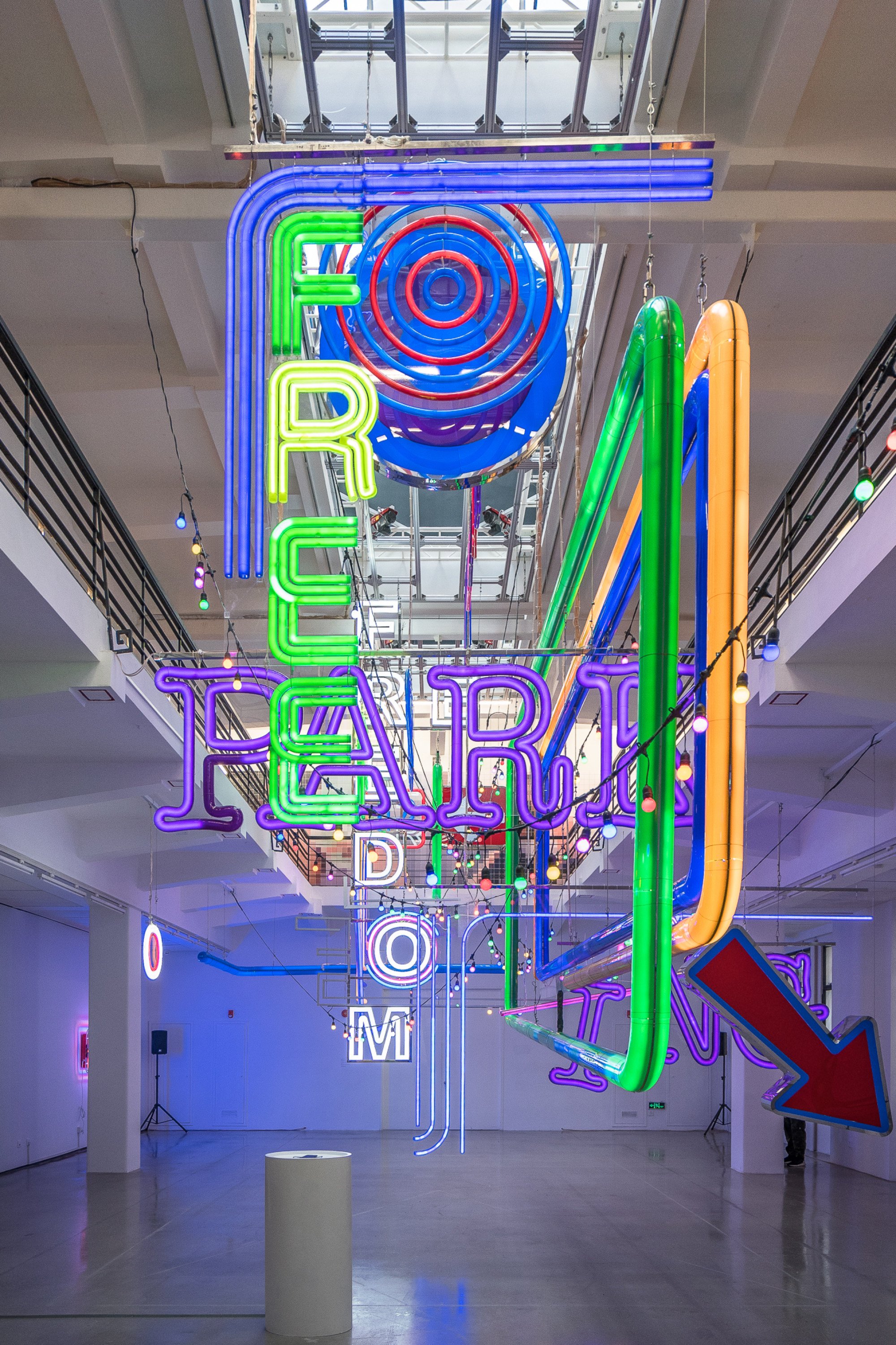 "Of course people ask me if that means I'm independent enough, but if you're hired by a museum to make a show – or a company, a bank, a private person – there are different contexts but everyone is asking something of you. None of them is more neutral than the others," Rehberger explains. "It's all down to the freedom they give. They can't tell you 'do it like this or like that'. And, really, museums often ask for much more than companies do."
Deep pockets can help with big projects too. Rehberger was slated to create two towers either side of the Huangpu River in Shanghai, towers which, thanks to a bespoke AI system, and a library of thousands of books, would be left to converse with each other for as long as they stood. Unfortunately the pandemic put that project on hold, but it's one the artist is keen to revisit.
"I just really like the idea of when we're all dead these two towers would still be talking to each other," he says. Doesn't that sound like the beginning of something akin to Skynet, the computer system that becomes self-aware and ushers in the age of The Terminator? "Oh no, they don't do anything dystopian," Rehberger laughs. "They don't take over the world. They just talk to each other. There's nothing bad in talking."

The multi-medium German talent likes to examine our preconceptions about what art is, who does it and how it differs from design – but some question whether his work is art at all
From his recent Frieze London show to redesigned Volkswagen Beetles and 'talking' AI-controlled towers on Shanghai's Huangpu River, the Golden Lion-winner tells us what really counts