Worth more than money: classic cars 'can be very expensive hobbies', but are highly sought after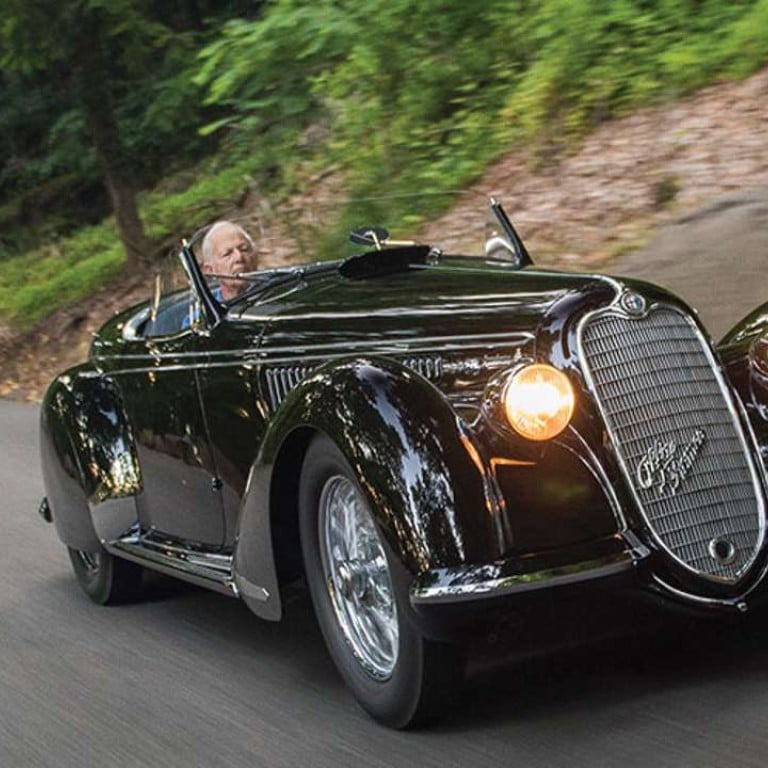 It may be the most beautiful car that you'll never get to drive – unless you have a spare US$19.8 million rattling around in your pocket. That's what a 1939 Alfa Romeo 8C 2900B went for under the hammer at a Sotheby's sale in Monterey, United States, in August.
The high price tag came as no surprise, says Ian Kelleher, managing director, RM Sotheby's West Coast Division – the Italian-made touring sports car, of which only 12 of the original 32 still exist, is very special, even for a classic car, he explains.
"Cars of that quality, cars which have that place in automotive history, don't come up for auction that often. They usually remain as the centrepieces of individual car collections," says Kelleher, who is based in Culver City in California. "The Alfa Romeo is a spectacular car in terms of its design and its appeal. If you own this, you don't need much more."
With the market prices of top-range classic cars being so high – valuations can range from hundreds of thousands of US dollars for a 1926 Bentley Tourer to around US$30 million for a Ferrari 250 GTO – vintage motors may look like a good investment. That is true up to a point. The value of rare classic cars has risen over 500 per cent since 2005, according to the Historical Automobile Group's HAGI Top Index. But while those trading at the very top of the market can make a profit, experts agree that buying cars purely as a financial investment is generally a risky business.
Classic cars may be works of art, but investing in them is a much different process to investing in artworks. Once bought and stored correctly, paintings can generally be left alone. That's not true of a car. "You can hang a painting on a wall, not look at it for five years, and it will be fine," Kelleher says. "But if you leave a car alone for five years, it will likely devalue." Cars suffer from ailments like rust, and need constant maintenance from specialist mechanics, who can be expensive. They have to be driven, too – like a body, cars must lead an active life to keep in shape. Consequently, any increases in value are likely to have been eaten up by maintenance costs.
"There has always been some investment, and there are always some buyers who have that aspect in the back of their minds," Kelleher says. But collectors usually buy cars more for love than money, he says: "Vintage cars are very much an emotional purchase, and most of them are bought with discretionary income. Buyers want to enjoy them as much as invest in them."
Laura Gilbert-Burke, spokeswoman for the British classic car racing event Goodwood Revival (see sidebar), agrees that fun usually trumps finance. "The joy of owning classic cars is being able to tinker under the bonnet. They can be very expensive hobbies if you aren't able to keep them repaired and running yourself, and not all models will sell for more than they have cost you," she says. Having a high-profile car is one way of pushing the price up, she adds: "Certain classes we celebrate at the Revival tend to then enjoy an upsurge in value afterwards. The Ford GT40s became very sought after when we started featuring them at Goodwood."
Being seen on the open road helps a car keep its value. Although the frantic streets of a city like New York are bad for a car's health, enthusiasts love to take their motors out for a spin on quieter roads. "Driving a car keeps it relevant," Kelleher says. "When people see a car like the Alfa Romeo being driven, it helps to keep it top-of-the-line."
It's a communal experience, he adds: "Many collectors find ways to enjoy their cars as part of tours with other collectors. The owners, often husbands and wives, stay in nice hotels, have wonderful dinners, and see beautiful scenery while connecting with other collectors. That type of ownership experience is attractive to a lot of people. If people see others enjoying their cars, that generates interest from potential collectors."
As with art, some investment groups have dabbled in classic cars. But not to any great extent, notes Kelleher. "None have fully immersed themselves in the process. Most of those who put together the financial means to take part have not stayed in the market long enough to see a benefit." Those wishing to buy a classic car should do so from a love of motoring, not a desire for profit, he explains: "When you're thinking about owning a classic car, how much you want to actually drive it is a key question. Figure out what you want from a car. Will you drive it once a month, or do you need to be able to hop in and drive it whenever you want?"
Gilbert-Burke adds: "Do your research, select the model you want to buy, and read as much as you can about it so you know the potential problems and pitfalls. If you're looking to make an investment, make sure you have thoroughly researched the historic values of the particular model, and how it has performed. Take advice, and if necessary take someone mechanical with you when viewing. Above all follow your instincts, and if you love it, buy it."
The Alfa Romeo, Kelleher says, would fit the bill for any collector – if they could afford it. He says the car was a collectible classic as soon as it was made in 1939. "From a car collecting standpoint, it has been desirable throughout its whole life," Kelleher says. "It has never needed to mature to a certain level before becoming collectible. It was celebrated in 1939, and it's celebrated now. I think that's one of the reasons that it's so special."
Investing in classic cars may be profitable, but it can be a risky and difficult process
A classic car is best appreciated in a vintage setting, and that doesn't get more authentic than the Goodwood Revival. The British race meeting, which takes place on the legendary Goodwood Circuit in West Sussex, celebrates the glory years of pre-1966 motor racing. It's the only motor racing event to be staged entirely in period dress. "The Revival is defined by its period dress code: tweeds and trilbies for men, furs and frocks for the ladies, and also by its refusal to allow modern cars within the circuit during the event," says Goodwood spokesman Mark Howell.
The Goodwood Circuit opened in 1948, but stopped hosting races in 1966, when the owners decided that racing cars were becoming too fast to negotiate it safely. It reopened for the revival event in 1998. "Goodwood is the spiritual home of British motor racing," Howell says. "The meeting is an unabashed celebration of flat-out, wheel-to-wheel racing, around the sweeps and curves of this classic circuit, which remains unchanged since its heyday."
GT cars such as the Aston Martin DB4GT have raced at the Goodwood Revival, as well as early Grand Prix single-seater models. "A number of collectors take part in the racing, including Nick Mason from Pink Floyd," Howell says.

Investing in classic cars may be profitable, but it can be a risky and difficult process