Princess Diana would likely have celebrated her 56th birthday on July 1, had she not died in a car crash in Paris on August 31, 1997. While speculation about the reasons for her death has continued unabated since her death, numerous books, documentaries and interviews have long tried to unearth secrets about the private life of a princess whose looks, style and ability to inspire common folk everywhere ensured that every move and utterance captivated millions around the world. As we approach the 20th anniversary of her death, we look back at some of those highlights.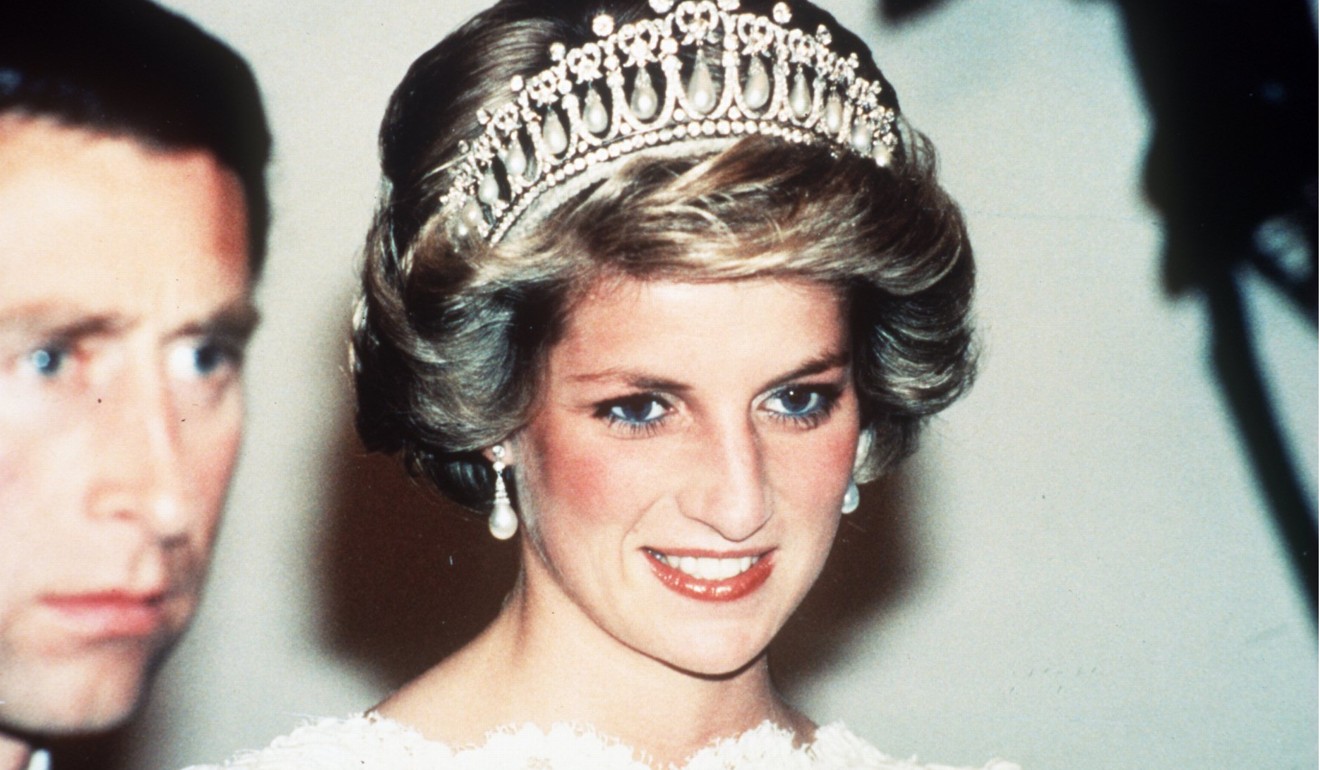 Feel like a princess with a glittering tiara on your wedding day
White elegance
1981 – "Going in Lady Diana Spencer, coming out the Princess of Wales"
Her story begins here. Crowds of 600,000 people filled the streets of London and an estimated 750 million global audience watched the wedding ceremony on television. On July 29, 1981, the 20-year-old Diana Spencer walked down the aisle of St Paul's Cathedral to marry Charles, Prince of Wales. Designed by David Emanuel and his former wife Elizabeth, Diana's off-white wedding gown had voluminous sleeves, 10,000 pearls and a 25-foot train.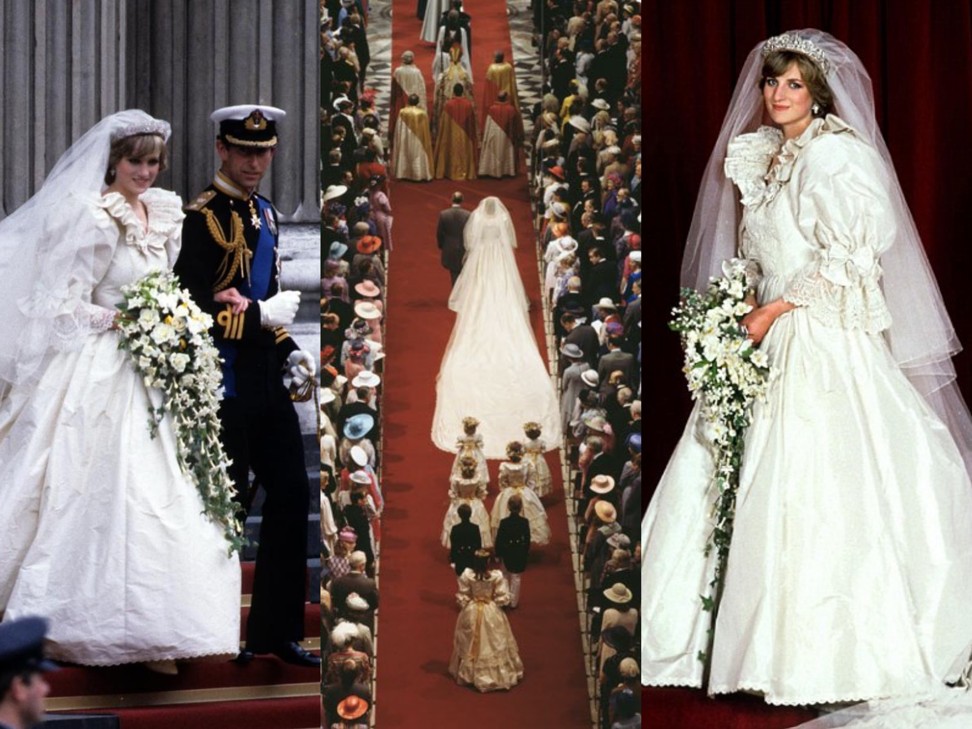 David recalled, "She was going in Lady Diana Spencer, she's coming out the Princess of Wales, so this dress had to be young and sweet, but it also had to be glam because she was going to be a royal princess. She couldn't do a quiet-looking, low-key little gown." Obviously, the design duo made a massive success. Diana's wedding look became a look for the ages.
1988 – One of Diana's favourite dresses
This oyster duchesse-satin dress with a bodice and bolero embroidered by Hurel, the renowned hand embroidery house, was one of the favourite dresses of the Princess designed by Victor Edelstein. She wore it at a banquet in the Élysée Palace in Paris during the official visit with Charles in 1988. She paired the dress with the iconic Cambridge Lover's Knot tiara – a wedding present from the Queen. The delicate dress showed off Diana's elegant and aristocratic side.
1989 – The "Elvis dress"
In 1989, Charles and Diana were invited to officiate the opening ceremony of the Hong Kong Cultural Centre. That night, Diana wore an outfit created by British designer Catherine Walker who was inspired by the Elizabethan ruff and created the distinctive sequin- and pearl- encrusted jacket. However, the dress came to known by the press as "Elvis dress" because of the similarities to Presley's Las Vegas ensembles.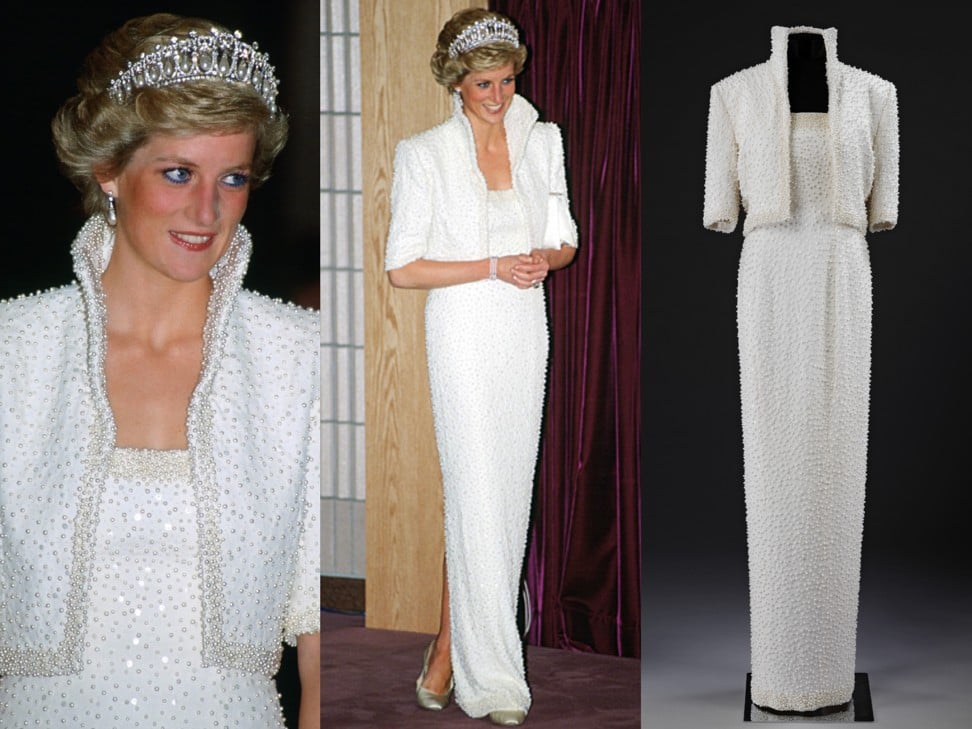 To raise fund for the Aids and cancer charities, Diana donated some of her outfits, including the "Elvis dress", to Christie's charity auction in 1997. The "Elvis dress" was bought by The Franklin Mint, which donated it to London's Victoria & Albert Museum in 2005.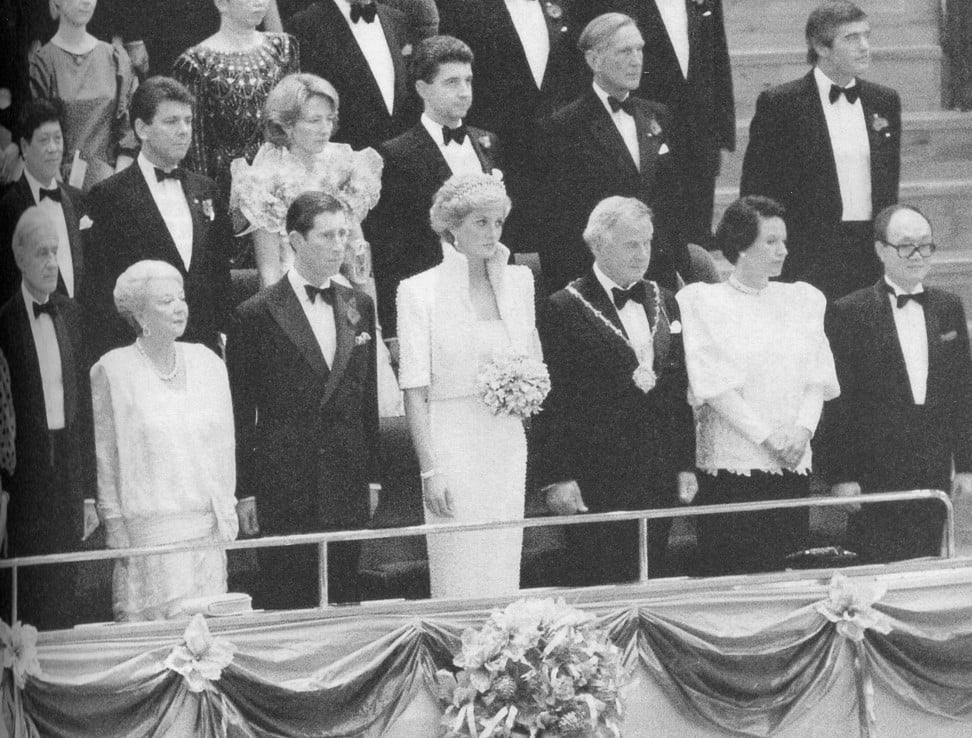 Vivid red
1986 – The rising sun
To honour her Japanese hosts, Diana wore a red polka dot dress symbolising the Japanese flag and wore it with a red boater when she flew into Kyoto for an official visit with Charles. She also tried on a kimono during the Nijo Castle tour, showing an entirely different style of a British princess.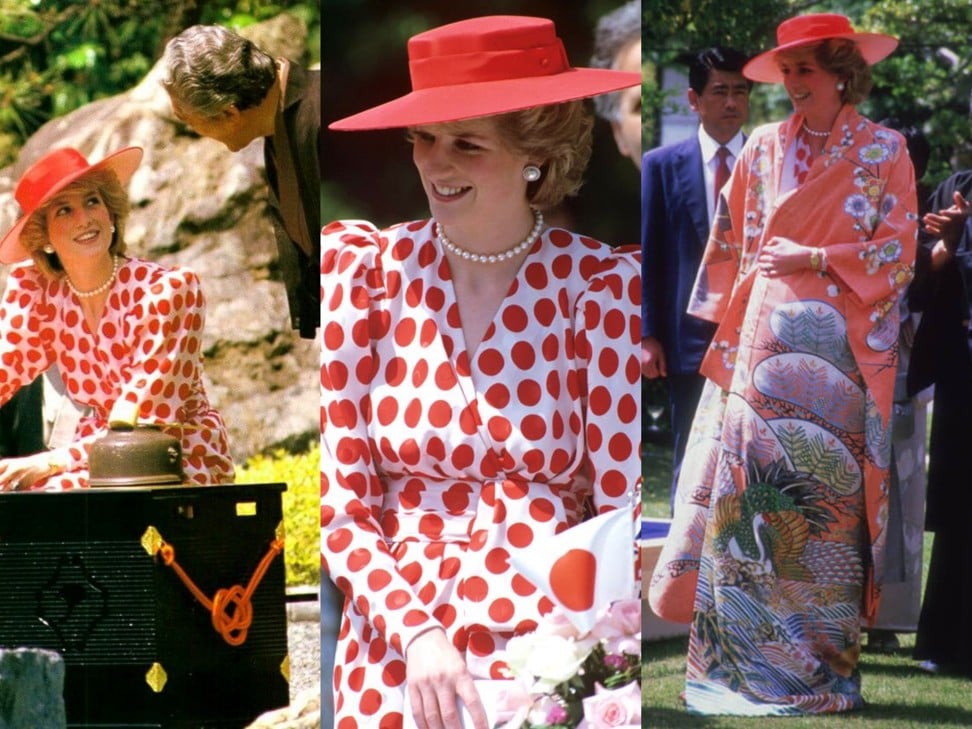 1986 – The sporty royal
Diana accessorised her fuchsia pink ski-suit with a stylish braided headband and gold hood earrings during a family holiday to Klosters, Switzerland. Who says you can't be chic and stylish while hitting the slopes with your skis and poles?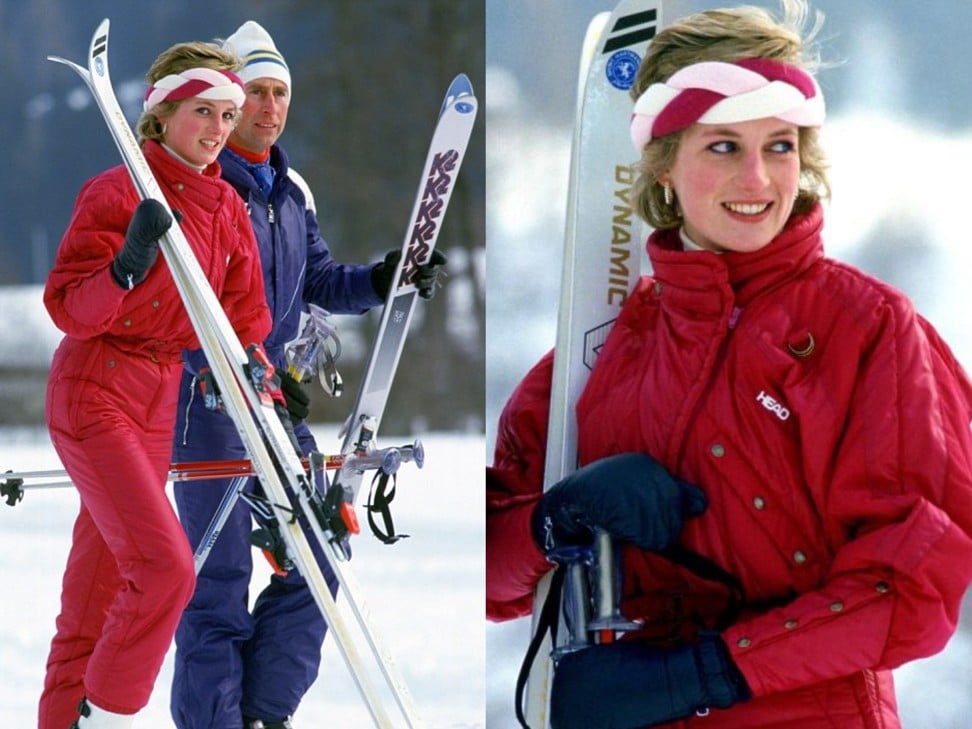 1995 – Versace pink lady
Diana was required to wear British designers. However, a year before the divorce from Charles in 1996, she called on Gianni Versace for the Jacqueline Kennedy Onassis-inspired double-breasted pink suit, while the pillbox hat was from Philip Somerville. She confidently wore the set while inspecting the troops at Howe Barracks in Canterbury.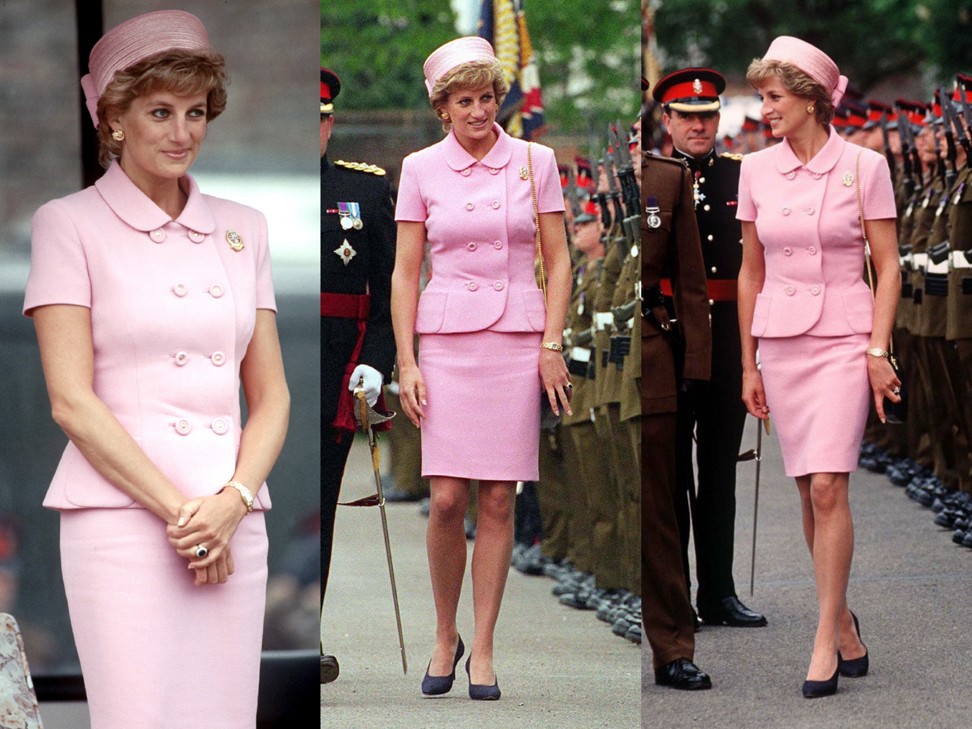 Mellow Yellow
1983 – Belle of the ball
We spotted two gorgeous yellow outfits on Diana in 1983.
In March, when Diana was at Government House in Canberra, Australia, she wore a drop-waist style, V-necked yellow-gold silk taffeta designed by Murray Arbeid. She wore it several times that year during the trips to New Zealand and Canada, with various luxury jewellery.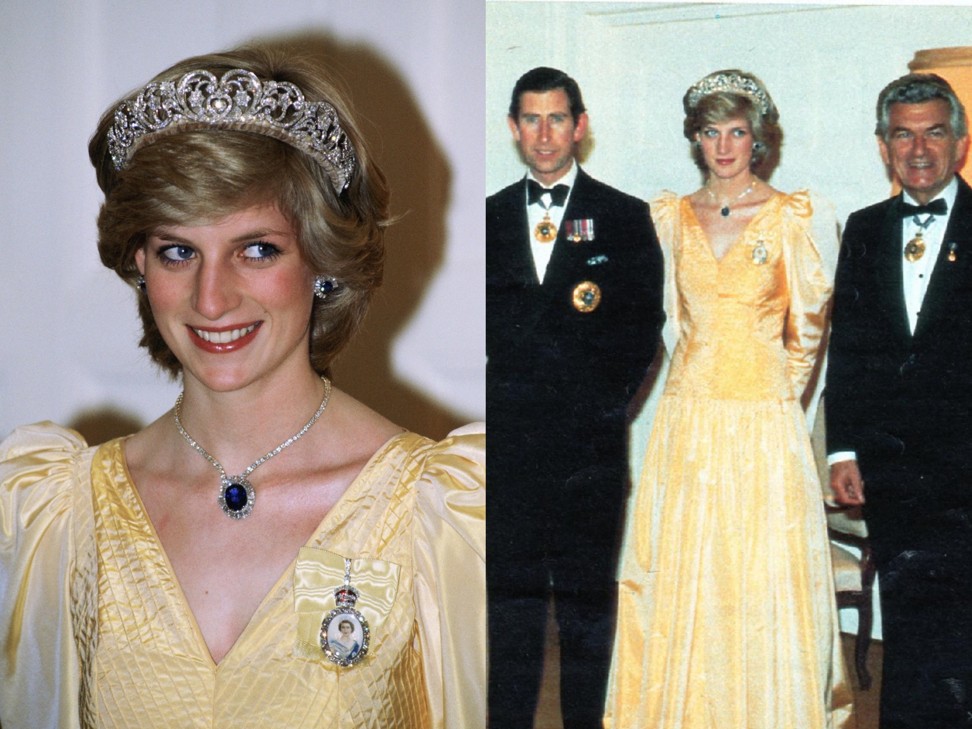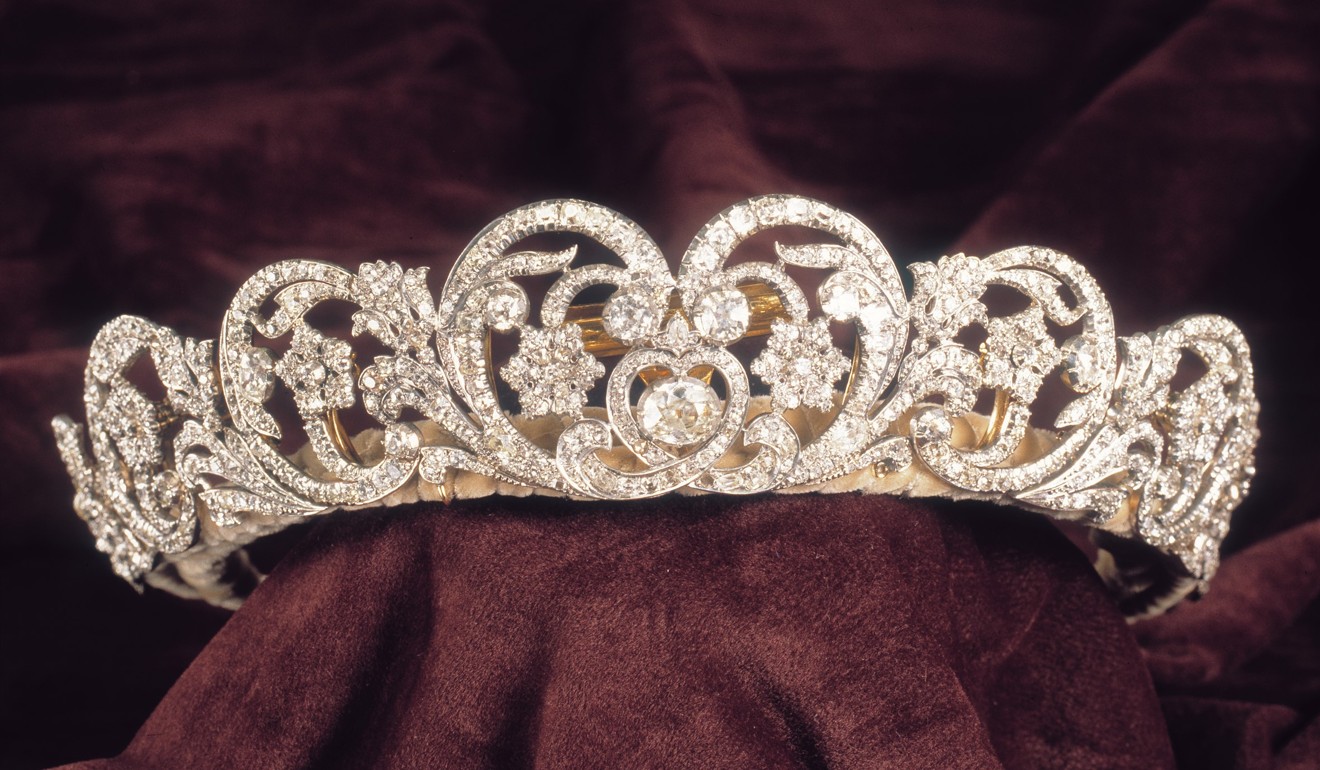 The Princess was a genuine hat lover and with her height, she looked good in any kind of hat. In April 1983, she wore a veil yellow hat by John Boyd, one of London's most respected milliners, to the Maori Festival at Waitangi,Chatham Islands during the Royal Tour of New Zealand.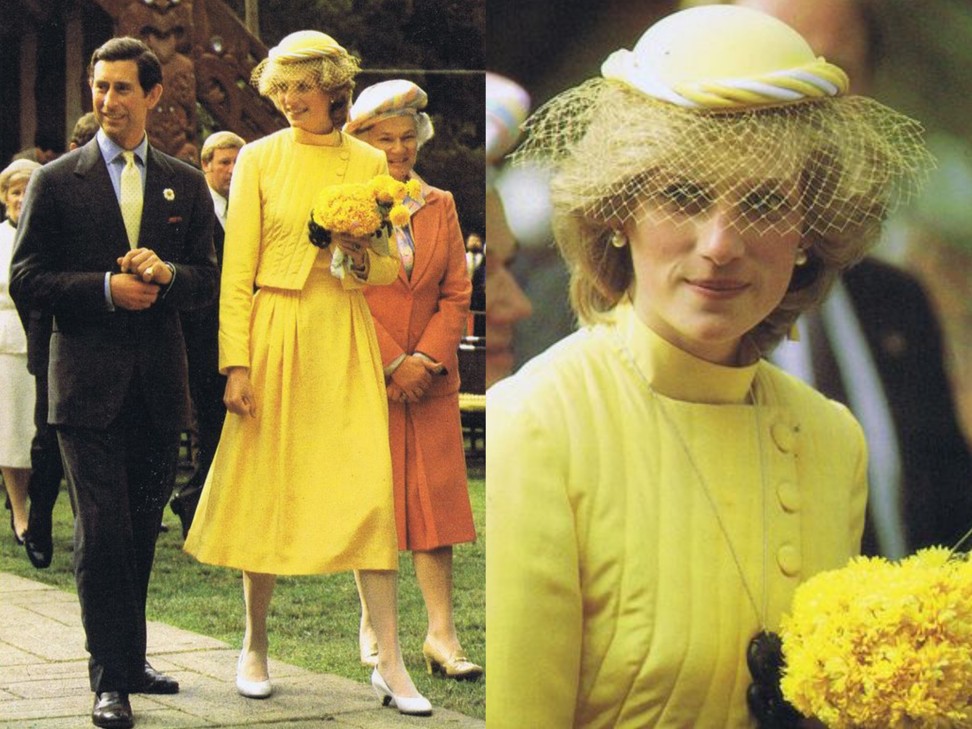 1987 – the elfin-like Princess
John Boyd was not the only designer to create a hat for the princess. The late milliner, Philip Somerville, had adorned members of various European royal families. In 1987, when Diana visited Berlin, she paired her yellow and back woollen coat in blanket checks from Escada with a turban hat by Somerville. Her fondness to deviate from being prim and proper won many admirers.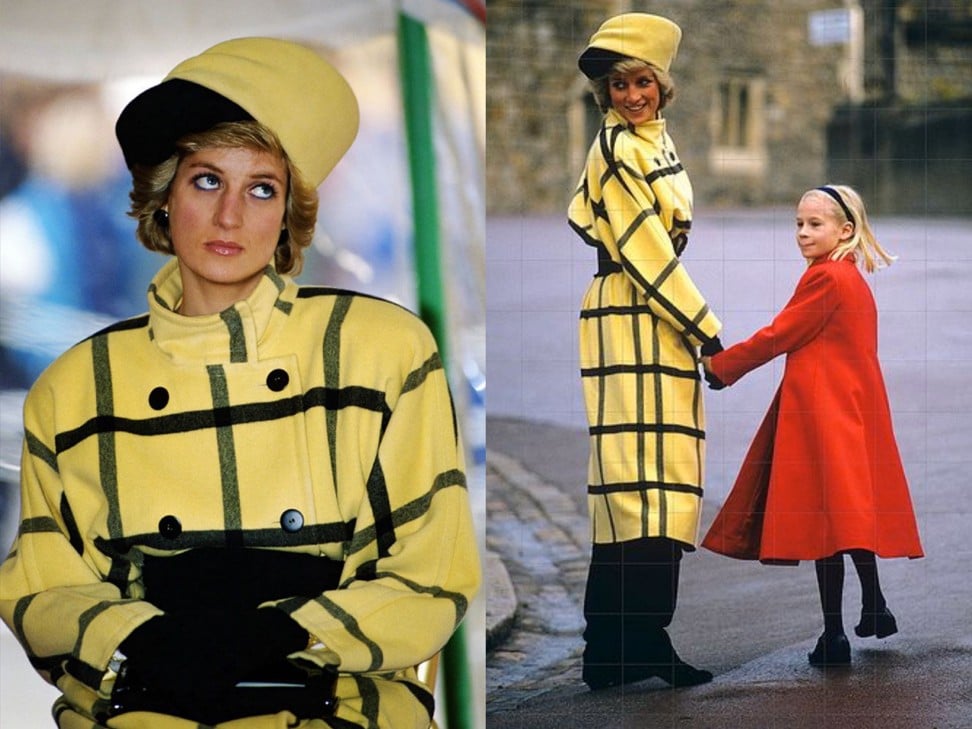 Keen on green
1985 – the emerald choker
Diana had a lengthy collection of jewels. As one of the wedding gifts from the Queen, the emerald and diamond choker were worn as a tiara when she attended a ball at the Southern Cross Hotel in Melbourne. All eyes were on Diana when she glided across the dance floor with Charles.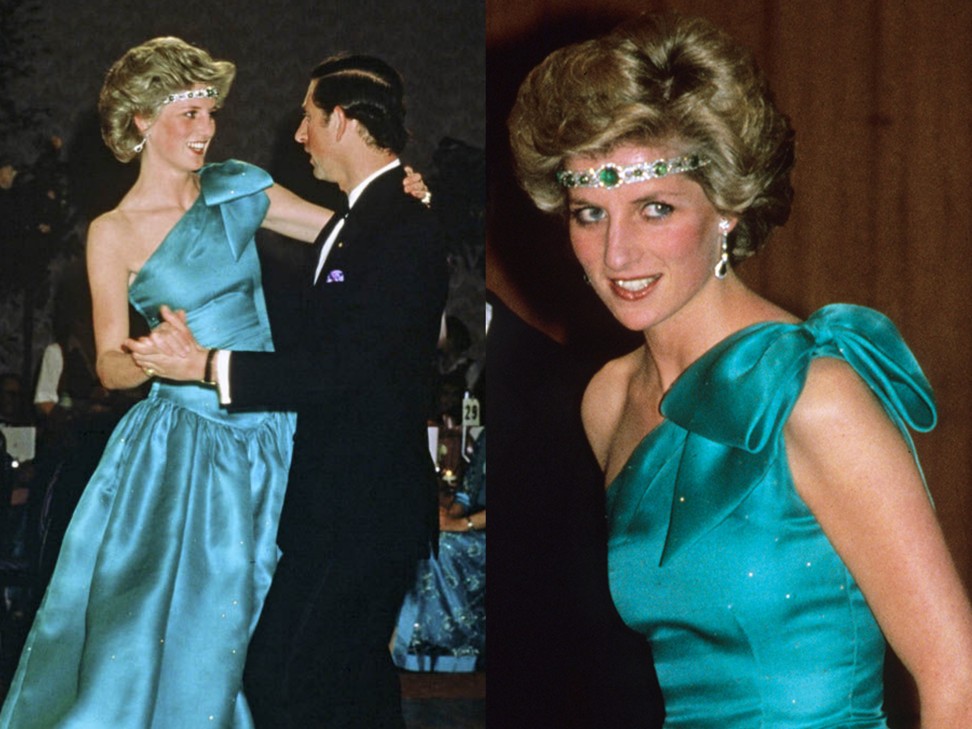 You may ask whether the Princess had to return the jewels after their divorce? Diana was allowed to keep all the jewels given by the Queen, on condition that she wouldn't lend or sell them. The jewels all returned to the royal family after her death.
1992 – The humble goddess
When in Rome, do as the Romans do. Diana covered her head with a scarf when she admired the Al-Azhar Mosque in Cairo in 1992. She wore a calf-length pale green silk dress and left her feet bare.
Royal blue
1981 – The royal engagement
The couple announced their engagement in Buckingham Palace in 1981. This time, the attention of the world was not on the blue outfit that Diana was wearing when they met the press, but on the sapphire engagement ring. The stunning piece comprises 14 solitaire diamonds surrounding a 12-ct oval blue Ceylon sapphire set in 18-ct white gold.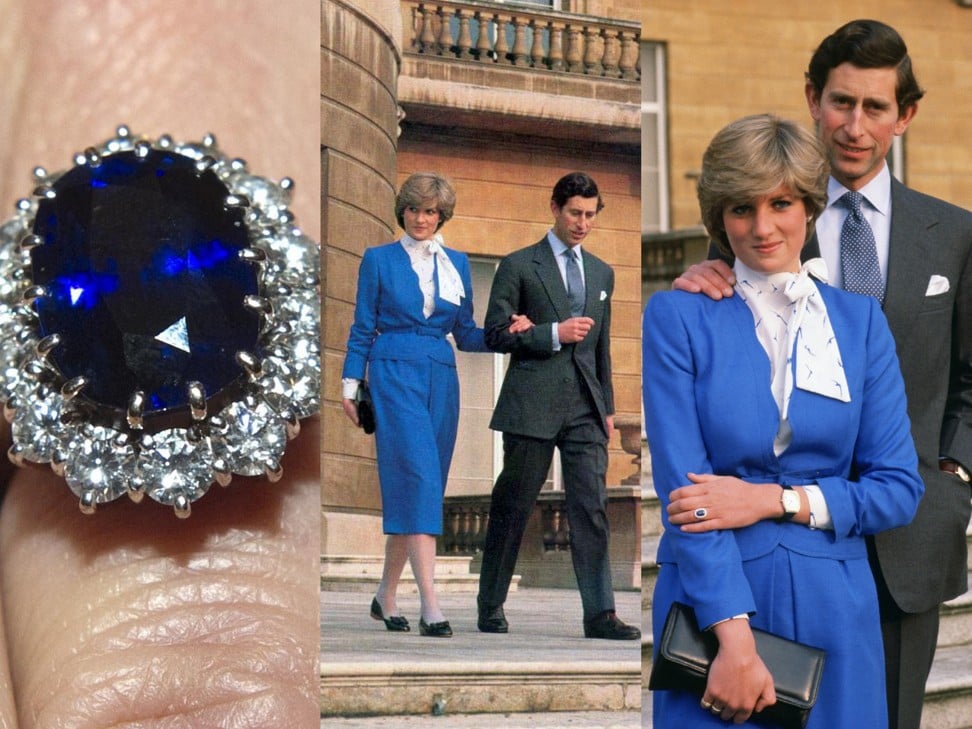 The Dutchess of Cambridge inherited the ring when she got engaged to Prince William in 2010, as the Prince wanted to make sure that her mother "didn't miss out on the excitement".
1987 – The "Travolta dress"
There is no way you can forget this dress. Designed by Victor Edelstein for her state visit to the United States to meet Ronald and Nancy Reagan, the off-the-shoulder ink-blue velvet gown was widely known as the "Travolta dress" as Diana danced at the White House with film star John Travolta.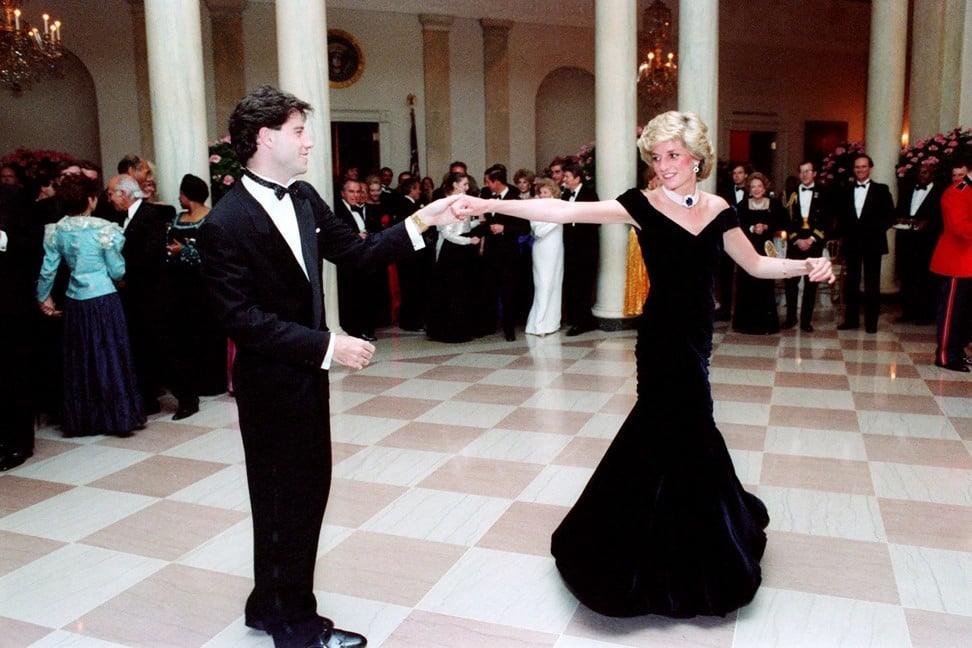 "That was one of the highlights of my life, so that's probably the best moment of the eighties," Travolta recalls. The dress sold for US$222,500 at Christie's charity auction in New York City in 1997.
Balmy violet
1988 – Flower power
Diana was resplendent in a sari-style ball dress in fuchsia and purple silk chiffon during a Royal visit to Thailand. The backless evening dress was complemented by the Princess hair, adorned with purple and white orchids, like a Thai airline hostess.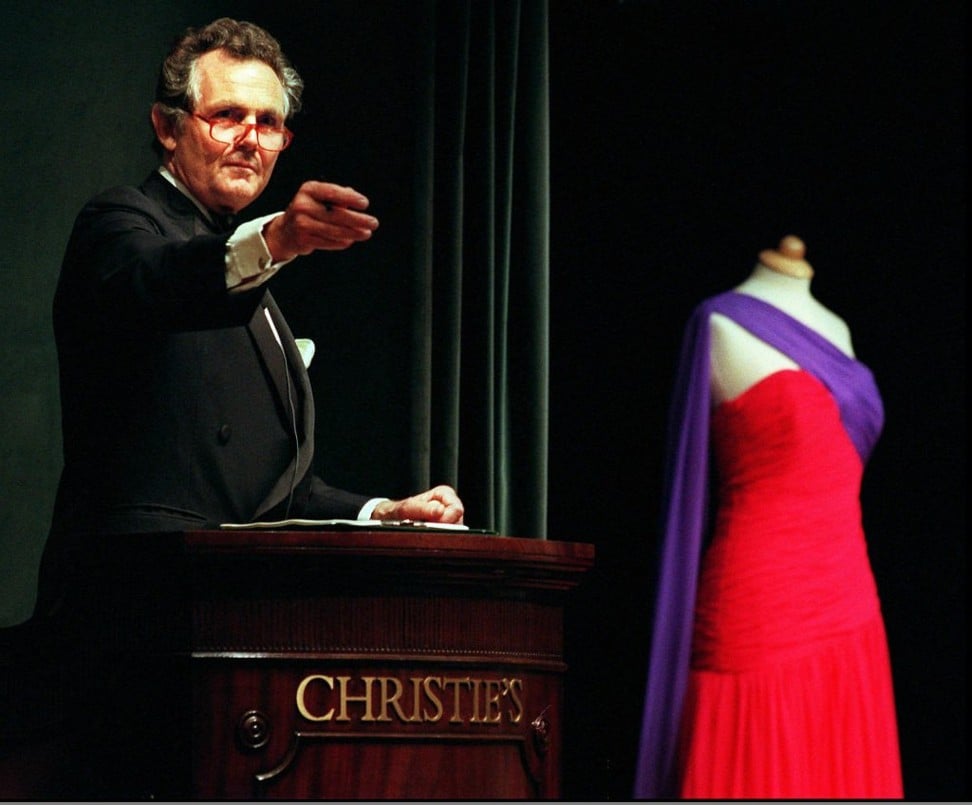 1989, 1992 – Thrifty princess
In 1989, the President of Nigeria, Ibrahim Babangida, made a state visit to Britain and Diana welcomed him with her purple beaded ball gown from Catherine Walker. Three years later, Diana appeared at an official banquet in South Korea with the lower part of the dress altered into a narrow skirt. Her Spencer tiara completed both looks.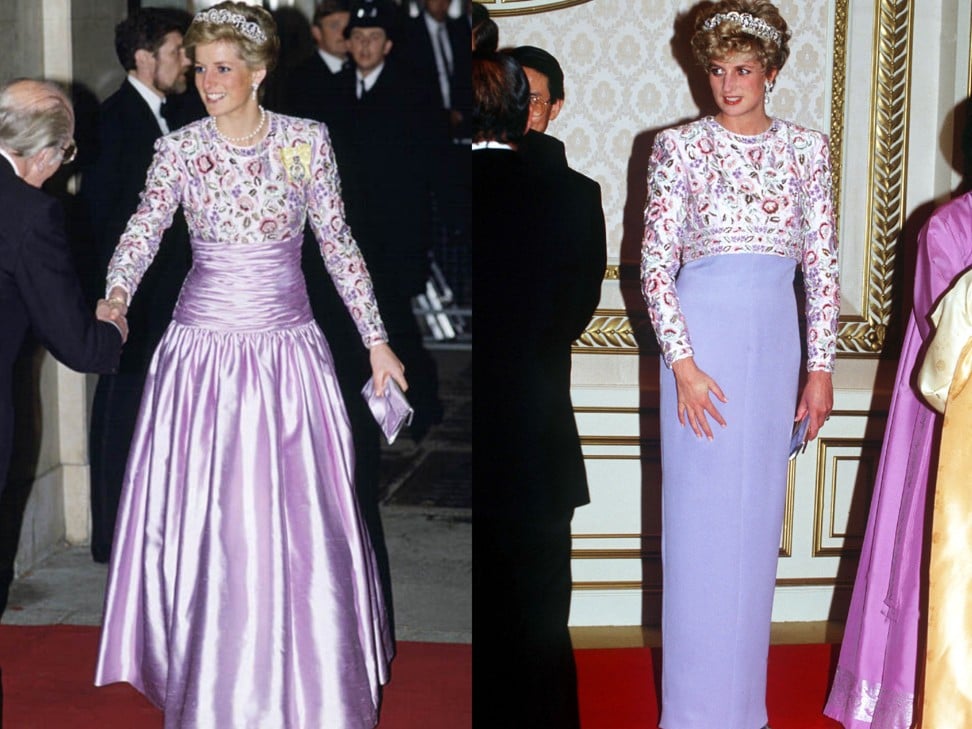 Daring black
1985 – Meeting the pope
After giving birth to Prince William in 1982 and Prince Harry in 1984, Diana met Pope John Paul II at the Vatican in April 1985. Protocol requires women to wear long black dresses with sleeves and mantillas. Diana was no exception. Besides wearing a calf-length black lace dress with a veil made of the same fabric, Diana also put on the gloves, as requested by the Pope.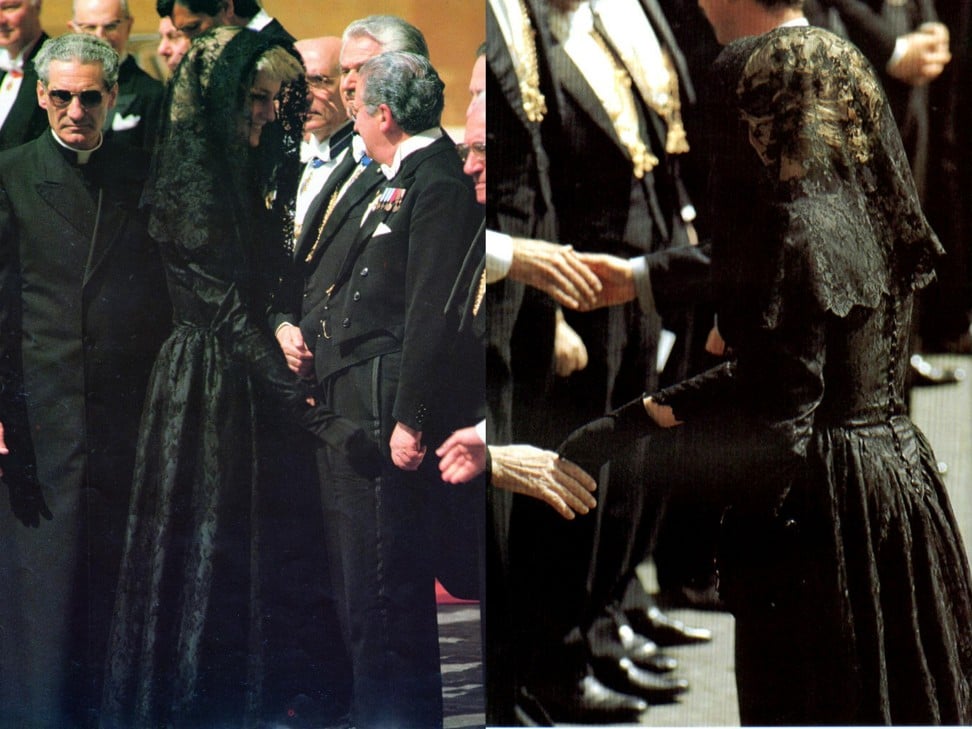 1994 – The "revenge dress"
On the night that Charles confessed to having an affair with Camilla Parker Bowles, now the Duchess of Cornwall, Diana donned this figure-hugging black silk dress to the Serpentine Gallery summer party. That's how the dress got its name.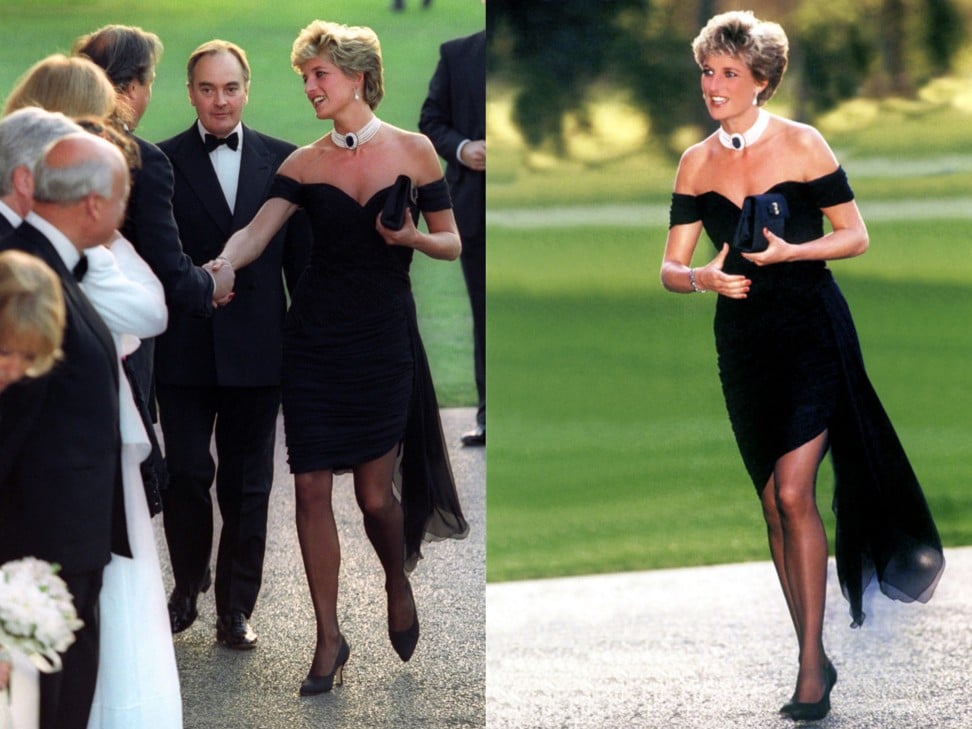 Chokers make a comeback as luxury jewellers create new classic pieces
1994 – The dandy lady
Forget those gowns and dresses worn to official occasions and look at Diana's casual yet classy daily outfits. Gold elephants embroidered on the tie and around the cuffs and belts of Escada, she wore one hurrying to the St Mary's hospital to meet her newborn nephew. In 1995, Diana gifted it to the daughters of a friend so that their father could wear it to a job interview. The tie later netted £3,800 at an auction in 2013.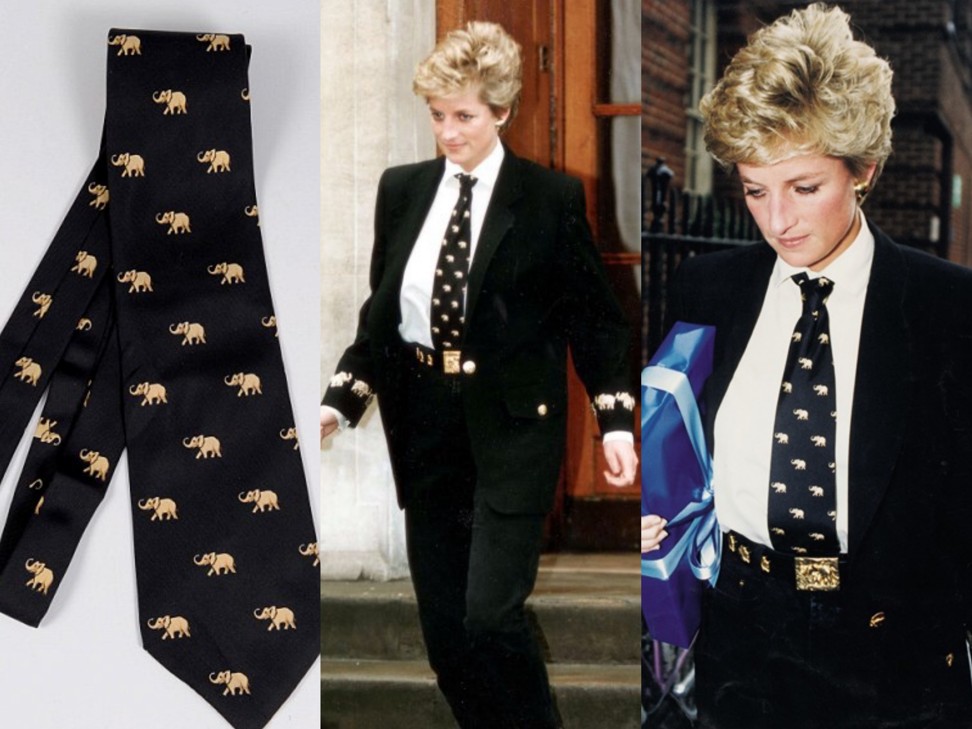 Fashion diplomacy: China's First Lady and 7 other stateswomen who won the world with style