For fans of MasterChef, Christine Hà isn't a name you can easily forget.
As the first visually impaired contestant (she has neuromyelitis optica) and the subsequent winner of MasterChef Season 3, Hà earned her title with dishes that not only consistently tasted amazing but were also beautifully presented. And she did so with such grace that she blew the judges (Gordon Ramsay, Joe Bastianich and Graham Elliot) away during each judging. When Hà re-created Elliot's white tuna sashimi dish perfectly in one episode, Ramsay couldn't help but lean towards her and asked, "Am I being punked?"
She has continuously pushed the boundaries of what people think vision-impaired people can – or can't – do. Yes, that's her on social media replying to you, and yes, those are her own words that she has posted herself on her blog. (She uses Apple products which all boast VoiceOver, a built-in function that reads out auditory descriptions of everything on your screen, and uses keyboard commands for everything so there's no need for a mouse.)
We caught up with Hà, who is in town to head a pop-up dining experience at Ozone, to talk about the latest dining trends, plating tips and, of course, her MasterChef experience – including Ramsay.
Her pop-up, which features a menu inspired by summer, runs until July 1.
Since MasterChef, you've written a successful cookbook and co-hosted Four Senses , a cooking show on TV geared towards the visually-impaired. What's next for you?
Working on my second cookbook, and then I need to finish my memoir which I've been working on for quite a while since I was in grad school.
For your pop-up menu's fourth course, diners have the option of eating while blindfolded. What inspired that twist?
It will be the diner's choice but I encourage it. What I'm trying to have people do is experience food in a much more raw form, where you're really having to navigate it the way I do. I think [you will] appreciate the different nuances of flavours, textures and temperature of the dish more when you don't have your sense of sight. So that will be that course and you can guess what it is.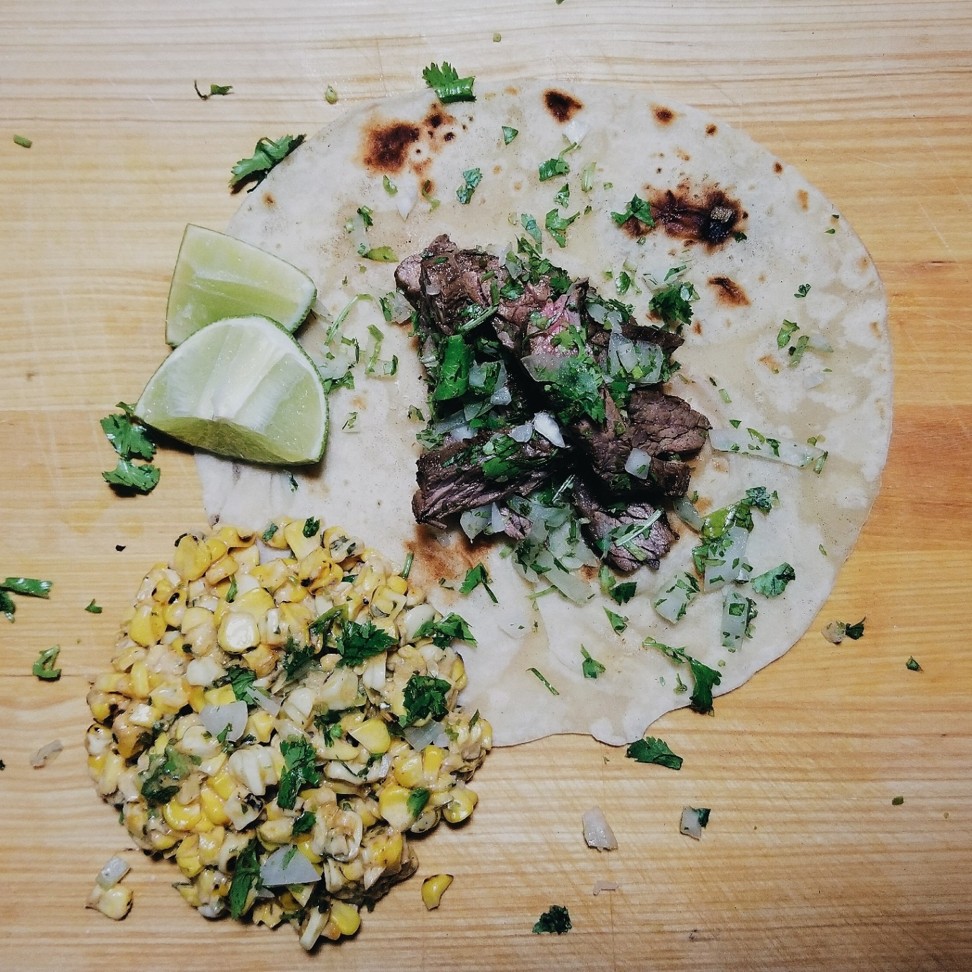 How would you describe your cooking style and preference?
I love comfort food. When I do pop-ups, all [of them] have been very playful and casual. I want [a pop-up] to be an experience where people feel like they get to hang out with their friends – almost like I'm inviting them into my home for a party. It's not an inaccessible thing where you feel like you're worried about the 10 different silverware [pieces] on your place setting.
What do you think are the latest trends in fine dining? How is fine dining evolving?
I think the latest trend is kind of taking it back a notch. A lot of chefs are trying to make it more accessible. The public is more knowledgeable and more savvy when it comes to food now, because people are travelling more and they're experiencing [the work of] more chefs who are becoming celebrities, so they know more about food. But at the same time, I think there is a broader audience, so you have to cater to them as well. I think chefs are also trying to scale back and make fine dining more casual. For example, the food can be very elevated, but the environment is not – you're not necessarily dining on white linen and it's not like every diner has their own server.
There are a lot of social media accounts and hashtags dedicated to food. Do you think social media has changed the way we interact with food?
I think [it has changed] completely. I know some chefs who aren't too pleased with that, because I feel like we, as a society now – and it's not just with food – are so caught up with social media that we kind of lose track of our sense of presence in that certain moment that you're experiencing something.
I feel like [there are occasions] where you really need to live in that moment, especially something like the pop-up I'm doing, or a dining experience – you're trying to experience the food you're eating, the conversation you're having, the company that you're with, the music you're hearing – the whole ambience. But you lose it when you're very much caught up in 'is this Instagram-worthy?'.
How do you plate?
Fortunately, I say that it's because I had vision before, so I have a lot of memory of how colours look. I will visualise it in my head first, and then usually I'll plate on white, if the food has a vivid, vibrant colour [because] I want it to stand out. And then I just go about interpreting it with my fingers and my hands. It's kind of paradoxical because I can't see, so I try to steer people away from the visual presentation of a dish, but at the same time, I do know that people with vision still want to appreciate how a dish looks.
What are your top tips on plating?
I feel like food should be fun and casual, so plating should just be [an organic process]. You kind of know how you want it to look, but like in cooking and in life, things don't always go as planned, so if something falls somewhere, let it be.
Negative space is important, so less is more. Don't overcrowd your plate, and think about the contrast of things [in the way you think] when you cook something. You want a bite to have contrasting temperatures or textures – same thing on a plate.
Also, something I learnt on MasterChef is that everything on your plate should be edible and it should go with your dish. So don't put things on there that are not necessary and are just for looks.
Do you have any special kitchen appliances to help you out?
My kitchen looks like an ordinary kitchen because both John [my husband] and I cook in it. If you look closely, maybe you'll see some things that have been adapted for me. On my stove knob, there are raised bump stickers so I can line up the knobs to [the desired] heat level by feeling the stickers. Some of the kitchen appliances nowadays [use] touch screen or have a flat surface, so it's hard to [know] where the buttons are. I will have little markers on that. I have a talking thermometer. I have a talking scale that's actually very fussy so I tend not to use it. Something I rely on a lot is [an] actual thing that John uses himself and he's fully-sighted: our Amazon Echo that we use for conversions and to set timers. We have Bluetooth thermometers that he uses just as much if not more than I do.
You became a household name overnight after appearing and later winning MasterChef Season 3. Did you feel the effects of stardom?
I totally had no idea what to expect because I went to this competition very naïve. I thought, 'I'm going to a cooking competition that just happens to be filmed for TV', but I had no idea how hard production is, how you have to do things over and over again for the camera. The challenges are just 60 minutes – whatever time they give you, that's it. Television was just really hard. We had really long days and the fact that it was considered reality television, they sequestered us so we [couldn't] call home and talk to our families or friends. We were living in hotels for the whole period while we were filming. That was hard. I was away from home and no one except my husband and my professors at school – because I had to take a leave of absence from school – [knew].
I'm fortunate that I was a 'lovable character' on the show, but I feel bad for some of my friends who were on the show and they were portrayed as really evil. But even beyond that, I wouldn't say I'm a shy person and I'm not necessarily private, but I don't love being the centre of attention, so it was really weird to go to the grocery store after [MasterChef aired] and have people follow me around, or look at what's in my shopping cart. I just felt [being] observed and judged for what my choices [were]. It was a strange feeling. But you become more used to it and then you [realise] that's what comes with the life you're living. It just took time getting used to.
Filming does sound hard – and we imagine the harsh studio lights didn't help much.
It did take a while for me to get used to [the lights]. My pupils were always dilated because it's my optic nerves that are damaged. My eyes think that for some reason, [the pupils] need to be dilated so they can let in more light.[I couldn't] see anything, but all I can say is that it was very blinding. I had to get used to having the spotlight on me when I'm working at my station.
On MasterChef you won US$250,000 in prize money – what did you end up doing with it?
My answer is actually very boring. I put it in a savings account and tried to figure out what I was going to do. We paid off our car, I paid off my undergraduate school loans, and I took my in-laws to South Korea. We also used some of it to pay off our mortgage. Some of it is still sitting in the bank, so nothing I haven't done anything exciting. I probably bought myself a handbag. [laughs]
Speaking of MasterChef, how was Gordon Ramsay as a judge?
He is definitely nicer on MasterChef than he is on Hell's Kitchen and some of his other shows. He was even crazier when the cameras were not running. he said some crazy stuff. But he's very funny, very charismatic and I really think he speaks from a good place. He was a good mentor to all of us.
He also wrote the foreword to your cookbook. Was that daunting at all when you received the manuscript?
I was super excited when I heard that Gordon was going to be writing the foreword to my book. I wanted to see what he had to say about my cooking. Of course, me being a writer, when I got it, I still had to edit it, [laughs] so I'm like 'your grammar is wrong here'. It was my turn to judge him. It felt kind of nice.
Want more articles like this? Follow STYLE on Facebook