To the American street graffiti artist known as "Alec Monopoly", the world is his canvas. He has tagged almost anything and everything – from Hermès Birkin bags, including one eye-catching design for television personality Khloé Kardashian, to singer Miley Cyrus' leg.
This week, he was in Hong Kong, where he painted one of the city's oldest and most beloved modes of transport – the tram.
We met Monopoly – "Art Provocateur" of the Swiss watch brand TAG Heuer since last December – on a scorchingly hot day just after he had tagged a bright pink tram at the Whitty Street tram depot.
He had decorated the tram on all sides with his preferred motifs. While the artist enjoys referencing pop culture, it was his use of Rich Uncle Pennybags during the 2008 financial crisis that propelled him to fame – capturing the imagination of the public, and attracting the eye of some of the world's most famous names.
"In 2008 I was playing the game Monopoly and saw on the news Bernie Madoff being arrested, and then a light bulb kind of hit my head: this would be an interesting painting," he says.
"I started doing a painting on a small canvas, [but] I never finished this painting. I actually went out into the streets and started tagging it, and that's when I became known – people just seeing it and identifying with it."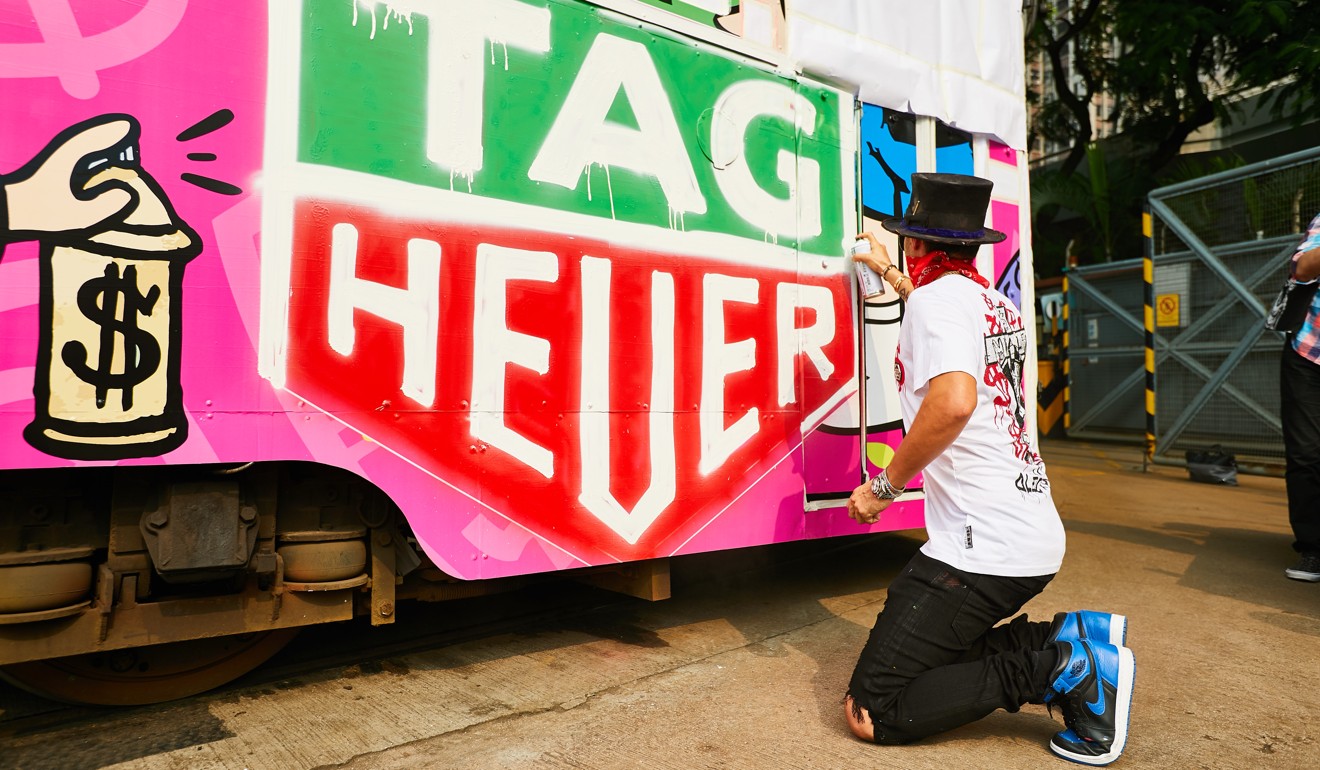 His art has been bought by some of the crème de la crème of international society, including celebrity chef Nobu Matsuhisa, and actors Seth Rogan, Adrien Brody and Robert De Niro. Monopoly has also collaborated with German fashion designer Philipp Plein, by painting on his clothes and engaging in a bit of art performance by tagging a long white skirt worn by fashion model Winnie Harlow on the runway.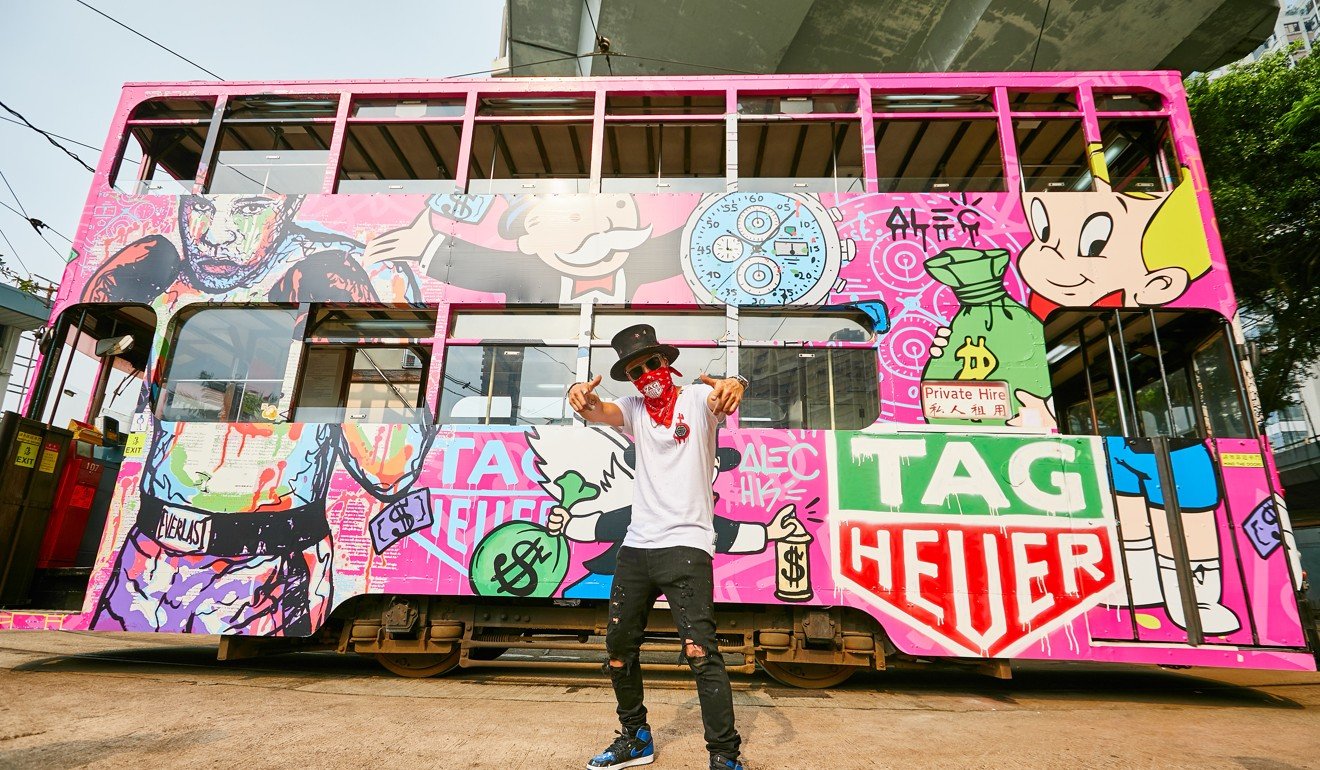 As usual, the man of mystery – dressed in his customary black top hat – kept his features hidden behind a bandana during our Q&A.
How would you define your style?
I would define my style as street for sure. I love graffiti, I love [Nike] Jordans. Ever since I was really young, I was into skateboarding, surfing, and graffiti – so it all kind of goes hand in hand.
What are some of your favourite graffiti up to now?
I would say today was one of my favourites, honestly, just [painting] the vibrance. And I love that colour pink. I painted a piece on Marilyn Monroe in Los Angeles recently that was super bright, so I like this pink now.
What other unusual mediums have you worked with, apart from a tram?
I've painted on big billboards above the skyline in New York and Los Angeles, [and] rooftops. I've also graffitied on buses that were passing by – one was stopped and I tagged it quickly [before] it drove off, which was pretty interesting. It was at a red light in Los Angeles.
Who were some of your biggest inspirations?
I would say Andy Warhol, [Jean-Michel] Basquiat, Keith Haring, and Jeff Koons.
I've also graffitied on buses that were passing by – I tagged it quickly [before] it drove off ... it was at a red light in Los Angeles
What were some of the key reasons you decided to work with TAG Heuer?
I've always loved their watches since I was very little, and for me it's a dream to design my own watch. They're giving me the vehicle to design my own watch, and especially to come to Hong Kong and do something like this. I'm going to be designing the dials [for] a very limited [edition] watch. It's not released yet – maybe in a couple of months.
How is the process going?
It's a challenge, taking work from being so big to being so little. I love challenges. For me, I'm used to working on something like the tram, where it's massive, and then you're talking about a watch dial, that's so small. In graffiti, it's all about having an impactful image, so I've been working on the imagery.
How are you painting the dials?
Very tiny brushes. There's no [spray paint] – well, some on it… I use a lot of different mediums.
How does TAG Heuer's motto, "don't crack under pressure", apply to your overall lifestyle?
It applies every day. I'll be in a city and I have to do a graffiti piece and they'll be out of one colour, and I'll be stressing. But then I mix and make that colour. Or the authorities are coming and running after me – and I'm painting. Or it's like the pressure of being nervous, of having this many people watching you when you're working.
Did the motto also apply when you graffitied Cyrus' leg?
Yeah [laughs]. A little bit, yeah.
What was that experience like? Had you ever done that before?
No, I hadn't done that before. And honestly, I told her, "You know, this isn't going to come off, this is super permanent." And she was like, 'nah, do it, do it, do it' and I was like, 'OK, fine'.
And how long did that take you? Five minutes flat?
Not even [that] ... I just tagged my name [on her leg].
I base most of my work on my graffiti work that's in the streets, and the streets belongs to everybody
Street art is public and free for all, but you also have big names as part of your clientele. What is the link between the two?

For me, the works I create, everybody can relate to them. 'Cause I base most of my work on my graffiti work that's in the streets, and the street belongs to everybody.
I hear you're looking to turn more legal, focusing on working on art commissions. What led you to be more concerned about being less 'illegal'?
I'm growing older, I'm 31 years old now. When I was 20 doing graffiti, I wasn't worried about anything, I was just tagging everywhere. But now I feel like I have so many fans, and so many young kids look up to me, that I have a responsibility to be a good role model and promote painting in areas where you're allowed.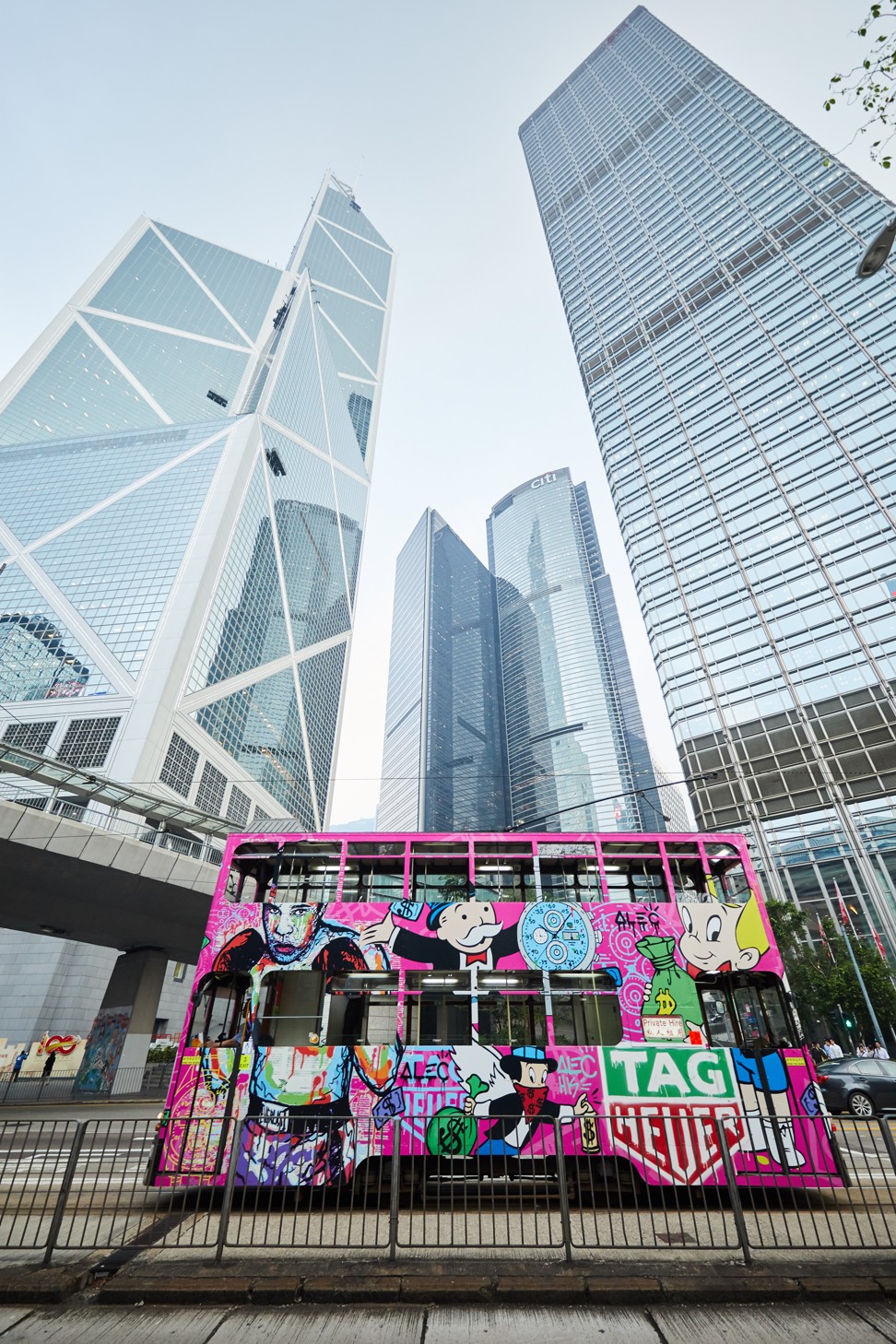 Skateboarding legend Rodney Mullen says it's all about attitude
Are you afraid you'll lose street cred if you turn totally legit/legal?
No, I'm not really worried about street cred, because I've done so much in the streets over the years that my street cred is very strong, and I still have a lot of graffiti pieces all over the world that people are loving.
Is your artwork politically driven?
In the beginning it was politically driven and then later it kind of evolved more into my lifestyle and how I'm living and positivity, prosperity and wealth.
Will I take off my mask? ... maybe one day. It does get hot under here
Can you explain a little bit about the high-end lifestyle you now lead and how it relates to your artwork?
If you look at my work, it totally conveys this lifestyle: Mr. Monopoly on a yacht, or on a private jet. And it's kind of the life I live. I've kind of been absorbed by the Monopoly Man and I'm living this life.
So for you, what does Rich Uncle Pennybags represent?
He represents wealth, affluence, happiness. When people look at Monopoly, they remember childhood memories of playing the game with their families, and [general] positivity.
And you're sort of becoming that – more wealthy, more influential ... ?
Yeah. I'm buying real estate. I just bought a house in Beverly Hills, but I'm just starting to be Mr Monopoly. It's my goal to own hotels.
Like your own a chain of hotels?
Yeah, like the game!
One last thing: would you ever take off your mask?
We'll see. Maybe one day. It does get hot under here. [laughs]
The tram remains operational and open to the public until September 25.
Monopoly's artwork can also be seen hanging on the wall of the store, also until September 25.