"I've just bought every [Dunhill lighter] that I can," says Timothy Oulton. "Like doubling down on roulette, it's not easy."
The creative director of his eponymous brand is a collector by heart and a designer by trade. Oulton's furniture, lighting and interior accessories combine traditional British aesthetics with contemporary global design.
STYLE sat down with the professional magpie at Rare by Oulton, his luxury antiques store, to find out more about his most beloved collection.
Your favourite antiques collection is a selection of Dunhill lighters. How many do you have?
We have around 200. There's one guy called Ben Shillingford [who made all the Dunhill Aquarium lighters]; he started with Dunhill in the 50s and he died in 2000; and he only supplied Dunhill. No one really knows how many he made.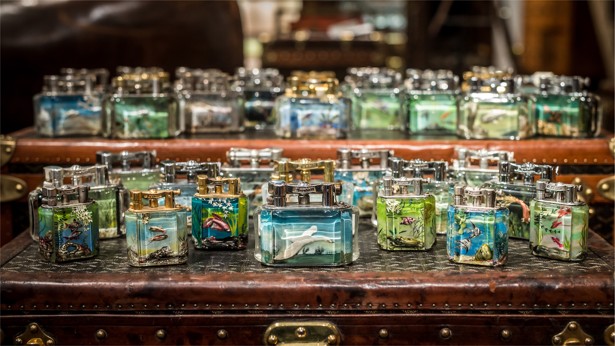 Dunhill and Namiki were always looking for something that was exclusive to them, like all good retailers are, and they jumped on him and that was the deal with [Shillingford].
There's not a lot known about his work, and so over the last seven to eight years, I've bought every [lighter] that I can. I love them; I was spellbound the first time I saw one, and I'm still spellbound when I look at one of them. When I look at them together, it's even more interesting.
Are they all here in Hong Kong?
Some are, but I've never looked at every single one in one go. One day, we'll get them all together; maybe we can do a book or something, and look at each one in detail because every one is different.
Tim, you don't need to own things forever; just to have owned it for a while is enough
A selection of lighters are on sale at Rare. Why have you decided to part with them now? How do you decide which pieces?
We sell [the lighters] occasionally. I'd like to sell them as a full collection, because … you have to sometimes let things go.
I was always a bit of a hoarder. Martin Waller of Andrew Martin used to say "Tim, you don't need to own things forever; just to have owned it for a while is enough", and I'm coming around to that way of thinking – because otherwise you need deep pockets.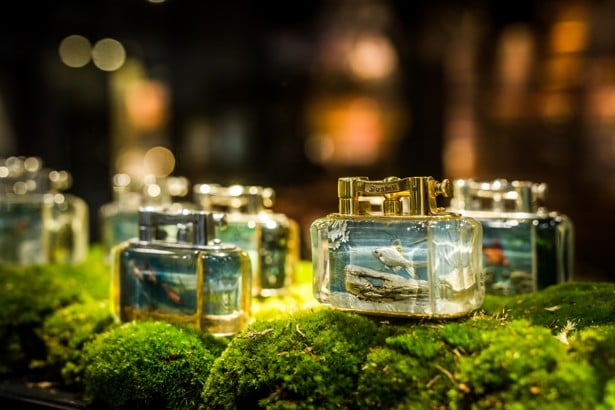 If I sold [the lighters], of course I'd be upset but, depending on who you sold them to, I'd be less upset. I would always keep the non-Aquariums because they're super rare.
I think the Aquariums are the most beautiful, but the non-Aquariums are more valuable. To me that is the wrong way round, but who's to say whose right or wrong?
Do you remember when, and where, you found the first Dunhill lighter you ever bought?
When I bought my first Dunhill lighter, I didn't even know what it was. And I don't know what made me buy it, because I was never really a Dunhill lighter fan, apart from the Namiki lighters – which I loved. If I ever [stop collecting] Aquariums, I might get into the Namikis, because of their beauty and rarity.
England was the best at producing a lot of things, because the attitude to quality and scale in the UK during the Victorian period, through to the Edwardian period, is unsurpassed in history. There are certain things that the Japanese were leagues ahead in, and [the lacquer inlay art form called] Shibayama is one.
Watch: How Namiki products are made:
[Like Shillingford for Dunhill], just one factory [made lighters for Namiki]; no one else made them. Just that one person. And, again, Dunhill had an exclusive.
What is your favourite piece in the collection?
I've got a swan, which is probably the most expensive one I've bought. It's off-the-scale beautiful.
This Renaissance man cave by Timothy Oulton could be yours for HK$15.7 million
Are there any particular Dunhill lighters out there that you'd still like to get your hands on?
My favourite one that I didn't get is a skier. We bought a few [lighters] out of Buenos Aires, and Boris found a skier, but we just missed it. I'd never seen it before, and I haven't seen it since.
There is a Titanic one that I've heard about, but I've never seen it. God knows what that would be worth.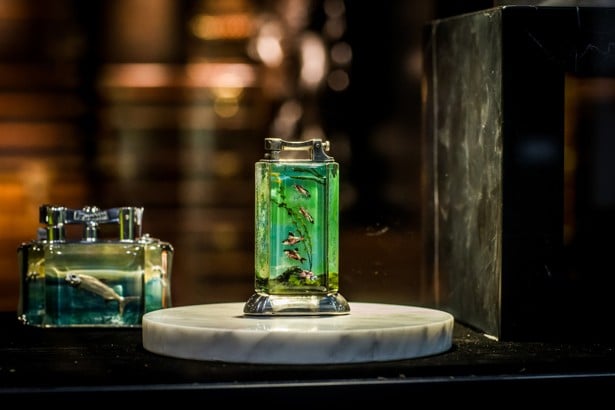 We also have a box that came with a lighter, which is incredibly rare. The box was commissioned by a crazy woman who was married to the richest guy in England at the time; he owned British Leyland. The lighter had been separated from it, and sold, and I bought the box later. I would love to find that lighter. It was only sold two years ago, so it's around. I can't find it at the moment, but I will.
I've only ever seen one [lighter] box before. And [ours] is one of two. To me that is true rarity.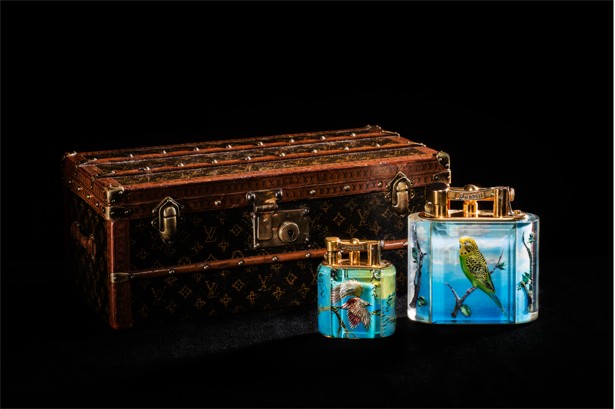 Why do you think this obsession has stuck with you over time?
The treasure hunt is part of it. A collection is part of the interesting thing for me. Because buying one [item] is not a story. For example, [I enjoyed] trying to work out how many lighters Shillingford made initially, and trying to learn more about him.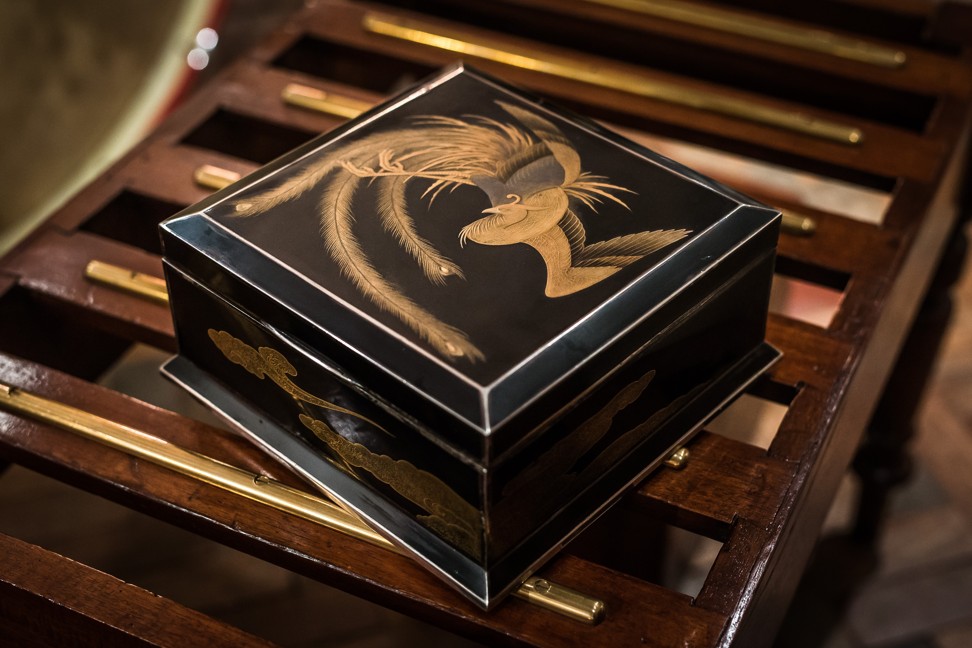 When we get all 200 together and catalogue them properly, then I know someone at Timothy Oulton will have to climb on a plane to Birmingham and find out where he worked and who painted them – because he didn't paint them; he reverse-carved them. It's all reverse carving – which is incredibly difficult to do – and on acrylic, which must have been quite a rare material in the 50s. And they're fragile, so a lot get broken. I've broken more than most people have seen.
There aren't many stories like that in antiques, and I've been a student of antiques for a long time.
Timothy Oulton brings a taste of vintage Blighty to NoHo
What is intrinsic value, vs relative value?
There's rarity and intrinsic value and relative value – and sometimes it gets a bit muddled up, because the worst sellers of the time become the most precious later. That's where rarity becomes a value in itself, and not beauty.
Intrinsic value to me is more interesting than relative value. Relative value is sometimes a gamble. I like products where you can buy it, use it, sell it for a profit. It's like they've paid you to own it for a moment.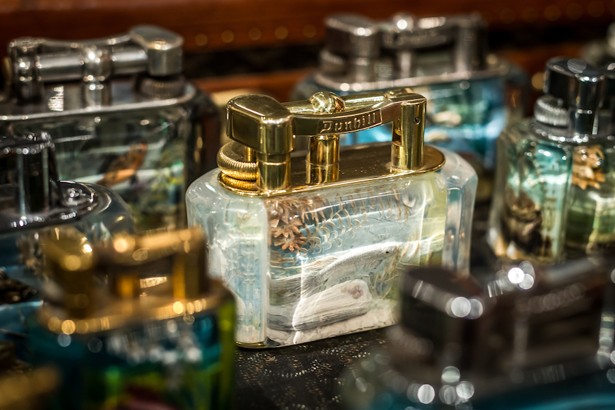 Watches are interesting. Paul Newman's watch started the whole [vintage] Rolex craze. You can believe that influence. It really got a lot of collectors thinking.
Paul Newman's Rolex Daytona is now the world's most expensive watch ever auctioned
The inscription on the back, from his wife, says "Drive carefully, Me". He gave it to his daughter's boyfriend.
The relative value of that watch is about 100 grand, but the price is different.