K-pop band BTS makes a breakthrough in the US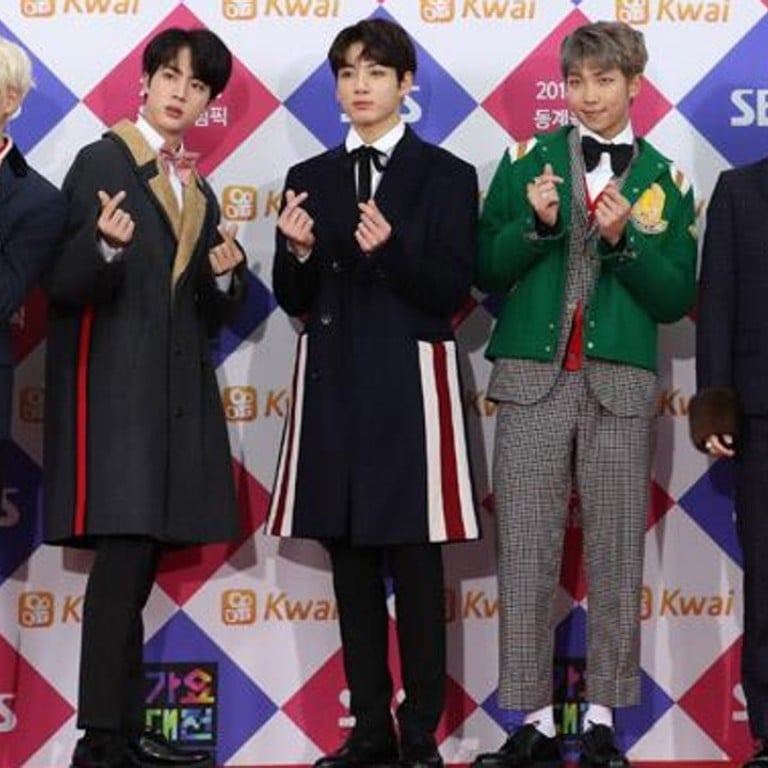 When South Korean boy band BTSmade an appearance at the "Dick Clark's New Year's Rockin' Eve," it wasn't just a cherry on the cake of what has been the group's biggest year in their career so far. The occasion also underscored the K-pop act's successful crossover to the US mainstream market – a rare occurrence among its peers.
The group racked up accolades last year. Among the most noteworthy of those has been becoming the first K-pop group to crack the top 40 on the benchmark Billboard Hot 100 chart with their track MIC Drop, featuring rapper Desiigner and remixed by US DJ Steve Aoki.
The song, which features a line about winning so many trophies the group "can't even count 'em", isn't just hot air: BTS is the first South Korean act to reach 10 million followers on Twitter, the first K-pop group to perform at the American Music Awards, and the first South Korean group to win a Billboard Music Award.
When the group travelled stateside last month, US fans staked out Los Angeles International Airport in anticipation of their arrival and recited coordinated fan chants – audience-participation phrases that fans echo during songs – both in English and the group's native Korean during their performance at the AMAs. Some burst into tears upon seeing their idols break out into song and dance on stage.
Talk show host Ellen DeGeneres likened the group's reception on her talk show to the Beatlemania of the 1960s.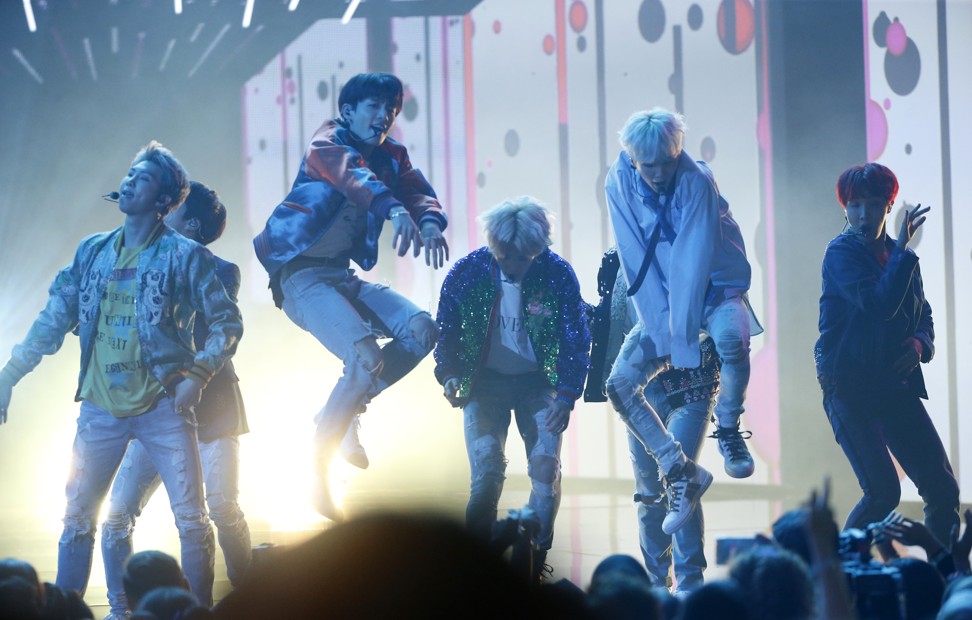 BTS, an acronym which variously stands for Beyond the Scene and Bangtan Sonyeondan (Bulletproof Boy Scouts), is comprised of seven members in their early to mid-twenties – RM, J-Hope, Suga, Jin, Jimin, V and Jungkook – who share singing, rapping and dancing duties.
The group, which debuted in 2013, is an established name back in South Korea, with a total of four albums and five EPs under their belt.
"There's a flash of visibility for those not really following K-pop, [but] the group has cultivated intense fan engagement since 2013," says Michelle Cho, Korea Foundation assistant professor at the East Asian Studies department in McGill University.
Kings of social media
An often-cited reason for the group's growth in popularity stateside has been its prolific use of social media, from broadcasting live-streams on Naver's V Live service while on tour to keeping up a steady stream of selfies on their shared Twitter account.
The boys' use of social media signals broader changes taking hold in the K-pop industry, which has traditionally been dominated by larger entertainment companies like JYP Entertainment, YG Entertainment and SM Entertainment. The companies bring in hundreds of millions in revenue and have powerful backers: Alibaba bought a stake in SM in 2016 while the private equity arm of luxury company LVMH invested up to $80 million in YG back in 2014.
In comparison, BTS' management agency, Big Hit Entertainment, is a smaller outfit founded by the producer Bang Si-hyuk. The company made around US$30 million in revenue in 2016, according to local media.
But what Big Hit Entertainment initially lacked in financial firepower or influence within the K-pop ecosystem, it made up with a savvy use of social media.
"Making appearances on television shows is still the most reliable way to introduce new idols to the public, but Big Hit started to focus on social media and target foreign fans instead," explains Kim Suk-young, a professor at the University of California at Los Angeles, whose research covers Korean cultural studies.
The move ultimately paid off. BTS now has 11.4 million followers on Twitter, earning the group a Guinness World Record along the way for having the most Twitter engagements for a music act. The group recorded an average 252,231 retweets per tweet on the social media platform. By comparison, fellow K-pop boy band EXO recorded a lower amount of 78,185 engagements per tweet.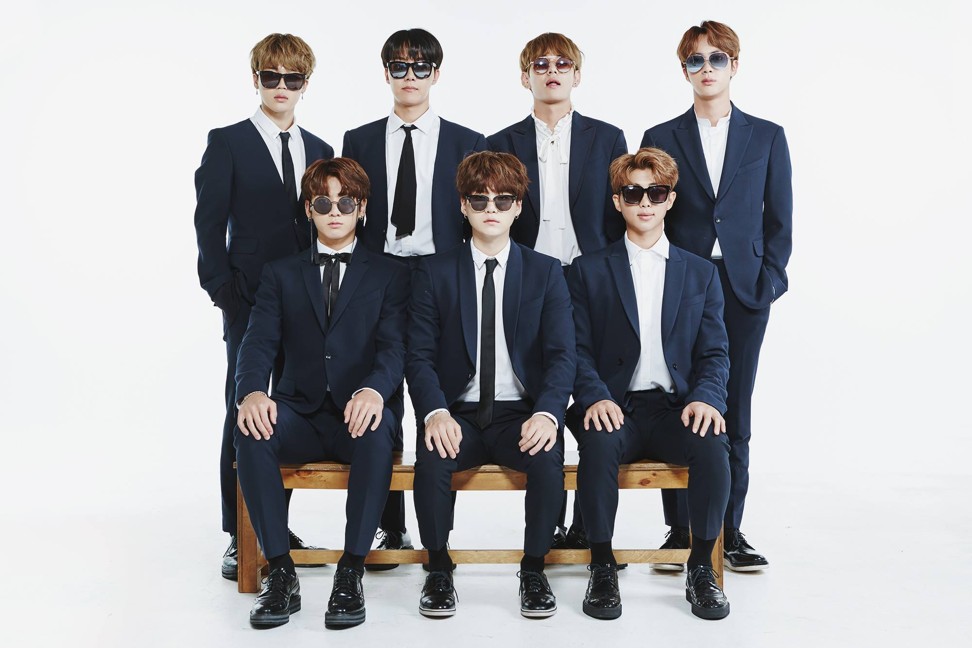 Tweet 1
The degree of frequent interaction on social media has allowed the group to "get closer" to its international fan base, Kim says. The issue of language barriers is easily solved thanks to the group's loyal fan base, officially called ARMY (or, Adorable Representative M.C. for Youth), who transcribe and translate content from the group so that fans who don't speak Korean can partake in them too.
The group's growing international recognition has also led to bigger things for Big Hit Entertainment. Following months of rumours, Bang said earlier last month that the company had discussed an initial public offering with its backers, although it had not ironed out specific details, including the size or timing of an IPO.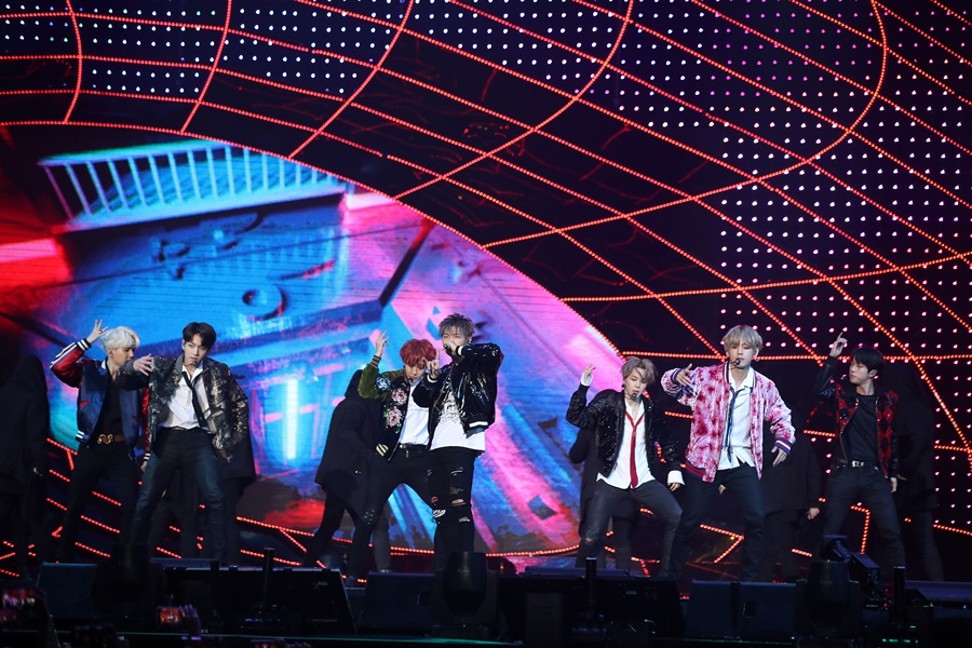 Authentic K-pop?
But what likely sets BTS apart from their contemporaries, who also have active social media followers, is the authenticity that act is associated with amid a genre that has been criticised for being overly-manufactured.
Acts such as the now-disbanded Wonder Girls, the first South Korean musicians to tour the US, had focused on the American market, but saw only lukewarm reception. The rapper Psy, meanwhile, gained mainstream recognition in the US on the back of his viral hit Gangnam Style, but was seen as somewhat of a novelty act stateside despite being a chart-topping musician in South Korea.
BTS, meanwhile, has focused on authenticity. Besides writing and producing most of their work, the group also touches on a myriad of social and political issues in their tracks, including mental health and the class divide, that others in the genre have shied away from.
The attempt to cultivate a sense of authenticity was also evident in the group's earlier years. In 2014, BTS spent time in Los Angeles so that they could boost their hip-hop credibility with the help of rappers Coolio and Warren G, an experience that was subsequently broadcast as a reality show.
The perception that BTS is artist-driven, rather than company-driven, validates the group and distinguishes it as separate from K-pop's associations as top-down and fake, Cho says. While it was "illusion more than reality" that Western artists are more attached to artistic autonomy, BTS' ability to convey authenticity has contributed to their appeal stateside, she adds.
The BTS ARMY
The group's devoted fans have also played a major role in the attempt to make the group a household name internationally.
More than half a million fans around the world turned up in 19 cities for the group's world tour last year. Earlier last year, US fans even launched a campaign that saw them ringing up local radio stations to lobby into playing the group's songs.
"The fans are part of the picture," says Gramophone Media CEO Eshy Gazit, whose public relations and management agency has helped to broker BTS' US media engagements. "I don't think there's any fan base anywhere [else] that is so committed and so diverse globally," he adds.
That degree of coordination seen among the group's US fans now also increasingly mirrors the level of support BTS receives back home.
"I've noticed how BTS fans outside [South] Korea are acting more … like their Korean counterparts: vocal, organised, fiercely loyal to, and protective of their idols … I believe we are at a juncture where the distinction between the two kinds of fandom will no longer hold clearly and BTS is brokering that change," Kim says.
Ahead
Although the group's CEO told Billboard earlier last year that an all-English song was unlikely, BTS has participated in a number of collaborations with US artists. Last year alone, the members in the group have worked with American rock band FallOut Boy, EDM-focused The Chainsmokers and rapper Wale.
That trend is likely to continue. Bang says that going forward, the group will remain "very active" in putting out new music that involved collaborations with musicians from around the world.
That is likely to make the group's fans happy and could also potentially lead the way for other international acts, including those from Asia, looking to make a breakthrough on a global level.
"I believed full-heartedly regardless of the status quo and the history, that it's time for music from South Korea, and from all over the world, to cross over to the US," Gazit says.

South Korean boy band performs hit tracks at Dick Clark's New Year's Rockin' Eve