Top 15 luxury red envelopes for Lunar New Year 2018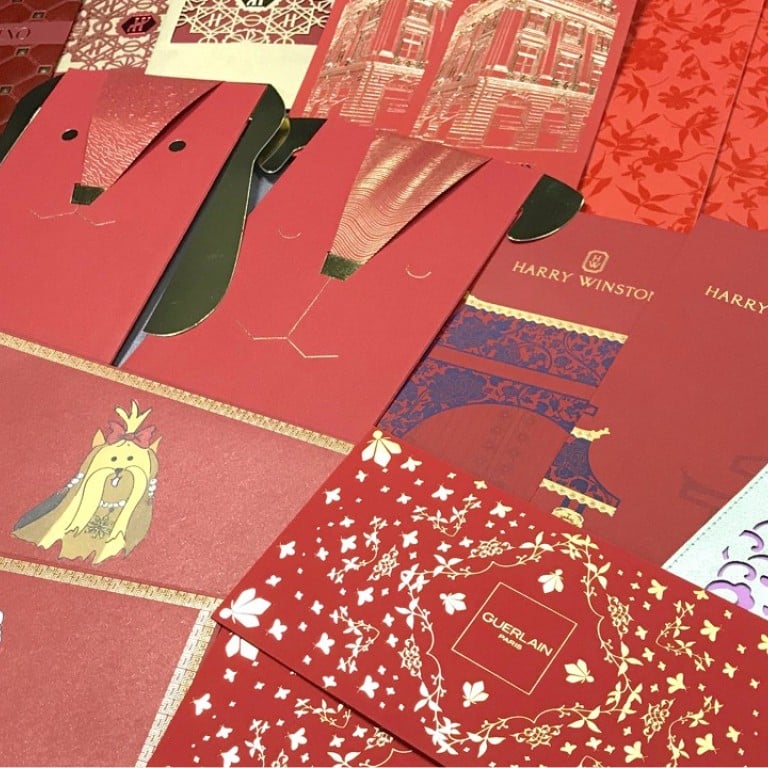 We are into February already and Lunar New Year will be here at the end of next week.
One of the things on your shopping list may be some lai see, or hong bao packets, but which ones should you choose?
Luckily, there are many high-quality, beautifully designed red envelopes from which to pick.
The editors at STYLE magazine have cast their eyes on many of the designs created this year to help you make your choice.
Here are our 15 favourites from among this year's offerings.
Happy Year of the Dog on February 16 – and may you receive lots of lai see inside some – or all – of these stylish red envelope offerings.
1. Hublot
The subtle, stencilled design of Swiss watchmaker Hublot's 2018 red-and-gold envelopes creates an elegant, multilayered look that gives these lai see packets a luxurious look. Exquisite.
2. Dolce & Gabbana
The Year of the Dog is well represented by eight breeds of adorably drawn dogs on luxury fashion brand Dolce & Gabbana's red envelopes. They are perfect for all those puppy-lovers out there.
3. Chloé
In keeping with a love of all things floral, the red envelopes of Chloé, the designer bag, clothes and fragrance company, feature beautiful red flowers printed using a glossy overlay, which gives them a classy, yet still festive feel.
4. IWC Schaffhausen
The Swiss watchmaker IWC Schaffhausen is committed to producing stunning lai see packets. Inside the box, you'll find eight high-quality envelopes, all adorned with its exquisite lucky Chinese knot and tassels. 
5. Harry Winston
The diamond, jewellery and luxury watch company Harry Winston is offering sets of three red envelopes, which together form a traditional Chinese gateway, which stays true to the timeless elegance of this luxury brand.
6. Valentino
With stunning paper embossing, luxury fashion house Valentino's red envelopes are designed to look and feel like one of its amazing quilted rockstud bags. Superb.
7. Boucheron
The lai see packets of Boucheron, the fine jewellery, luxury watch and perfume company, display the classic architecture of its traditional storefronts in gold, giving them an elegant, almost vintage quality.
8. Guerlain
Chic and polished, the French perfume, cosmetics and skincare house Guerlain's 2018 red envelopes have a beautiful stylish design. But what really attracts attention is the smooth, wonderful tactility of the paper it has used. It's a lovely touch.
9. Grand Hyatt Macau
The luxurious and not-really-red envelopes from the five-star hotel group, Grand Hyatt, really impressed us. From the non-traditional colours it has used to the charming stencil design in the pleather, these lai see packets stand out from the crowd.
10. Hermès
Much loved by STYLE's editors, each puppy-faced lai see packet from Hermès, the French luxury goods maker, can be customised with its own set of ears. 
This is definitely one of this year's cutest red-envelope sets!
11. Vacheron Constantin
Luxury Swiss watchmaker Vacheron Constantin wowed us with its intricately designed multilayered red and gold envelopes. 
The insert highlights the name of this Lunar New Year in Chinese, and pulls out to become the envelope. 
12. Times Square
Instead of using traditional red paper, Hong Kong's premier shopping destination, Times Square, impresses with a purple felt fabric envelope, designed with sophisticated gold embroidering.
13. Wynn Macau
The thick, high-quality red envelopes created by luxury international hotel chain Wynn are delightful to touch thanks to the fine etchings and detailing on the surface of the paper.
14. Fendi
We love the passion that has gone into luxury fashion house Fendi's packaging as much as we love the two offered Lunar New Year red envelopes. 
Take a look at the video above to see why! 
15. Tiffany & Co
Luxury American jeweller Tiffany & Co packages its pretty, gold-printed Lunar New Year red envelopes the way it packages its jewellery – in a gorgeous Tiffany Blue box. 

STYLE magazine editors choose their favourites among the stylish designs created by top brands such as Hermès, Hublot, Chloé and Dolce & Gabbana