6 lavish ways ultra-wealthy travellers say 'I love you'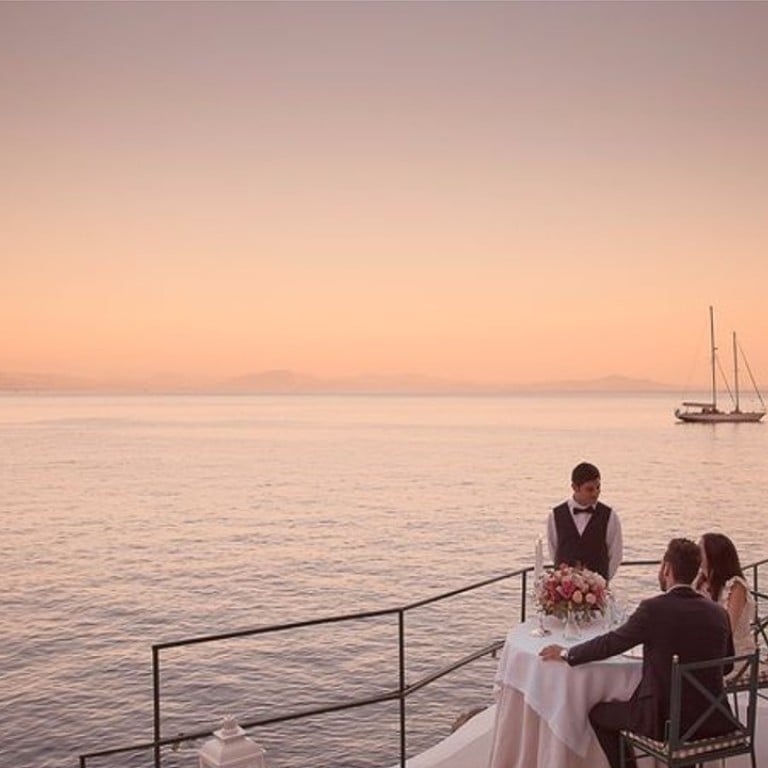 The Taj Mahal was built as a love letter.
Commissioned by the Mughal Emperor Shah Jahan in 1631 to honour his teenage bride, who had died in childbirth, its construction involved the work of 22,000 labourers and a thousand elephants.
The Indian monument still stands as perhaps the world's greatest display of affection.
To which we say, game on.
While today's ultra-wealthy may not be commissioning timeless monuments to show how much they love their spouses, they are producing extravagant epics in the form of over-the-top, hyper-personalised holidays.
In conversations with a half-dozen travel agents and celebrity-event producers who specialise in destination weddings, honeymoons and celebration trips, one thing became clear: you can create a private, romantic experience for your loved one anywhere under the sun – even in the Pope's private garden – if you're willing to pay for it.
"When you look at some of the great stuff being done in our industry, it's all about privatising something," says Harlan DeBell, who runs the award-winning, honeymoon-focused agency the Travel Siblings, with his sister, Kara.
(The company's tagline is: "Luxury travel for the fabulous.")
"Any museum or any store – it could be Louis Vuitton or Baccarat or the Musée d'Orsay, you name it – can be turned into a setting for a private dinner," he says.
"Literally anything is possible with money."
These types of experiences represent a nascent but fast-growing fraction of the business for such companies.
"Two years ago, I did two events like this," says Michelle Rago, founder of Michelle Rago Destinations, who has coordinated celebrations for actors Matt Damon and Jamie Foxx, among others.
"Last year, I did three.
"Now I'm working towards building a bigger presence in this arena."
She adds that it's a good way to build customer loyalty, too.
Jack Ezon, of Ovation Vacations, has been in this field for years.
His team even includes a "romance concierge" that brainstorms ultra-luxe, ultra-sweet surprises, full-time.
"It's almost always men planning for women," Ezon says with a chuckle.
"We're always grovelling for forgiveness."
Here we take a look at six boundary-pushing testaments to love, each tied to a special destination and occasion, showing that, in travel, the only limits to romance are your wallet and your imagination. 
1. Anniversary in Sistine Chapel
The serenity of Michaelangelo's Sistine Chapel, in The Vatican, is usually sullied by throngs of people elbowing you as you move through the tiny space.
By the time you get through the gilded gates, you probably won't have even noticed the stunning, geometrically tiled floor, which warrants nearly as much praise as the frescoed ceiling.
For a couple on the eve of their 40th wedding anniversary, Rago obtained a private viewing. 
"Faith is what binds them," Rago says of her clients, one of whom is a high-profile serial entrepreneur.
(Their identities are protected by a non-disclosure agreement, a common feature in deals with A-list celebrities and C-suite executives.)
It costs roughly €25,000 (US$30,800) to book the Sistine Chapel for a private, 30-minute visit.
The privilege includes a solo, guided tour of the Treasure Room (filled with papal outfits and jewellery) and the Room of Tears, where every new pope prays in the emotionally charged aftermath of a papal inauguration.
"Being alone in the Sistine Chapel when nobody else is there is incredible," Rago says.
"It's almost impossible to take it all in."
But the Room of Tears is what was most special to Rago's clients. "It's a very sacred room," she says.
"When you're standing in that space, and you realise that every pope has passed through that space in privacy – and there you are, alone, being afforded that same moment of reverence … it's pretty heady stuff."
Following that up with an indulgent meal at a trendy restaurant wouldn't have felt quite right.
Instead, the couple came off their holy high with a dinner for two in their hotel suite at the newly redone Hotel Eden, with views of Rome unfolding from their living room. Rago says: "This was just about being together."
2. A royal proposal, medieval-style
One secret weapon up the Travel Siblings' sleeve is Hélène Darroze, who runs a restaurant at London's venerated Connaught hotel.
"Something that not many people seem to know is that you can just tell her what you want – everything from a set menu to the cutlery and the china – and she will bring it just about anywhere in London," DeBell says.
For an Anglophile hedge-fund couple, that meant delivering the full set-up, plus décor by famed florist Larry Walshe, to Wakefield Tower in the Tower of London, where Henry III once lived.
Setting up the decoy was easy, he says.
"This couple was obsessed with everything British, but medieval history in particular," he says. So the bride-to-be was completely unsuspecting when her history-themed tour of London culminated in a visit to the Tower of London.
"She thought this was just another part of a private tour – and it really wasn't a stretch," he says.
The tour wove through various spaces – the St Thomas Tower, the Jewel House, and the grand White Tower – before leading to the oldest section of the monument, where a candlelit Champagne dinner was waiting.
"She walked into this beautiful floral space for a full, catered dinner and a special menu designed around all her favourite foods," DeBell says.
The ring came at the end – and was the one piece of the puzzle that the Travel Siblings didn't plan themselves. "I wouldn't be surprised if it was modelled after a Princess Diana ring," he jokes.
3. Surprise party of a lifetime
Sometimes, romantic gestures come when you least expect them.
For one New York power couple – he is a real estate investor and she is a fashion designer – it arrived on her 40th birthday.
They'd planned a trip to Ocean Club in the Bahamas (recently rebranded as a Four Seasons property), where they vacation regularly.
But the routine was broken when their private jet changed course and flew to a nearby island resort, Musha Cay. Arriving at the resort, owned by magician David Copperfield, was only the first surprise.
"She thought it was just her and her husband taking a vacation," Ezon, who planned the getaway, says.
But when they stepped off the plane, all these people were at the dock, screaming: "Surprise!"
It took her a couple of minutes to get over the shock and start recognising faces, says Ezon, but the crowd included family and friends from all walks of life, some of whom she hadn't seen in decades. "We flew people in from Atlanta, Los Angeles, and all over the place, including some of her oldest friends from elementary school that she never gets to see and some close friends that had recently moved across the country."
For four days, the group had the private run of the island resort. There was a treasure hunt with clues informed by the birthday girl's likes and dislikes, a game show riff on This is Your Life, "beach Olympics" featuring her favourite sports, meals by her favourite chef (who flew in for the occasion), and a film montage of well-wishes and memories from those there.
"The resort sprinkles magic into the experience in all sorts of ways," says Ezon, who adds that the personalised film played on a cinema screen that seemingly appeared out of nowhere.
"The whole weekend was about her," he says. "She was totally blown away."
4. Celebratory dinner with fireworks pairings
Usually, the core components of a romantic dinner include white tablecloth settings, candles, great wine and lots of butter.
But one of Ezon's clients wanted to take the common date idea above and beyond, to make it worthy of a milestone birthday.
The client, an accessories designer, chose Italy's Amalfi Coast as a destination. For the concept, Ezon put together a tasting menu at Palazzo Avino's beach club – which was shut down entirely for the couple – to be paired not only with wine, but with "wow moments" at every course.
"The first course started with violins playing their wedding song," recalls Ezon.
"Then there were fireworks with the entrées."
Topping a private pyrotechnic display was the problem, he says, but the answer came from someone else's book.
"I had an idea to recreate the 'fashion tea' programme at London's Berkeley hotel, where the petit four cakes are sculpted into things like diamond rings and stiletto heels," he says.
Out came a procession of 10 cakes, each representing a special moment in the couple's relationship. It started with an orange T-shirt, which he'd worn on their first date, to her long-lasting dismay. (It became a running joke.)
Then came blue dolphins, a subject of her many paintings. Then a Lion King theatre poster, a reference to the show they saw three times together; an elephant, from their honeymoon in Chiang Rai, Thailand; and a set of Mickey Mouse ears, nodding to her childlike obsession.
"The violins and the fireworks? That was easy. It was these meaningful, quirky things that really set this one apart," Ezon says.
5. A birthday fit for royalty
When clients have a particular passion, it's easy to build exclusive experiences around a theme. That is what Rago did for US real estate broker Wade Giles and entrepreneur Jeff Schab, both avid horseback riders (with a new, equestrian, tech start-up, to boot).
To celebrate Giles's 30th birthday, Rago planned the most over-the-top, equine day in London, where ponies and polo are part of the royal culture.
"It had to be more than just riding a horse in Hyde Park," she says. "It had to be super-sexy."
Rago first had the couple become members of the Riding Club of London, which opened up a host of exclusive benefits.
Through that network, she managed to get polo ponies to Hyde Park and deck the couple out in dressage gear for an unattended ride, at full-gallop, through tree-lined boulevards.
"The club has special relationships that they can leverage to make this happen," explains Rago, "but it's certainly not common – you have to have the riding experience to prove that you're not a liability."
From there, the couple got to go behind the scenes in the Hyde Park Barracks – to pet the queen's horses and meet the staff that care for them – before jumping into a helicopter and heading to the Guards Polo Academy in Coworth Park, created by Prince Philip, and home to the annual Queen's Cup.
"There, they got a private polo lesson from the former captain of the British national team and got tickets to a match, which they ended up missing because they were having too much fun shopping and having cocktails."
Eventually, they took a helicopter back to London (from the middle of the polo field) where a Rolls-Royce Phantom picked them up and took them to Gordon Ramsay's Pétrus for dinner, where Schab presented his then-boyfriend with his first Rolex. (The couple are now married.)
"It was very detailed and hyped-up," says Rago. "I don't know how you come down from there."
6. A proposal to make the Mona Lisa smile
While the Travel Siblings have privatised many a venue, none was grander than the Louvre, in Paris, which accepts the hiring of certain spaces after the museum has closed to the public.
For this particular power couple, DeBell negotiated the Denon Wing, home to the museum's most iconic masterwork, the M ona Lisa.
The duo, a hedge funder and a real estate attorney from New York, had cited Leonardo da Vinci's painting as their favourite painting.
Dinner came courtesy of the Ritz Paris – the main course was a lavish chicken from Bresse cooked in a pastry-sealed cocotte – and culminated with the groom on one knee, 5ct Cartier Cathedral pave ring in hand.
The bride, of course, agreed.
DeBell says: "In that moment, we'd like to think the M ona Lisa finally smiled."
Want more stories like this? Sign up  here. Follow STYLE on  Facebook,  Instagram and  Twitter

Elite travel agents reveal some luxurious romantic requests – such as booking the Tower of London – where 'literally anything is possible with money'