10 of Hong Kong actor Leslie Cheung's most memorable films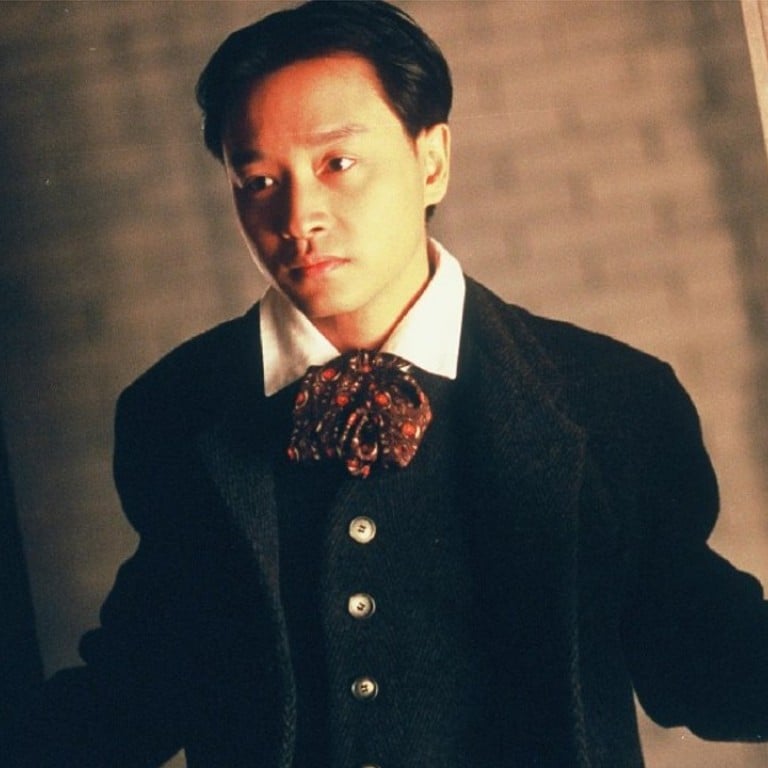 Fifteen years ago, hugely popular teenage heart-throb Leslie Cheung Kwok-wing shocked Hong Kong when he leapt to his death. Nicknamed "Gor Gor", and considered one of the founding fathers of Canto-pop, Cheung, who suffered from depression, committed suicide at the age of 46 on April 1, 2003.  
To mark the 15th anniversary of his death, we take a look at his 10 most iconic films.
1. Rouge (1988)
This award-winning film directed by Stanley Kwan is about the ghost of a dead woman, played by singer Anita Mui, looking to reunite in the afterlife with her lover (Cheung), whom she believed committed suicide with her. 
The film won six Hong Kong Film Awards, including prizes for best actress, director, film, screenplay, film editing and original score. 
2. Days of Being Wild (1990)
In 1989, Cheung announced his retirement as a singer so that he could focus on his acting career.
Cheung, playing the role of a brash playboy, collaborated with director Wong Kar-wai for the first time while making this film, which claimed the honours of best actor, director, film, cinematography and art direction at the 1991 Hong Kong Film Awards. 
3. Happy Together (1997)
Cheung once again worked with Wong, the Shanghai-born, Hong Kong-based director, to make a romantic, gay-themed film. It depicts the tortured, homosexual love between Cheung and Tony Leung Chiu-wai in Buenos Aires, Argentina. Wong won the award of best director at the 1997 Cannes Film Festival, while Leung was named best actor at the 1998 Hong Kong Film Awards. 
4. Farewell My Concubine (1993) 
Directed by Chen Kaige, the Oscar-nominated film focuses on an epic love story between two male Peking Opera singers and a prostitute. 
Farewell My Concubine gained 1994 Academy Award nominations for best cinematography and foreign language film and became the first Chinese film to win the coveted Palme d'Or at the 1993 Cannes Film Festival. 
Cheung stars the Opera singer, Cheng Dieyi, who – left heartbroken by his relationship with his friend and colleague in the troupe – kills himself at the end of the film. 
5. All's Well, Ends Well (1992) 
The Lunar New Year blockbuster is a family-friendly romantic comedy about three Shang brothers and the women in their lives. 
Cheung co-starred with Stephen Chow, Teresa Mo and Maggie Cheung in the hit film, which earned more than HK$48 million (about US$6 million) at the box office. 
6. The Bride with White Hair (1993) 
Based on a novel by Leung Yu-sang, Ronnie Yu's martial arts film, set during the Ming dynasty (1368–1644 ), focuses on the doomed love affair between a young swordsman (Cheung) and a strange mountain woman (Brigitte Lin) raised by wolves. 
Cheung won best original song award for the film's theme song, Red Cheek, White Hair, at the 30th Golden Horse Film Festival. 
7. He's a Woman, She's a Man (1994)
This gender-bending, three-way love story, with a dash of contemporary romance, stars Anita Yuen, Carina Lau and Cheung. 
Yuen went on to win best actress, while Cheung won best original song for Chase, featured in the film,  at the 1995's 14th Hong Kong Film Awards.
8. Ashes of Time (1994)
The film, again directed by the actor's frequent collaborator, Wong Kar-wai, is a martial arts masterpiece focusing on the life of a cynical and lovelorn swordsman Ouyang Feng, played by Cheung. 
The film won numerous awards at the 1995 Hong Kong Film Awards, along with the award for best cinematography at the 1994 Venice Film Festival. 
9. The Phantom Lover (1995) 
Set in the dilapidated theatre on the outskirts of Beijing near 1937, this operatic melodrama, directed by Ronnie Yu,, features the story of vengeance and troubled love between Song Dan-ping (Cheung) and Yunyan (Wu Chien-lien). 
Cheung continued his passion for music by composing all three songs used in this film, which earned him nominations for best original song at both the 1995 Golden Horse Film Festival and 1996 Hong Kong Film Awards. 
10. Inner Senses (2002)
Cheung's final film appearance sees him star as a psychiatrist treating an emotionally damaged young patient played by Karena Lam. 
Want more stories like this? Sign up  here. Follow STYLE on  Facebook,  Instagram and  Twitter

In the lead-up to the anniversary of the style icon's death at the age of 46 on April 1, 2003, we round up his best big-screen performances