Saudi Prince meets Google executives Sergey Brin and Sundar Pichai in Silicon Valley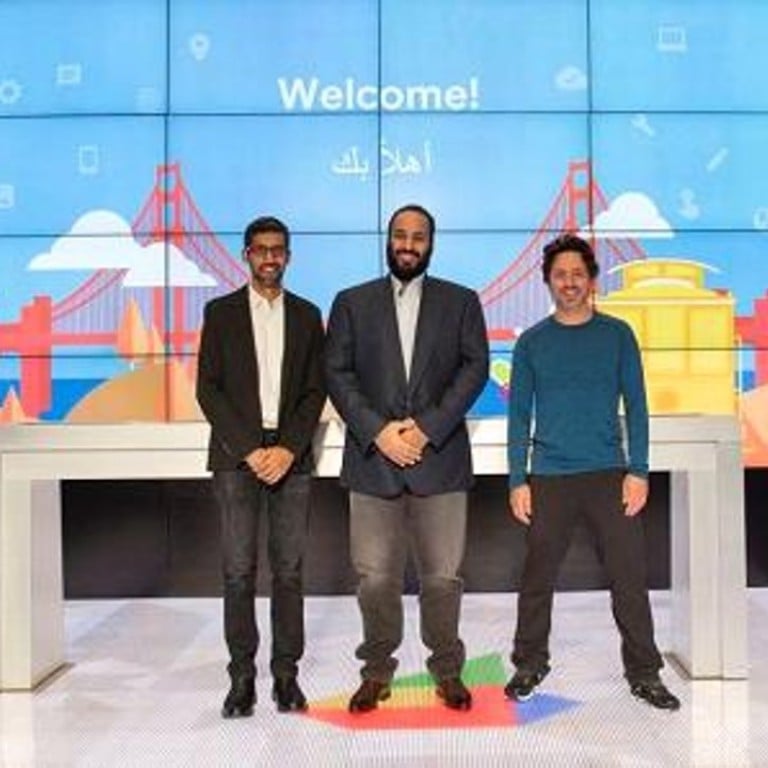 Pics or it didn't happen.
The Saudi Crown Prince Mohammed bin Salman met a host of Silicon Valley technology company executives while in the United States last week, including Google co-founder Sergey Brin, Magic Leap CEO Rony Abovitz, and Virgin founder Richard Branson, photographs reveal. 
Widely known as "MBS", the prince stopped off at Google's headquarters in Mountain View, California, to rub shoulders with a handful of company leaders. 
The prince was pictured shaking hands with Hiroshi Lockheimer, the Google senior vice-president, who runs Android, Chrome, and other platforms, while CEO Sundar Pichai, Google's vice-president of technical infrastructure, Urs Hölzle, and leader of Google's cloud business, Diane Greene, appear in the background. 
He also met Sergey Brin, Google's co-founder and president of parent company Alphabet. They discussed cloud computing and the establishment of a research and development centre for Saudi youth, according to an Arabian news publication. 
The chief executive of the world's largest energy company, Saudi Aramco, told CNBC last month that his company wanted to team up with the likes of Amazon and Google to build a technology hub in the kingdom.
There is no word on whether Google's other co-founder, Larry Page, showed up.
The Prince also met Rony Abovitz, CEO of augmented reality company Magic Leap.
The prince also apparently got his own demonstration of the extremely secretive product.
He also stopped to chat with Virgin Group's Richard Branson and met Apple's CEO Tim Cook.
While he may have received a warm reception from these technology leaders, not everyone was happy about the prince's visit.
Earlier last week, people protested outside the Four Seasons Hotel where he was staying, arguing that Silicon Valley should not establish any kind of partnership with the prince until Saudi Arabia ended its military intervention in Yemen. 
Although the prince is known for being progressive, Saudi Arabia's government is still also known for being generally repressive,  with laws punishing homosexuality and preventing women from travelling without the permission of men.
Want more stories like this? Sign up  here. Follow STYLE on  Facebook,  Instagram and  Twitter

Prince, keen to set up tech hub in his kingdom, also held talks with Apple's Tim Cook, Magic Leap's Rony Abovitz and Virgin's Richard Branson during US trip