Jackson Wang is a man of the world. The 24-year-old singer-songwriter was born in Hong Kong. He honed his skills in South Korea and is now based in China.
Wang, as a member of K-pop boy group Got7, is among the many Chinese young artists tapped by South Korean entertainment firms hoping to expand into the Chinese market. The star is fluent in English, Cantonese, Mandarin, Shanghainese, Japanese and Korean.
Before joining showbiz, Wang was an avid fencing athlete and was a sabre fencer for Hong Kong's fencing team. After passing a music audition organised by JYP Entertainment in 2011, he moved to Seoul to pursue a career in K-pop.
Wang was invited by Italian luxury fashion brand Fendi to create a song that would resonate with his millennial following and give the brand a youthful vibe. The song, titled FendiMan, was unveiled last Friday in Shanghai at the FF Reloaded Party and quickly became No.1 on the iTunes US Pop Chart.
K-pop boy band EXO inspires terminally ill fan to publish novels
The event, which took place in underground club Arkham – located 10 metres beneath Sunken Plaza – attracted Shanghai's young fashionistas. Local hip-hop artists and DJs such as DJ Wordy, Miss Vava and Higher Brothers performed on stage. The party was also attended by Silvia Venturini Fendi, the brand's creative director for Men's, Accessories and Kids Collections, and Fendi's newly appointed CEO and chairman, Serge Brunschwig.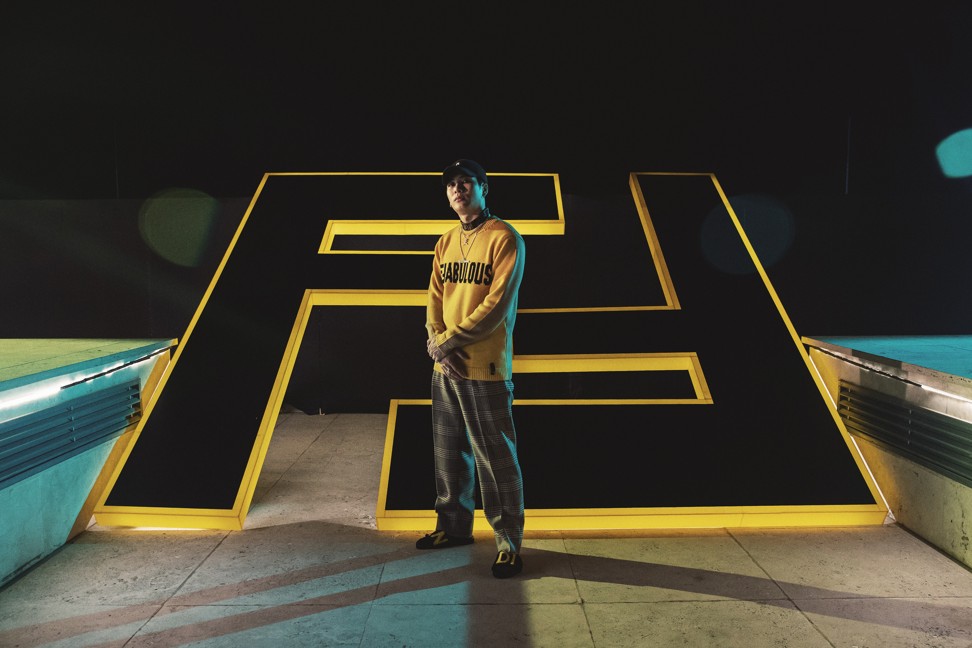 The party was held to plug Fendi's FF Reloaded collection, which features garments and accessories covered with the brand's iconic "FF" logo. The logo was first designed by Karl Lagerfeld in 1965 and has evolved through the years. Fendi collaborated with JD.com's Toplife platform to sell the capsule collection. The collection was also sold via the brand's own WeChat platform. We asked the star about music and lifestyle.
5 Chinese stars who first found fame in K-pop
What is the definition of a Fendi man and how did you compose the song?
"FendiMan" is a word I created. It represents a fearless spirit that respects differences. The millennials have the same view as each one of us is a unique individual who is irreplaceable, which also echoes the spirit of the brand. I believe that a person's history and background does not decide if he or she can succeed. It is whether the person has persistence and determination. I created FendiMan with this in mind.
You were born and raised in Hong Kong. How did this shape the way you approach music? Are you influenced by local celebrities and fashionistas?
Artists from all over the world have had a lot of positive influence on me. Their works always inspire me.
You're fluent in many languages and you also sing in English. How has this multilingual and international background helped your career as a pop singer making your mark on the international stage?
My background and ability [combined together] helps me understand the cultures of different countries. It allows me to better understand music in different languages and the meaning behind. It also broadens my perspective when creating music.
Why did you pursue a career in music, in particular hip hop?
I have listened to different kinds of music since I was young. Among all the music genres, I think hip hop is the most resonant form of music which can stimulate my creative inspiration. I remember the first piece of music I created when I was young was a rap song.
Although many viewers and fans may have come to know me from variety shows, I would like to stress that music is my dream and I have insisted on creating my own music. I believe my persistence in [realising] my dream is one of the spirits of hip hop music.
What's hot in Korea: top K-pop, K-drama and Netflix news from April
Fendi is all about high-end luxury fashion, while K-pop embraces street fashion. How do you bridge the gap? How would you describe your own personal style?
Fashion and music are a part of culture. Nowadays, luxury brands and music influence our lifestyles. Hip hop and K-pop are becoming popular, so the integration between fashion and music is natural and logical.
I like to wear simple and comfortable clothes without too many fancy elements. I like accessories and I have designed some. I like to mix and match, and I like wearing black. My style is to wear something simple with only one [outstanding feature]. It's important to find out what suits you the best instead of wearing everything that's trendy.
Want more stories like this? Sign up here. Follow STYLE on Facebook, Instagram and Twitter