So, Prince Harry is officially off the market – but do not despair. There are still plenty of eligible young princes out there to steal your hearts.
One such bachelor is Prince Constantine-Alexios of Greece and Denmark or "Tino" to his friends. Alexios is 19-years-old and enrolled in Georgetown University in Washington D.C.
Since the Greek monarchy was abolished in 1973, Alexios' role is titular only. He does, however, know how to live like a royal.
Baker promises 'ethereal' taste and unusual look to royal wedding cake
On Instagram, he has garnered almost 100,000 followers who keep up with his lavish lifestyle – featuring luxury holidays, impressive artwork and hunting exploits.
Despite being born in New York, Alexios was raised in England when his family relocated and attended Wellington College in Berkshire.
Scroll down for a look into the life of one of the world's most eligible bachelors.
Meet 19-year-old Prince Constantine-Alexios of Greece, born in New York City, October 29, 1998.
Alexios' family are close to the British royals. Here, the newborn prince is with his godfather Prince William.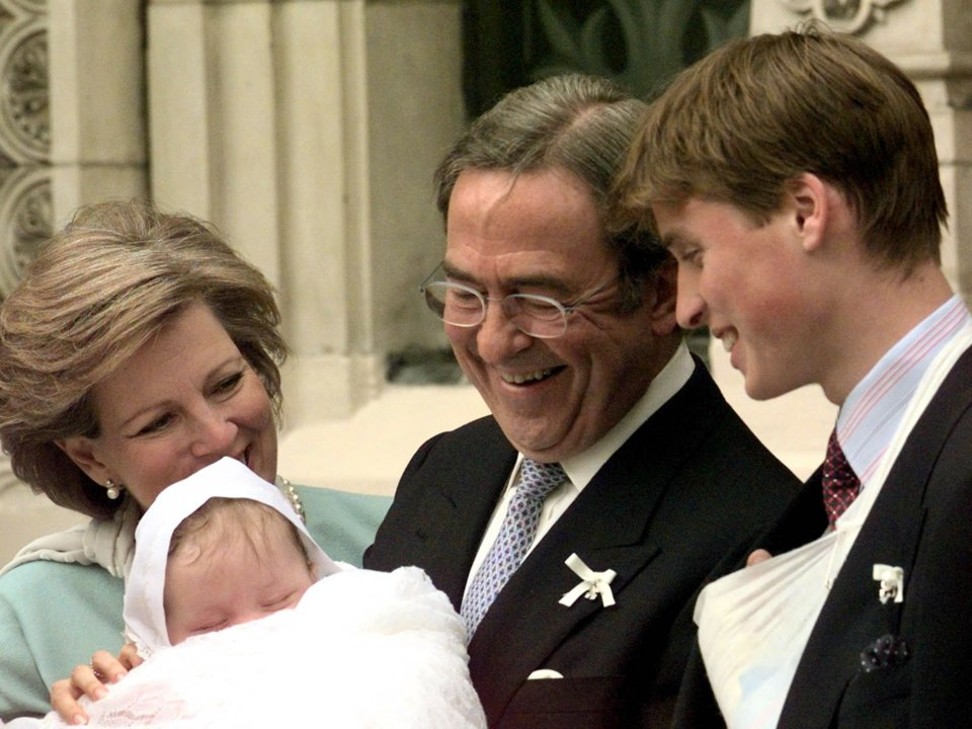 Sixteen-year-old Prince William attended the christening of his new godson at the Greek Orthodox Cathedral of St Sophia in London in 1999.
Prince Alexios' grandfather, King Constantine, is a close friend and second cousin of Prince Charles — he is also Prince William's godfather.
Here, Alexios is graduating from Wellington College with his friends ...
Get up to date on Meghan Markle and Prince Harry's royal wedding
His father Pavlos, Crown Prince of Greece, looked proud. Wellington College has produced alums such as George Orwell and racing driver James Hunt. The fees start at £9,310 (US$12,470) for day pupils.
Alexios is the son of Crown Princess Marie-Chantal of Greece and Crown Prince Pavlos of Greece. His grandfather is Constantine II, the last king of Greece.
Meghan Markle: fashionista facing a royal makeover
The Greek monarchy was abolished in 1973 after a constitutional referendum ruled overwhelmingly in favour of a republic.
The young prince likes to spend time with his royal siblings, 21-year-old Princess Maria-Olympia and 17-year-old Prince Achileas-Andreas. Here they are being photographed for Paper magazine.

His sister Maria, who has modelled for Vogue and walked the catwalk for Dolce & Gabbana, also has a large following on social media. Here she is catching a piggyback from her younger brother.
US$1 billion cruise ship with racetrack aims to dethrone rivals
Alexios celebrated his 18th birthday as not many teenagers could, with a Day of the Dead themed party at Albert's private members club in Chelsea ...

Membership at Albert's costs a princely £650 per annum, plus a £250 joining fee. Alexios wore a bespoke Joshua Kane jacket to the party.

Judging by his mother's Instagram page, it looks like he received a pretty special 18th birthday present.
Who is Meghan Markle? Meet the American divorcee set to be a British royal
Royal birthdays are always well-attended. At their sister's 21st, Alexios and Achileus managed to steal a kiss from celebrity heiress Paris Hilton. Alexios captioned the moment "Greek sandwich".

Here he is posing for a family photo before starting his freshman year at Georgetown University, Washington D.C. His father also studied at Georgetown, gaining a master's degree in international relations and economics.
What will Meghan wear? Royal wedding dress a top UK secret
Alexios attends Georgetown with his sister's socialite friend Talita von Fürstenberg (right) — who's also his cousin. They have the "college yell", Hoya Saxa, painted on their cheeks.
When he is not studying Alexios likes to travel the world in style. With his finals done, he is currently chilling out on Harbour Island in the Bahamas...
8 of the biggest 21st century royal weddings
It's not the first time he has been there. In 2016, he and his friends found a plane abandoned in the ocean. "Put it in rice?" the caption reads.
At the opposite end of the weather spectrum, Alexios posts lots of photos from hunting trips in Yorkshire — draped in tweed, of course ...
It looks like all the men of the family get involved.
He is also clearly artistic. Here he is putting the finishing touches to a charcoal drawing from a studio in London ...
He is handy with a brush too.
He can also turn his hand to musical instruments like the piano ...
... or the guitar.
Whatever hobby the young royal chooses to pursue, be it horse riding ...
... painting ...
... diving ...
... or shooting ...
... it's safe to say he'll remain a favourite for those hoping to bag a royal bachelor.

Want more stories like this? Sign up here. Follow STYLE on Facebook, Instagram and Twitter
This article originally appeared on Business Insider.
[Insert text here]