Some people speculate that America's First Lady Melania Trump uses her outfits to make subtle (or not so subtle) statements about her husband, US President Donald Trump's administration.
Omarosa Manigault Newman wrote in Unhinged: An Insider's Account of the Trump White House, that she believes Melania Trump uses style to "punish" her husband.
But others simply admire her "streamlined glamour", as designer Michael Kors has described her style.
First ladies' outfits are not paid for by taxpayers, and designers often offer to dress them for free.
Still, some pieces she has worn are available to buy, even if they are not exactly affordable.
Here are 14 of the first lady's most expensive looks – with number one being priceless.
Orchid named after US first lady Melania Trump wins award
14. Manolo Blahnik heels – US$625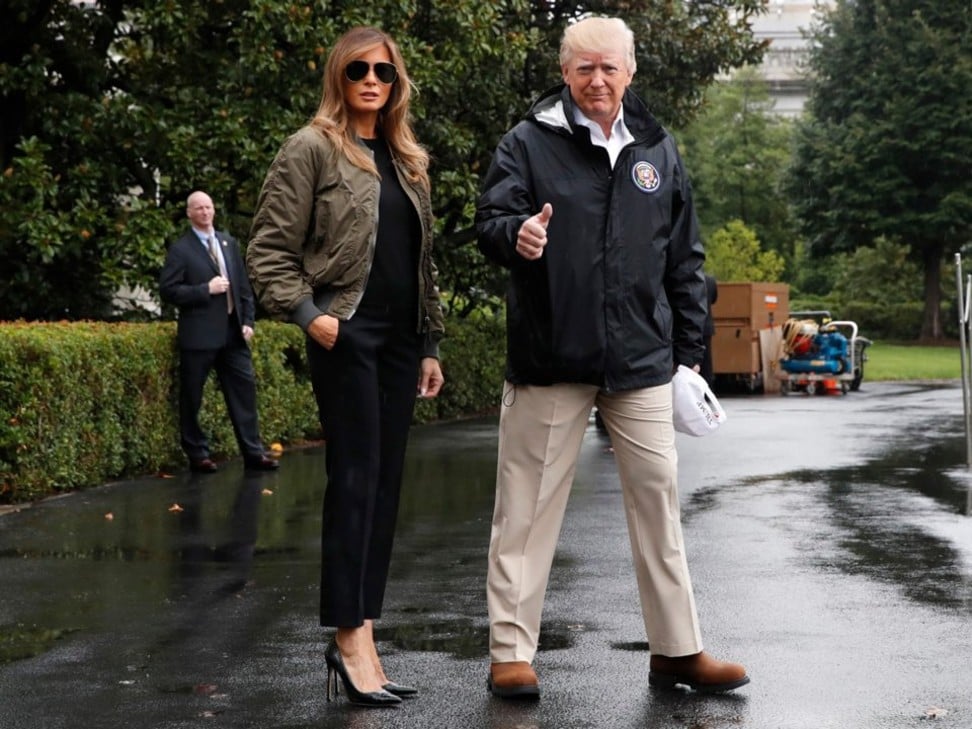 The First Lady was criticised for seeming to be out of touch by wearing expensive designer heels to visit the site of a natural disaster.
The Manolo Blahnik shoes retail for US$625 at Neiman Marcus, but are currently sold out.
By the time she disembarked in Texas, she had changed into trainers.
13. Balmain button-down shirt – US$690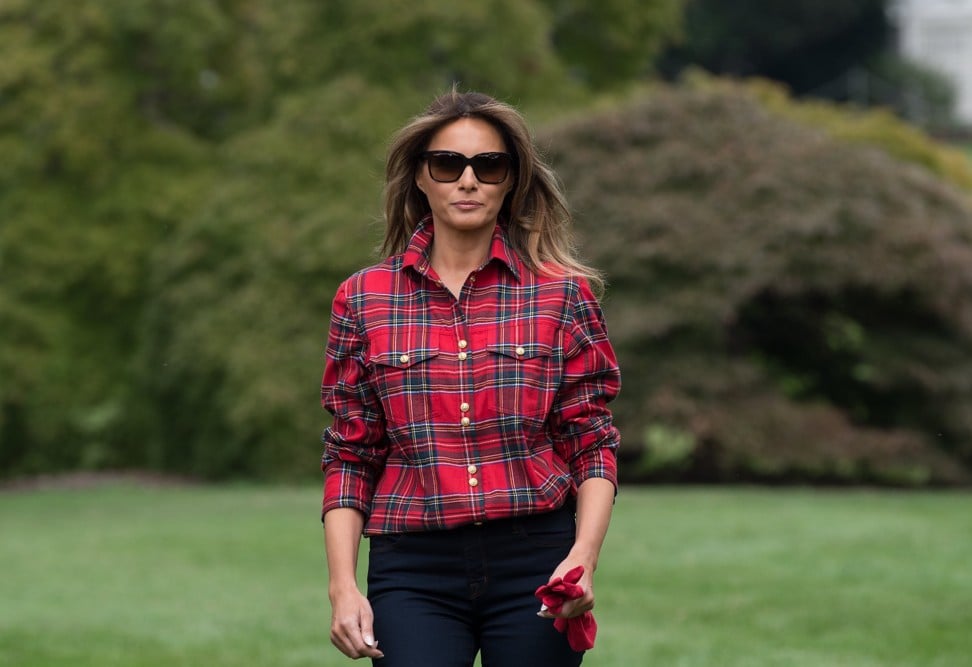 Trump welcomed the Boys and Girls Club of Washington into the White House kitchen garden dressed in a tartan cotton button-down shirt.
It's available on Net-a-Porter for US$690.
Her outfit garnered comparisons to Michelle Obama's less expensive J. Crew-based gardening outfits that included a US$29.50 shirt and a US$228 jacket.
12. Gucci blouse – US$1,100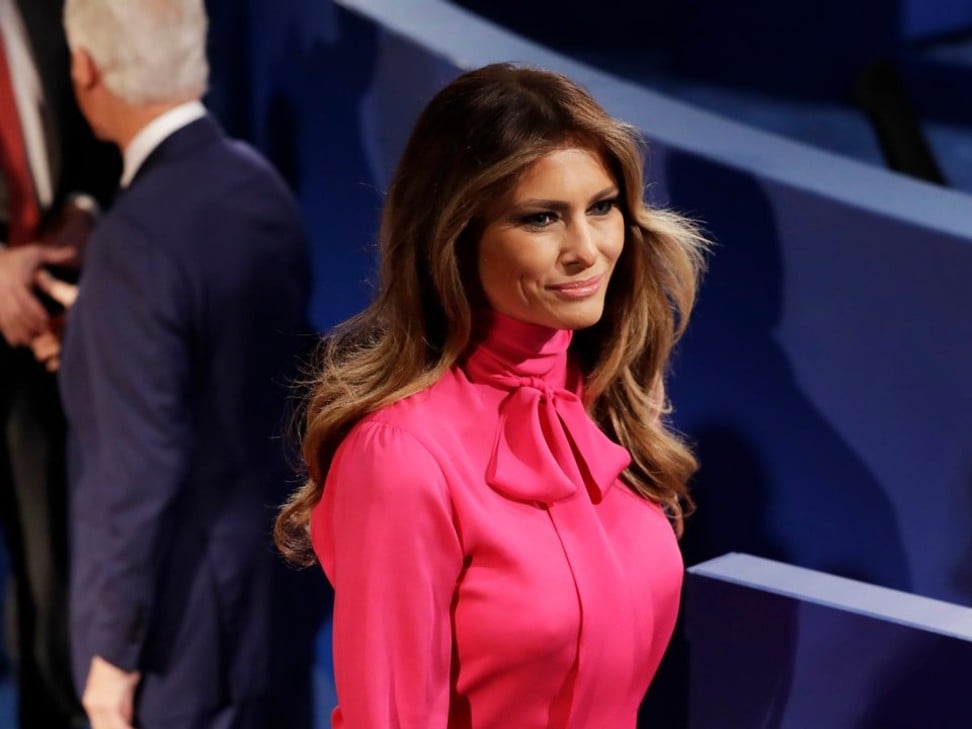 Trump wore a pink Gucci pussy bow blouse to the second presidential debate.
Many people wondered if the style choice was related to audio of Donald Trump remarking that he could "grab" women "by the pussy" because "when you're a star they let you do it" that had leaked a few days earlier.
A campaign spokeswoman said that the similarity was not intentional according to a tweet by Sopan Deb, then of CBS News.
The blouse retails for US$1,100 on Net-a-Porter.
11. Roksanda dress – US$2,865

For her speech at the 2016 Republican National Convention, Trump wore a white Roksanda "Margot" dress which is advertised as "a beautiful option for the modern bride" with US$675 Christian Louboutin heels.
The dress sold out less than an hour after her speech.
It currently retails on Net-a-Porter for US$1,646.10, but 2016 reports price the dress at US$2,190.
20 facts about Melania Trump: why she is unlike other US first ladies
10. Delpozo dress – US$2,950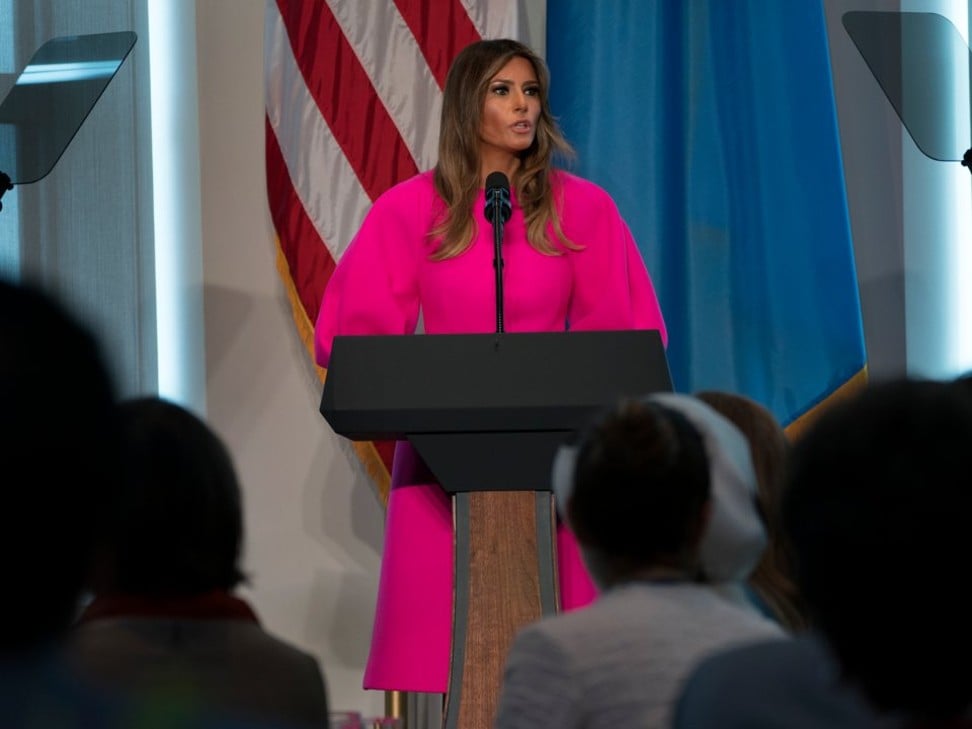 Trump spoke to the United Nations about cyberbullying, but people could not stop talking about her US$2,950 hot pink Delpozo dress with voluminous sleeves.
Business Insider's Kate Taylor wrote that her choice of dress revealed her lack of public speaking experience since the dress did not appear oversized from a distance, but was ill-suited for speaking behind a podium.
9. Michael Kors jacket and Christian Louboutin heels – US$2,970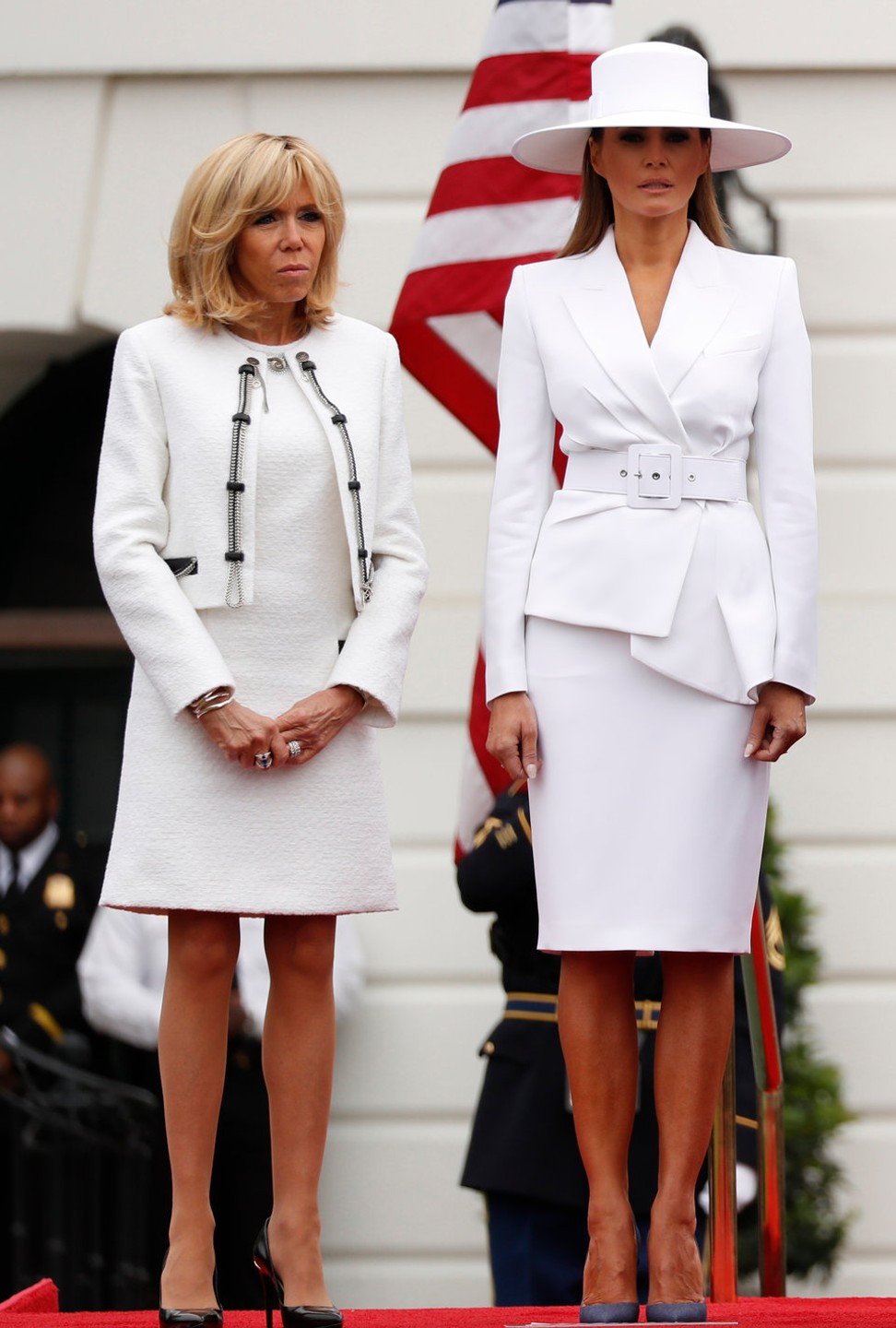 Both Trump and Brigitte Macron, the French first lady, wore white outfits on President Emmanuel Macron's visit to Washington. It's not the first time they've dressed alike.
Aside from the Michael Kors jacket costing US$2,195, Trump wore a Hervé Pierre hat and US$775 Christian Louboutin heels.
8. Gucci coat – US$3,701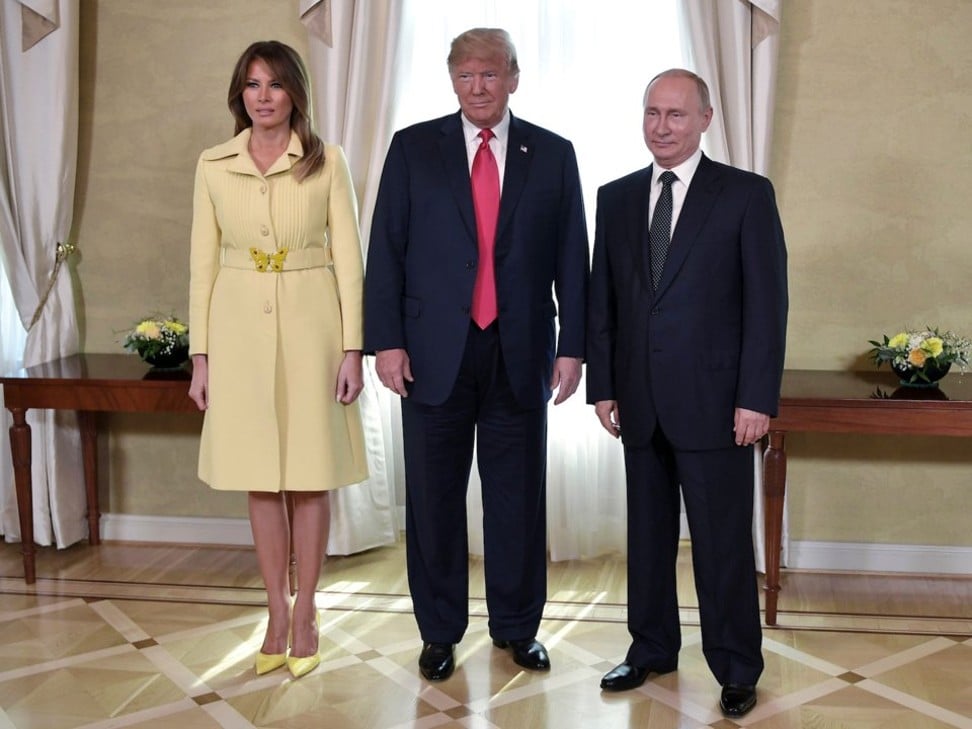 Trump wore a pale yellow coat with a butterfly detail belt to the summit in Helsinki where President Trump met President Vladimir Putin of Russia.
The coat, made by Gucci, is on sale on e-tailer Farfetch's website for US$3,701.
7. Isoude coat – US$3,995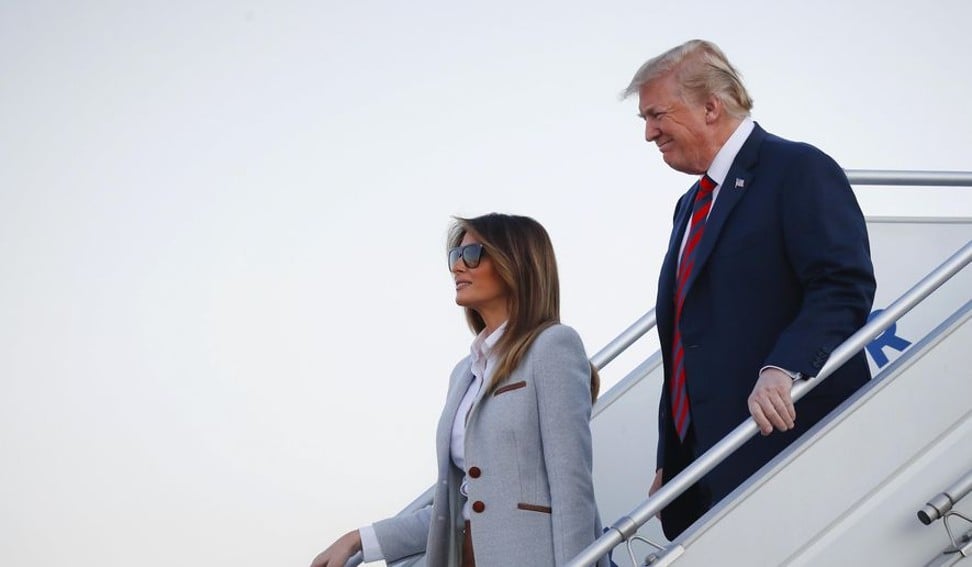 Trump walked down the steps of Air Force One in Helsinki, Finland, in an Isuode driving coat with leather details, which costs US$3,995.
6. J. Mendel dress – US$6,990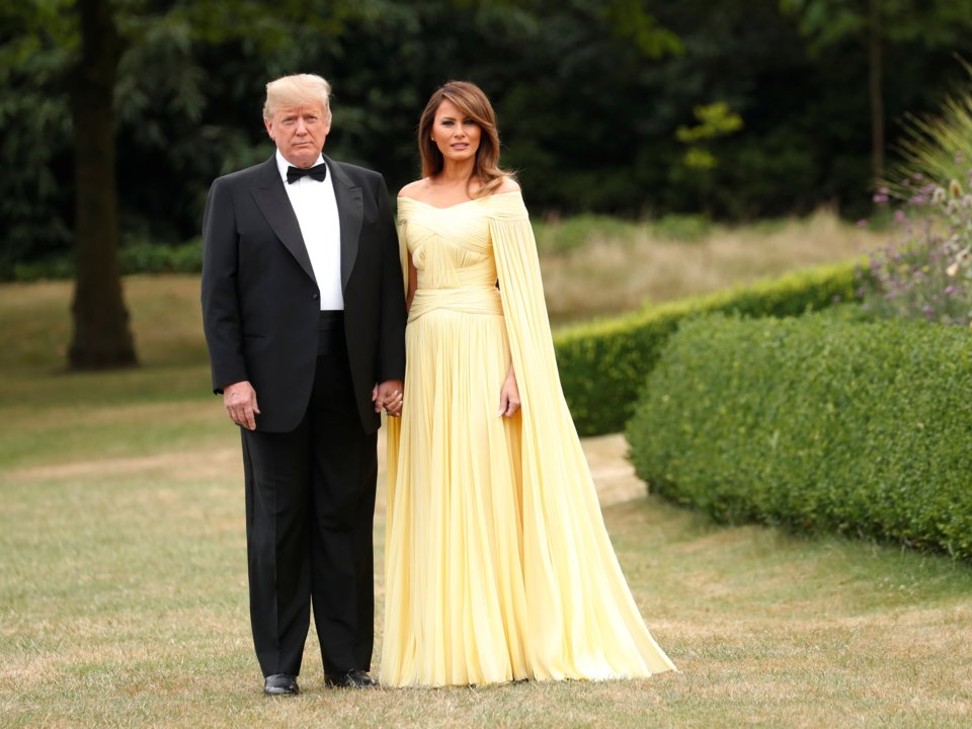 After the backlash of Trump's "I really don't care, do u?" jacket, which she wore on a visit to Texas to visit immigrant children (her spokeswoman said "There's no hidden message"), she opted for a pale yellow pleated chiffon dress from J. Mendel during her and President Trump's first official visit to the UK.
The gown is no longer available, but was priced at US$6,990, according to USA TODAY.
5. Monique Lhuillier dress – US$7,995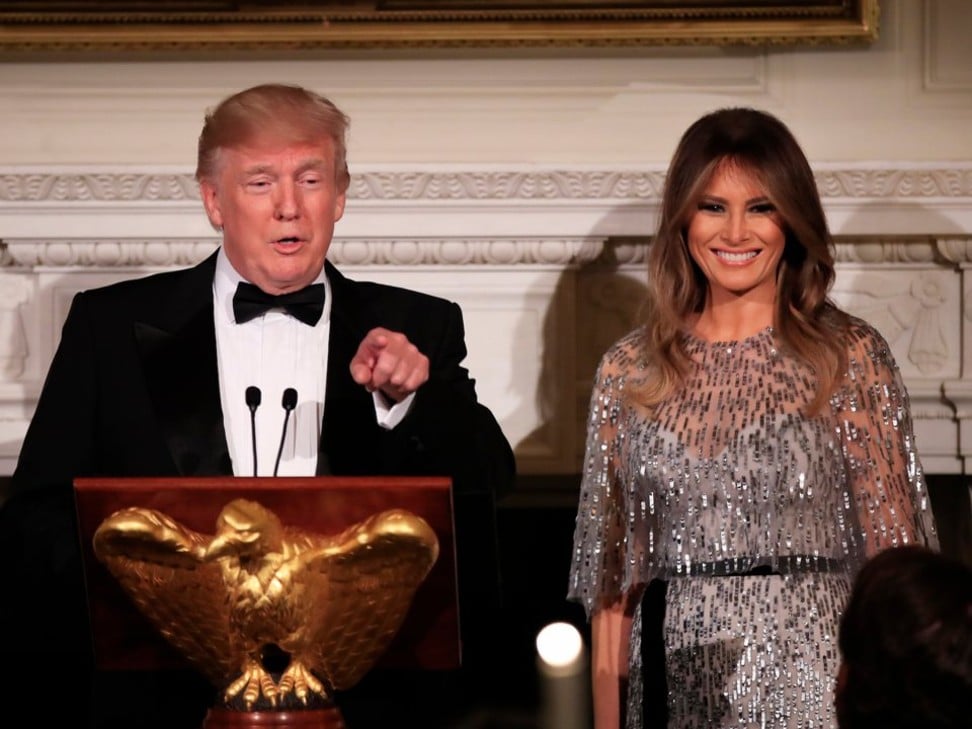 The first lady welcomed The White House Historical Society dressed in a sparkling Monique Lhuillier gown. It is no longer available from Bergdorf Goodman, where it retailed for US$7,995.
Melania Trump has finally found her fashion sweet spot
4. Michael Kors jacket and skirt – US$9,590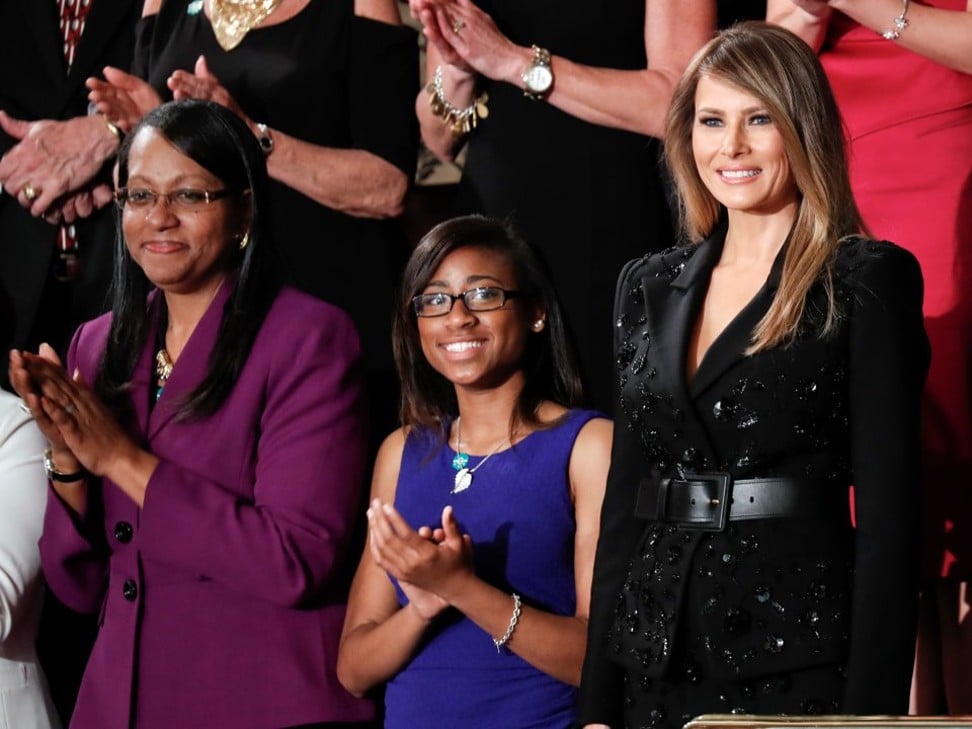 Trump wore an embroidered Michael Kors jacket and skirt ensemble for a joint session of Congress. The dinner jacket retails for US$4,995 and the skirt for US$4,595.
When some people criticised the look as being too flashy for the event, Kors released a statement to Vanity Fair: "Mrs Trump has been a long time client at our New York boutique.
"She has a keen understanding of what works best for her and her lifestyle.
"My embroidered black suit reflects the streamlined glamour that she is known for."
3. Bally trousers, Manolo Blahnik heels, Hermès Birkin bag – US$14,170
Trump wore US$575 Bally wide-legged trousers and US$595 Manolo Blahnik heels when she moved into the White House in 2017 with her son Barron.
She also carried a Hermès Birkin bag with an estimated cost of US$13,000.
2. Dolce & Gabbana jacket – US$51,500
Melania Trump wore a US$51,500 Dolce & Gabbana jacket to meet the spouses of world leaders at the G7 summit in Italy.
Purchasing the floral multicoloured jacket requires a US$25,750 deposit.
The full cost of the jacket is more than most Americans earn in a year.
Six signature ways China's first lady fashions diplomacy
1. Custom Hervé Pierre gown – priceless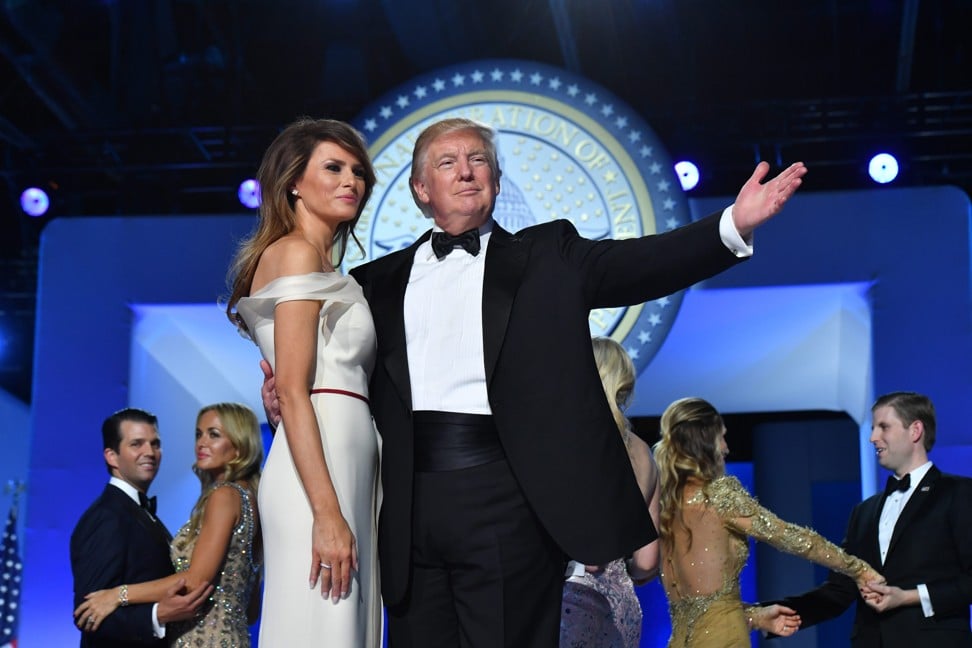 For the night after the inauguration, Trump worked with designer Hervé Pierre to create a custom-made dress.
"When sitting down with Hervé to discuss her vision, the first lady knew she wanted a modern, light, unique and unexpected look," Stephanie Grisham, the first lady's press secretary and communications director, told CNN.
Such custom creations for inaugural balls are priceless.
Trump donated her gown to the Smithsonian's First Ladies Collection exhibit at the National Museum of American History.
Want more stories like this? Sign up here. Follow STYLE on Facebook, Instagram and Twitter
This article originally appeared on Business Insider.