What does birthday-girl Beyoncé buy with her US$355 million fortune?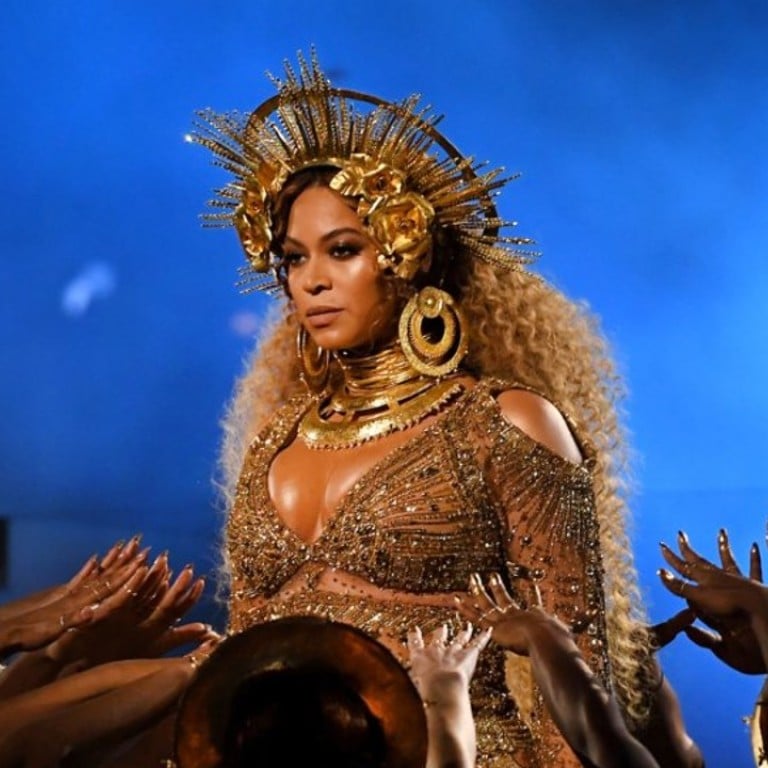 The American singer-actress Beyoncé Knowles-Carter – better known simply as Beyoncé – has serious goals.
Not only does she have killer looks and a voice to match, she is also one-half of a power couple, dominates the music industry and embodies female empowerment.
It also does not hurt that she has an estimated net worth of US$355 million, according to Forbes magazine.
And after working hard to build that wealth, she knows how to spend it.
Queen Bey, as her fans love to call her – who celebrates her 37th birthday today – is known to indulge in multimillion-dollar mansions, luxurious holidays and yachting adventures and beauty treatments.
She is also excellent at giving people gifts: she bought her rapper husband Jay-Z a private jet and a car, and gave her daughter Blue Ivy a doll worth a five-figure sum on her birthday.
Beyoncé also spreads her wealth beyond her family, donating it far and wide, including to victims of natural disasters and to education.
Here we look at how one of the world's highest-paid celebrities and richest self-made women spends her fortune.
Beyoncé has an estimated net worth of US$355 million, thanks to her music, touring and personal endorsements.
Between 2016 and 2017, she earned US$60 million, making her one of the world's highest-paid celebrities, Forbes says.
A lot of this came from her Formation World Tour in 2016, which grossed US$250 million.
She and husband Jay-Z are currently on their "On The Run II Tour", which could net more than US$200 million – their highest grossing tour together to date.
It is currently grossing about US$5 million per night.
This year has been a busy year for Beyoncé: before setting off on her tour, she was the headline act at Coachella – the US music and arts festival, for which she was paid an estimated US$3 million.
But Beyoncé's wealth does not come only from making music and performing.
Along with Jay-Z, she holds "significant equity" in Tidal, her husband's music streaming service, which is reportedly worth US$600 million.
Beyoncé has also dabbled in business ventures. In 2015, she set up the on-demand vegan meal delivery service, 22 Days Nutrition.
She has also made waves in clothing and merchandise. In 2016, she launched activewear line Ivy Park with Topshop. At the time, items in the collection ranged from US$15 to US$265.
She also launched Beyoncé Heat, a fragrance line that made US$75,000 in sales on its first day.
Beyoncé has reportedly sold US$400 million worth of the fragrance.
Yet that is not her only foray into fragrance.
Beyoncé has been the face of numerous endorsements, including starring in a Giorgio Armani fragrance commercial and launching Tommy Hilfiger's fragrance True Star, for which she was reportedly paid US$250,000.

In 2012, she signed a US$50 million deal with the American soft-drinks company, Pepsi, which included a new commercial during the American football Super Bowl.
She is believed to have had a significant amount of control in the partnership.
The singer has also signed endorsements with Nintendo DS, L'Oréal, and American Express.
A woman of many talents, Beyoncé has also appeared on the big screen. She reportedly earned US$12.5 million for her role in the 2006 romantic comedy-drama Dreamgirls, co-starring Jamie Foxx and Eddie Murphy, not counting the reported US$1 million she was expected to have made from the soundtrack album.
With so many varied income sources, Beyoncé is America's 53rd richest self-made woman, Forbes says.

Like many millionaires, Beyoncé invests in real estate.
She and Jay-Z spend a lot of time in the Hamptons, an affluent area of Long Island in New York state. They used to rent an estate there for US$400,000 a month and then swapped it for a waterfront house that cost US$500,000 a month to rent.
In 2017, they finally bought a holiday home there for nearly US$26 million. It is next to the exclusive Georgica Pond and comes with the neighbours businesswoman and television personality Martha Stewart, film director Steven Spielberg, and entrepreneur Russell Simmons.
The same year, they paid US$88 million for a new mansion in Bel-Air, with a US$52 million mortgage. It was reportedly the most expensive sale of 2017 in Los Angeles County.
Beyoncé also owns a converted church in New Orleans, which she and Jay-Z reportedly bought for US$2.6 million.
And when she was pregnant with twins Rumi and Sir, she rented a villa in Malibu for US$500,000 a month from which to enjoy her maternity leave. It was recently sold for about US$50 million.
In other real estate moves, Beyoncé has reportedly bought a US$5.9 million Houston property for her mother as well as Cher's former home in Malibu for about US$40 million.
She recently sold her New York City condominium for nearly US$10 million.
However, Beyoncé does not spend all her time at her homes. She and Jay-Z often go on holiday in the Dominican Republic, where they have stayed at a US$19.5 million, 35,000 square-foot estate.
They also frequent Paris, where they stay in a penthouse at Hotel Le Meurice which costs US$20,000 a night.
She also loves to go on holiday to Italy, Ibiza and Brazil.
However, her most lavish holiday was arguably on board superyacht Galactica Star, worth US$73 million. It costs roughly US$900,000 a week to charter – and you also have to know the owner.
In 2017, she and Jay-Z kept things a little more low-key than usual, when they celebrated their wedding anniversary with a trip to the Grand Canyon.
We do not know what Beyoncé bought Jay-Z for their anniversary, but we do know she is generous. She gave him a US$2 million Bugatti Veyron for his 41st birthday, and US$40 million Bombardier Challenger 850 private jet and a US$500,000 sapphire ring after their daughter Blue Ivy's birth.
Beyoncé gets around in just as stylish wheels – a custom US$1 million Mercedes van with its own bathroom and a US$150,000 sound system.

She is also always looking good behind the wheel. The singer wears US$60 mink eyelashes and throws them out after every use. If she wears them daily, that is US$21,000 a year.
She also reportedly spends US$1,000 on manicures.

Beyoncé is also a client of Jacob the Jeweler, who sells luxury watches and jewellery to the elite.
Pieces can cost anywhere from US$200,000 to US$1 million.
She looks and dresses her best, not just on the red carpet, but for her dates with Jay-Z.
They are often spotted courtside at NBA basketball games, where seats can cost anywhere from four to six figures depending on the game.

Beyoncé also knows how to wine and dine. She and Jay-Z reportedly spent almost US$100,000 on drinks for VIP guests at an Atlanta nightclub. And they have dined at the finest restaurants, such as Le Cirque in New York, which invented crème brûlée and spaghetti primavera.
When she is not dining out, Beyoncé still splurges on food-related costs at home.
She reportedly spends US$7,500 a month for a live-in chef and US$4,000 a month for a dietitian.
But Beyoncé doesn't just indulge for herself and Jay-Z – she also spends a lot of money on her children. She reportedly gave birth to her daughter Blue Ivy in the exclusive birthing suite at Lenox Hill, which costs US$1,700 a night. It was decorated with four big-screen televisions and room service.
For Blue Ivy's first birthday, Beyoncé bought her an US$80,000 diamond-encrusted Barbie doll at the US$104,460 birthday party she threw for her. She also dresses Blue Ivy in designer clothes, such as a US$2,100 Gucci dress and a butterfly and Swarovski crystal metallic Mischka Aoki dress, which ranges from US$8,405 to US$10,637.
Before her twins, Rumi and Sir were born, she and Jay-Z spent more than US$75,000 on matching gold cots.
Beyoncé also spreads the wealth around outside her family.
She recently announced she was donating US$100,000 to four historically black colleges and universities.
Beyoncé has also donated a lot of time and money to helping with natural disasters.
The Houston native served meals and made a financial donation in the aftermath of Hurricane Harvey.
After Hurricane Katrina, she founded Knowles-Temenos Place Apartments for those people displaced as a result of the hurricane. She reportedly has given at least US$7 million to keep it running.
She also visited Haiti in 2017 while it was still recovering from the earthquake that devastated the country years before.

Her own charitable organisation, beyGOOD, does everything from funding scholarships and working with Unicef to fighting for gender equality and raising money for natural disasters.
One Christmas, she and Jay-Z went to their local Walmart and bought everyone in the store a US$50 gift card for a total of US$27,000.
When filming her role in the 2008 film, Cadillac Records, Beyoncé donated her US$4 million salary to the Phoenix House, a rehabilitation centre. She also opened an affiliated cosmetology school, which provides Phoenix House residents with a seven-month training programme.
So far, she has worked and supported 31 charities, including Look to the Stars, MusiCares and Stand up to Cancer.
No wonder fans call her Queen Bey.

Want more stories like this? Sign up here. Follow STYLE on Facebook, Instagram and Twitter

This article originally appeared on Business Insider.

American singer-actress likes to indulge in multimillion-dollar homes, luxury holidays and beauty treatments – even a private jet for husband, rapper Jay-Z