Alibaba's Singles' Day 24-hour shopping event set a record 213.5 billion yuan (US$30.8 billion) in sales this year, but what did we learn from the spree in the world's second-biggest economy?
The gross merchandise value for the day, which is also known as Double 11, was about 27 per cent higher than last year.

Embrace simplicity
Double 11 is a huge, multi-platform, online to offline, more or less infinite business practice in China.
It blurs the lines between commerce, entertainment and everyday lifestyle.
Luxury brands have the advantage of attracting a select customer group that looks for qualities beyond discounts and saving.
Reward them with something special.
Beyond e-commerce platforms, think WeChat
As a communication platform, WeChat has a much higher open-rate than e-commerce platforms, therefore it can guide users to shop outside the traditional shopping scenarios.
Many luxury brands like Louis Vuitton and Dior already go for WeChat selling.
WeChat's one-to-one communication style gives luxury brands more control over the user experience such as pre-sales and after-sales service.
It also grants a sense of intimacy with customers that is lacking in pure e-commerce platforms.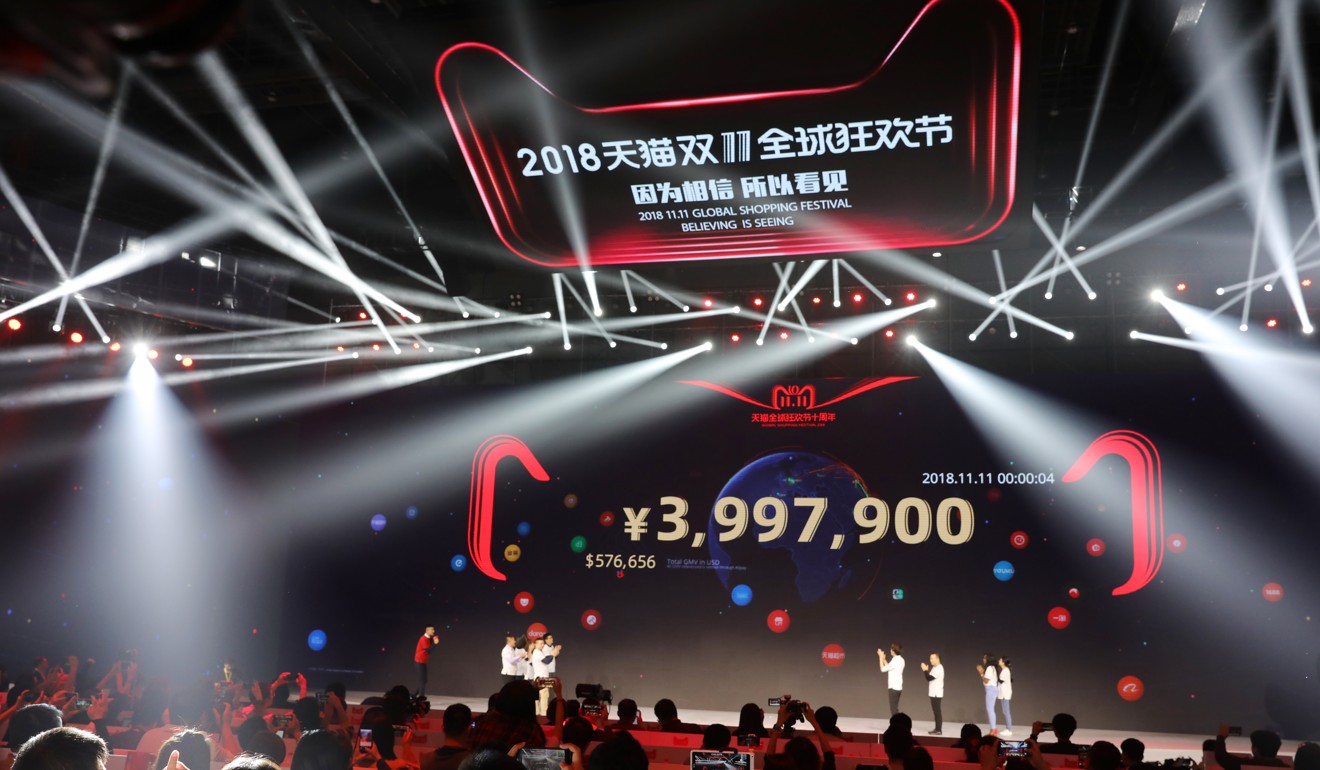 Make a unique offer
Innovate the product mix or give an occasion-only gift.
Creating a unique offer just for the Double 11 occasion is key for luxury brands to retain customers, and image.
With the Double 11 culture taking ever-more importance in the cultural calendar, it might be treated as a festivity like Christmas and Lunar New Year.
If customers do not browse for the price alone, give them a reason to feel special at Double 11.
LVMH celebrates 120th anniversary of luxury luggage brand Rimowa
The green wave is coming
Simply by watching our WeChat Moments in China, it is clear to see that the affluent, first-tier modern generations care (and like to show they care) about sustainability.
They are now aware that 'buy, buy, buy' means deliveries, packaging and waste.
Does that stop anyone buying? Highly unlikely. Yet, having an eco-friendly, green and caring lifestyle that is good for the turtles is an element which is only growing – and at pace.
Any brand addressing the modern consumer in China quickly, and seriously, needs to look at their green credentials – and how their customers can reflect these in their lives and social media.
Abercrombie and Fitch launches Tmall takeoff
In a sense, Double 11 is about giving, as well as receiving, while some in the top echelon of luxury brands can get away with ignoring the season, others may simply seem out of touch – or 'tight' – if they do not get involved.
Balancing brand desirability, sales traffic and consumer attention becomes a delicate act. The nature of Double 11 is to turn online shopping into a game, and make it a social event.
Luxury brands that want to win have to recognise the festival's complex design issues, differentiate a strategy away from the masses, and make the user experience silky-smooth.
Here are some luxury brands that escaped the 'crazy deals' image and made exclusive shopping refreshingly clear:
1. Launch a Double 11 edition product
Clé de Peau Beauté, SK-II, Givenchy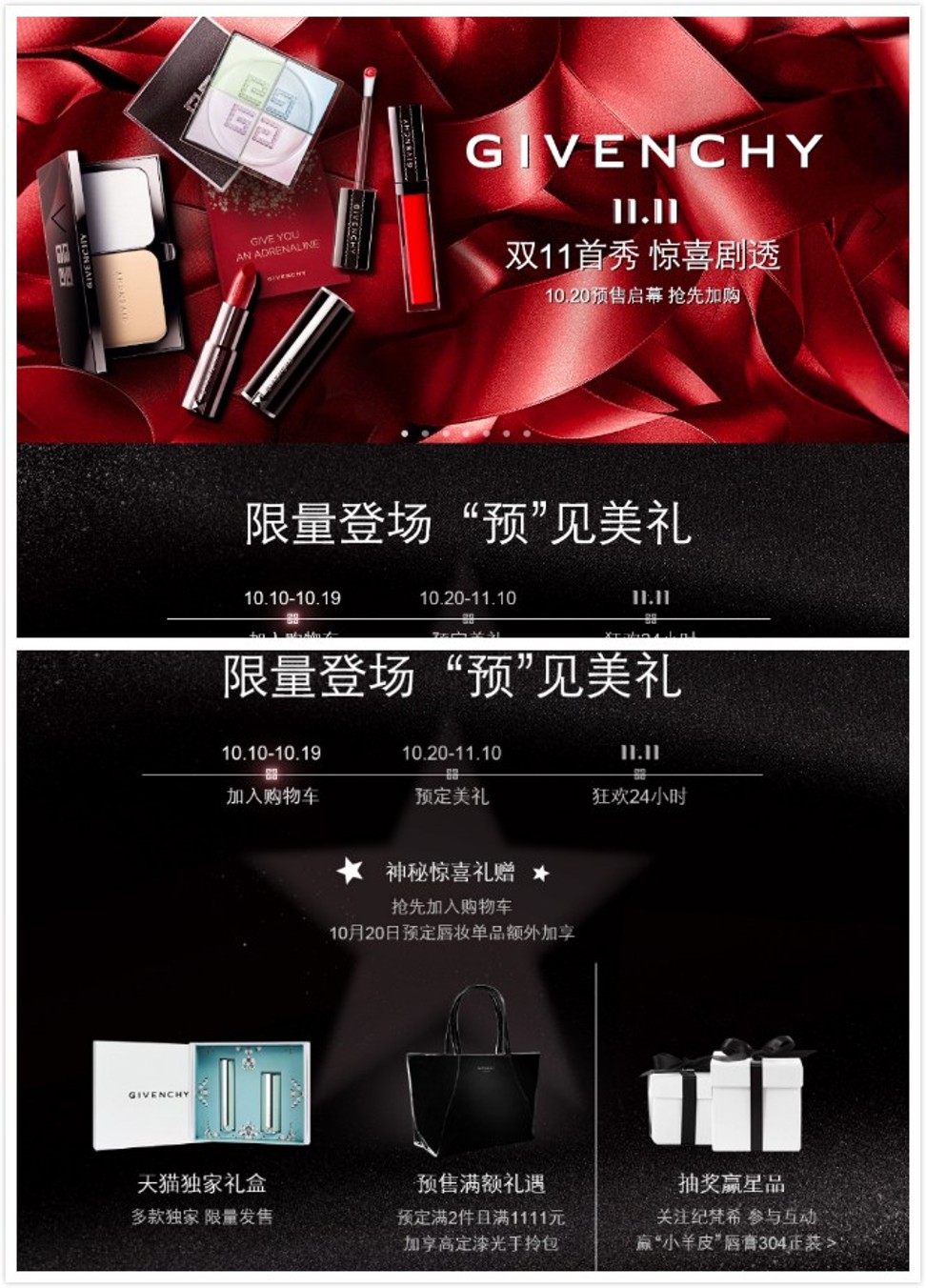 Clé de Peau Beauté, SK-II, and Givenchy launched Double-11 limited edition products, with the product mix, packaging and campaign made especially for the event.
They are raising dedication to the shopping festival to a new level, making Double 11 an occasion to launch new products and test out market reaction.
Beyond just a sales day, Double 11 has become such a culturally iconic event that brands treat it as a sort of Super Bowl at which they showcase their latest innovation.
2. Exclusive Double 11 Gifts
Lancôme, Lamer, Estée Lauder, Babor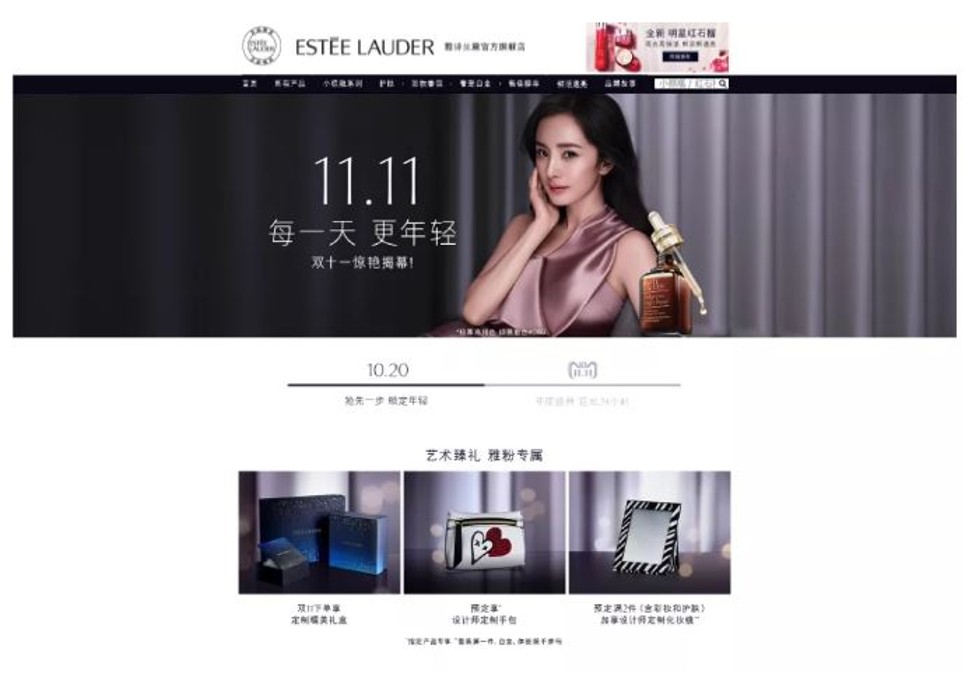 Releasing gift-sets dedicated to Double 11 is a popular practice among beauty brands.
Mostly known for one or two headline products, these premium beauty brands have made Double 11 a chance for customers to try out other items in the form of gifting.
What it's like to be at Alibaba's Singles' Day 24-hour shopping event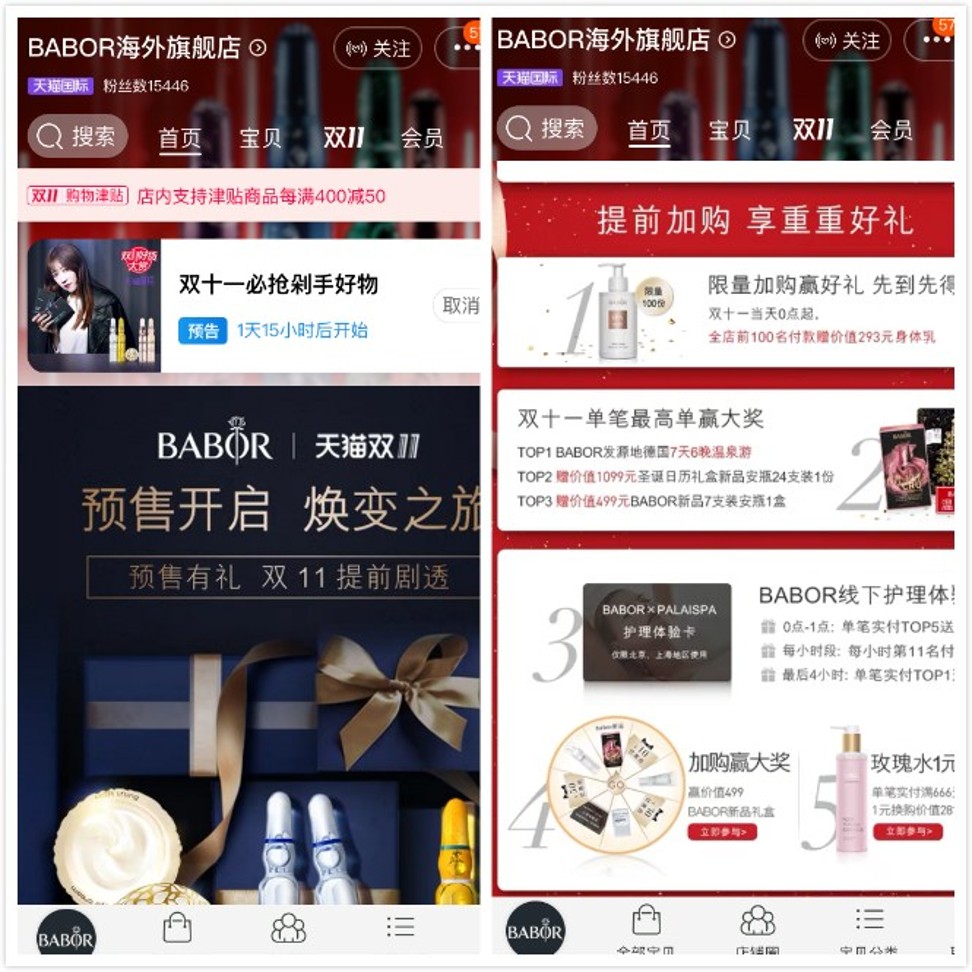 Some brands develop this concept by tailoring their gift messages especially for this occasion.
Lancôme designed its Double 11 gift set under the theme of Paris, using the message "let Paris pamper you on your lonely day" to please all the single ladies.
Premium skincare brand Babor alternated gift sets at different hours of the day, to emphasise the fun and surprise of the day.
3. Fuss-free Price Reduction
Samsonite, Furla, Belkin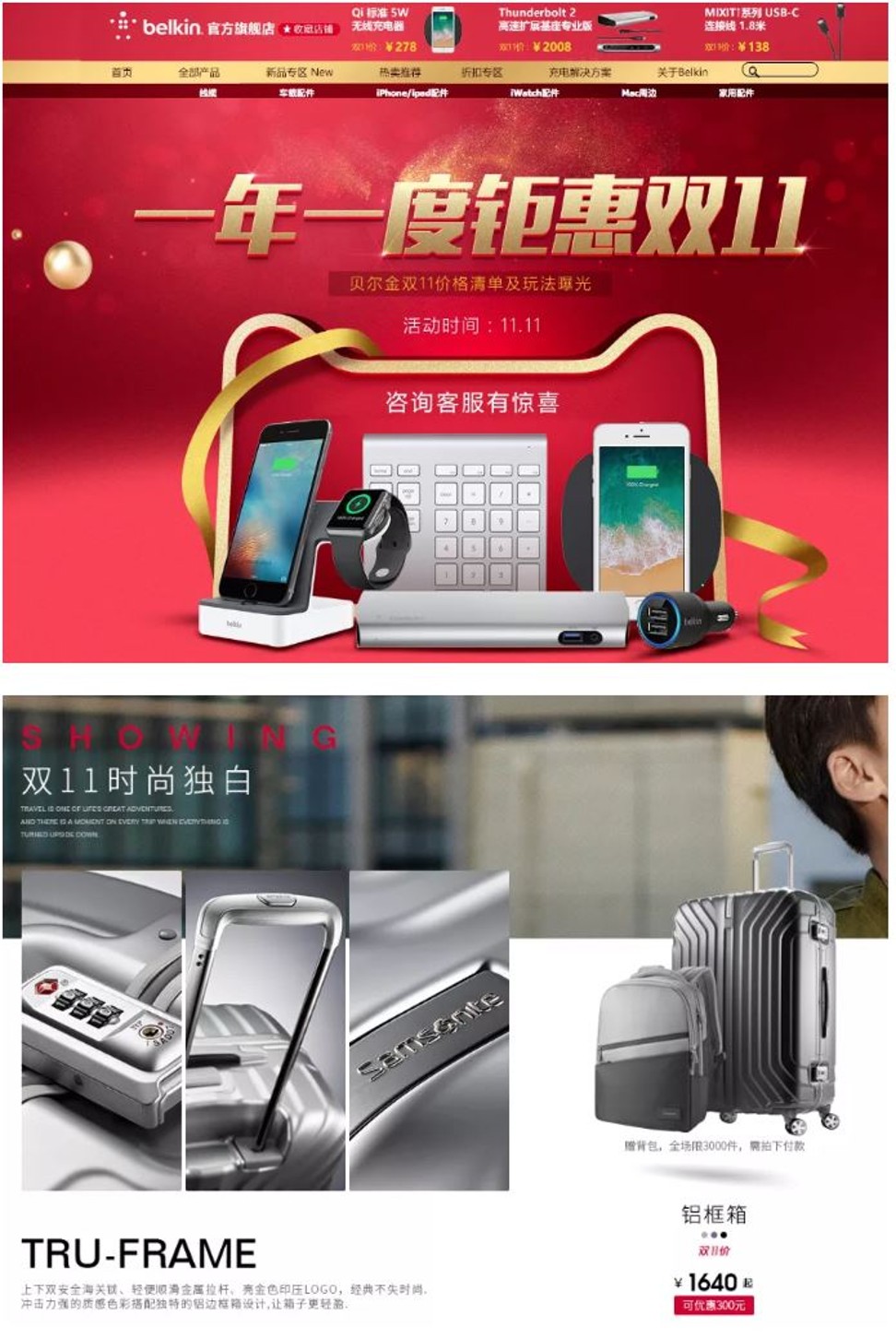 In the Double 11 battleground that is mined with commercial tactics like coupon prices, social selling and discount arithmetic, simplicity itself is a gift.
Premium brands like Samsonite, Furla and Belkin made it simple by showing a maths equation with a final price.
It's a streamlined way to get in the spirit of the festival (and release stock) – as long as the proposition does not dilute the premium image.
4. Remain demure and carry on
Rimowa, Burberry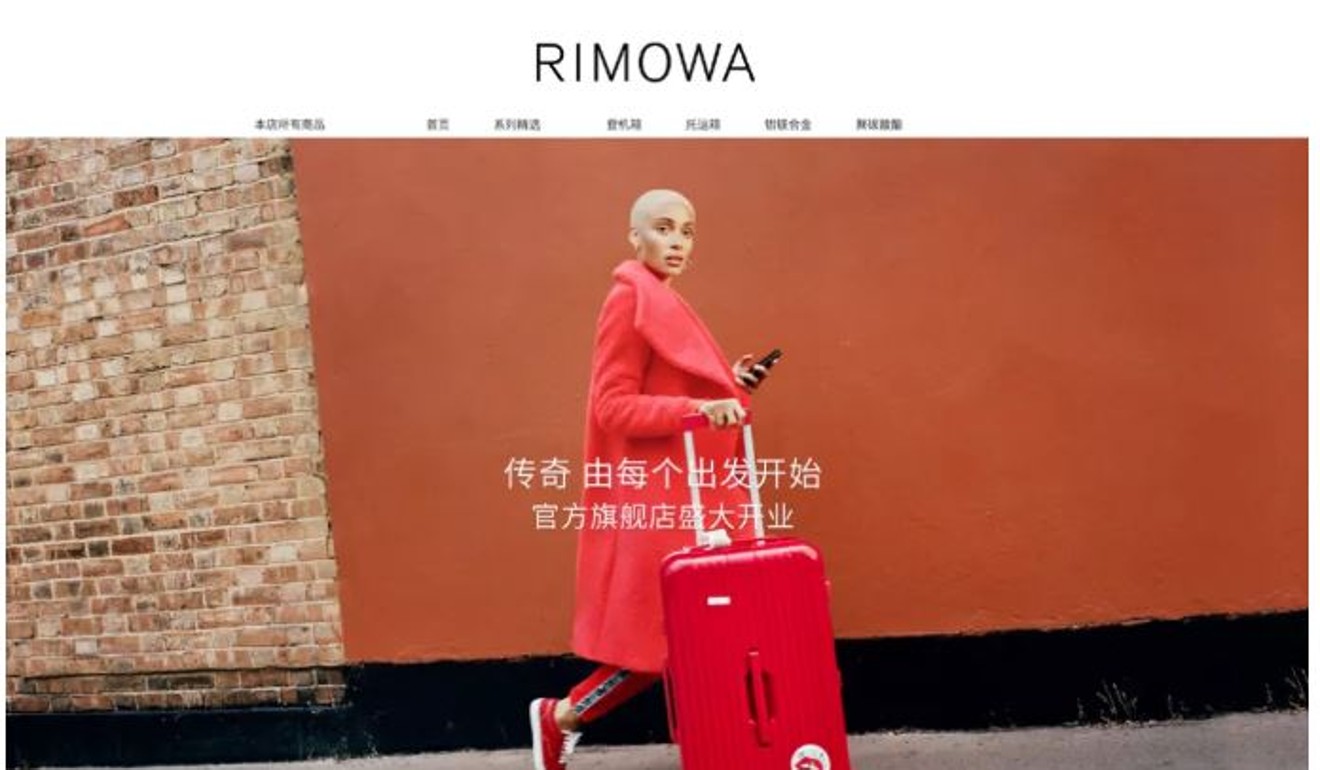 Not attending the party can be the answer for some. Iconic luxury houses Burberry and Rimowa both have official stores on Tmall, yet neither deigned to mention the festival in their brand communication.
Double 11 is a double-edged question for brands that have exclusivity in their DNA.
Through the above Double 11 practices, these luxury brands have showed similar characteristics: simplicity, temporality, and innovation.
After all, the essence of Double 11 is about giving. But to do that with grace and style, luxury brands need to tailor the offer carefully to retain their soul.
LVMH celebrates 120th anniversary of luxury luggage brand Rimowa
Want more stories like this? Sign up here. Follow STYLE on Facebook, Instagram and Twitter

This story originally appeared on The Luxury Conversation .