Why Acker's director John Kapon uses the personal touch to keep wine auctions special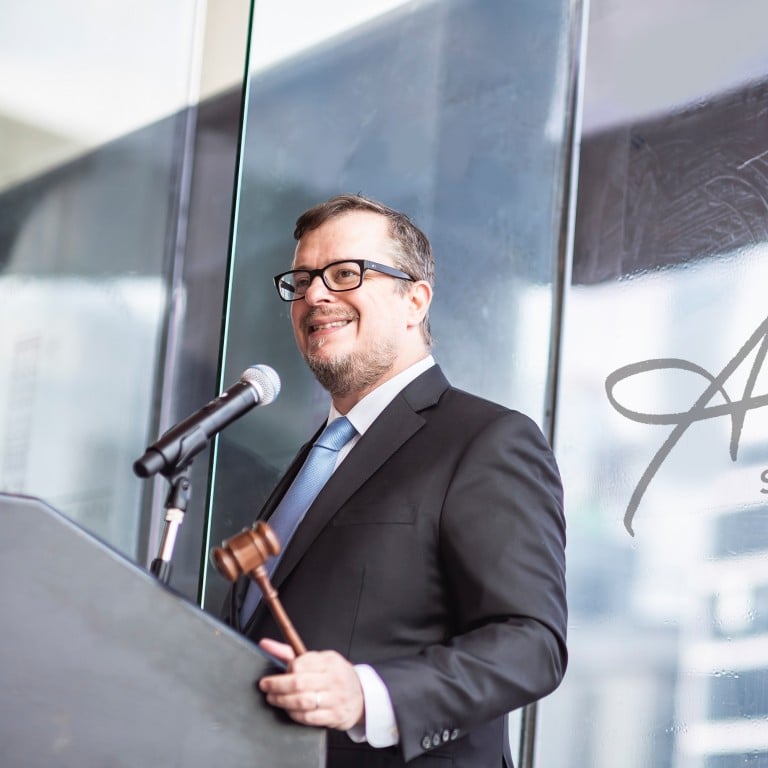 The latest instalment in our On Work / On Play series with luxury CEOs. This month: John Kapon, chairman of Acker Merrall & Condit
JOB EXPERIENCE
1999-2010: President & auction director, Acker Merrall & Condit
2011-2016: CEO, Acker Merrall & Condit
2017-present: Chairman, Acker Merrall & Condit
ON PLAY
Q. What was your first job?
A. I was a door-to-door knife salesman for one summer. I think I was still in high school or just after I graduated from high school. There was this great company called Cutco, which is still one of the best knife [producers] in the world, and I thought the product was great. I was my first job. I tried to sell knives and I did sell some knives.
Q. If a fire broke out in your home, what would be the three things you'd grab?
A. I would grab my laptop and a box of wine-tasting notes that haven't [been] published yet. I don't have too many personal items but my mum [put together] a nice family photo album that goes way back to when she was a kid, so I'd grab that, too.
Q. No wines?
A. I don't keep too many in the house, because if I kept them all in the house, I would drink them all. So I just keep a case on hand for everyday drinking – we keep the good stuff in the warehouse.
Q. What is your guilty pleasure?
A. I do love travelling and seeing the world. My guilty pleasure though has to be fantasy football. It's a big thing in America – there's this whole fantasy football league where you have your own teams that you manage and you play in leagues and it gets pretty intense. I have a couple of leagues with my friends and some of the people that I work with.
That's my little secret pleasure – I probably spend way too much time on that. This year, I'm [not doing] so great, but one of my leagues did win four or five years ago. It's a lot of fun.
Q. If you were stuck on a deserted island, which three famous personalities would you like to be with?
Henri Jayer, Warren Buffett and Chinese President Xi Jinping.
ON WORK
Q. Which countries are showing the most interest in wine auctions?
A. There are definitely two superpowers for fine rare wines – the Chinese and the Americans. When I say Chinese, it's not [just] Hong Kong, it's also the mainland, Taiwan and Macau – so [there's] a strong Greater China network.
Americans are still an important, strong factor in the market. The Chinese, though, are more focused on the biggest names and the more expensive wines. There's more knowledge and more learning happening, too, especially in Hong Kong.
The third market that we see a lot of interest in is Brazil. There's a strong group of collectors and a nice network of fine wine lovers.
Q. How have these markets changed over the past five years?
A. What we've seen is more Burgundy. More of the dollars have shifted from Bordeaux to Burgundy in the past 10 years, particularly in the past five years.
I think it's a natural evolution. Most people who drink a lot of serious fine, rare wine end up drinking Burgundy as the last step – the last stop on the train. I think it's [because Burgundy is] harder to understand, Bordeaux is easy to understand – there's one chateau usually, sometimes they have a second wine [but usually they make] one wine.
As for Burgundy, they can make 12 to 15 wines, [and you have to consider] which one's from a good vineyard and [who's] the producer. You can have many different wines from different locations in Burgundy so it's more complicated to learn.
Q. Auctions sound like a stuffy business. How are you modernising it?
A. When we first started doing auctions, basically auctions were in a room with chairs lined up and everybody would sit there in a row – and that's how some traditional auctions are still done. We said, "Let's open some wines, let's have lunch or dinner".
We made auctions more of an occasion and a special event. People who love wine want to drink wine – if you drink wine, you need to eat. It made sense to have food and wine and everything together in a great setting while selling lots. That was one of the major innovations we made.
Q. The company celebrates its 200th anniversary next year. What are some of the key strategies that have helped Acker survive?
Acker Merrall & Condit is fundamentally about personalised, attentive and shared experiences. We pay attention to each customer – when you call Acker, you do not have to talk to one person for accounting, one for shipping and another for a question about a wine. One person can help with everything.
I think for other companies, sometimes you have to deal with six people to finish one transaction – it's annoying. [Acker offers] personalised attention.
We pride ourselves on customer service, the customer is always right even when they're wrong – we try to be nice about it – and also, it's about that shared experience. That is [what we do when we're not hosting an auction]. We're always doing events and dinners, and opening bottles and sharing these great wines with our clients.
Want more stories like this? Sign up here. Follow STYLE on Facebook, Instagram and Twitter

Chairman of the American wine auction house says attentive customer service has helped business to thrive for nearly 200 years