To many travellers, long-haul flights can be torturously boring. Even frequent flyers, who can work in the air or sleep in confined spaces, may find the journey hard to enjoy, but interior and furniture designer Vick Vanlian refuses to give up on the potential fun factor.
"The best feeling in the world is to party in one country and finish your party in a new one. It's like magic, like a time capsule out of the movies," Vanlian says. To make the magic happen, he designed a flying entertainment hub to provide everything you need for some fun in the sky.
"The plane is like a home," he says. The double-deck aircraft contains all the facilities a private jet should have to make passengers feel at home, such as a master suite with a private bathroom, a dressing area and an en suite office.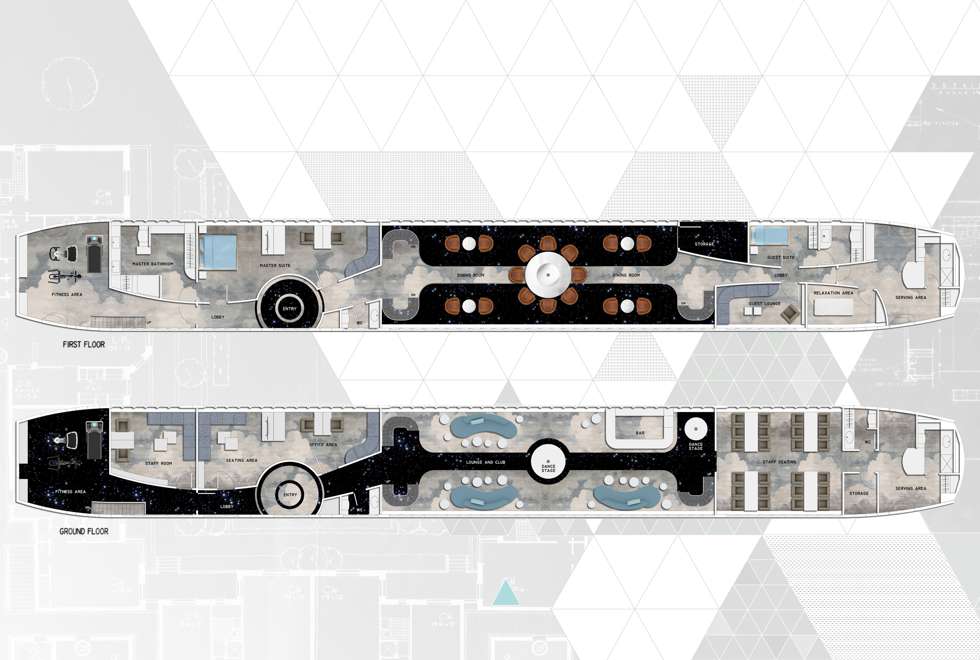 To cater to all your gastronomic requests, an on-board chef and waitstaff offer delightful alternatives to dismal in-flight meals, from cosy private dinners to impressive formal banquets. As Vanlian says: "Just being on a flying home is the best experience ever."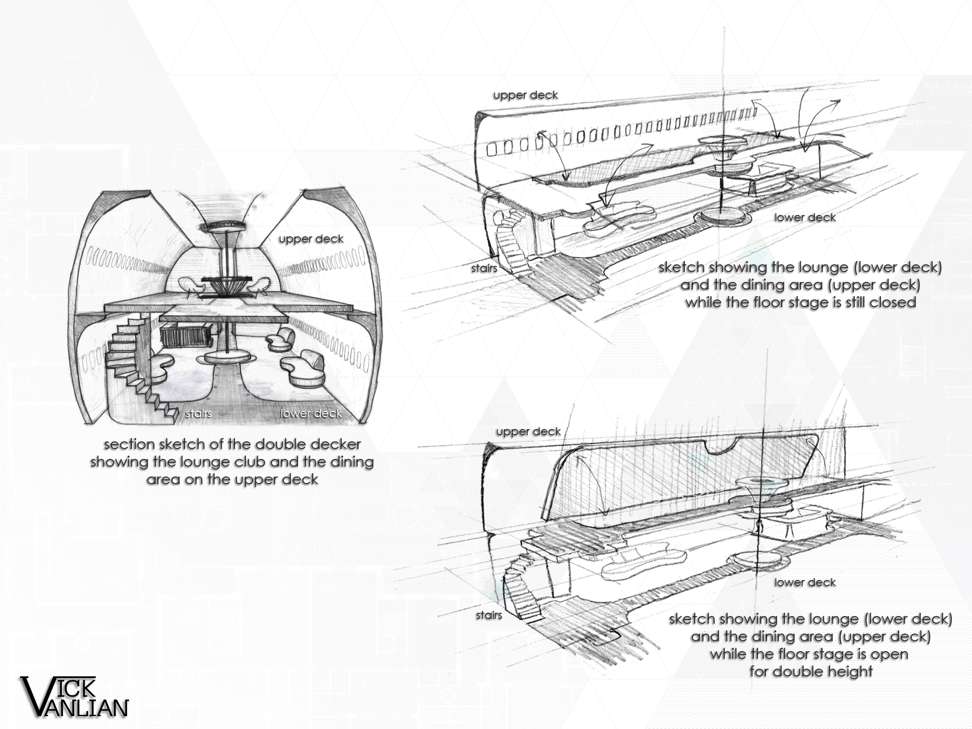 Even on a low-key level, it's impressive. Forget movies on a tiny screen. Guests can be entertained in the plane's miniature movie theatre, fitness area and meditation room; even flight attendants get to unwind with their own gymnasium and relaxation area.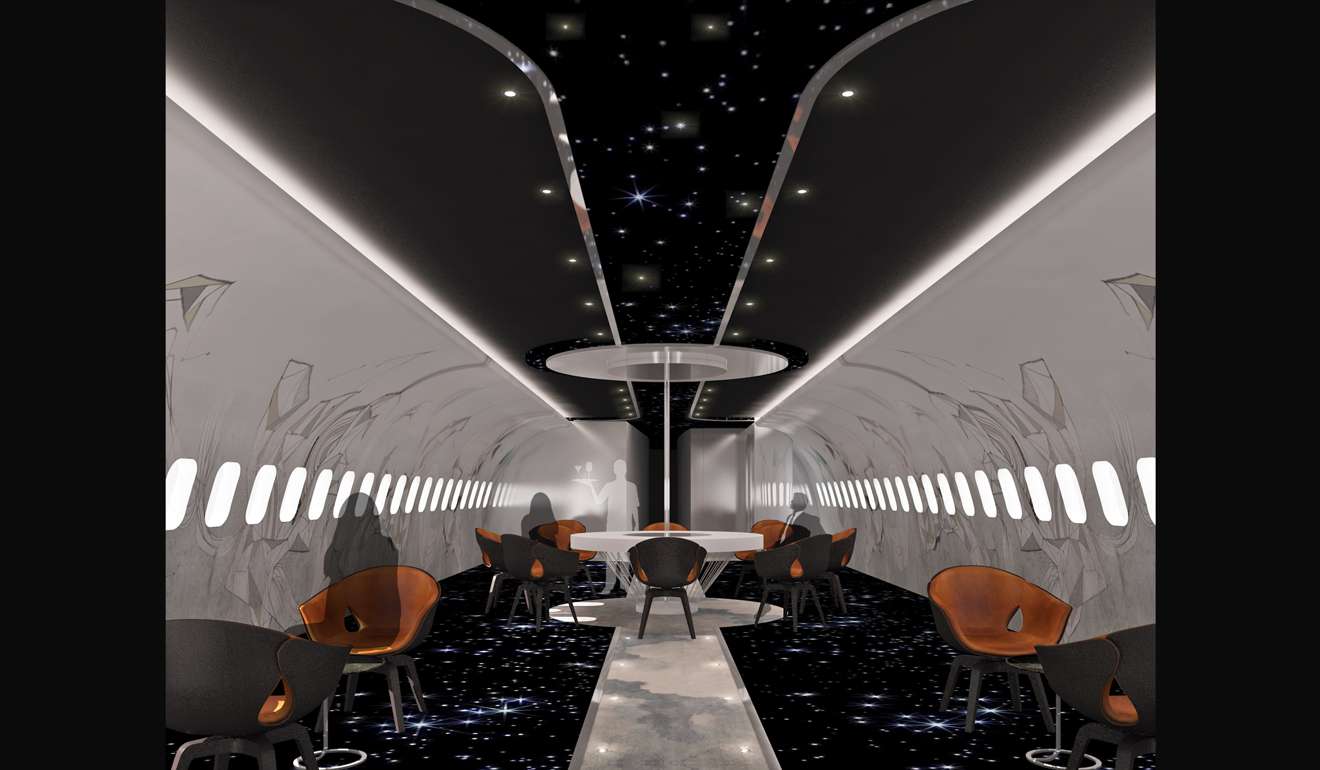 When it comes to proper in-flight entertainment, however, the designer takes it to a whole new level. "The design is intended for a billionaire who is striving to find uniqueness in everything he or she owns," Vanlian says.
The dining area on the upper deck can be transformed into a nightclub in the air, allowing you to party literally anywhere around the world.
With just a click of the remote control button, the sides of the floor can be elevated by a complex mechanical system customised for this project, creating a double-height space. The dining table becomes the DJ booth while mesh metal rods descend from the upper ceiling as the balustrades of the suspended dancing platform.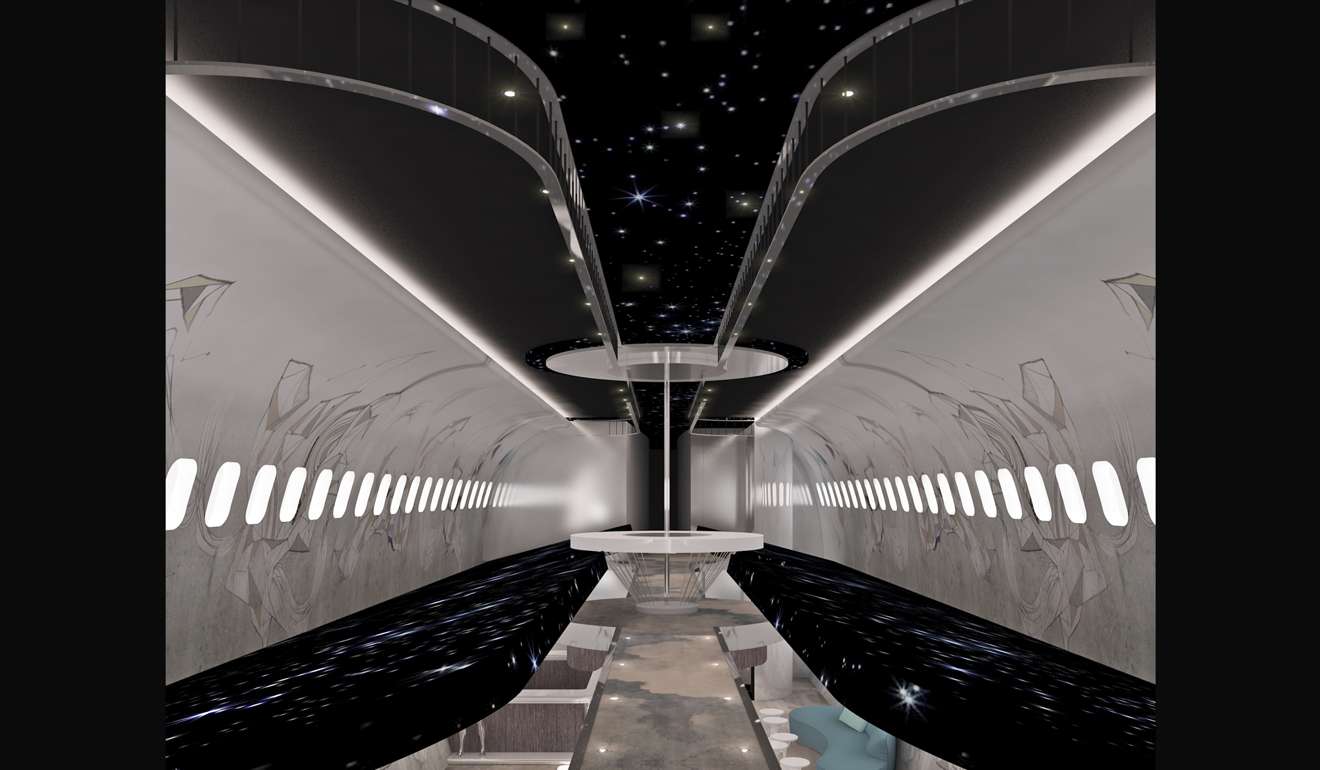 "The mechanism is engineered specially for this private jet. It is a unique one-of-a-kind system," Vanlian explains. "[The double-height design makes] the person forget that [they are] on a plane. The scale and height are very different than the conventional private jet ceiling height. The DJ can also see the crowd from a higher level, making it easier for him to feel the crowd and spread his love."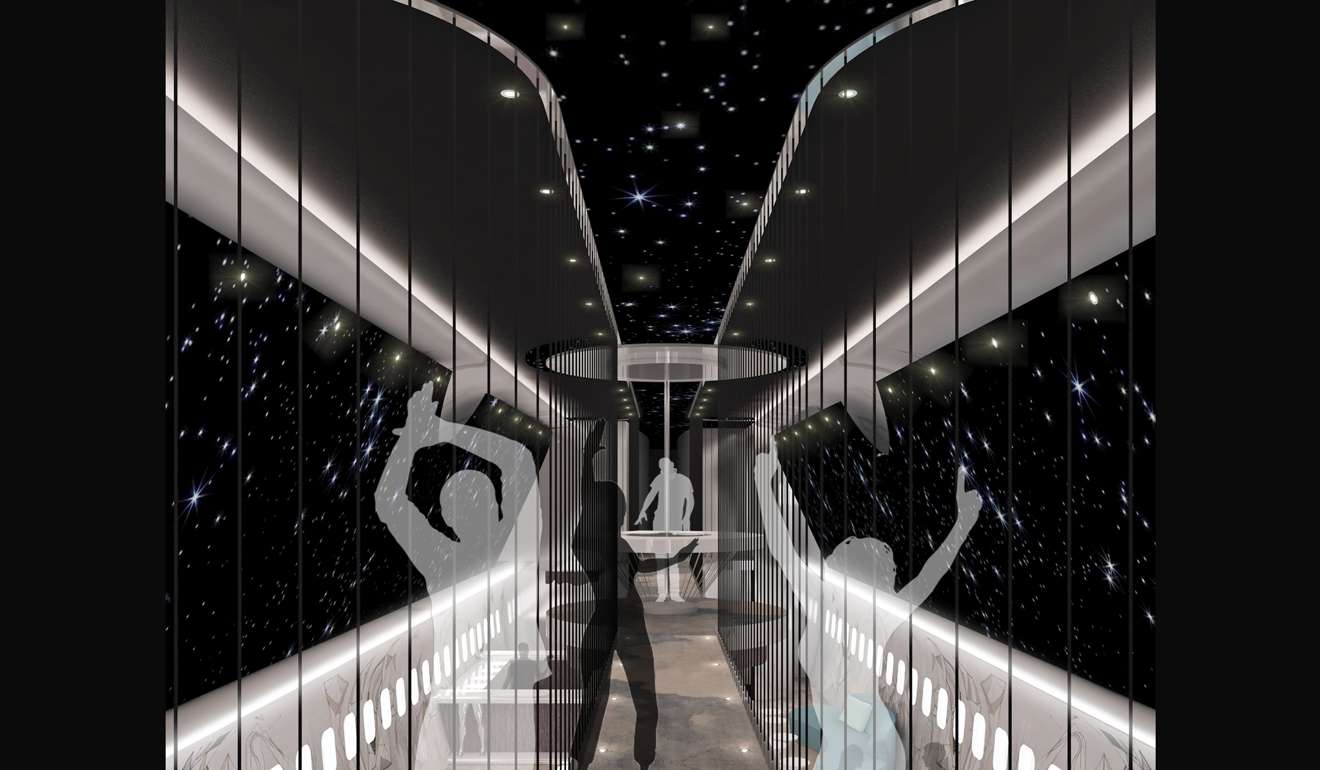 Under the DJ booth lies another dance floor and a bar for the guests. With the right mood, the cabin is ready to turn into a boisterous nightclub. The ceiling and some areas of the floor are covered with LED screens that project a live feed of space from Nasa. "The design is to help carry you into a different world, taking you to the future, knowing that everything is possible," Vanlian says. "The images of space make you feel like you are in a space ship instead of a plane, projecting your mind to endless possibilities."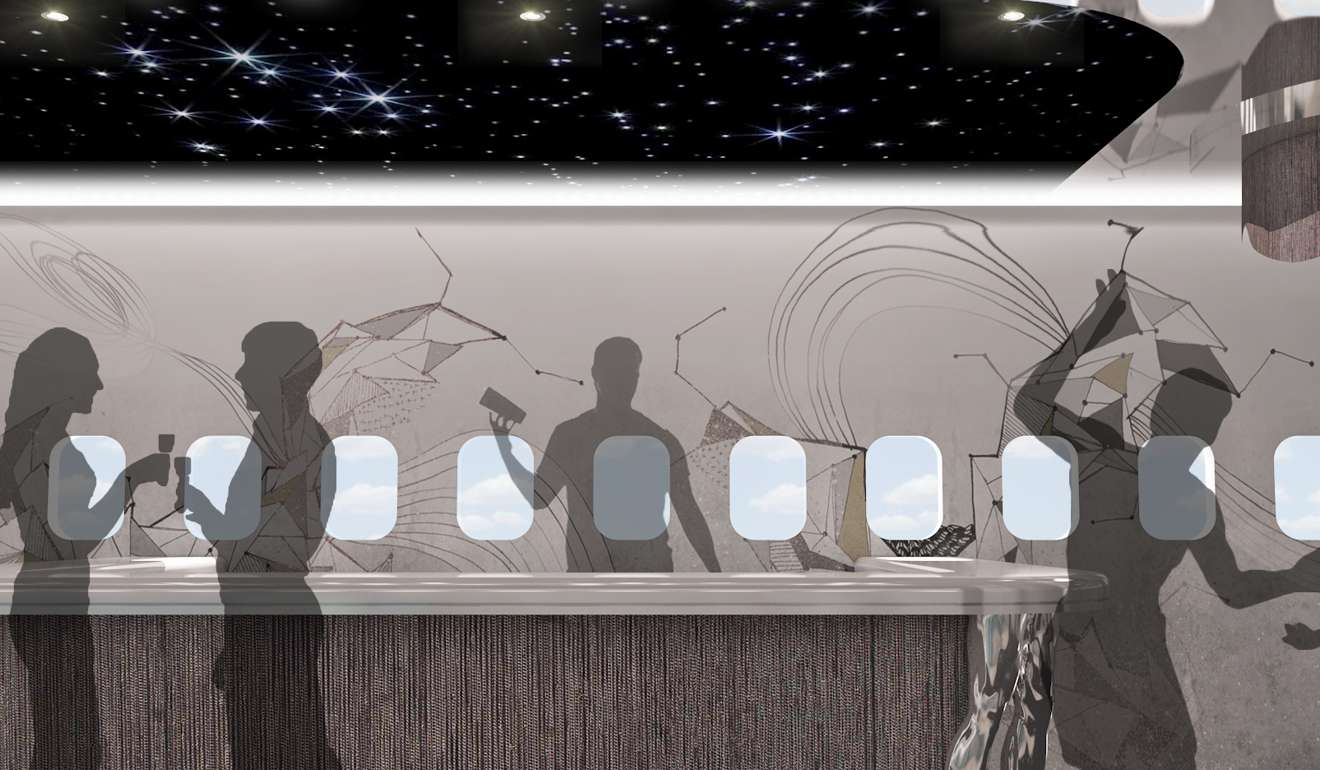 Throughout the space, the interior is furnished with the designer's own furniture collection, and most notable of all would be the eccentric furniture decorated with human body motifs. "They are from the Private Sessions collection where the inspiration comes from classic Greek sculptures and my love for fashion. The collection immortalises the greatness of the human body in a fashionable way, freezing one moment in time."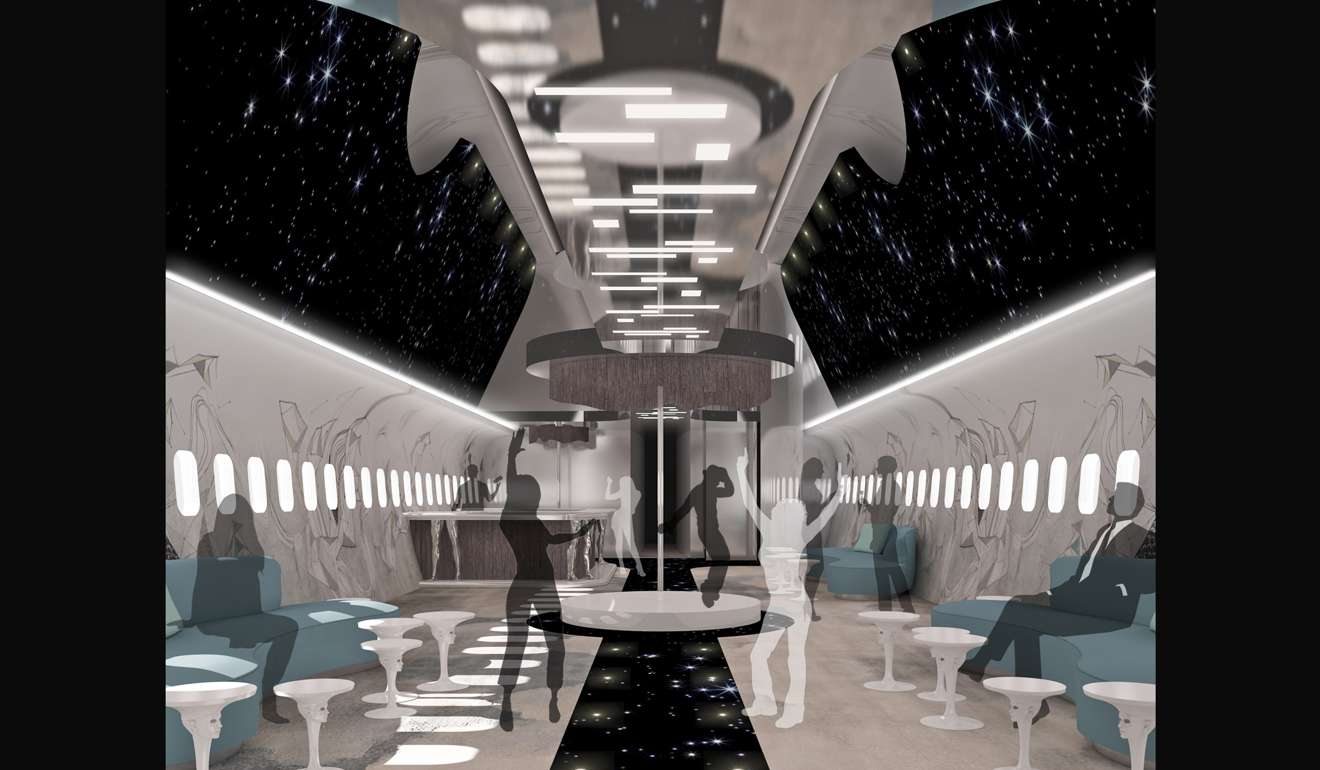 With Vanlian's creation, travelling can hardly be a bad experience.
Breakdown of Costs
DOUBLE DECK PRIVATE JET: HK$3.106 BILLION
DESIGN AND CONSULTATION FEE: HK$3.88 MILLION
CUSTOMISED INTERIOR (CLUB AND LOUNGE AREA + PRIVATE AREA):
HK$118 MILLION
FURNITURE, CARPETS AND LIGHTING:HK$29 MILLION
HI-TECH SYSTEMS (PROJECTION SYSTEMS PLUS TRANSFORMABLE MECHANISMS PLUS MUSIC & DJ SET): HK$81.54 MILLION
TOTAL: HK$3.34 BILLION
Beirut-based designer Vick Vanlian founded his eponymous architecture and design firm and quickly came to fame for his innovative and eclectic approach influenced by pop culture. Growing up in an inspiring environment where his family runs a furniture design business, the Lebanon-born Armenian developed a passion for design at an early age when he first attended the Milan Furniture Fair at the age of 10. Graduating from the Lebanese American University in 2000 with a high distinction in Interior Architecture following his international childhood spent in Beirut, New York and Montreal, Vanlian has completed projects ranging from residences and palaces to restaurants, clubs and hotels. His avant-garde philosophy extends to his own furniture line which broadens his recognition in the international design scene.
Illustrations: Vick Vanlian