The House of Pierre Frey, founded in 1935, creates, edits and manufactures upholstery fabrics. In recent years, it has expanded its product range to wallpapers, wall coverings, custom-made carpets and rugs, and furniture.
But before you decide that all its products are traditional and classical, think again. The company prides itself to be inventive and deeply eclectic while maintaining a lineage that is unmistakably French.
Its inspiration comes from different times and places, from the art of far-away ethnic groups to 18th century France to contemporary art. Patrick Frey, son of the house's founder and who is now at the helm of the company, has worked with collaborators from all walks of life, including a graffiti artist.
At a recent event in Hong Kong, STYLE had breakfast with son and father Matthieu and Patrick Frey of the maison Pierre Frey. Every design has a story behind it, inspired by history, a collaborator whose path crossed Patrick's or just something Patrick happened upon when strolling the streets.
Patrick likes working with different people all the time to ensure the eclecticism the maison is famous for, but he's also "the chef in the kitchen" to ensure all outcomes are in line with the maison's heritage.
In the video below, he introduces two very different examples of Pierre Frey's upholstery designs.
Parisian yacht goes art deco with a designer revamp by Pierre Frey
STYLE then approached Frey with two scenarios, to seek his insight and expertise on how to deck out a dream home:
A family with a two-year-old son and a four-year-old daughter. The parents know the children will grow up fast, and they want shared areas in the house where the family can grow together.
The living room has to be intimate, as a place of exchange with the children.
Here a cotton stripe fabric is chosen to give the place an impression of height.
You can define the living room and give it an impression of comfort by choosing a very large carpet, almost as large as the room.
The best is to opt for a patterned carpet while the fabrics of the sofas and armchairs will remain united.
Layout chosen by president and creative director Patrick Frey, to illustrate the ideal home for a family of four with two young children
The kitchen has to be an open space … as it is not just for the mother but for every member of the family. A high worktop that is like a bar counter encourages conviviality and discussion.
A young couple in their late 20s and early 30s are moving in together. They both have a lot of friends and they love entertaining at home.
For the young couple I would recommend a multifunctional apartment, like a loft.
A dining area is where you could have dinner, discussions or card games. A large ceiling light can define the space.
A library area with a comfortable sofa is where one could sit and read. A personalised made-to-measure bookcase, in a surprising colour such as brick red, filled with travel memories and books.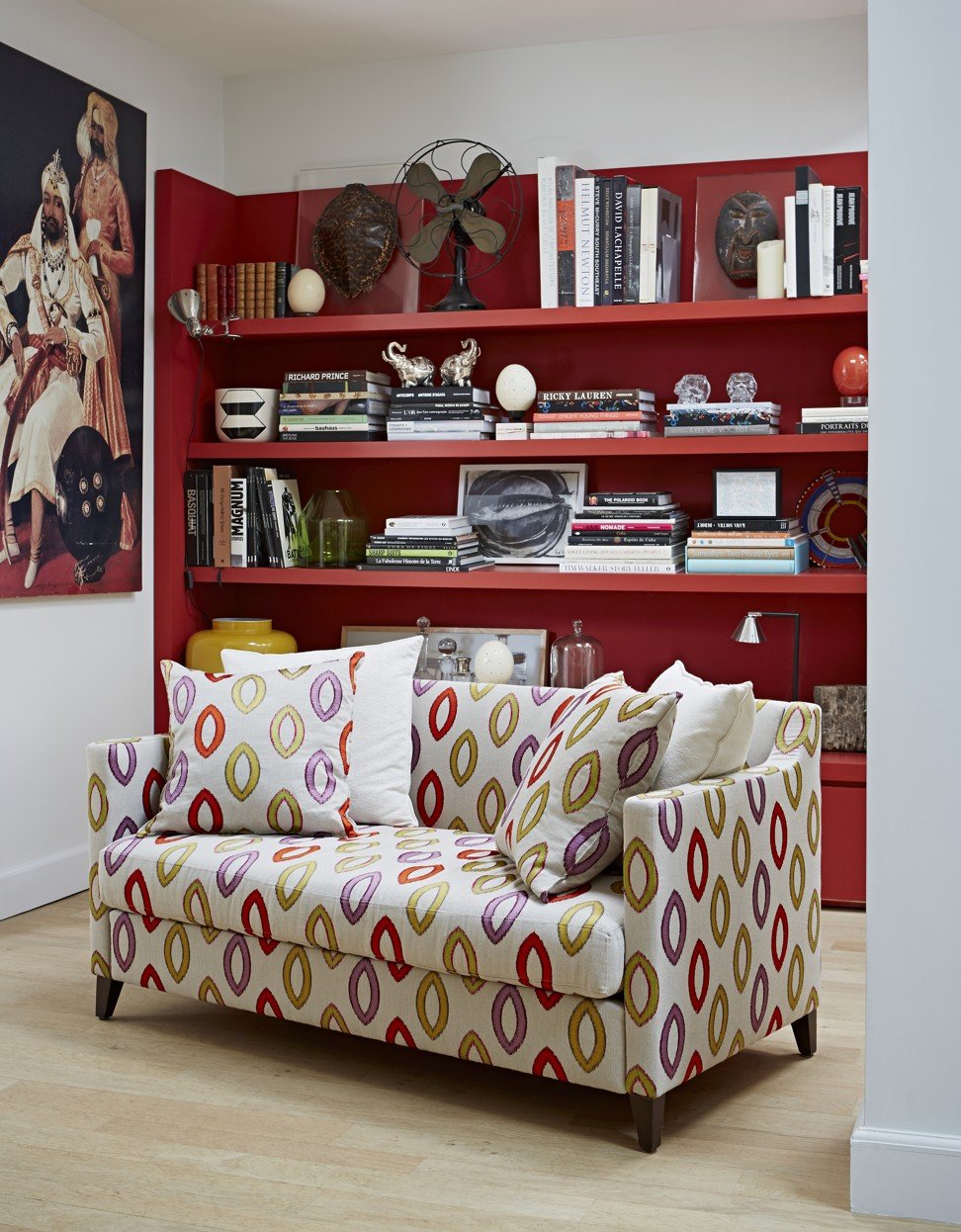 The living room must be a place where we like to stay, to relax. The sofa has to be like a rest bed, large and cosy and with lots of cushions. The best is to upholster it with linen so it has a shabby look. Bright colour should reflect the young couple pretty well. The coffee table has to be as large as the sofa to add to the functionality of the place.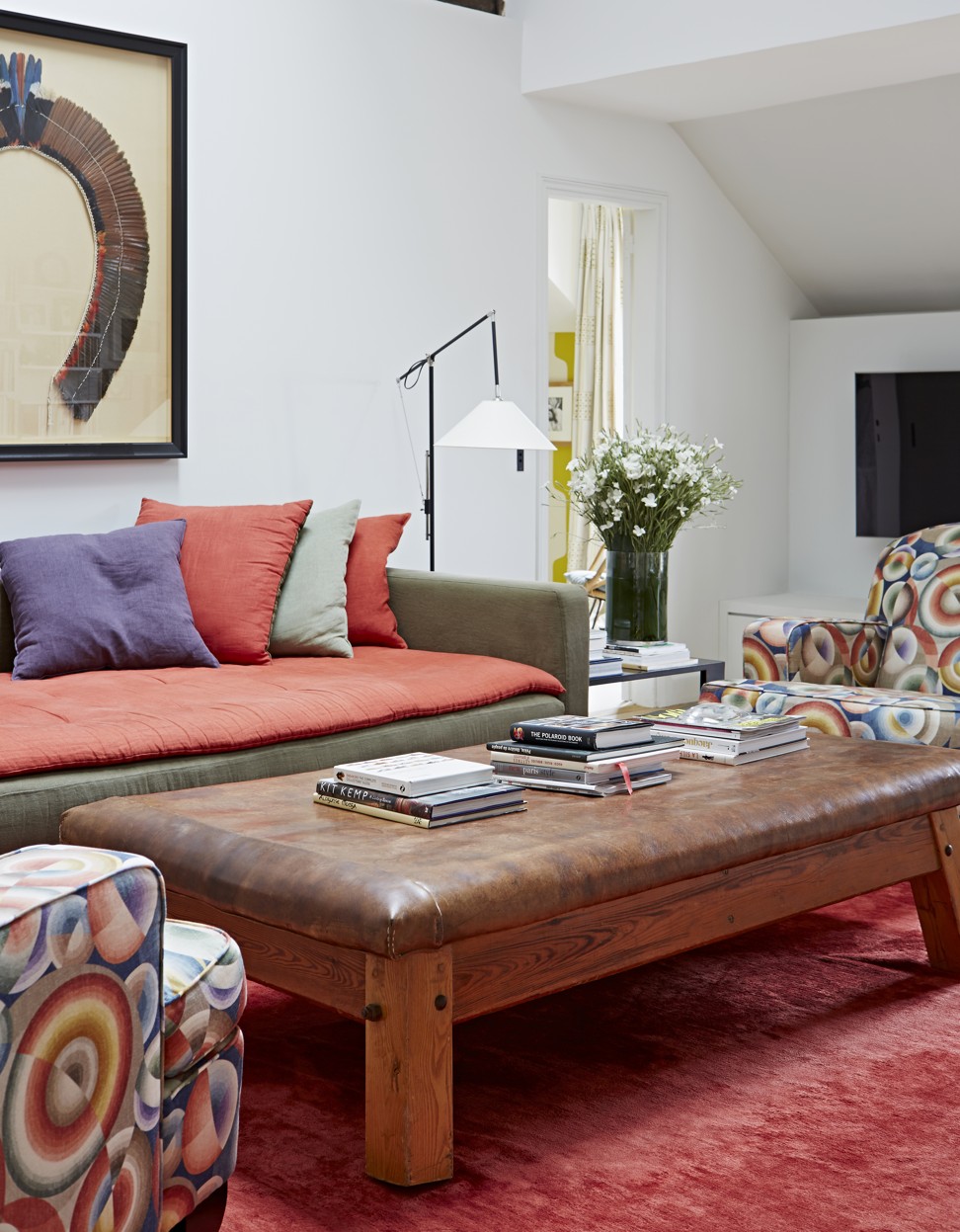 All of these three areas are interchangeable. You can move all the furniture around depending on your mood and inspiration.