The most neglected room in the home is the bathroom, as it is the room in which we spend the least amount of our time. But to Libero Rutilo and Ekaterina Shchetina, "the bathroom is an important part of any house".
Today, technology is integral to the design of any home. But the bathroom is a sensitive zone for many of us, and the use of technology within its four walls may create an effect that is, perhaps, a little too impersonal.
When thinking through DesignLibero's bathroom design, Rutilo explains, "we didn't want to create a space which would be ultra-technologic but cold and aseptic"; rather, they wanted to come up with something that would be "a pleasing place that provides smart and warm technology with which it would be possible to interact intuitively".
"The idea that came to us is a space that would merge nature and technology… where a person would really like to spend time," Rutilo says.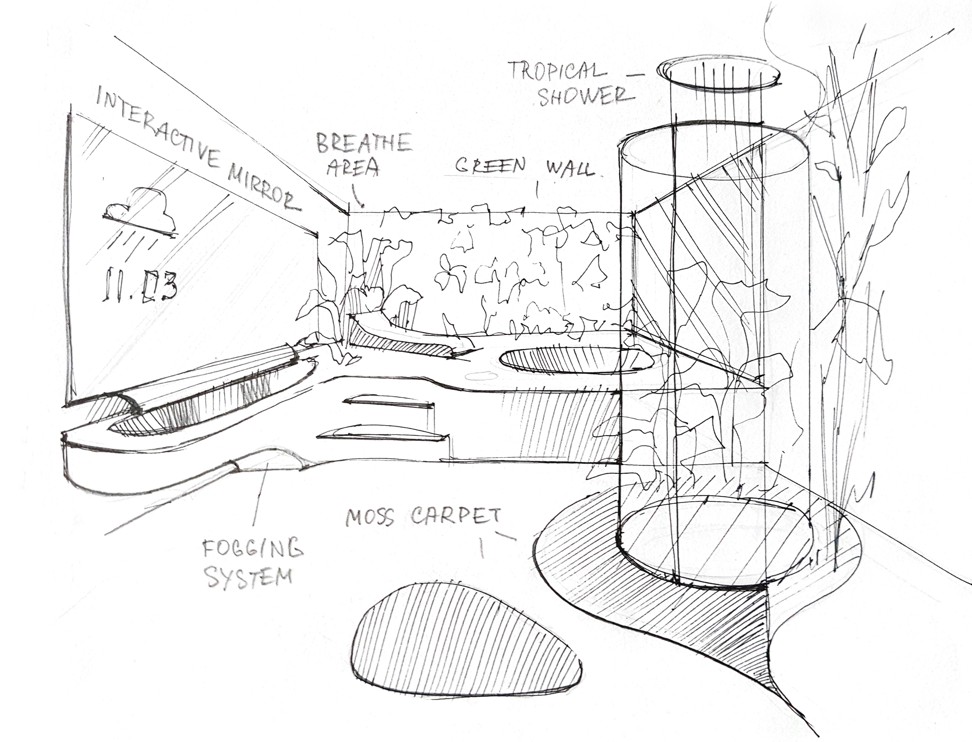 DesignLibero applied its expertise to designing such a bathroom – one in which nature and intelligent convenience are merged – for STYLE;and what it came up with is perfect for any metropolitan home.
Its natural elements – such as real plants, moss, fog, wood and marble – add a sense of vitality to the hi-tech environment, elevating it to a warm, living space.
Think beyond size when designing a bathroom in Hong Kong
"The space that we designed allows an escape from a chaotic and stressful life, and brings a person back to his origins … by stimulating all five senses and soothing them," Rutilo explains.
The design is a retreat with a green wall, a living moss carpet that creates the sensation of walking bare foot in a forest, a tropical shower surrounded by plants, evoking the feeling of being under a waterfall, and a tea bar for providing a tasty purifying infusion after a spa.
The idea that came to us is a space that would merge nature and technology
The experience of being pampered is made all the richer through the application of technology. An interactive lighting system using LED and OLED technology beams out projections, creating an ambience to sooth any mood. An integrated sound system allows users to listen to a favourite song list or to the relaxing sounds of wild animals and tropical birds. An aroma diffuser fills the air with the scent of essential oils, while a fogging system humidifies the air.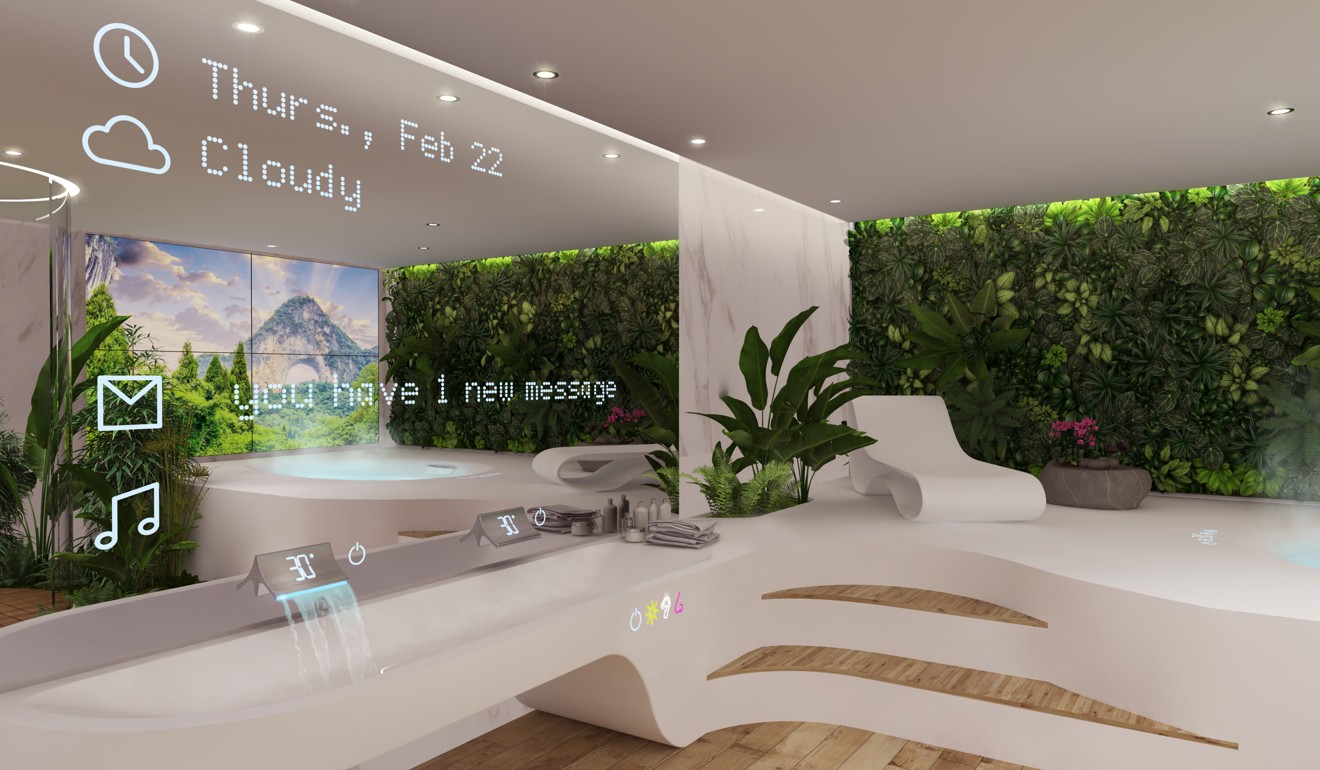 All the features and settings are just a click away, through smart devices with RFID, proximity sensors or Wi-fi, or via a "magic mirror" with an integrated control panel. Remote access allows users to control the ambience of the room at any time and from anywhere, making it easy to set up a customised atmosphere – a tropical rainforest, say, or an arctic ice world – or to schedule a programmed landscape to welcome you when you get home after a busy day.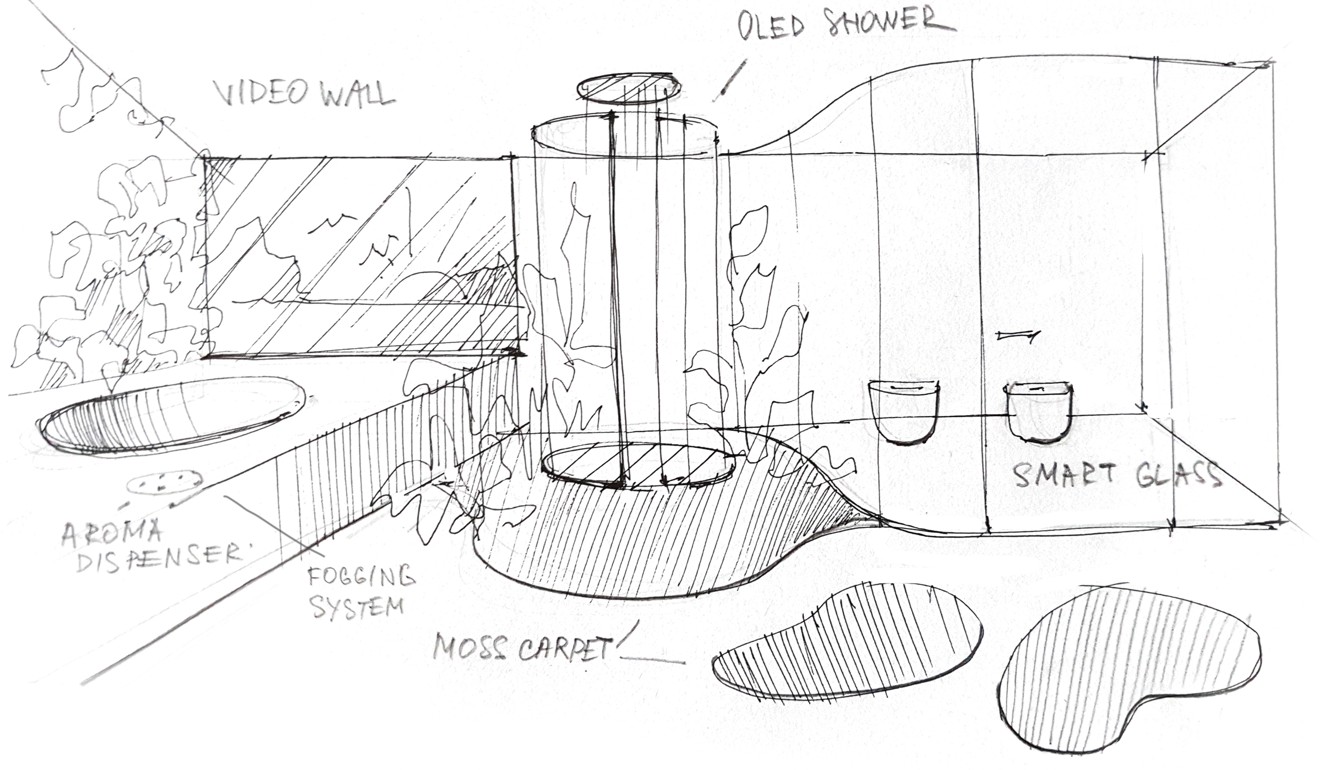 The liberal use of technology helps ease the hectic lifestyle of metropolitans. The mirror is more than a reflecting surface; it also serves as the creative brain of the room, keeping the parameters for the indoor landscape under control. It also provides a digital display of time, weather, agenda planning and text messages.
The smart glass partition is a zone divider, which switches from transparent to translucent to provide more privacy. It also serves as "an emotive experience wall", according to the designer – a screen onto which images or silhouettes can be projected.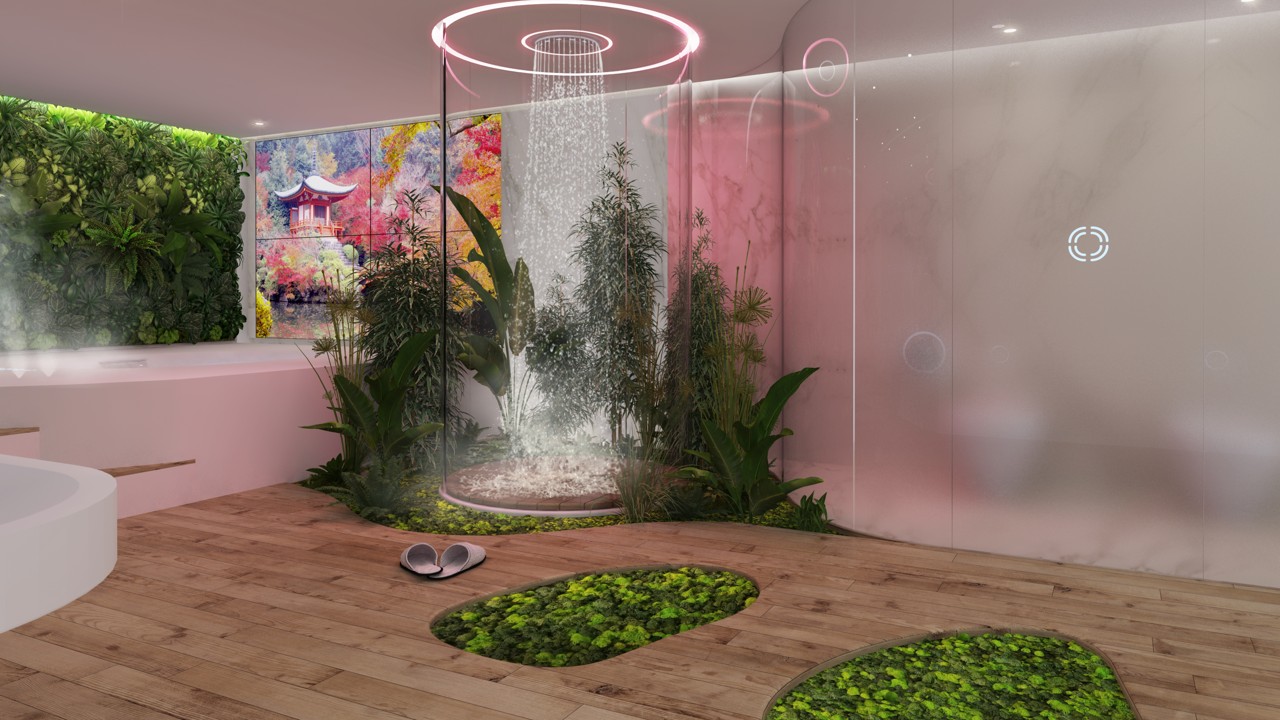 Entertainment is always welcome when taking a long soak in the bath. The video wall enables users to enjoy TV and movies, and to read emails or conduct conference calls.
"Everything in the space is connected and every element completes another. The space is intuitive and allows a user to manage it without difficulty," Rutilo explains.
Indeed, with all those hi-tech functions available, and all those many soothing details, taking a bath becomes an act of pure indulgence.
This HK$19 million eco-friendly treehouse collects water and regulates temperature
Breakdown of Cost:
Interior construction: HK$853,000
Design and consultation: HK$426,000
Sanitary ware: HK$597,000
Lighting, audio and finishes: HK$426,000
Hi-tech systems: HK$597,000
Total (about): HK$2.9 million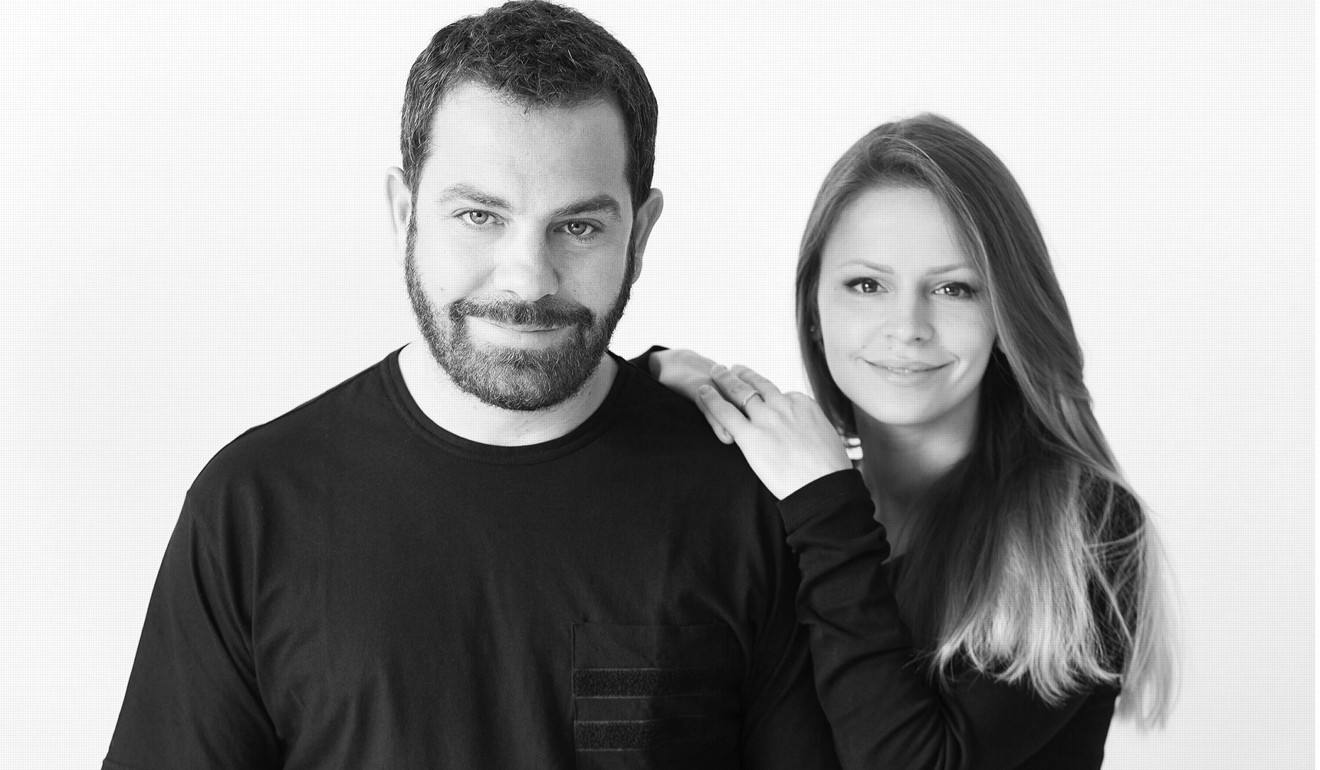 In 2012, multidisciplinary design studio DesignLibero was founded by Libero Rutilo and Ekaterina Shchetina in Milan. Born in Montreal, Rutilo brings to the firm his affluent rich experience in interior and product design with his design philosophy – combining North American audacity, dynamism and practical skills with Italian taste and aesthetics. Shchetina from Krasnodar in southern Russia brings her artistic talent with her academic background in fine arts into full play. The duo boast a rich portfolio of creative projects ranging from interior, product, graphic designs and art direction, aggrandised with numerous works receiving international design awards.